No matter how old your kids are, there are a lot of things and activities to do when you are traveling to Ho Chi Minh with kids and family. In this vibrant city, kids can explore lush gardens, spend one day in a park, enjoy traditional performances and visit the expansive theme parks in the heart of the city. Ho Chi Minh City (Hồ Chí Minh) is a good mix of dining, accommodation, and shopping opportunities to make both parents and children happy. In this article, I would like to introduce the list of kid friendly places in Ho Chi Minh city.
Why Is Ho Chi Minh City Ideal Destination For Kids?
If you are planning for a trip and journey with kids, Ho Chi Minh City is the first option you should consider. I do not say that Ho Chi Minh City is the best place in the world or Vietnam but it is the place kids love the most. There are a lot of interesting kid friendly places in Ho Chi Minh City.
As the most bustling city in Vietnam, Ho Chi Minh City offers the amazing Saigon street foods and interesting kids-oriented activities that absolutely keep kids happy and entertained during the stay in Saigon.
Here are the top things you and your kids should enjoy in Ho Chi Minh City:
22 Kid Friendly Places In Ho Chi Minh City, Vietnam
1. Discover The Kiz City
Address: 48 Hoang Dieu (Hoàng Diệu) Street, Ward 5, District 4, Ho Chi Minh City
Opening hours: 8: 30 am to 9:30 pm
Kiz City is the perfect mini-city for children aged 3 to 15 to try doing all their dream jobs. In this mini-city, children are given numbers of jobs they want to do in the future then receive the facility, a place and outfits for that chosen job. The jobs could be doctors, nurses, police, firefighters, bankers and more. There are about 24 different occupations in this city.
This will be a memorable, fabulous experience for the kids to make their dream come true and learn what people do with their dream job. The instruction is in little English and mostly In Vietnamese. Furthermore, kids can learn Vietnamese and English at the end of the day.
While letting children play in Kiz City, parents can enjoy the meals or snack in the café. You can also bring a book with you.
The entrance fee parents have to pay for their children is 180,000 VND on weekdays and weekends, they have to pay a little more.
2. Enjoy Water Puppet Theaters In Ho Chi Minh City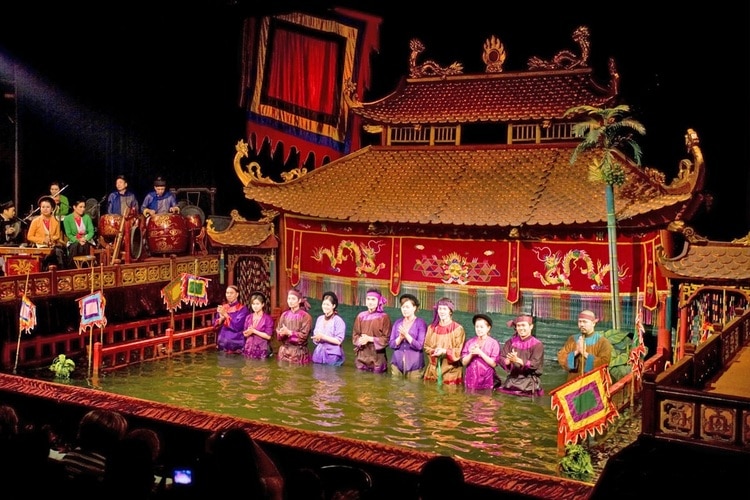 Address: 55B Nguyen Thi Minh Khai (Nguyễn Thị Minh Khai) Street, Ben Thanh (Bến Thành) Ward, District 1, Ho Chi Minh City
Opening hours: daily 5 pm, 6:30 pm, and 7: 45 pm
Most kids will be interested in water puppet performances which are one of the special cultural characteristics for most travelers and tourists to Ho Chi Minh City. Two popular places for kids to enjoy the water puppet show are at the Villa Song Saigon and at the Golden Dragon Water Puppetry Theatre. This performance shown by live-old fashioned music with authentic instruments depict the traditions, culture, and folklore of Vietnamese life.
The Villa Song Saigon is a great location for you to enjoy the creative weekly water puppet show that tells the tales of magic, myth, and humor.
The Golden Dragon Water Puppetry Theatre is located inside the Tao Dan Park that often regular nightly shows. Therefore, if you want to take kids to this location and enjoy the water puppy show, it is better to book in advance because this place attracts more and more tourists and locals.
3. Artinus 3D Art Museum Saigon
Address: 02-04 Road 9, Him Lam Residence, Tan Hung Thuan (Tân Hưng Thuận) Ward, Ho Chi Minh
Opening hours: Daily, 9 am – 10 pm
Artinus 3D Art Museum, an interactive art gallery will give kids a truly great experience in the magic of 3D, which is one of kid friendly places in Ho Chi Minh. There are more than 100 different 3D paintings made by Korean artists in this gallery. The interesting thing about this gallery is that children can step inside and feel being the part in the stunning 3D world.
Visiting this gallery, you can take many pictures of your kids who fight with a dragon or are trapped in a bottle, and much more. The Artinus 3D Art Museum is an ideal stopping spot for not only kids but also adults because it is great to explore the wildlife world, Renaissance art, ancient Egypt, Oceans and Vietnam.
To have enough time to play and experience the whole museum, you should spend two or three hours staying in this gallery. For a visit, you have to pay about 260,000 VND on weekdays and 300,000 and during the weekend. Children under 90cm can get the free entrance fee while those over that high will be charged 200,000 VND or 260,000 VND.
4. Motorbike Tour
No matter how old or young your kids are, they always love riding on the back of a motorbike when they visit Ho Chi Minh City.
A younger kid can sit between you and the driver which is not as scary as you though. Make sure that you hire or catch the motorbike from a reputable company. If you do that, there is no need to worry about safety or insurance.
Motorbike riding is one of the favorite activities for children and super fun things to do in Ho Chi Minh with kids.
5. Snap Café
Address: 32 Tran Ngoc Dien (Trần Ngọc Diện), Thao Dien (Thảo Điền), District 2, Ho Chi Minh
Opening hours: Daily, 7:30 am – 10:30 pm
Not only young children but also parents will enjoy the Snap Café playground. Snap Café with a playhouse, swings, sand and climbing toys is a wonderful choice for tourists to come with their children in Ho Chi Minh City. The food here is also delicious.
6. Suoi Tien (Suối Tiên) Theme Park
Address: 120 Xa Lo Ha Noi (Xa lộ Hà Nội), Tan Phu (Tân Phú) Ward, District 9, Ho Chi Minh
Opening hours: 8 am – 5:30 pm
Situated in District 9, Ho Chi Minh City, Suoi Tien Theme Park is the famous park for kids of all ages.
This park with the massive grounds will give kids the memorable and great experiences as it includes amusement rides, temples, beautiful gardens and a waterpark with slides.
There are a lot of activities and interesting things kids can enjoy in this park. However, some of the attractions and games may frighten young children; therefore, it is important to be aware of those. You do not need to put you and your kids off through because there are many interesting structures and sights for you and kids to see.
It is the best idea to visit the park on weekdays during business hours because on weekends, there are bigger crowds in Suoi Tien Theme Park and most attractions in Ho Chi Minh City. Suoi Tien often open from 7 am to 5 pm from Monday to Friday. On weekends, it opens from 7 am to 6 pm.
7. Cu Chi (Củ Chi) Tunnels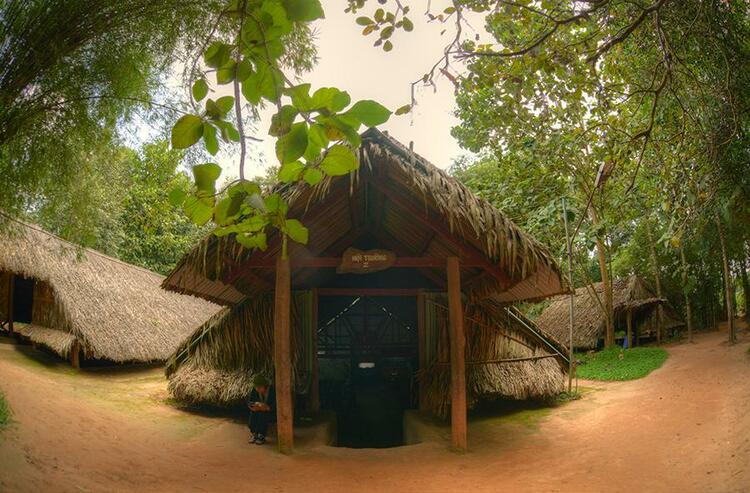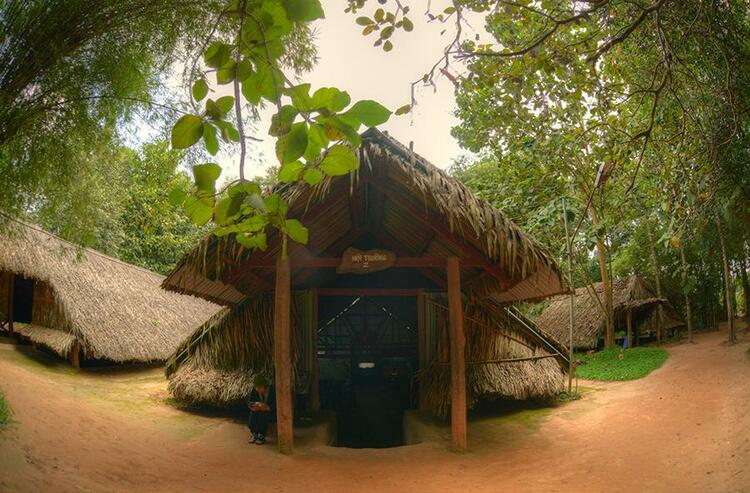 Traveling to Ho Chi Minh with kids, you should not miss the highly educational and interesting place like Cu Chi Tunnels.
Visiting Cu Chi Tunnels can help children to understand and learn about Vietnamese history. Cu Chi Tunnels were used during the Vietnam War by the Viet Cong (Việt Cộng). The Tunnels played an important role as hiding spots during combat, supply routes, communication, living quarters for fighters and so on. The tunnel contributed to the ultimate military success in the Viet Cong's resistance to American forces.
8. Cu Chi Wildlife Rescue Station
Address: An Nhon Tay (An Nhơn Tây), Cu Chi (Củ Chi), Ho Chi Minh
It is important for you to educate children about the awareness of protecting plants and animal. Interestingly, a visit to Cu Chi Wildlife Rescue Station will help you do that. This site is one of the best kid friendly places in Ho Chi Minh.
In this wildlife station, children will get great opportunities to see many animals such as gibbons, bears, turtles, wild cats and many bird species.
The entrance fee you have to pay is 200,000 VND per person. With this cost, you should feel free to feed and care for the animals.
9. TiniWorld
TiniWorld is indoor kid play centers which would attract children to come. Located in Ho Chi Minh City, the play center provides a lot of modern and interesting activities with climbing frames, ball pits, and little ride-on. TiniWorld also has an area where children can make jewelry, paint plaster moulds and enjoy many indoor games.
TiniWorld is very popular and some centers are located in the Vincom Centers while others have various locations, depending on where you go.
10. BeeBee Activity Center
Opening hours: 8 am – 5 pm
Located in District 2, Ho Chi Minh City, the BeeBee Activity Center is the interesting air-conditioned indoor play center for kids you can find in this vibrant city.
As a designated kid play area, BeeBee Activity Center features ride-in cars, a rock climbing wall, and many play center activities. Visiting this center, your kids will definitely be happy.
The entry fee is 100,000 VND.
11. Diamond Plaza Bowling
Location: 34 Le Duan (Lê Duẩn), Ho Chi Minh
Opening hours: 9:30 am – 10 pm
Diamond Plaza Bowling is a great destination if you and your children are fond of bowling. It can give interesting and memorable experiences when you visit Ho Chi Minh City. If you want to play in a quiet place, it is recommended visiting on weekdays and avoiding weekends and holidays. On weekdays, you and your kids can play freely and comfortably as much as you can.
12. 23/9 Park
Location: 107 Pham Ngu Lao (Phạm Ngũ Lão), District, 1, Ho Chi Minh
Opening hours: 10 am – 10:30 pm
Visiting the park makes you and your kids feel like you are being in Europe. 23/9 park with fresh air has a lot of interesting activities and many exercise equipment for kids and grown-ups such as exercise bikes.
There is a McDonalds in the park where you and your kids can enjoy fish and chip, and many delicious foods after a long day of playing and exploring Ho Chi Minh City. I can say that 23/9 Park is a wonderful relaxing kid friendly places in Ho Chi Minh.
13. War Remnants Museum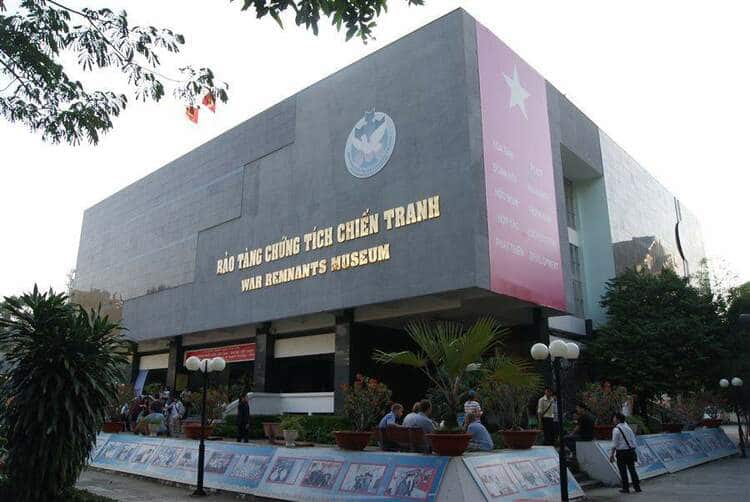 Address: 28 Vo Van Tan (Võ Văn Tần), District 3, Ho Chi Minh City
Opening hours: 7:30 am – 6 pm
If you want to look for the best kid friendly places in Ho Chi Minh, do not forget to take your child to the War Remnants Museum where kids can learn the history of the Vietnam war. Outside the museum, you can see the authentic bomb shells and war planes. Inside the museum are a lot of brilliant old photographs.
The entrance fee is only 60,000 VND for a family (5 people). Kids will be interested in taking pictures with helicopters, aircraft, tanks and so on.
14. Independence Palace
Address: 135 Nam Ky Khoi Nghia (Nam Kỳ Khởi Nghĩa), Ben Thanh (Bến Thành) Ward, District 1, Ho Chi Minh
Opening hours: 7:30 am – 4 pm
The gate of the Independence Palace was crushed by the Vietnamese tank in the past, which has created a unique image and special thing you should do in Ho Chi Minh City. The Independence Palace now is shown the victory of Vietnamese soldier fighting against the American government in Vietnam. The rooms and building with facilities are still remained like what they were since 1975.
Independence Palace has owned these historical values; therefore, this place should not be missed when you take kids to go to Ho Chi Minh City. A visit to Independence Palace will help kids learn about Vietnamese history.
15. Saigon Polar Expo
Saigon Polar Expo opening on April 14, 2016, is a new brand of ice entertainment venue. This venue is located at Him Lam new urban area in District 7, Ho Chi Minh City.
In Saigon Polar Expo, you can experience ice and snow during summer. In this venue, the temperatures are 15 degrees below zero Celsius and the ice playground is over 1,600 square meters with 11 sets of scenes and a five-meter-high ceiling. There is no wonder why Saigon Polar Expo will become an outstanding theme park for every snow lover.
There are numerous beautiful giant ice sculptures of different shapes with special sound and visual effects. Kids will enjoy ice sliding, making a snowman, admiring a photo exhibition, and drinking at an ice bar.
Children under 4 years old are free to get in this place while the ticket for adults is 180,000 VND per person on weekdays and 210,000 VND on holidays.
16. SC Vivo City
Location: 1058 Nguyen Van Linh (Nguyễn Văn Linh), Tan Phong (Tân Phong), District 7, Ho Chi Minh
Opening hours: 10 am – 10 pm
SC Vivo City located in District 7, Ho Chi Minh is also the best entertainment place for family with kids. You can shop at the Coop Xtra Hypermart. There is a PNC's Book Café which you and your kids can sip a cup of coffee while enjoying reading a favorite book. SC Vivo City also has the Starbucks store.
Kids will definitely love the Apple Kids Club and Lego Play. They also have opportunities to watch an IMAX movie. SC Vivo City is an ideal stopping destination for not only children but also women as a woman can wander most of the shops like Guess, Diesel, Esprit, Gap, Aldo, and CK.
Vivo City has a bowling alley in its entertainment center. Children can enjoy funny bowling games. Sky Park is the perfect place you can escape the heat.
Vivo City has some reputable restaurants such as Sumo BBQ, Pepper Lunch, Hot Pot Story, Koh Thai Bistro, King BBQ and even Vuvuzela.
17. Saigon Zoo And Botanical Gardens
Address: 2 Nguyen Binh Khiem (Nguyễn Bỉnh Khiêm) Street, Ben Nghe (Bến Nghé) Ward, District 1, Ho Chi Minh City
Opening hours: 7 am – 5 pm
Thao Cam Vien (Thảo Cầm Viên) is the Saigon Zoo and Botanical Gardens. This one is home to 1830 trees, 550 animals and 260 plant species in the gardens. It is one of the oldest zoos over the world. A visit to Saigon Zoo and Botanical Gardens will be a great opportunity for kids to raise the awareness of protecting animals and plants.
This zoo has different sections and zones for you to explore like plant conservation, animal conservation area, orchid garden, and children's amusement area. There is also the monument that commemorates the Vietnamese soldiers who died in World War I.
18. Rin Rin Park
Address: Xuan Thoi Thuong (Xuân Thới Thượng), Xuan Thoi Dong (Xuân Thới Đông), Hoc Mon (Hóc Môn), Ho Chi Minh
Opening hours: 7 am – 7 pm
Located in Xuan Thoi Dong, Rin Rin Park is well-known for its immaculate little garden and a spectacular Koi pond.
It is a great idea for you to take kids to go to the Rin Rin Park. In this park, you and your kids can escape the heat in the calming gardens. Kids will have a great opportunity to explore the whimsical fish sculptures and water features. They can also watch the Koi swimming in the pond.
19. Tao Dan Park (Công Viên Tao Đàn)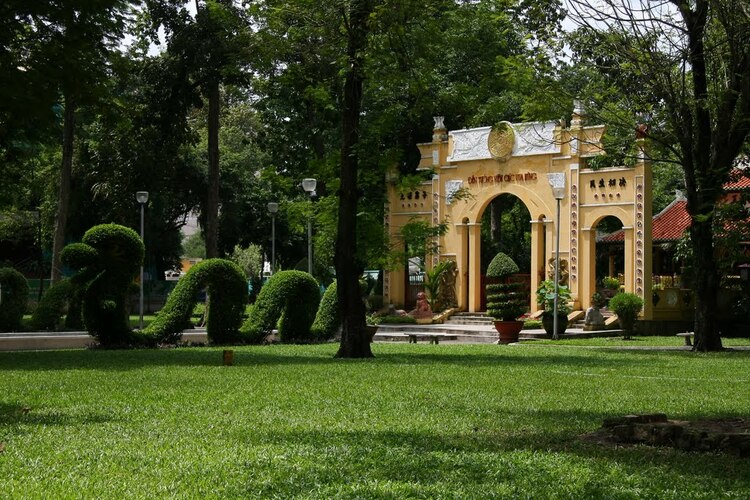 Address: Truong Dinh (Trương Định), Ben Thanh Ward, District 1, Ho Chi Minh
It is great to take a stroll with your kids in the leafy public Tao Dan Park featuring a Buddhist temple, manicured gardens, sports facilities, and play areas.
The 10-hectare Tao Dan Park is listed as one of the most attractive green places in the city which not only attracts kids but also is a great relaxing destination for adults.
On the northeast side of the park, there is a small contemporary sculpture garden. On the other sides, you can explore the Labour Culture Palace, tennis courts, a clubhouse, and an art-deco swimming pool.
20. Dam Sen (Đầm Sen) Water Park Saigon
Address: 3D Hoa Binh (Hòa Bình), District 11, Ho Chi Minh City
Opening hours: 9 am – 6 pm, Wednesday – Monday
Dam Sen Water Park Saigon is one of the entertainment sites for kids to enjoy a variety of water slides, several thrilling rides, and a wave pool. This park is located in District 11 and is a great place for children during the school holidays and summer months.
If your kids are a thrill-seeker, they will feel interested in standout rides such as a fast-paced water slide with 19 metres in height, the Kamikaze, and a Flying Fox-themed water ride. Kids can also swim and relax in a massive swimming pool.
You and your kids can go to Dam Sen Water Park every day except Tuesdays. The entrance fee is about 90,00 VND for children from 0.8 to 1.4 metres in height and 140,000 VND for those who are over 1.4 metres in height.
21. Games Arcade Center At Vincom Center B Shopping Mall
Address: 72 Le Thanh Ton (Lê Thánh Tôn) Street, District 1, Ho Chi Minh City
Opening hours: 9 am – 10 pm
The games arcade center set within Vincom Center B Shopping Mall features plenty of basketball hoops, video games, air hockey, and bumper cars for teens and children who want to enjoy their holiday in Ho Chi Minh City. In this shopping mall, you can also find an excellent food court with Carl's Js burgers, Buds Ice Cream, Seoul Garden, and many food stores from across the world. While children enjoy playing games and eat delicious foods, parents will definitely love shopping familiar brands like DKNY, Jimmy Choo, Charles & Keith, and other numerous perfumes and jewelry stores.
22. Handicrafts Workshop At Vin Space Art Studio
Address: 4 Le Van Mien (Lê Văn Miến), Thao Dien (Thảo Điền), Ho Chi Minh City
Opening hours: 9 am – 6 pm, Monday – Saturday
Vin Space Art Studio has a variety of workshops for children and adults, ranging from acrylic, oil and abstract painting to woodblock-printing, handicrafts-making and photography.
Situated on Le Van Mien Street, this studio exhibits the amazing pieces made by international and local artists. This studio also provides financial assistance for people who are wanting to pursue their projects.
There are many workshops for kids and the Canvas & Wine is a popular workshop for parents that often opens every Thursday evening.
With the cost of 874,000 VND, kids can learn various painting styles with different materials.
Read more:
Now, you have known the top kid friendly places in Ho Chi Minh City that will give you memorable experiences and interesting adventure.  If you have a chance to visit Ho Chi Minh City, do not forget to stop at these above places and create your own memories. I hope that this article on Vina.com can give you useful information and idea about where you should go with kids in this vibrant city. Any questions can be left in the comment section and we will answer them as soon as we can.