Updated: 08/24/2019
Binh Dinh (Bình Định) was the center of the Champa kingdom; therefore, nowadays, it still remains a complex of 14 ancient towers that were built between the 11th and 15th centuries. These towers featuring the unique architectural style of the Champa people and the Hindu architectural art attracts many people because of the cultural and artistic values.
Most Cham Towers in Binh Dinh are located in the center of Quy Nhon City and three districts including An Nhon, Tuy Phuoc, and Tay Son. In this article, I would like to introduce to you the top 7 most visited mysterious Cham Towers In Binh Dinh, Vietnam.
7 Most Visited Mysterious Cham Towers in Binh Dinh, Vietnam
1. Twin Cham Towers (Tháp Đôi)
Twin Cham Towers are in a beautiful park situated northwest of Quy Nhon downtown. These two towers were built in the 12th century but still become a representative symbol of Vietnam. Thap Doi Towers have floral motifs and arching forms which was surrounded by green coconut palms and many tropical trees. Because of its easy access, Thap Doi Towers are the most popular tourist site among other Cham towers in Binh Dinh. You should visit this site in the early morning. The entrance fee is 10,000 VND for one person.
2. Banh It Towers (Tháp Bánh Ít)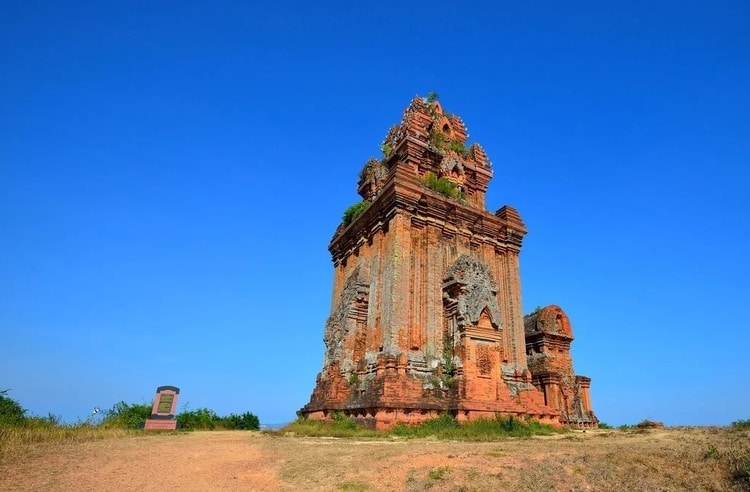 Banh It Towers  are 10km north of Quy Nhon, located in Dai Loc (Đại Lộc) village, Phuoc Hiep (Phước Hiệp) commune, Tuy Phuoc district, Binh Dinh province. These four Cham towers at Banh It was built from the 12th and 13th centuries. Lying on a breezy hilltop, Banh It Towers have a full view of Highway QL1A and panoramic views of Thi Nai (Thị Nại) River, the ocean and the Truong Son (Trường Sơn) Mountains. As a place of worship, Banh It Towers welcome tourists who come to linger and soak up the sacred atmosphere. However, in spite of easy access, these towers nowadays are still seldom visited. To discover this place, you have to pay about 10,000 VND for the entrance fee.
3. Vijaya Citadel
Vijaya Citadel located in An Nhon district on a small hill of Nam An village, Nhon Hau (Nhơn Hậu) commune dating back from 11th and 15th centuries was subject to many sackings, besiegements, and bloody battles. This tower has gone through many periods of history under the control of many dynasties with different names. We can say that this site represents some momentous shifts in Vietnamese history; therefore, this site now is attracting interest and curiosity from tourists and researchers.
4. Canh Tien Tower (Tháp Cánh Tiên)
Not far away from Vijaya Citadel is Canh Tien Tower that situated behind the citadel. This tower dated back in the 12th century and nowadays it still features sophisticated, delicate caved stone ornamentation and unique architecture that matches its natural environment. The entrance fee is about 10,000 VND for one person.
5. Phu Loc Tower (Tháp Phú Lốc)
Besides, Phu Loc Tower with no admission fee is less visited than other Cham towers in Vietnam but  in many ways, it is the most exciting to visit. In the midday, the atmosphere in Phu Loc Tower is often quite, still and slow. Nothing is greater than sitting in a shadow and enjoy the view down over the tower. It is easy for you to see the Canh Tien Tower and the Vijaya to the south.
6. Binh Lam Tower (Tháp Bình Lâm)
Binh Lam Tower is about 15km far from Banh It Towers. Binh Lam Tower with the height of 20m and three levels is the first towers dating back in the 10th and 11th centuries.
7. Duong Long Tower (Tháp Dương Long)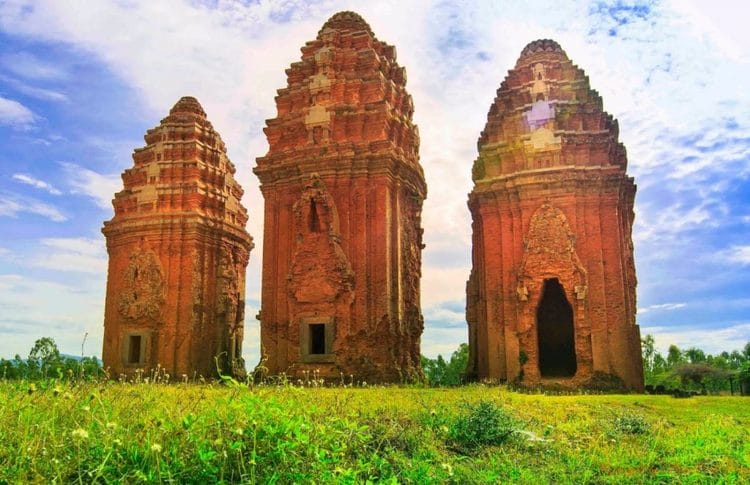 The most grandiose and imposing Cham towers are the three towers of Duong Long that were built during the 12th century. These towers are located in Van Tuong (Vân Tường) village, Binh Hoa (Bình Hòa) Commune.
Most Cham Towers in Binh Dinh are fairly restored and preserved well. Thanks to the archeological excavations, many new discoveries of these towers have been found such as the date these towers were built, materials used and the construction methods, which helps people understand and learn more about the mystery hidden in the system of Cham Towers in Quy Nhon particularly and Binh Dinh generally. For example, tourists and researchers will know the mortar that was used to build these towers is made from durable, sticky and water-resistant resin from a tree growing in the central region.
Binh Dinh also has several other gorgeous Cham sites, for example, the Towers of Binh Lam (Bình Lâm) and Thu Thien (Thủ Thiện). If you have enough time, you can visit there.
I believe that visiting these mysterious Cham Towers in Binh Dinh, Vietnam will give you great experiences and help you gain a lot of knowledge. These Cham Towers have presented for centuries and feature many priceless cultural and artistic values.  We hope that you can find all the information you need before a wonderful trip to Cham Towers in Vietnam. Any questions can be left in the comment section and we will answer as soon as we can. For more other attractions to visit, go to our Vina homepage.