Updated: 08/24/2019
As the center of the Champa kingdom a long time ago, Binh Dinh (Bình Định) province now has 14 ancient towers that were built between the 11th and 15th centuries. These towers are including Duong Long (Dương Long) Tower, Banh It (Bánh Ít) Tower Complex, Canh Tien (Cánh Tiên) Tower, etc. And talking about Cham Towers in Quy Nhon, we cannot forget to mention Twin Cham Towers (Tháp Đôi), one of the favorite tourist destinations of Vietnam that attract a large number of both Vietnamese and foreigner visitor across the world.
Twin Cham Towers In Quy Nhon: A Favorite Tourist Destination Of Vietnam
I. When Is The Best Time To Visit Mysterious Twin Cham Towers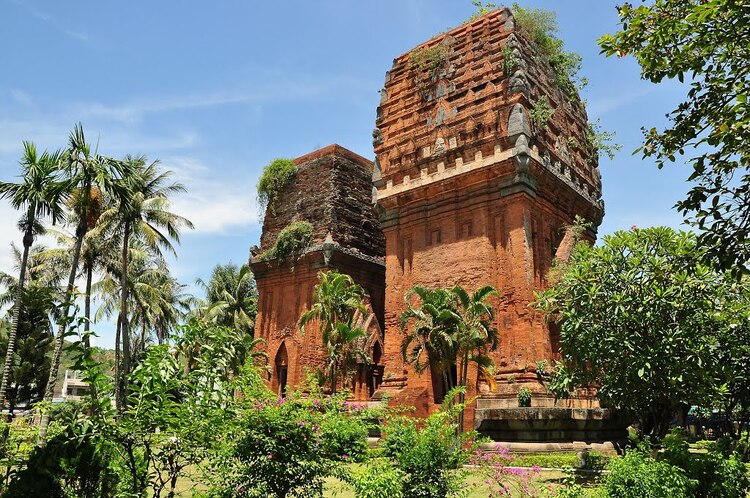 The best months to visit Quy Nhon generally and Twin Cham Towers particularly are between June and September. Keep in mind that August, July, and November are three busiest months for tourism; therefore, it is better to book flights and hotels in advance during these months.
It is recommended visiting this Twin Cham Towers in Quy Nhon in the morning although it opens from 8 am to 6 pm.
II. What Are Special About Twin Cham Towers
Paying the entrance fee of only 10,000 VND for one person, you can visit Twin Cham Towers in  Quy Nhon that are located in Hung Thanh (Hưng Thạnh) Village, Dong Da (Đống Đa) Ward and they are 3km northwest away from the city center. These two towers were built in the 12th century but still become a representative symbol of Vietnam.
These two towers always stand side by side as the couple. Twin Cham Towers have floral motifs and arching forms which were surrounded by green coconut palms and many tropical trees. The sight of these towers is quite becoming, with the red brick framed by palms and sprouts growing tenaciously from the walls. In one tower, you can see a large statue Linga placed in a Yoni that represents male and female energies, immortality and maintenance. Every corner and top of the towers is carved with images of birds, gods, and animals that show the religious belief of the Old Cham people.
Although this site was destroyed during the wars; nowadays, it still remains the unique mystery and beauty that draws the curiosity and love from tourists around the world.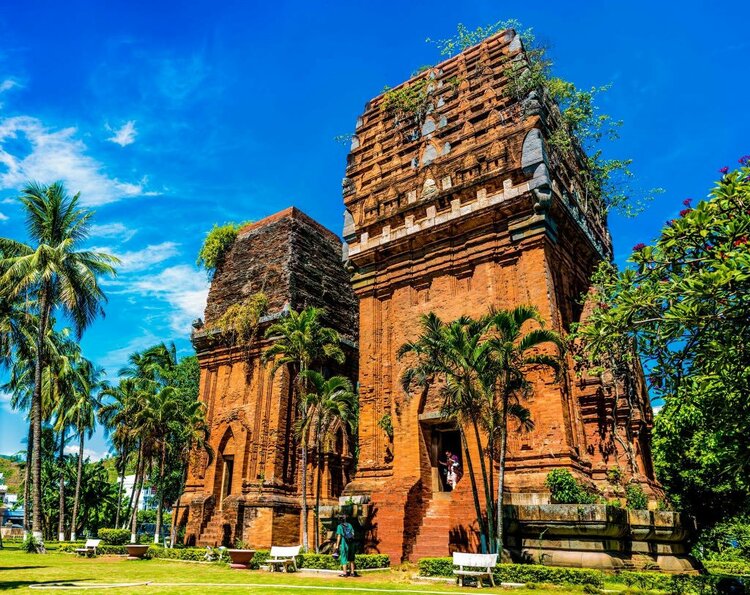 It is a great idea for you and your friends or your family to have camping activities in the Twin Cham Towers site. Prepare all necessary things to have a wonderful camping such as a tent, sleeping bag, mattress, pillows, foods, and matches. Don't forget to bring personal items such as swimsuits, rainwear, hats, and sunscreen. Leaving the sites, make sure that you clean and throw the trash in the right place.
I believe that visiting these mysterious Twin Cham Towers in Vietnam  will give you great experiences and help you gain a lot of knowledge about the lifestyle of Old Cham people. These Towers have presented for centuries and feature many priceless cultural and artistic values.  We hope that you can find all the information you need before a wonderful trip to Twin Cham Towers. Any questions can be left in the comment section and we will answer as soon as we can. For more other attractions to visit, go to our Vina homepage.