Binh Thuy Communal Temple – Đình Bình Thủy is also known as "Long Tuyền Cổ Miếu". This is an ancient architecture communal temple in Can Tho with many valuable traditional arts of Vietnamese people, especially Can Tho local people. The Communal Temple is not only a spiritual place for local people to come and express their beliefs but also an excellent destination for visitors to admire and know more about unique cultural activities in the daily life of Can Tho people.
Binh Thuy Communal Temple: Ancient Charms of Can Tho
1. Location of Binh Thuy Communal Temple
Address: Le Hong Phong street – Binh Thuy ward – Binh Thuy district – Can Tho city.
Time to visit: 7:30 – 18:00.
Ticket price: Free 
The Communal Temple is about 6.5 km to the northwest of Can Tho city. It's located in the centre of Le Hong Phong street, Binh Thuy Ward, Binh Thuy district. Binh Thuy Communal Temple is surrounded by Hau bank about 200m from the North, Binh Thuy canal in the east, also known as Long Tuyen canal. The south of the communal temple is Le Hong Phong street with other big roads such as Cach Mang Thang Tam street, Bui Huu Nghia street and the west side is faced with the residential area.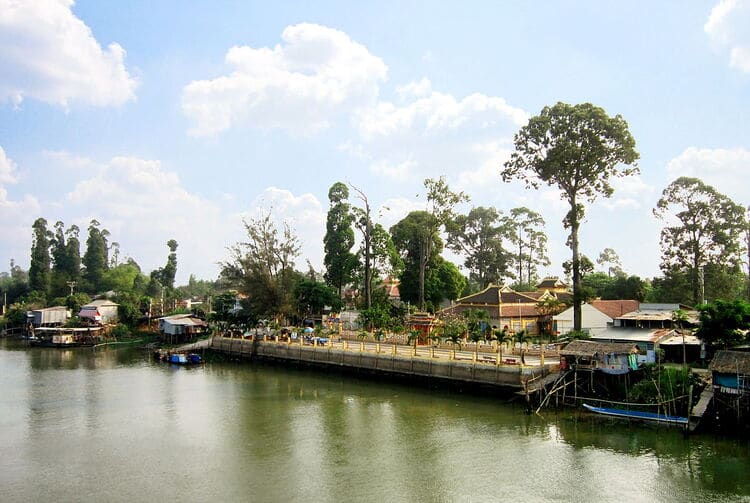 2. History of Binh Thuy Communal Temple
According to the recorded standing-stone and stored documents at the communal temple, Binh Thuy Communal Temple was built in 1844 in front of Binh Thuy canal of Binh Hung village (now it's Binh Thuy ward – Binh Thuy district – Can Tho city). From the very beginning, it was built with just walls, woods, bamboo and thatched roofs. The temple was created with the hope and pray for a peaceful life to local people. In 1953, the local people contributed to restoring the temple with bricks and qualified woods as well as expanded the temple with more houses.  From that time, the communal temple was undergoing 2 times of construction and restoration from1909 to 1979.  
At first, the communal temple was called Binh Thuy Temple. In 1909, because the temple was located along with Binh Thuy canal which had a shape like a lying dragon, people started to name the temple as "Long Tuyền" which means "lying dragon". However, by 1979, because there was a change in administrative units, the temple returned to its original name, Binh Thuy Communal Temple, and this name exists until today. Nowadays, Binh Thuy Communal Temple is a unique architectural and artistic construction, worthy as a "masterpiece" that every local is proud of.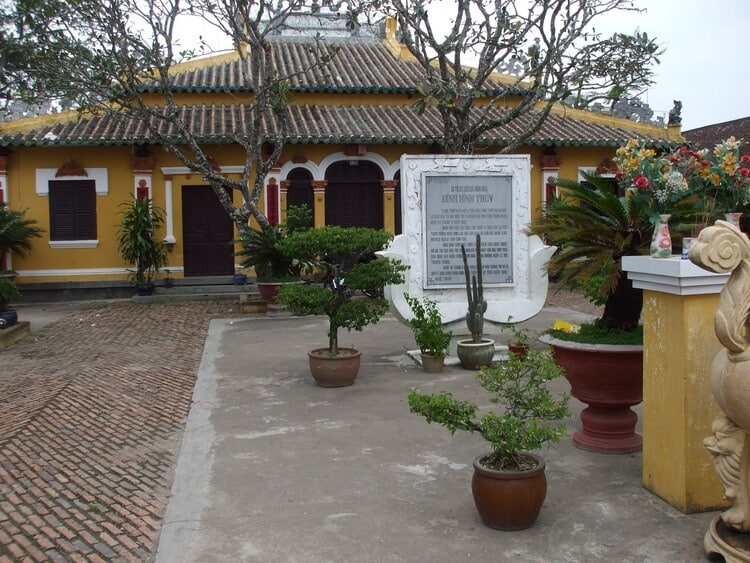 3. Art and Architecture of Binh Thuy Communal Temple
Binh Thuy Communal Temple has a unique architecture which is inspired by the culture of the Southern of Vietnam. Over a century, up to now, the communal temple still preserves its own charm and beautiful, intact quintessence of the carved patterns on the interior decoration. The uniqueness of Binh Thuy communal temple is also shown in the works around the main temple house. It includes 4 shrines worshipping with 4 deities. This is a difference from other worship works in the region.
The central communal house is built on high ground. The front and back of the houses are in a square shape, and each direction has 6 rows of big, slippery, slightly sloping columns. Inside the communal house, there is an altar system which is appropriately arranged. Each altar is separated with walkways. On both sides of the altars, there are columns carved with eye-catching patterns like dragons, flowers, peonies and more. Along with that is the system of couplets, diaphragm, hammocks with traditional patterns such as dragon, phoenix, chrysanthemum and apricot. All of the magnificent arts have made the space of the communal temple more charming with the ancient vibe, sacred and full of aesthetics. On the outside, the communal house was built in the style of the Chinese word (一) "Nhat". On the top of the communal house is a pair of statues of dragons, pearls, unicorns, letters and mascots. With all of the incredible art values and long history, Binh Thuy communal temple was recognized as a National Architectural and ArtisticVestige in 1989.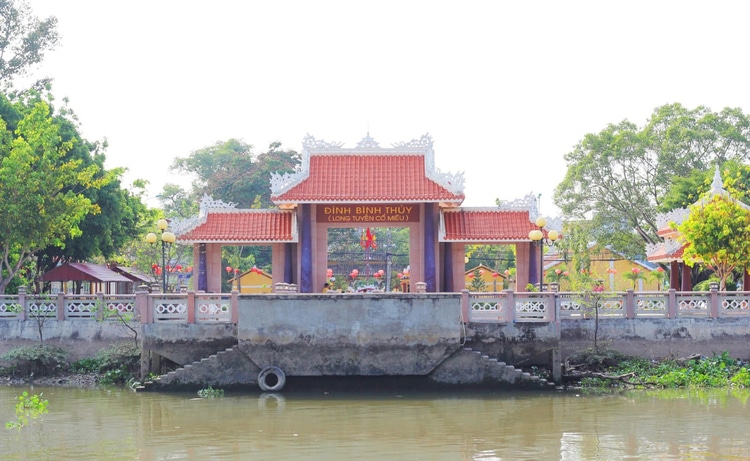 On the whole, even going through over 100 years with various times under construction, Binh Thuy communal temple still preserves the most unique features that the ancients had created. If you have a chance to visit Can Tho, try not to miss out on this beautiful attraction. Hopefully, our sharing will be helpful for your trip. To discover more about Can Tho and Vietnam travel, let's visit our Vina website. I hope you have lots of fun and interesting experiences when coming to Vietnam.
By Phuong Khanh