The Complex Of Hue Monuments photos By Thong Hoai Nguyen – Khai Dinh Tomb
Khai Dinh Tomb (Lăng Khải Định) in Hue is an architectural work which is also one of the top visual arts in the Centre as well as in Vietnam. It is considered as the most outstanding tomb among all the tombs from the Nguyen Dynasty. Coming to the Tomb, visitors can not only have a chance to immerse themselves in the peaceful space of Hue but also enjoy various incredible beautiful sculptures. With all of these precious cultural and historical values, Khai Dinh Tomb is always a must-try destination for many tourists when travelling to Hue.
Khai Dinh Tomb: Must-Try Historical Site in Hue, Vietnam
1. Location and Information to Visit Khai Dinh Tomb
Khai Dinh Tomb is located on the side of Châu Chữ Mountain, outside Hue Citadel. The monument is located in Thuy Bang commune, Huong Thuy town and only is 10km away from Hue city centre. Visitors also can come here by motorbike or car, then drive along Highway 49. You also can take the bus from the South Station to Tuần Market and Đông Ba Market.
Opening time: 7:00 – 18:00
Entrance price:
Adults: VND 100.000 VND

Children (aged 7-12): 20.000 VND

Children (under 7 years old): free of charge
2. History of Khai Dinh Tomb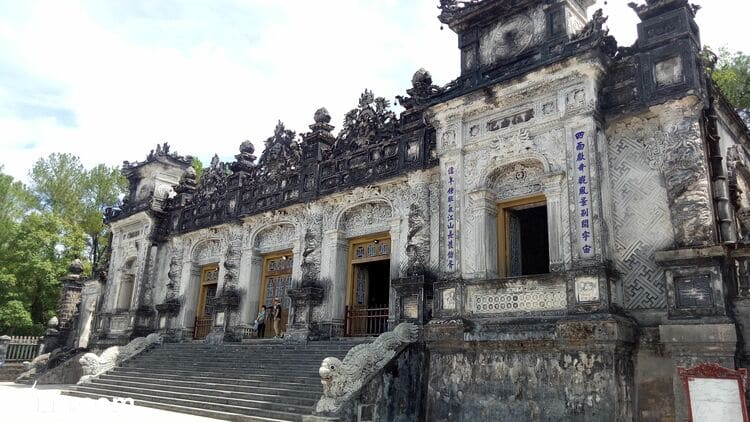 The Complex Of Hue Monuments photos By Thong Hoai Nguyen – Khai Dinh Tomb

Khai Dinh King's real name is Nguyen Phuc Buu Đao. He is the only son of King Đong Khanh and was the 12th king of the Nguyen Dynasty. After taking the throne, he was intoxicated with building more palaces and tombs for himself as well as for royalty, including the massive monument – Khai Dinh Tomb. By 1925, he passed away at the age of 40, after 9 years of being on the throne.
Khai Dinh Tomb of Hue was officially built on September 4, 1920. In order to have funds to build the mausoleum, King Khai Dinh had raised the people's tax to 30%. This made him be criticized for a long time. However, the cost itself is somehow worthy. Nowadays, it created a masterpiece of art, Khai Dinh Tomb, that makes anyone who visits has to be amazed.
The tomb is located in a quiet place that is surrounded by many famous attractions in Hue, such as Ho Thuy Tien, the spiritual area of ​​Buddha or the beautiful Thien An Hill and more. It clearly reflects the luxurious and entertainment lifestyle of King Khai Dinh at his time. This is also the last work of the Nguyen Dynasty and thanks to all the modern materials, interfering with Western architecture, it becomes the most outstanding build in the numbers of tombs in Hue. Therefore, if having the opportunity to travel to Hue, every traveller will spend their time taking a tour to visit this beautiful mausoleum.
3. The Feature of Khai Dinh Tomb's Architecture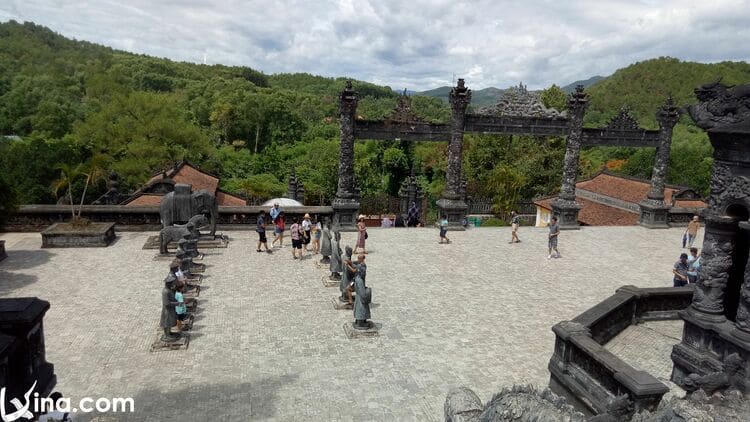 The Complex Of Hue Monuments photos By Thong Hoai Nguyen – Khai Dinh Tomb
Under the reign of King Khai Dinh (1916 – 1925), Vietnamese territory and sovereignty were ruled by the French colonialists. Therefore, Vietnamese artistic culture at that time was strongly affected by the Western-style. Especially in Khai Dinh tomb, it had been built with the combination of many modern and traditional features. It was the mix that brought the new, strange, unique but beautiful, and elegant for the mausoleum of the lavish king of that time.
Khai Dinh tomb was built in 11 years, and this is also the last tomb of the Nguyen kings that was made. Although the tomb area is quite small, only 117m x 48.5m but it took the longest time and consumed a massive amount of money as well as needed a lot of effort to complete. To create this architectural masterpiece, King Khai Dinh had to gather all the most skilled artisans across the country such as Nguyen Van Kha, Cuu Horn, Ky Duyet and Phan Van Tanh.
Khai Dinh Tomb owned a strange architecture, unlike most of the tombs as previous kings and there is a mix of different styles of architecture. At first glance, the mausoleum is like a castle in Europe. Most of the construction materials were from foreign such as lightning rods, iron doors, wall tiles, electric lighting systems, and so on. However, Khai Dinh tomb still used some traditional materials such as bricks, stone and wood. Visiting Khai Dinh Mausoleum, people can be overwhelmed by the rectangular structure of 127 steps high which was influenced by some of the Indian architecture, Buddhism and Roman Gothic.
Coming to Khai Dinh mausoleum, visitors will also have a chance to admire the extraordinarily meticulous and sophisticated sculptures from shapes to every detail such as fences, pillars, and more. All combined together and created exquisite magnificent overall unique scenery.
4. Famous Attractions in Khai Dinh Tomb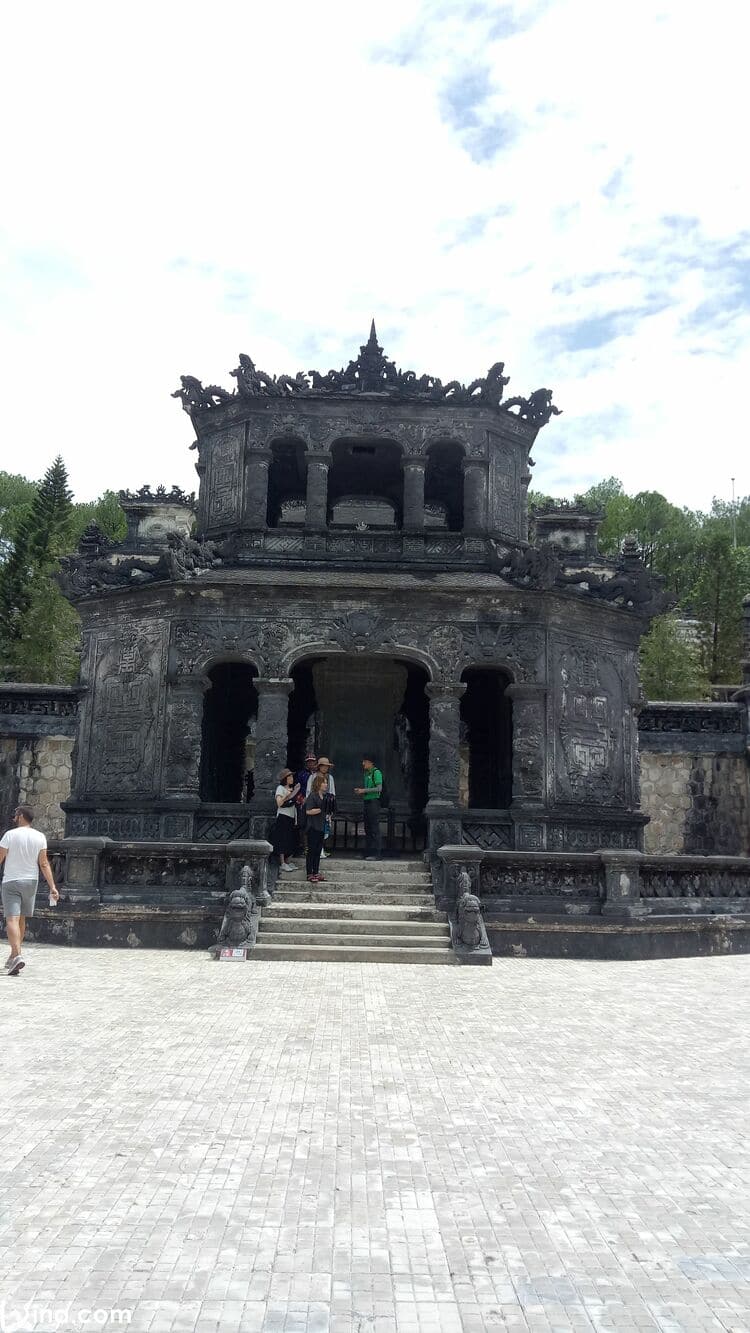 The Complex Of Hue Monuments photos By Thong Hoai Nguyen – Khai Dinh Tomb
There are many incredible places in Khai Dinh Tomb for you to explore on your trip. Firstly is the Tam Quan Gate. This is one of the most beautiful unique architecture of Khai Dinh Tomb. The gate is located on the first floor, including 2 main architectures, Huu Tong Tu and Ta Tong Tu. This is also the place to worship some of the gods. To reach the gate of Tam Quan, you will have to overcome 37 of the 127 stairs. 
After reaching the gate of Tam Quan, visitors will go another 29 stairs to the second floor of the mausoleum. Up here, you will have a chance to admire the stone statues standing neatly in rows that look extremely lively. All 6 pairs of statues are symmetrically placed at Bai Dinh yard.
Thien Dinh Palace is located at the highest position, which is the burial place of King Khai Dinh's body. So far, this palace is the most unique design and artistic value of Khai Dinh tomb. Entering Thien Dinh Palace, visitors will enjoy the very skilful and meticulous sculpture of ceramics which are very delicately carved. 
Inside Thien Dinh Palace, there is Khai Thanh Altar. This is the place to worship King Khai Dinh. All of the materials are mainly made from copper and moulded by Vietnamese artisans. Placed under the altar is the body of King Khai Dinh.
There is an outstanding Khai Dinh statue which is made from bronze inside the place.
The bronze statue is made with the delicacy of skills and elegant lines. It sometimes makes the viewer mistakenly think that it was made of soft materials. The bronze statue of Khai Dinh is a work with a strong impression of mixing Asian and Asian arts. The statue was built in 1918 by a French sculptor. Then, it was cast by copper in Vietnam to preserve better. The statue is 1m60 high and clearly depicts the version of King Khai Dinh in real life. 
5. Note to Remember When Travelling to Khai Dinh tomb and Hue
The most pleasant weather time in Hue is from January to February, this is the most suitable time to visit these historical sites, Dai Noi, as well as the tombs of the Nguyen Dynasty. Khai Dinh tomb is not too large, so it may take about 2 hours to visit all the scenery in the tomb. However, to go all the places near the tomb, you need to spend 3-4 hours
If you are planning to visit Khai Dinh mausoleum, please consider the weather carefully. At the end of the year, Hue often has storms and floods, the temperature is quite low, sometimes below 10 degrees. Therefore, to make your trip perfect, do not forget to check and update the weather.
Because of visiting Khai Dinh mausoleum, you will have to move a lot outdoors, remember to bring all your belongings such as sunscreen, glasses, drinking water and more to ensure your trip goes smoothly. 
On the whole, Khai Dinh Tomb is still famous as a masterpiece of architectural mastery of Vietnamese art and has become the most attractive tourist destination in Hue today. To explore more beautiful charms of Hue, visit our website. Hopefully, our sharing will help you to fully enjoy your trip. Have fun and get more exciting experiences by travelling to our lovely Vietnam.
By Phuong Khanh