"Bánh rán" or glutinous rice doughnut is known as a delicious finger food in Vietnam, and it is best in winter as the cake can warm you up without causing a feeling of fattiness. There are two main kinds of glutinous rice doughnut, named sweet cake and salty cake. The filling of sweet one is mashed mung bean while that of salty one is a mixture of prawn, minced meat, glass noodle, vegetables, etc. Besides, there are some kinds of glutinous rice doughnut such as cake with sugar, cake coated with sesame seeds, etc. They are good choices due to its crispy cover, moderate sweet taste and subtle fragrance. Let's discover more with VinaFood!
I. Vietnamese Glutinous Rice Doughnut – The Introduction
The Vietnamese glutinous rice dough is a mixture of glutinous rice flour, mashed potato, rice flour, and sugar. The filling is rolled into ball shape, and wrapped inside the dough and then rolled over sesame seeds or sugar to make its coat. After deep-fried, these cakes are getting golden brown, aromatic, and crispy.
The sweet glutinous rice doughnuts are often ball-shaped or flat while the salty versions are often oval. For both of these kinds, the outer shell is made of glutinous rice flour, and they just have the different filling. The sweet ones are made from sweet mung bean paste while the salty ones are made from a combination of mushroom and minced pork meat and then soaked into fish sauce.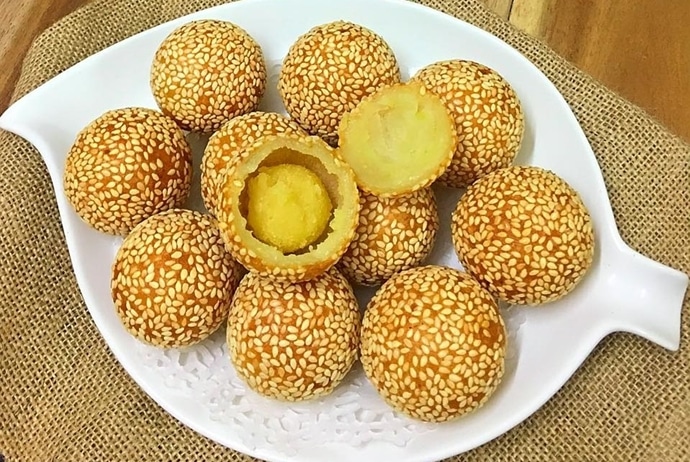 Source: dvpmarket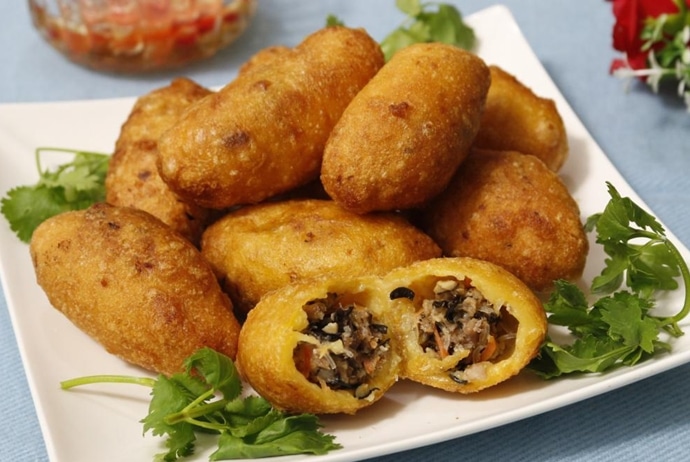 Source: congthucmonngon
II. Where To Eat Vietnamese Glutinous Rice Doughnut In Hanoi
There are some famous places where sell this street food in Hanoi. And now, we will reveal some of the places where you can enjoy these glutinous rice doughnuts in Hanoi.
1. Salty Glutinous Rice Doughnut At Phuong Mai Lane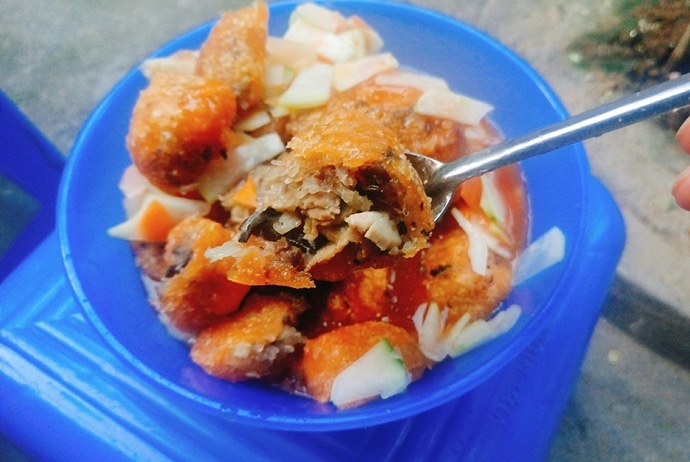 Source: caravanvn
At the beginning of 135 Phuong Mai lane, there is a small shop that sells glutinous rice doughnut but always packed with consumers. You will always see the owner of the shop to cut the white powder into pieces, shape into the cakes and place into the boiling oil pan. These cakes are ripe when they turn yellow and float on the pan.
Glutinous rice doughnuts here look like salty donuts in other places. Cakes also include shoulder lean meat, vermicelli, and wood ear. All of these ingredients are chopped, and mixed with spices to flavor. However, the specialty of the shop is in the shell. Apart from sticky rice flour mixed with a bit of salt, the shell of these cakes here is also added sweet potato puree. This helps make the shell crispy without being too dry. Sometimes, the owner also uses purple potatoes, hence making the cake's color different, and making the taste more delicious.
The dipping sauce in the restaurant is tasty. The restaurant opens from 4p.m to 7p.m. It is always packed with consumers and for a long wait, you can enjoy a glass of black beans or a bowl of hot black tea before a plate of doughnuts appearing in front of you. Each doughnut costs 3,000 VND.
Address: 135 lane on Phuong Mai Street

Opening Time: 4:00 p.m – 7:00 p.m
Pricing: 10.000 – 33.000 VND
Check Out: Hue Lemongrass Skewer – Nem Lui Hue – a Famous Hue Speciality
2. Glutinous Rice Doughnut On Dinh Liet Street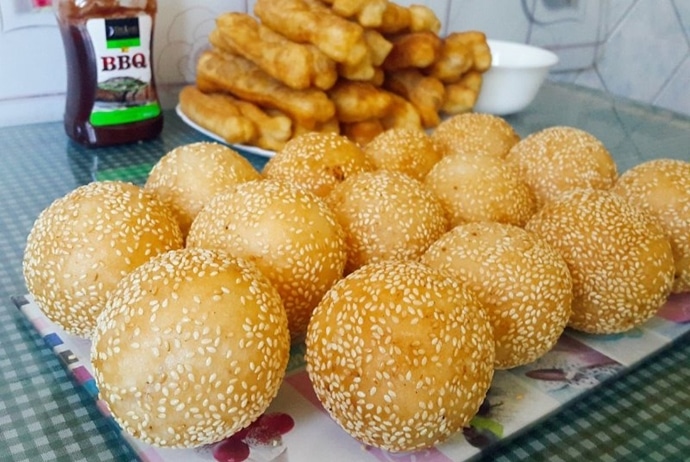 Source: otofun
This is a well-known name in the gourmet community as a famous place to sell glutinous rice doughnut. The doughnut shop has a modest area, but it is actually popular with diners. This shop sells both salty and sweet doughnuts. The biggest advantage of the doughnut here is very full cake and tasty dipping sauce. A small disadvantage is that the hot cake here will be better, if the cake is cold, it will become hard. Each salty doughnut costs 4.000 VND and 3.000 VND for a sweet doughnut. Actually, this is one of the best places for you to enjoy glutinous rice doughnut in Hanoi.
Address: 16 Dinh Liet, Hoan Kiem District

Opening Time: 9:00 a.m – 8:00 p.m

Pricing: 4.000 – 10.000 VND
Learn More: Vietnam Street Food – 28 Best Street Food In Hanoi And Saigon
3. Glutinous Rice Doughnut On Lac Long Quan Street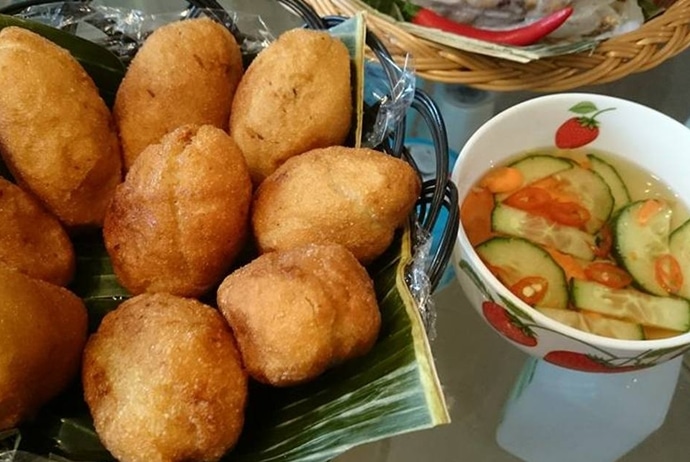 Source: cookpad
This doughnut shop is located in the small alley on Lac Long Quan Street, but it is also easy to find. This shop has a few frying pans with small chairs to serve customers. The success of this doughnut may be neither thick nor thin shell, just enough to fry the meat and vermicelli on the side of the doughnuts. The outer shell is brittle, and not hard. Besides, the sweet and sour dipping sauce is also the strength of the restaurant. Also, doughnuts here are eaten with raw vegetables, making this donut easy to eat. Therefore, if you are looking a place to enjoy glutinous rice doughnut, you should consider visiting this doughnut shop on Lac Long Quan Street.
Address: 160 lane on Lac Long Quan Street

Opening Time: 2:00 p.m – 7:00 p.m

Pricing: 10.000 – 50.000 VND
Check Out More: Stir-Fried 'Pho' – Pho Xao
4. Traditional Glutinous Rice Doughnut On Hang Chieu Street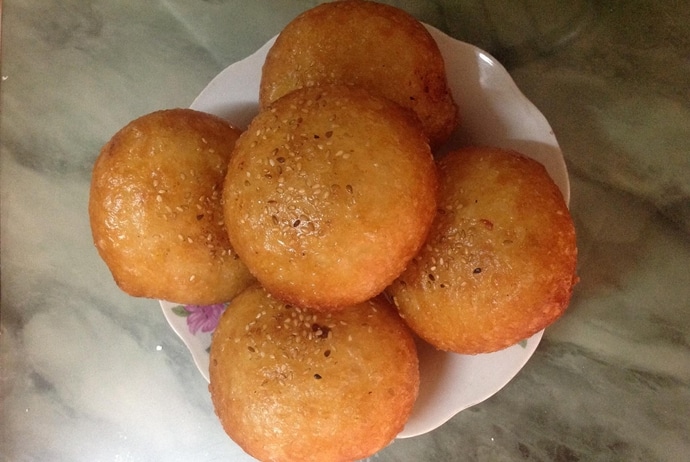 Source: visitkorea
If you are looking for a place where you can enjoy glutinous rice doughnut, you can try this shop on Hang Chieu Street. Traditional glutinous rice doughnut here has been over 20 years of age. This shop is famous for one of the most delicious sugar doughnuts in Hanoi. Although the space is small, and not allowed to sit on the sidewalk, the shop is always crowded. There are only two kinds of glutinous rice doughnut: sugar and honey, and each of them costs 4.000 VND. Honey and sugar covers the surface of the cake, and the green beans are soft and smooth melting right in the mouth. Two kinds of glutinous rice doughnut are different by the outside, the cakes with honey are soft and easy to eat, while the cakes with sugar are crispy.
Address: 52 Hang Chieu, Hoan Kiem District

Opening Time: 9:00 a.m – 9:00 p.m

Pricing: 10.000 – 100.000 VND
5. 'Cao Lâu' Glutinous Rice Doughnut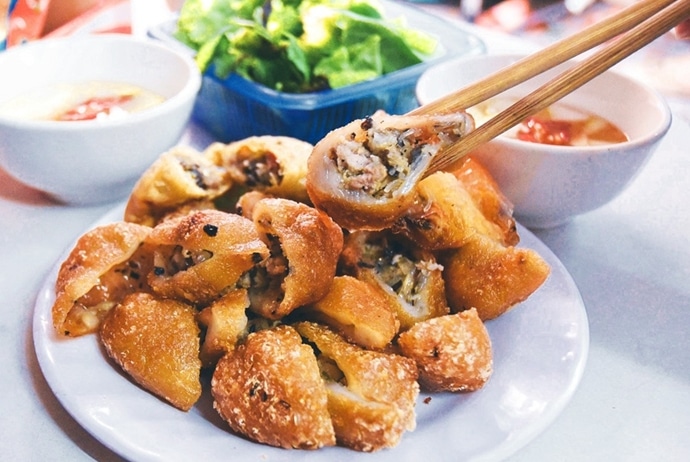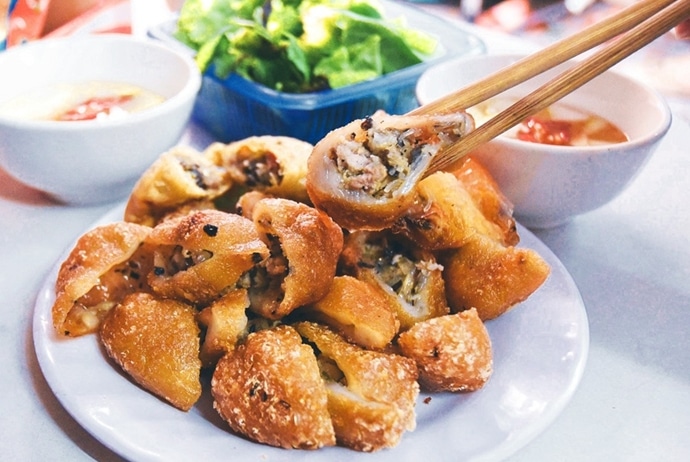 Source: soha
The price here is very affordable with the price of 3,000 VND for each salty doughnut and 2,000 VND for each sweet doughnut. The shop here is crowded with eaters, and most of them are the elderly. It opens from 3 pm to 7 pm. The cakes are soft and both the sweet or salty cakes are very tasty. You can have a satisfied meal with only about 30,000 VND. Each salty cake costs 3,000 VND and each sweet cake costs 2,000 VND.
Address: 5 Luong Ngoc Quyen, Hoan Kiem District

Opening Time: 3:00 p.m – 7:00 p.m

Pricing: 5.000 – 30.000 VND
In Hanoi, there are lots of places where sell Vietnamese glutinous rice doughnut and it is considered as one of the most delicious street foods for breakfast and snacks. Therefore, if you have a chance to come to Hanoi, you should consider try this finger food and you will never regret about your decision.