Updated: 11/16/2019
Son Tra (SơnTrà) peninsula is reckoned the precious jewel of Danang (Đà Nẵng) Tourism, with winding roads around the diverse flora and fauna. The peninsula is located in ThoQuang (ThọQuang) ward, Son Tra (SơnTrà) district, and has 4,439 hectares of land area. It has a long coastline, which is blue and clear throughout the year. Let's discover Son Tra Peninsula with Vina.com!
1. Linh Ung Pagoda (Chùa Linh Ứng)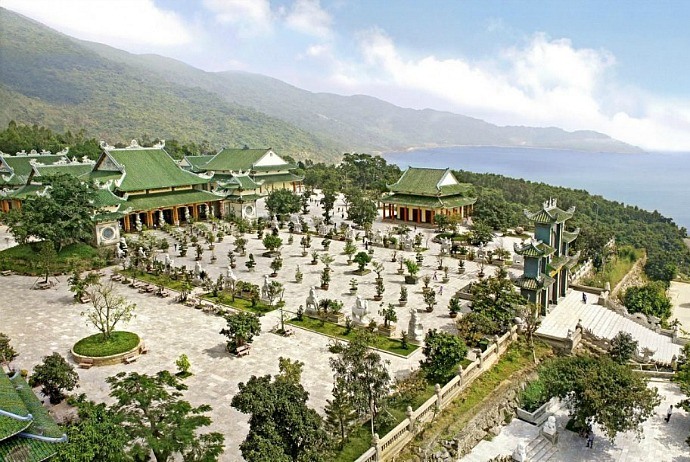 Linh Ung pagoda in Son Tra peninsula is the largest, newest, and most beautiful pagoda in three Linh Ung pagodas of Danang. Located at about 10km to the northeast of the center of Da nang city, at the height of 693m above the sea level, this pagoda is considered a privilege that the Mother Nature has generously offered to Danang. The important highlight of Linh Ung pagoda s the statue of Avalokitesvara Buddha, which is considered the highest in Vietnam (Việt Nam) (67 meters). The statue stands leaning against the mountain overlooking the sea.
2. Ban Co Peak (Đỉnh Bàn Cờ)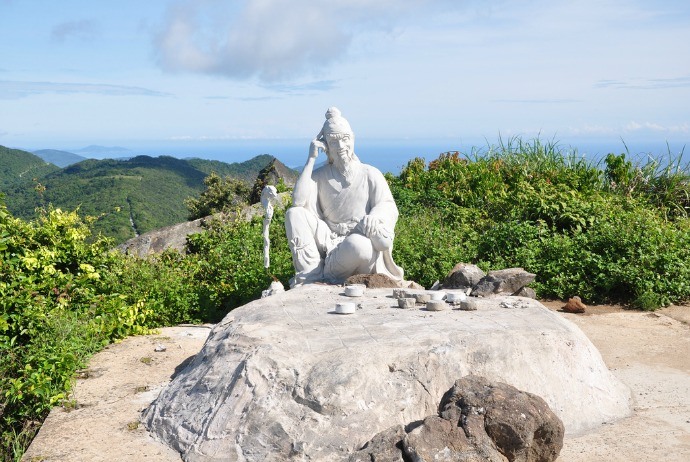 The way up to this peak is winding, which is a journey that you could experience many beautiful and dreaming sceneries of Son Tra peninsula. Experiencing the road from the foot of the peninsula to Ban Co peak, all tiredness will be carried away by the immense space as the place of Elysium. Standing on this high point of nearly 700 meters, you can see the whole Danang. In the distance, there is a busy and bustling city with buildings and 9 famous bridges spanning Han (Hàn) River. It is highly recommended to climb to the peak of Ban Co in the early morning, when the city has still not awaken, the nature in this peninsula also have just stirred, and the sun  light has glimmered on the other side of the mountain.
3. Millennial Banyan Tree (Cây Đa Ngàn Năm)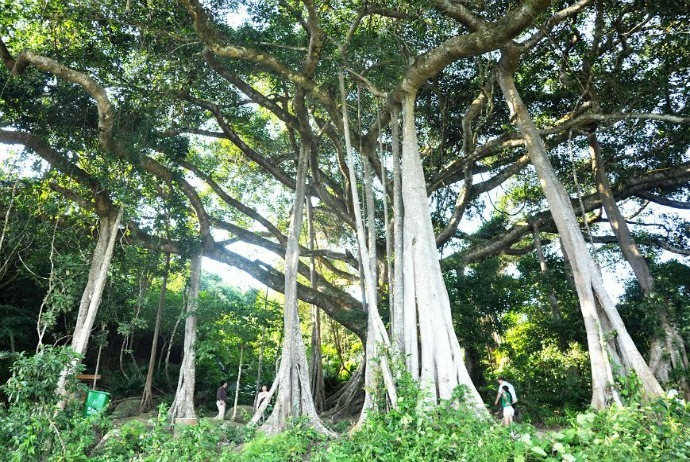 At the 63 sub-region of Son Tra (Sơn Trà) natural reserve, there are many banyan trees creating a population of banyan trees. In this population, there is a very beautiful banyan tree with many secondary roots hanging down deeply into the ground, creating a beauty that not many places acquire. According to the report of the Management Board of Son Tra peninsula, this banyan tree has a circumference of 10 meters, 26 secondary roots, each about 25 meters in height. The banyan tree is considered as the heritage of the city and being a tourist attraction of the city. Here, you could rest, relax, and take beautiful photos to mark the time to enjoy, admire and explore this giant tree.
4. Indochina God Eye (Mắt Thần Đông Dương)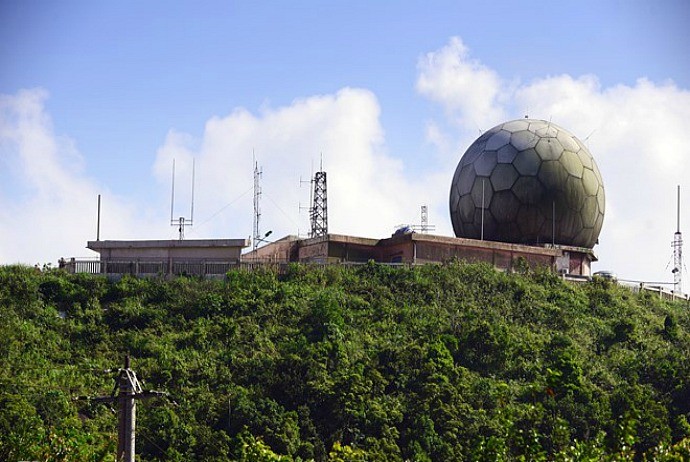 This is another name of the radar station 29 on Son Tra peninsula. Today, the peak of Son Tra peninsula has still been used to place the radar observation station serving many fields from Vietnamese civil aviation, air force, to navy. The radar station has a function of protecting the safety of a vast airspace of Vietnam from Dong Hoi (Đồng Hới) (Quang Binh (Quảng Bình)) to Buon Ma Thuot (Buôn Ma Thuột). Because this is a military area and still used in the protection of sovereignty, tourists could not visit radar stations, but there are still many positions on the roads around the mountain you can stop and take interesting pictures with three featured white orbs.
5. Tien Sa Port (Cảng Tiên Sa)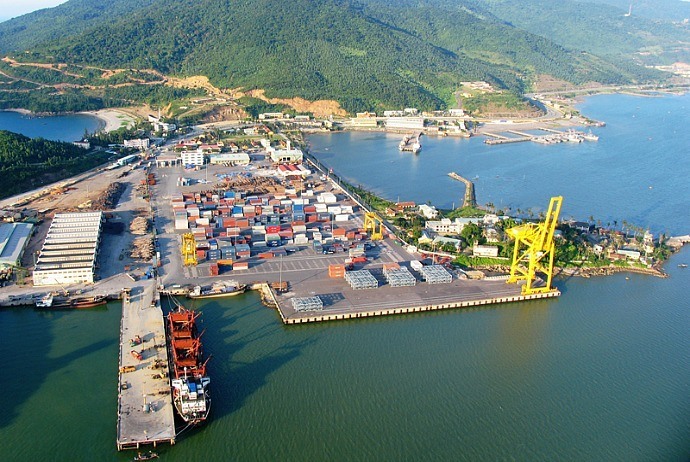 Along with Han River port, Tien Sa port with the key position in Da nang port system contributes an important role in the development of cruise tourism economy of the city and central region, both in the present and in the long term. Tien Sa port is a natural deep-water port with long berth, which is capable of receiving large ships and has a great potential to develop. The geographic location of this port is quite favorable, helped Tien Sa not only with ship field but also tourism. In addition to receiving international tourism ships to Da nang, Tien Sa is also a wonderful landscape for tourists to contemplate.
Read more: Top 20 most beautiful beaches in Vietnam
6. Tien Sa Beach (Bãi Tiên Sa)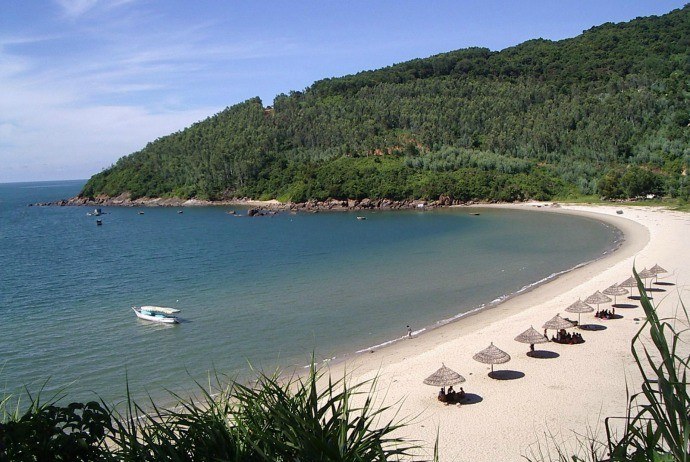 Tien Sa ecotourism zone is situated down Yet Kieu(Yết Kiêu) road, near Tien Sa port, about 10 km away from the city center. This is an attractive tourism destination in Danang. Tien Sa Beach is associated with the legend which went into poetry, music and painting. The beach is located independently to the north of Son Tra Peninsula with quiet and pristine views. Coming here, you could be able to immerse yourself with the nature, with the blue sea, white sand and golden sunshine. This is an absolutely safe place for tourists to take a rest and celebrate events.
7. Da Den (Đá Đen) Beach(Black Stone Beach)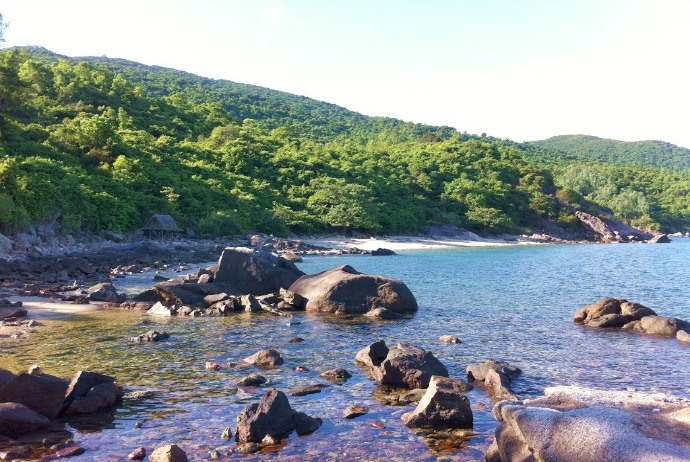 Nestled on the north shore of Son Tra Peninsula, Da Den beach is incredibly pristine though it is just about 1 hour away from Danang city by boat. There are many big black rocks interleaved or stacked creating very beautiful views. Particularly, in the reef area, there are many beautiful artificial lakes which are shielded by large boulders, so the water is green all year round. Besides, the waves here are very soft which are very suitable for tourists to swim. In some appropriate places, tourists can also take part in fishing and snorkeling groups.
8. Nghe Cape (Mũi Nghê)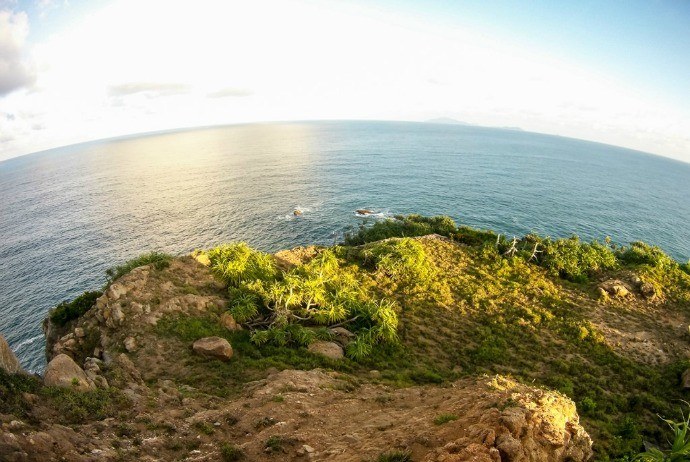 Nghe Cape, also known as Nghe Island (Hòn Nghê) is located at the southeast of Son Tra Peninsula. This is the first place in Danang welcoming the dawn. Nowadays, with the wild and mysterious beauty, Nghe Cape was chosen by the tour designers to deploy sea diving service and become one of the most attractive destinations in the tour around Son Tra peninsula. In Nghe Cape, sea diving service is very potential because this waters area has over 42 types of rare coral reefs. In addition, based on many advantages of Nghe Cape, tour designers add the service of fishing with local fishermen into the tours.
9. Nam Beach (Bãi Nam)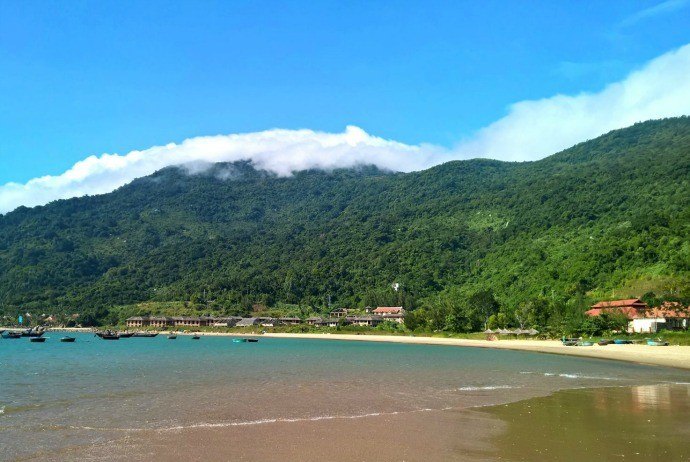 Nam Beach in Son Tra Peninsula, also known as Nom (Nờm) or Nom (Nồm) beach, is one of beautiful beaches in Son Tra peninsula resort, where there is a 4-star Son Tra Resort and Spa. If you look from My Khe (Mỹ Khê) beach, you can will Nam beach in the distance. At the Nam beach area, if you go a few hundred meters offshore, you will see a very beautiful coral reefs and snorkeling activities often take place here.
10. But Beach (Bãi Bụt)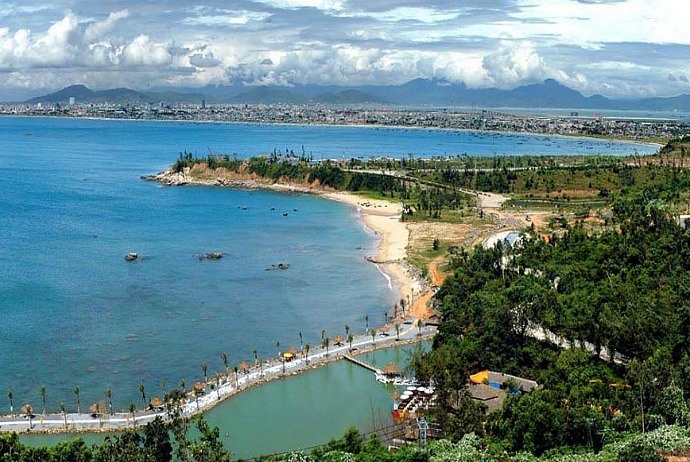 But Beach becomes very familiar with not only domestic but also international tourists. Coming here, you can rent a hut, then eat and sing freely beside the blue sea shores. Also, you could participate in sea games such as surfing, skydiving, etc. The But Beachlandmark – Son Tra peninsula is famous not only by the natural sceneries, but also known as Buddha place at the human realm. Nestled in a beautiful strait, But Beach is a crossing place between the sea and mountains, where there are people from cities coming to immense places of the sky and sea.
11. Bac Beach (Bãi Bắc)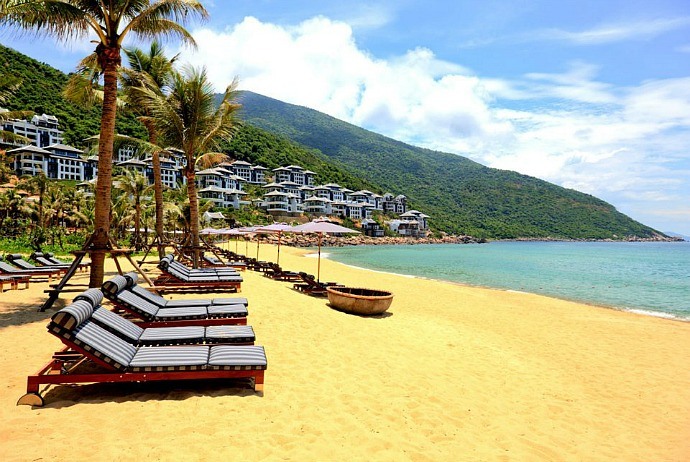 Bac Beach, located toward the northeast, is also called as Bac (Bấc) beach by locals. Here, there are a lot of dark green seaweeds sticking on the rocks from October to November. Locals often call them as "jam" (mứt), a pretty tasty specialty. Due to the beautiful sceneries here, the SunGroup chose and built a 5-star Intercontinental Danang Sun Peninsula – which was considered as one of the new luxury resorts in Asia in 2013. Starting in operation from 6/2012, up to now this resort has become a destination of many stars, celebrities, politicians and important figures in the world. Designed by architect Bill Bensley – one of 5 world renowned architects, this resort has a design style harmonizing with the nature of Son Tra Peninsula, giving tourists many unforgettable experiences.