Phan Thiet (Phan Thiết) city is blessed with a long coastline and boasts several the most beautiful beaches in Vietnam. If tourists run from the north to the south of the city, they will see long stretches of gorgeous sea, sand and sun. However, the beaches in the north of Phan Thiet seems more highly recommended since the south ones are dangerous for tourists to swim and explore owing to the unexploded ordinance remained from the war and hazards of quicksand.
Among beautiful north beaches of Phan Thiet, Rang beach is a magnet. Being a familiar tourist destination in Binh Thuan (Bình Thuận) province, Rang beach is known as a boundary between wild nature and modern resorts. Stretching over the length of 16 km, Rang beach is famous for its turquoise water, soft-white sand and endless sunshine. It provides tourists with an ideal condition for swimming and surfing, windsurfing, and kite boarding.
Near Rang beach, there is still a small fishing village of indigenous people. It will be a pity if you visit Phan Thiet City without passing by Rang beach. Unlike bustling Mui Ne beach, Rang beach has very peaceful and wild scenery. In spite of having no colorful coral reefs, interesting games, Rang beach still attracts tourists in a unique way. Surely, you will not be able to resist the cool, blue water or fresh, pleasant air of the sea upon visiting here.
If you are still wondering about the trip to Rang Beach, the article below will help you gather all necessary information to prepare your best for this trip.
What Is The Best Time To Visit Rang Beach?

Source: Riviste.unimi.it

Rang beach is windy, sunny and less stormy so you can come here in any month of the year. However, in order to enjoy the best weather, you should visit this beach in June or July annually.
It is best to avoid coming here in August, since algae are rising on the sea surface, causing the unclear sea water in this month.
Where Is Rang Beach?

Source: wiki.youvivu
Rang Beach is the most beautiful beach of Phan Thiet city. This beach is created by the blue color of sea water mixed with the green color of coconut trees. Many people say that Rang Beach looks like a beautiful coconut forest and is considered to be the convergence of the modern luxury of high-end resorts with the natural beauty of a rustic fishing village of fishermen.
Rang Beach is about 15 km north of the heart of Phan Thiet City. If you depart from the city center, there are many vehicles for you to choose from, such as a motorbike, car or taxi.
Also read: 15 Best Things To Do In Vietnam
Where To Stay in Rang Beach?

Source: youtube
At Rang Beach, there are many resorts to serve the needs of tourists such as Sunshine Resort, Little Paris Resort, Sunshine Village Hotel or La Marina Hotels, and Minh Hung (Minh Hùng) Hotel. However, their room rates are relatively expensive. Therefore, if you want to save money, you can find hotels or motels in Phan Thiet City.
If you love adventure and want to experience something new, you can set up a tent on the beach and enjoy a night on the beach with your friends.
What Are Attractions At Rang Beach?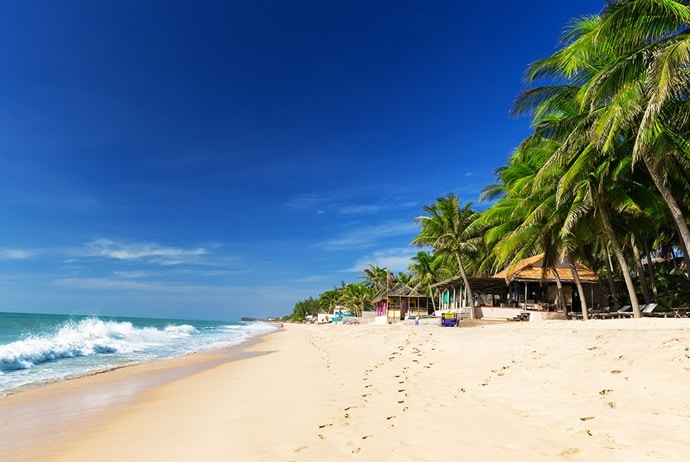 Source: datviettour
Unlike regular beaches which only have reefs and corals in Central Vietnam, Rang Beach – Mui Ne (Múi Né) has a long coastline with fine sand. The yellow and sparkling sand at Rang beach is particularly attractive to visitors. Considered as a relaxing heaven in Phan Thiet, visiting Rang beach will allow you to delightfully explore, play and relax with an extremely wild and stunning natural scene along with fully equipped resorts.
The water in Rang Beach is similar to most other beaches in Central Vietnam, which is very clear, blue, and clean. If you go a little more deeply in the water, you can see the little schools of fish swimming, or sometimes accidentally see the colorful coral reefs.
Plentiful coconut trees cover the coast of Rang, making people feel as if they are lost in South America. How wonderful it is to be on a bench under the coconut leaf while listening to the waves pounding on the seashore. This is like a love song of couples.
Previously, the fishing village of Rang Beach is quite crowded, but due to the development of tourism, modern luxury resorts are built and occupy most of this beach. However, there is still a small fishing village located in the heart of Rang beach, bringing a characteristic sea culture.
Much of the activity of local fishermen only occurs in a few hours of the early morning. After a night of going fishing in the sea, local people do trading of seafood on the seashore. The village is at most crowded state during this time. The calmness will cover the beach after this activity stops and most people return their home.
If you go to Rang Beach but skip contemplate the sunrise moment, you may probably miss one of the most wonderful things of this place.
Most of resort rooms at Rang beach are designed to face to the sea in order to serve tourists in the best way. Therefore, just standing on the balcony, visitors can still feel the moment when the red sun gradually rises from the sea.
One of interesting things to do when visiting Rang beach is to contemplate the sunrise. Indeed, we all know that the sunrise on the sea is beautiful, but that on Rang beach seems more beautiful. Not only is it a red pink sky, light yellow sunrays shining on the water, but it is also the boat and basket which are full of fish and shrimp caught after a night by local fishermen. Therefore, if you have a chance to go to Rang beach, do not forget to wake up early to admire the sunrise on the beach, merge into the bustling marine life of local people here and record beautiful photos to celebrate your trip.
Going about 4 km far away from Rang beach to Phan Thiet, visitors will have the opportunity to contemplate Ong Dia Rocky Reef (Bãi Đá Ông Địa), one of spiritual areas of the coastal people. Going a bit further, visitors can reach the other immense beach of Phan Thiet and learn about the culture of the Cham in Phu Hai Tower (Tháp Phú Hài).
What To Eat In Rang Beach?

Source: vanesa
Along the beach, there are many restaurants as well as eateries serving all kinds of dishes from Asia to Europe with attractive flavor. When you come to Rang Beach, you should not miss some specialties like fish rice noodles, pancake, stuffed pancake, raw fish and vegetables, and grilled flying fish.
Being considered the most beautiful beach of Phan Thiet – Mui Ne, Rang Beach still has a pure beauty despite the change of time. If you want to find a destination that gives you peace and freshness, Bai Rang is a wise choice. Wish you have a fun trip in Mui Ne, Vietnam.
Finally, if you have any questions, please leave a comment, we will reply as soon as possible.