Not too noisy as the other tourist destinations in Da Lat, Trai Mat (Trại Mát) Farm attracts tourists by the poetic nature and peaceful space of the outskirts of the city. Located about 8.0 kilometers away from the center of Dalat city to the southeast along Tran Hung Dao street and Hung Vuong street, it takes about 20 minutes to drive to the Trai Mat Farm tourist destination.
In this article, Vina.com will reveal some of the interesting attractions tourists can do around Trai Mat Farm in Da Lat.
Basic information:
Address: on National Highway 20 (Tu Phuoc Street), Ward 11, Da Lat city, Lam Dong province.

Fares for a Da Lat train station – Trai Mat round trip: VND 85,000 / Vietnamese tourist; 124,000 VND / Foreign tourist. The entrance ticket price is VND 5,000
Trai Mat Farm – A Great Poetic Landscape In Da Lat, Vietnam
1. How To Go To Trai Mat Farm In Da Lat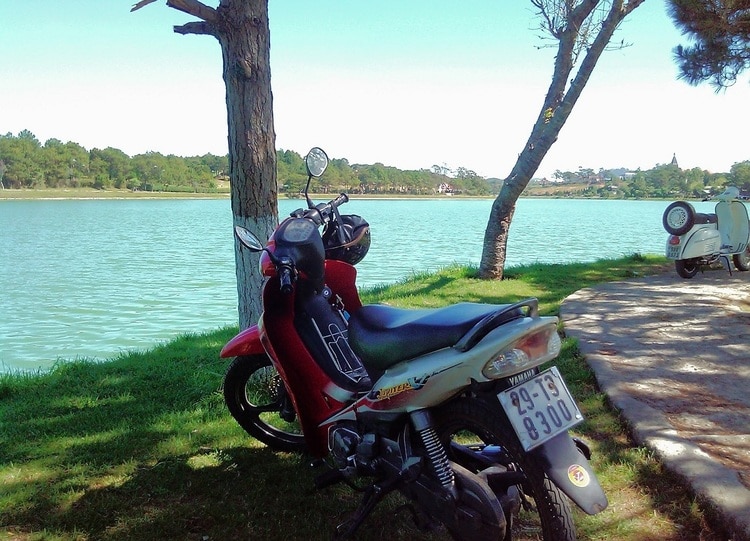 There are three ways to travel from Da Lat to Trai Mat Farm:
Trai Mat Farm is located in a suburb of Da Lat city. The way to Trai Mat is simple that you just need to go from the city center along Tran Hung Dao – Hung Vuong (Trần Hưng Đạo – Hùng Vương) street, then turn right onto National Highway 20 (Đường Tự Phước) and get to Trai Mat Farm.
It is just about 8 kilometers from the center of Da Lat city to Trai Mat Farm so that you can go by motorbike, bus, or old train.
If you travel by motorbike from Da Lat center, you only need to drive about 20 minutes to Trai Mat. This is the way chosen by many young people because it is very fast and proactive for the entire journey. You can rent motorbikes at shops near Da Lat market, Hoa Binh area, Bui Thi Xuan street. Rental prices range from VND 80,000 to VND 150,000/day/motorbike.
If you like to travel by bus, you can catch the Da Lat – Xuan Truong (Xuân Trường) bus. Ticket price is only 12,000 / person. Although going by bus is cheap and safe, it takes a bit of time and it is not proactive for tourists overall.
For tourists who like to discover something new, going to Trai Mat Farm in Da Lat by ancient train is an interesting option. However, there are only 5 trips every day, so you need to prepare time to have a trip. You will go to Da Lat station on Quang Trung street to buy tickets at the price of VND 70,000 / roundtrip ticket.
2. The Best Time To Go To Trai Mat Farm
You can visit Trai Mat Farm in every season of the year, like almost every other destination in Da Lat. However, if you visit this place in February, if travelling to Trai Mat from Tran Hung Dao (Trần Hưng Đạo) street, you will have a chance to admire the wonderful pink color of cherry blossoms on both sides of the road.
3. What Are Attractions In Trai Mat Farm And Activities For Tourists To Do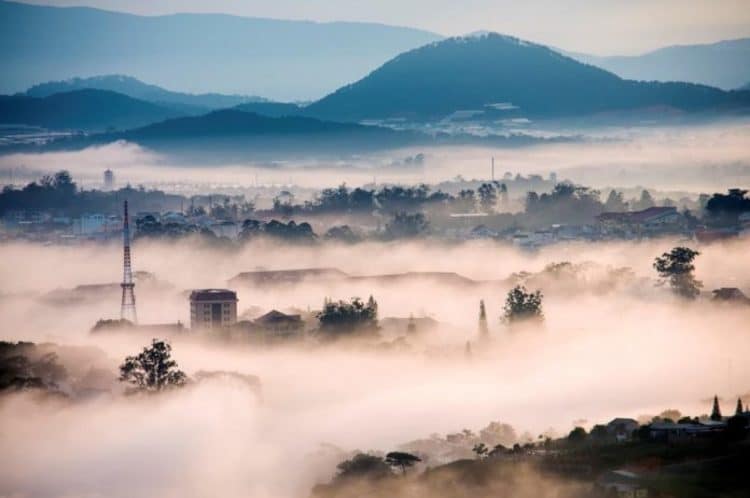 Cloud hunting at Trai Mat in Da Lat
This is a "specialty" in Dalat. Just go to Trai Mat about 5 to 6 a.m, you can easily find a suitable place to see the floating clouds hidden on the slopes and the romantic and fanciful fields.
To buy farm produce comfortably or admire beautiful fresh flowers, you should visit Trai Mat market. This is the largest farmers' market in Da Lat, so you will find most of the temperate fruits or colorful roses and chrysanthemums.
Old Serrated Train Station:
The only stop of the old serrated train of Da Lat is located next to Trai Mat market. The station is designed to simulate the image of the legendary Langbiang peak. With this unique design, it has become one of the attractive tourist destinations in Da Lat for tourists coming to Trai Mat Farm.
Pet Garden, An Emerging Place At Trai Mat Farm In Da Lat
Located in the middle of the green vegetable fields, there is a small house, where young people are extremely fond, especially those who love pets. The small house is lit with warm yellow lights and has the presence of 40 dogs of many different kinds, such as Alaska, Corgi, Akita, Gloden, Collie … Visitors can comfortably play, feed, caress or take pictures with the dogs here.
If staying overnight at Trai Mat, you will witness the fanciful scene of a firefly farm. In the quiet night, Trai Mat has thousands of light bulbs for plants in vegetable houses. From far away, Trai Mat is similar to firefly farms in Japanese comics.
You can check-in at the newly planted lavender flower field in Da Lat. Along with the great fragrance of lavender, there are also French bell flowers, blue queen, hydrangeas, sunflower and so on.
Read more:
4. Additional Tips
When visiting Trai Mat Farm in cold weather like in winter days, you should remember to wear warm clothes, gauze masks, hat to avoid cold and flu.
Anyone who wants to relive the old memories or return to the rustiness of the ancient houses on old streets, try visiting Trai Mat Farm in Da Lat once in your life, and you will never regret! Finally, if you have any personal experience in Trai Mat Farm, feel free to share them with other readers of Vina.com by leaving your comments below.