Hue is famed for manyy craft villages and a variety of skilled and talented craftsmen. Until now, several traditional crafts have been developing dramatically to provide products for market demand and create Hue tours. Thanh Tien paper flower village is one of the traditional craft villages to keep the national culture and attract tourists. 
The contemplative and poetic beauty of Hue always bears the impressive points in any tourists having come to this land. Hue is alluring to history lovers by its monuments from Imperial citadel, Minh Mang tomb, Thien Mu pagoda to the beautiful landscapes of Lang Co beach or a deep blue Huong River. Besides, Hue brings experiences for curious people who get the eagerness to learn about traditional craft villages such as Thanh Tien paper flower village. Being remarkable among the colours of dyed paper, Thanh Tien or "an angel roaming around the earth" is such a great place for tourists. 
Location:
About 7km from Hue city, Thanh Tien paper flower village belongs to Phu Mau commune, Phu Vang district. The village is situated on a special location in the southern riverbank of Huong river lower section. Along Huong river, you will arrive at Sinh confluence and start to go to Thanh Tien village. From the pier, it is about 3km for you to pedal into the village if you want to try cycling to enjoy the fresh and cool air of rice fields along the road. 
History of development: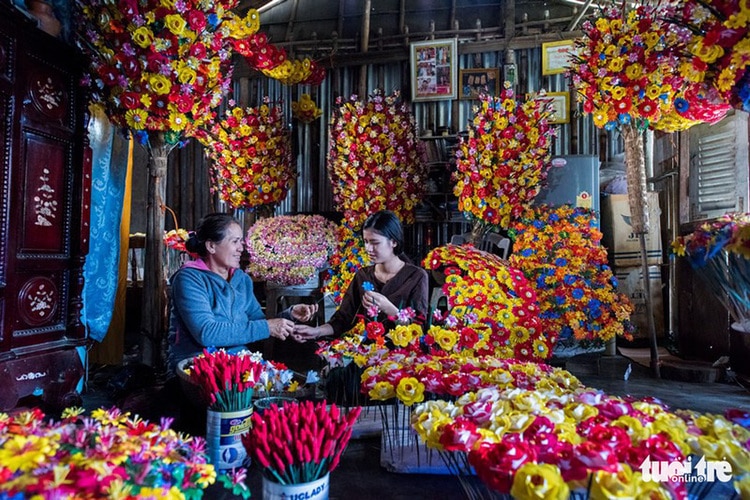 Thanh Tien paper flower village started around 300 years ago and was listed in crafts from the 16th century to 19th century in "Đại Nam nhất thống chí" (books about Vietnam History and Geography). To keep the traditional craft from generations to generations, local people have to pass through painful periods and changes in the society to preserve the quintessence and culture of its homeland, Hue. 
Hue is among the provinces suffering from severe consequences of natural disasters such as storms, floods every year. Therefore, Thanh Tien local people often live with flooding without earning their livelihoods. As a result, they came up with an idea about making paper flowers instead of growing flowers (due to bad weather) for living.
Thanh Tien paper flowers were made initially by simple materials and plain labels and few in colours. However, with the development of society, demand, Thanh Tien paper flowers have undergone substantial changes about processing and created many beautiful flowers with high quality and good prices such as daisy, gerbera and orchids. 
In 2008, artist Than Van Huy – a local person with talent, exquisite and love for his hometown created a new way to make paper flowers from Thanh Tien village's available materials. Paper flower products have become not only special products in this village but also in neighbouring areas. Especially, Thanh Tien paper lotus flowers, which are usually used for decoration and worshipping, appear in festivals, cultural programs for travel promotion. 
Characteristics Of Thanh Tien Paper Flowers:
Thanh Tien paper flowers in Hue bears unique features because they had the meaning about Oriental Confucianism theory. Each sprig of flowers always has eight main flowers. Three central flowers stand for "king-teacher-father" or "Heaven-earth-human". Each bunch of flowers has a yellow or red flower made the biggest to symbolize the Sun or the king. Thanh Tien paper flowers are remarkable at dying. Makers do not use chemicals to dye petals but use resins and leaves to process dyers in the traditional way to keep the colour permanent. 
Concerning advantages, Thanh Tien paper flowers are various about colours and types of flowers in a bunch; besides, they are kept for a long time and show the solemnness for worshipping. Therefore, making paper flowers is busier and bustling at the end of the year. People have to prepare the best materials during a year from choosing paper, chopping bamboo, dying paper. After that, the craftsman ensures that dying color is perfectly suitable; they will arrange some pieces of paper together and create the shape of flowers. This way will make petals united. 
Besides having large paper flowers such as roses, daisies, orchids, Thanh Tien village is famed for lotus flowers – the national flower. Petals are made meticulously and combined with leaves, buds in harmony of colours, which creates paper flowers as real ones. 
Cultural And Spiritual Values: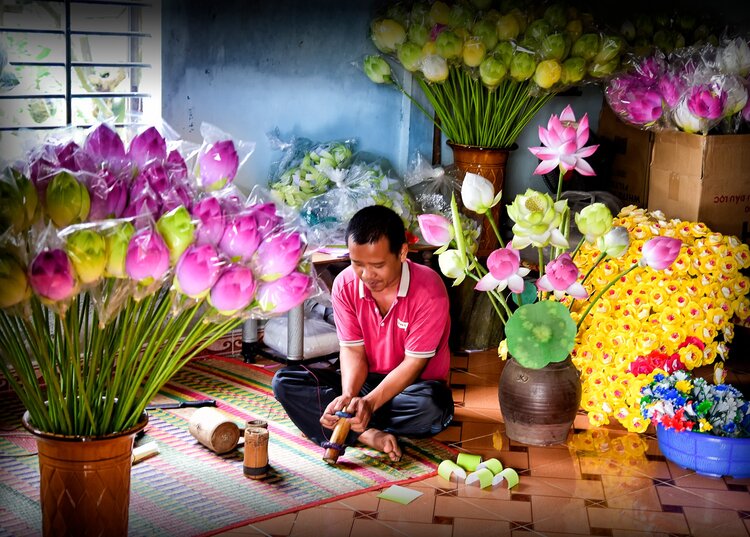 Paper flowers Thanh Tien village help promoting the cultural values; typically, paper lotus flowers are attendant in Hue Festival, ttraditional craft festival, or ao dai festival. Not only are Thanh Tien paper flowers attractive to Vietnamese people, but they are also followed by foreigners when they return to their country after visiting Hue – many tourists buy paper flowers as a gift or souvenir. 
Paper flowers are often iconic worshipping objects in households, temples and pagodas because they bear the beauty of solemnness. In the past, worshipping played a crucial role in dedicating to the ancestors and gods; therefore, people used paper flower to show gratitude to the deceased and spiritual gods and goddesses. As a result, Thanh Tien paper flower village has become a unique point for culture and folk beliefs. 
The beauty of Thanh Tien paper flower village represents the meaning of history and depth of culture in people's mind. It is the place paying honour to traditional values and preserving cultural features of its craft. Hence, if you travel to Hue, pay a visit to Thanh Tien village to experience making paper flowers with local people here. 
By Minh Phuong