Source: mrsly-sinhcafetravel
Updated: 08/28/2019
Thac Bac (Thác Bạc) waterfall is far away from the center of Sapa town. The water is falling violently and the foam is so white, so it is called Silver Waterfall. From a distance, you will be able to hear the waterfall's sound, making visitors feel mysterious. Every year, this waterfall attracts lots of visitors who travel to Sapa. This waterfall is very convenient for visitors, so you can travel by yourself or find a tour guide if required.
In this article, Vina.com will show you some of the basic knowledge of Thac Bac waterfall that is an attractive destination in Sapa you should visit at least once in your life.
1. How To Get To Thac Bac Waterfall In Sapa

Source: chudu24
Thac Bac waterfall is 15km away from Sapa town and situated in San Sai Ho (San Sả Hồ) commune, Sapa district, Lao Cai (Lào Cai) province. This waterfall is next to National Highway 4D, so it is fairly convenient to travel. If you want to travel to Sapa, you can go from Hanoi to Lao Cai by train. From Lao Cai to Sapa, you can move by car for about 40 minutes. From Sapa, it takes half an hour by bus or motorbike for you to visit this beautiful waterfall in Sapa.
2. Climate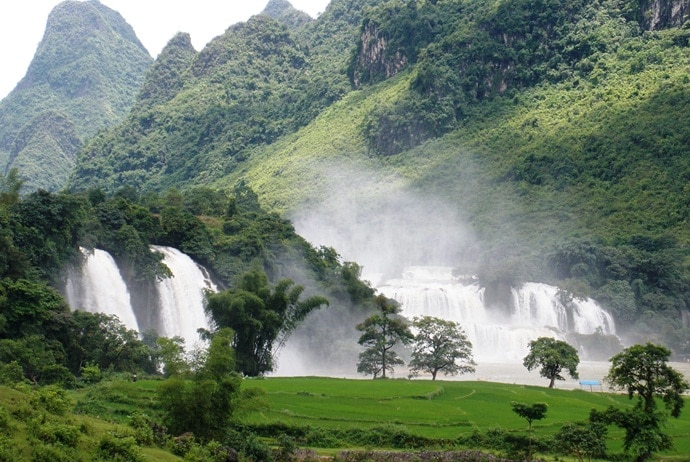 Source: quehuong

In Sapa, there are 4 seasons that have mist in the early morning. Especially, the area around Thac Bac Waterfall has the cool climate, even in summer. So, it is suitable for tourists who like cool weather. It is recommended for tourists to visit Thac Bac waterfall in summer or autumn. This is because this waterfall is so shallow in another time, so it cannot express all of its magnificent beauty. If you travel to this destination in summer, you can enjoy the rainbow in the peak of waterfall that you have never seen before. Also, tourists can look at themselves in the cool water and relax themselves. You remember to take photos in order to save your great memories here.
3. Features Of Thac Bac Waterfall In Sapa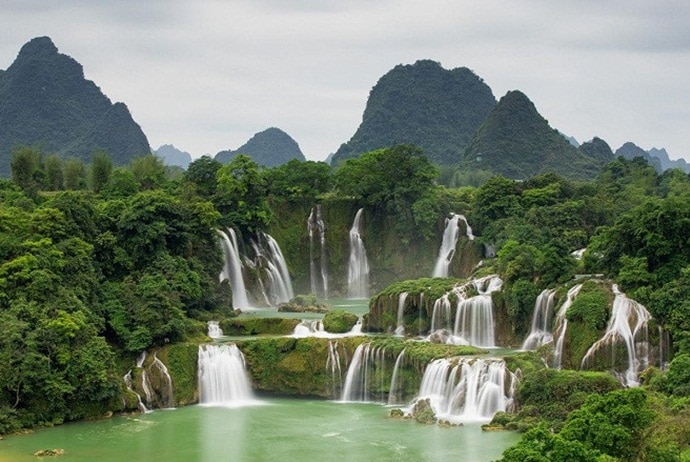 Source: news.zing
Thac Bac Waterfall has been known as one of the greatest tourist attractions in Sapa. Most of the tourists who participate in Sapa tour do not miss this site. This waterfall falls down from the height of over 100m. Standing at the waterfall's foot, you will be able to see the wonders of nature and tourists may feel themselves so small. The sounds of streams combining with bird singings will surely makes you feel relaxed.
With the height of about 200m, the white water flow falls down all year round. On sunny day, when you stand on Ham Rong (Hàm Rồng) Mountain, you can see the white water flowing as silver. Climbing from the bottom of waterfall to the altitude of about 30m, tourists may feel that the water flow is flowing toward them. At the slope's foot leading to Thac Bac Waterfall in Sapa is the salmon seed production center that is expected to become the largest research station on cold-water fish in Vietnam. Salmon are raised with Thac Bac water with over 1,000m of water pipe.
Besides, about 2km away from Thac Bac Waterfall, you will set foot on Tram Ton (Trạm Tôn). Also here, you will have a chance to join in conquer Fansipan peak- the roof of Indochina. The incredible road between Lai Chau and Sapa crosses Tram Ton Pass and it is located on the northern side of Fansipan. At the height of 1900m, Tram Ton is the Vietnam's highest mountain pass. Dropping down the pass on the Lai Chau (Lai Châu) side, the weather is often sunny and warm. While Sapa is the coldest area in Vietnam, Lai Chau is the warmest area.
4. What To Explore At Thac Bac Waterfall In Vietnam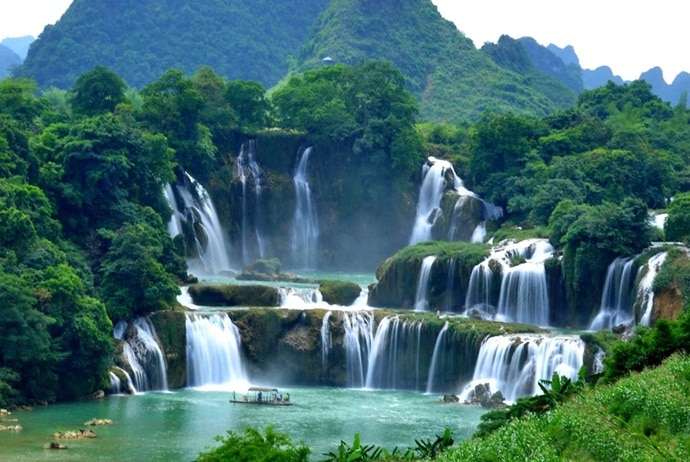 Source: en.nhandan
After conquering the waterfall, tourists can enjoy the specialties of Sapa such as baked eggs, grilled forest birds or grilled pork before continuing the journey to O Quy Ho (Ô Quy Hồ) Pass that is known as the highest mountain pass in Vietnam.
This place is also busy with highland markets that sell souvenirs of ethnic minorities including purses, rings, hats, alcohol, valuable medicinal plants and herbal tea. Also, there is a food zone that serves mountainous specialties for visitors. The foods here are so unique. It brings the wild taste that you will not able to forget.
Going around the Thac Bac Resort, you can easily see the H'Mong ethnic women in colorful brocade costume. They often invite tourists to buy handmade souvenirs.
5. What To Note Before Visiting Thac Bac Waterfall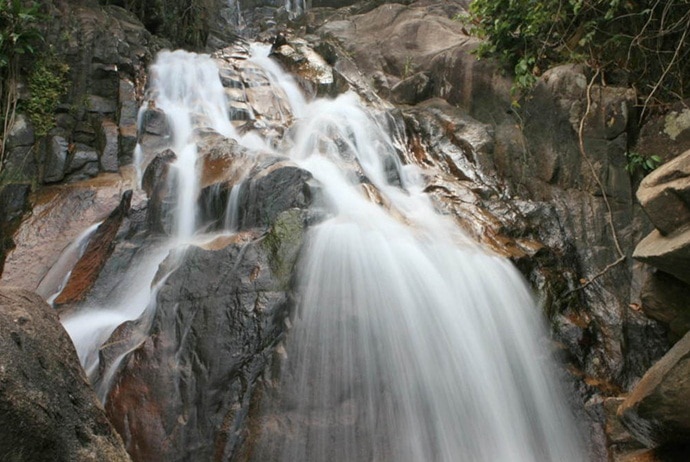 Source: foody
If you want to explore Thac Bac Waterfall in Vietnam, you should rent a motorbike to visit this tourist spot. The cost for a motorbike rental is about 100,000 – 150,000 VND per day. Alternatively, you can opt for a bus for easy transfer. Besides, you remember to bring a camera with you in order to help you save the beauty of nature on your way. You should also bring a coat to keep you warm at night.
The best time to travel should be the beginning of rainy season, from April to July. The rain will fill in the stream, making the climate cool. If you travel in November or December, you will be able to see the snow. However, it can be very cold and dangerous for transfer.
Stopping at Thac Bac Waterfall in Sapa to immerse yourself in nature, you will surely have unforgettable experiences. Due to its advantages, this waterfall displays its significant contributions in developing Sapa tourism and attracting both domestic and international tourists.
Actually, if you have a chance to visit Sapa, you should not miss this beautiful tourist attraction that can make you forget all of the worries and sadness.
Related Articles:
Sapa, A Gateway To Tribe People With New Longest Cable Car To Fansipan
4 Beautiful Homestays In Sapa That You Don't Want To Leave Once You Have Arrived