Sapa (Sapa) is the small trekking land in Vietnam with impressive sublime landscapes and sightseeing. However, the tourism appealing of Sapa is more than that. Tourists and visitors come to Sapa not only because of the trekking but also shopping experiences thanks to the markets and shops scattered across the town. In this article, we would like to introduce a list of meaningful and awesome souvenirs to buy in Sapa, Vietnam.
Sapa Tourism: Top 7 Great Souvenirs To Buy In Sapa, Vietnam
1. Handicrafts And Brocade
Taking the tour to Sapa, you will immerse in a paradise of colorful brocades and handicrafts. These souvenirs are meaningful and awesome as sewing a piece of brocade takes two weeks to complete. The local women have to make one dress for months; therefore, the clothes show their extreme patience and talent skills.
Brocade weaving from ethnic minorities like Dao, Thai (Thái), Tay (Tày), Mong (Mông) people is an outstanding special local culture. These products are woven with the talent skillful hands and they have the cultural values of the locals represented in every patterns and decoration. Furthermore, the designs and colors of handicrafts and brocade are eye-catching.
To meet the complicated needs and requirements of customers, the brocade in Sapa is divided into two kinds: the handmade and mass-produced ones. The mass-produced handicrafts and brocade are brighter with more designs than the handmade one with a darker color and harmonious pattern. Brocade is made into dresses, clothes, bags, purses, backpacks, scarfs, and bed coverings.
You can buy these souvenirs in many tourists spots of Sapa, so it is easy for you to buy the Chinese goods or textiles. Pay attention when you go shopping. The brocade of ethnic people has a slightly rough line and harmony color while the normal textiles are smooth.
2. Silver Jewelry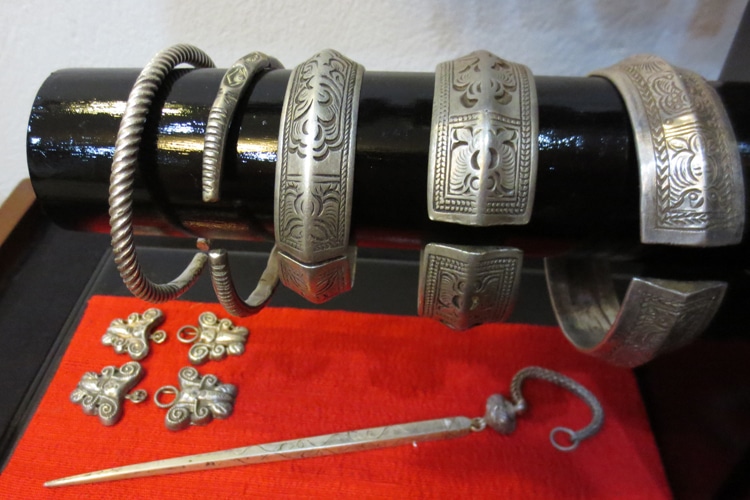 If you look for the awesome souvenirs as the special gifts for your loved ones when going back home, silver jewelry with the unique features and characteristics should not be ignored.
Silver is one of the most popular materials for making jewelry. Wandering around Sapa popular markets and roads, you can easily see the Dzao and H'Mong people wearing several silver circles of necklaces. The weight of the necklace will indicate the person's statue. The shapes of these silver circles also tell the tribes apart. These silver jewelry may be quite costly.
This souvenir is meaningful and awesome especially when you have a chance to visit Sapa. However, make sure that you are careful when going shopping for silver jewelry because you can buy low-quality goods. Keep in mind that the real silver jewelry made by H'mong people will be thicker and heavier than the normal ones.
3. Local Fruits
Located in the temperate zone and having a cooler climate, Sapa is a paradise of the special delicious local fruits such as pear and peach. Pear is the most famous fruit in Sapa which you must try when you have a chance to visit this beautiful highland. This fruit is called "qua mac cop (quả mắc cọp) " which can be found in anywhere in Sapa. The unripe pear tastes acrid but the ripe one has a sweet taste and light aroma which create the outstanding features of this fruit.
Sapa's pear and peach that are often grown in Sapa's garden become the special souvenirs tourists and visitors want to hunt when they come here. To keep these fruits fresh and delicious even when they are traveled in a long journey back home, people often put them in a bamboo basket. This packaging method also helps to avoid bruising. Local vegetables such as dried mushrooms and chayote are also local typical souvenirs for tourists.
4. Packaged Foods And Herbs
If you have a chance to visit Sapa and are the ones who care about health, the packaged and dried medicinal herbs are the great choice for the best souvenirs to buy in Spa as these products can bring many health benefits of the user. This souvenir will make your parents happy.
The medicinal herbs in Sapa are easy to be used. For example, you can use it as the tea, add it into a herbal bath, mix with food or use for a great aromatic massage.
Dried products are also popular in Sapa. You can buy some buffalo and horse meat as a small gift. Its taste is delicious. The buffalo meat which is also called "thit trau gac bep (thịt trâu gác bếp)" can be found in many restaurants and meat stores here. But it is recommended buying it from the reputed stores to avoid the fake product. This food has the average price of from 800,000 VND to 1,000,000 VND per 1 kg.
5. Bamboo Sticky Rice
Bamboo sticky rice is a special food and snack in Sapa. The rice is cooked in bamboo sections; therefore, it has a special flavor and good taste.
It is great to enjoy the bamboo sticky rice or buy it as a small gift for your family and friends back home when you have a chance to visit Sapa. Thanks to the special cooking method, this food can be transported without the loss of freshness or flavor.
You can buy this food in many restaurants or stores in Sapa. Moreover, this food is also sold at the local markets in Sapa.
6. Knives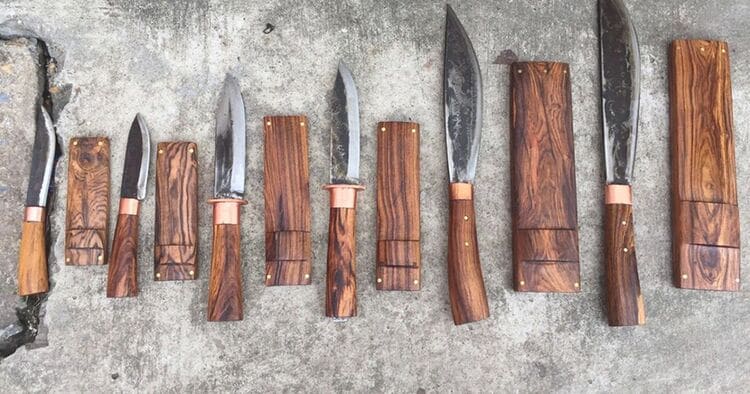 Although there are a lot of industrial products in the market, the homemade knives with high quality made by the H's mong are still one of the most typical souvenirs to buy in Sapa. It shows the patience, the skillful hands, and talent of the farmers.
However, it may be a little challenging if you want to take these items back home through airport security. So, it is important for you to declare these items to avoid any issues.
7. Local Wine
Sapa has two famous wines including San Lung (San Lùng) wine and Apple wine which are made from gourds and fruits. These wines are made in a special and unique process. For example, the ethnic people soak the apple cider in apple-flavored apple jelly, creating the apple wine with a sweet flavor. San Lung wine is made by the brewing solution with esoteric enamel of the Red Dao.
If you have a chance to travel to Sapa, you should taste this special wine which can be found in many places including the local markets of an ethnic minority. It is also great to buy wine as a meaningful gift for your family and friend. Depending on the types and quality of the wine, they will have different price, ranging from 150,000 VND to 170,000 VND.
Read more:
Whatever you decide to purchase, these above souvenirs are unique that you can not find anywhere in Vietnam or in the world. Furthermore, your gifts for your family and friends at home will be more meaningful and special when they come with your stories. So, it is a great idea to share your shopping and travel experiences with them. I hope that this article in Vina.com will give you the ideas about the best souvenirs you can buy in Sapa. Any questions can be left in the comment section and we will answer them as soon as we can.