Updated: 11/27/2019
Halong Bay (Vịnh Hạ Long) is one of the most famous and popular tourist destinations in Vietnam. Halong Bay also has amazing local markets and the largest market in this city is Ha Long Market which will give you a fantastic experience of shopping in Halong Bay. As a leading wholesale market of the city, Ha Long Market is situated in the heart of Halong City that attracts not only domestic but also international tourists who have a chance to visit Halong Bay.
To help you have the best trip to Halong Bay generally and Ha Long Market particularly, we would like to introduce the informative details about this market here. Let's read on to know more!
Ha Long Market – The Largest Market In Halong Bay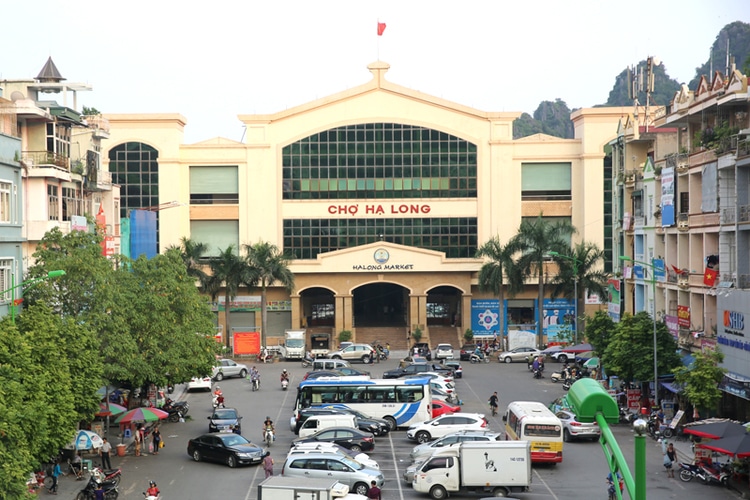 Location: Bach Dang (Bạch Đằng) Street, Halong City
Opening hours: 6 am – 6:30 pm every day
Built in 2003, Ha Long Market features 36 commodity sectors that are divided into separate commodities for convenient sale and easy management. Every day, this market attracts more than 5,000 passengers to come and buy their house necessaries and favorite items. On the weekends, the market is the busiest with the number of passengers reaching up over 7,000. Ha Long Market consists of 4 zones in which zone 1 is the largest area. There are 3 floors on sale goods in this market.
Ha Long Market is located on Bach Dang Street with convenient transportation; therefore, you can find the market easily. If you go to Ha Long Market at weekends, you will be astonished at the crowded sightseeing and shopping.
Crossing the main entrance of Ha Long Market, visitors will walk into the world of various cosmetic, handicrafts, gifts, electronics, groceries, home appliances on the right which are arranged conveniently and neatly for tourist to purchase, go sightseeing and explore.
But the most impressive and dramatic area you should visit is the booth selling souvenirs when you can see many daily familiar items such as chopsticks, combs, hair pins, bracelets, glove boxes that come in eye-catching appearance. Most visitors and tourists shopping in Halong Market often buy beautiful pearls as gifts for friends and family. Wind bells from the shells are also the unique gifts that will bring good sound like the sea breeze.
If you are keen on footwear and clothing, you should go to upper floors (3rd  and 4th floor) where you can find plenty of textiles, clothing, and footwear that come in various types and styles. You can find yourself a satisfactory item here. Footwear and clothing are sold at different prices; therefore, you need some skills of bargaining to get a good price.
The visit to Ha Long Market will not complete if you do not explore the culinary area. The products here have a huge selection especially seafood which mainly comes from Quang Ninh waters. You should taste cheap and delicious Halong squid ball that is the special dish in Halong Bay. It is great to buy dried squid, fried squid, and dried fish as a gift for your friend and family. Furthermore, at the market corner near the main entrance is the area selling numerous snack dishes such as chicken stew, tortilla chips, dried cow dummy, and bread rolls, etc. You will regret if missing the "sam" dish- a distinctive cuisine in Halong Bay. "Sam" is often processed and cooked into various delicious dishes such as sweet and sour "sam" eggs, "sam" legs and "sam" rolls.
On the hot summer days, there is a wide range of sweet soup restaurants situated right of the market allure the following of tourists to enjoy the sweet soup bowl with attractive and colorful appearance. The majority of sweet soup here is made from familiar ingredients such as black bean, soybean, green tea, and lotus. The food here is delicious and fresh at very low cost.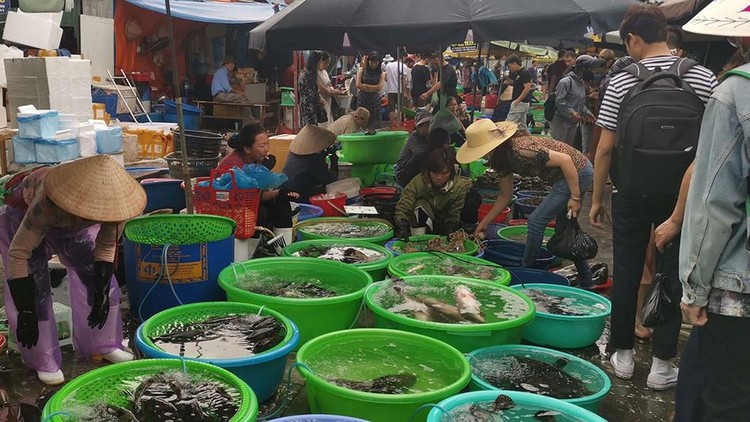 Not far away from the sweet soup restaurants are the squid rolls restaurants. Made from the fresh squid and processed in different recipes; therefore, the squid rolls dishes are always fragrant, hot and crispy.
This market is much more crowded and busy in the summer when the huge following of tourists come to Halong Bay for their gorgeous vacation. Many tourists like travelling to Ha Long Market to discover real experiences, go shopping and learn about local life. Ha Long Market has proved that it is an indispensable attraction of tourism and shopping in Halong Bay about the people, nature and the local living. Do you have any questions? You should feel free to leave your comment below. To know more shopping experiences about regions of Vietnam, please click Vina.com.