Source: du-lich
Updated: 08/28/2019
Sapa is known as a mountainous town in Lao Cai (Lào Cai) and it is home to many great things of nature and ethnic minorities. Apart from the beauty of nature and culture, Sapa is also famous for many human work art, including Cloud Bridge.
Sapa Cloud Brigde (Cổng Trời) is always in Sapa tours for tourists who want to travel to Sapa and this name is named for hotels, restaurants and street in the city center. Every year, this bridge attracts lots of domestic and international tourists. This bridge crosses Muong Hoa (Mường Hoa) river at Ta Van (Tả Van) ward. It is about 17km away from Sapa city and is built by H'Mong residents. Today, Sapa Cloud Bridge serves travellers because the locals can move by another brigde. It is actually a masterpiece, showing the creation of H'Mong residents. Near the area of Cloud Bridge, you can try exploring the Sin Chai village in Sapa.
In this article, Vina.com will show you some of the basic knowledge of Sapa Cloud Bridge that you should know before travel.
1. How To Go To Sapa Cloud Bridge?
Located away 17km from Sapa town, Sapa Cloud Bridge has a peaceful and romantic beauty. Tourists who want to go to Cloud Bridge in Sapa should learn before travel in order to avoid confusion with other places.
Firstly, you go down the Muong Hoa valley for about 8km. When you go to the crossroads, you turn to the trail to Lao Chai (Lao Chải). Next, you continue to go about 3km to see this famous bridge passing over the Muong Hoa stream. The scenery in Cloud Bridge will become very beautiful when the fog covers Muong Hoa River. This scenery is actually worth seeing and you will be able to immerse in the beauty of this land and have a feeling of being on heaven.
2. Features Of Sapa Cloud Bridge In Vietnam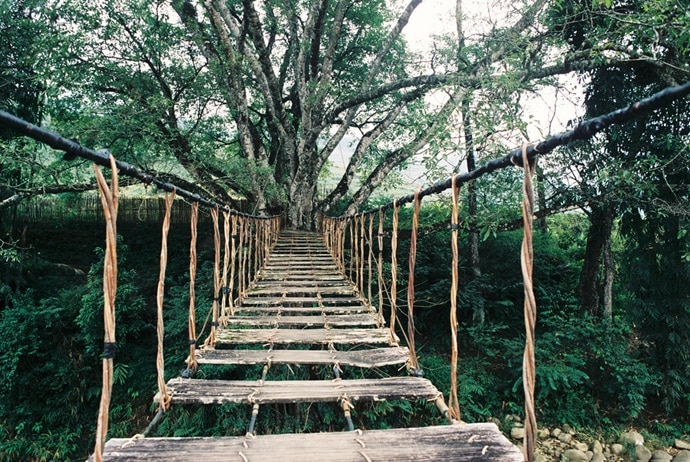 Source: wecheckin

The reason why this bridge is called Cloud Bridge is partly because it is made of different materials and bamboo is the main material to make the bridge. In the past, Cloud Bridge was used by local residence to travel from Ta Van (Tả Van) Commune to Sapa center. Due to the increasing number of people traveling to Sapa as well as erosion process, this bridge is broken. Therefore, local people built another safe wooden bridge next to the old bridge.  And then, they fixed the old bridge and only used it for sight- seeing.
The special feature of this bridge is to give visitors many views when they stand in many different locations. When you stand from the Muong Hoa and look up to see the bridge, you will be able to feel the majesty of the forests and mountains. When you stand on this bridge, you will be able to enjoy the romance of the bridge. When you stand at the wooden bridge parallel to Cloud Bridge, you will be able to know the meticulousness and ingenuity of the local people. And, when you stand at each corner of the bridge, you will be able to have different feelings.
Sapa Cloud brigde looks weak, but it is made by sturdy ropes and wooden planks, so it is actually safe. This bridge is a result of ingenuity, creativity and sophistication of the H'Mong people in the northwestern region. They take advantage of the rattan in the mountainous region. And, the meticulous connection between all of the steps makes the bridge perfect.
Most of the tourists who pass over this brigde may have a fear of heights. Due to the distance of wooden planks (each the set is about 20cm from each other) and the fast river flow, it makes visitors feel dizzy. Besides, the creaks on steps by steps may make you feel more anxious. Although it is very adventurous and dangerous, many tourists from everywhere travel to Sapa want to try this challenge. Therefore, passing over this bridge in a successful way can be an unforgettable memory when visiting Sapa. Especially, when you go to the end of the bridge, you will see a big waterfall called Giang Ta Chai (Giàng Tả Chải) Waterfall. If you travel to Sapa from September to December, you will be able to see the brigde covered with fog, making you feel like you are on paradise. So, it has an art and tourism value.
Now, you should continue to read this article to discover other tourist attractions in Sapa apart from Sapa Cloud Bridge.
3. Discover The Beauty Of Sapa Cloud Bridge In Vietnam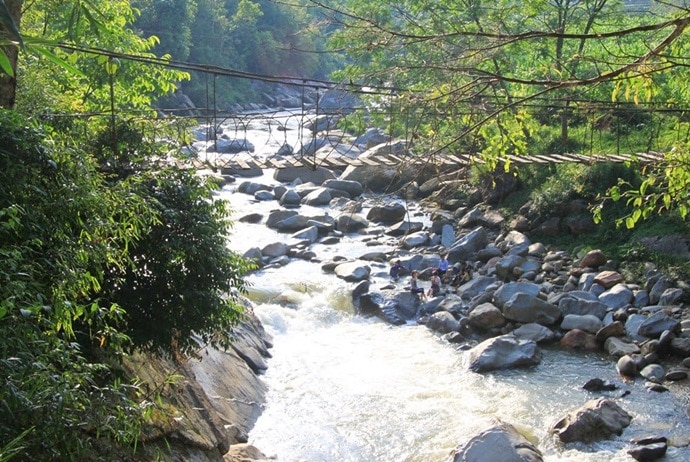 Source: vietyouth
This cloud bridge is one of the most famous tourist destinations that you cannot miss when visiting Sapa. It looks like a simple picture, yet very beautiful and peaceful. The beauty of the bridge is always ready for visitors to explore. Besides, tourists can explore other beautiful tourist attractions in Sapa such as Muong Hoa valley, Sapa ancient church, Ta Phin (Tả Phìn) village, Muong Hoa valley, Coc San (Cốc San) cave, etc. You should know all things about Sapa before you plan to travel. If you want to visit Cloud Bridge, but you do not have time to schedule your trip, you can contact any tour company. There are many different tours that will promise to meet the most demanding of visitors.
If you have a chance to travel Sapa, you do not forget to explore the beauty of the Cloud Bridge. Actually, this is a great destination of Sapa you should not miss when traveling to Sapa.
Related Articles:
Sapa, A Gateway To Tribe People With New Longest Cable Car To Fansipan
4 Beautiful Homestays In Sapa That You Don't Want To Leave Once You Have Arrived