Son Tra Peninsula (Bán Đảo Sơn Trà) is an ideal destination of Da Nang (Đà Nẵng) with many attractions and must-visit spots, including Linh Ung pagoda (Chùa Linh Ứng), Tien Sa Beach (Biển Tiên Sa), Ban Co Peak (Đỉnh Bàn Cờ), etc. However, not many people know Nhat Lam Thuy Trang Tra (Nhất Lâm Thủy Trang Trà). Join with us to explore Nhat Lam Thuy Trang Tra in Da Nang where you can immerse yourself in the pristine nature, enjoy the peace and escape from the bustling life.
Nhat Lam Thuy Trang Tra isn't a resort or eco-tourism site, but an area to grow, protect, and take care of forests. Until now, this place is less known to tourists and even Vietnamese visitors. It also didn't appear on the tourist map of Da Nang city. Most travelers of this site are passionate backpackers who love discovering and exploring the strange places.
I – Why You Should Visit Nhat Lam Thuy Trang Tra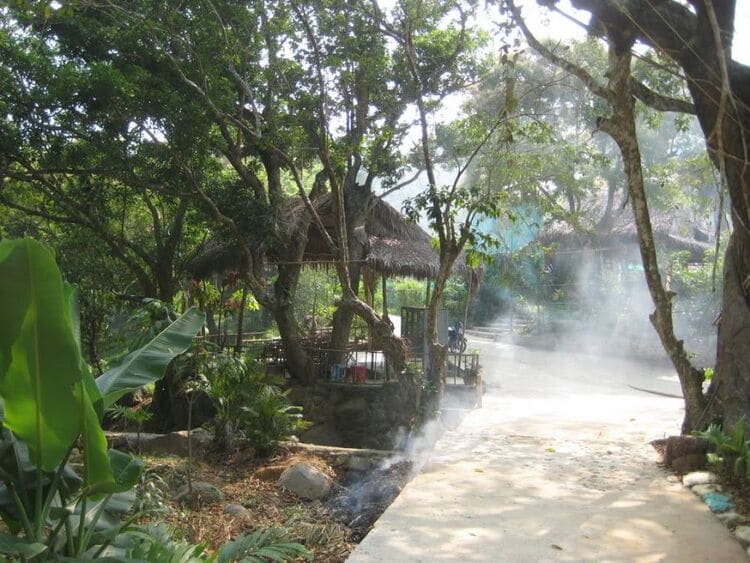 Peace In Son Tra Peninsula
Nhat Lam Thuy Trang Tra is appealing and unique because of the untouched and pristine beauty. Visiting Nhat Lam Thuy Trang Tra, you will be astonished at the green vegetation, trees along the road and blue sea in the distance. It is an excellent idea for you to take photos and hang out with your friends.
The Challenging Journey To Conquer
On the way to Nhat Lam Thuy Trang Tra, you have to go through a winding road, heading to Fairy Chessboard, turn left at the T-Junction to reach the top of Son Tra Peninsula. The path you go is sometimes steep uphill and vertical downhill, which will be the challenging experience for visitors. But you are rewarded with the tree lines along the roadside, the blue sea and the panoramic view of Da Nang city. 
Deer Stream And The Bewildered Banyan Tree
In Nhat Lam Thuy Trang Tra, there are Deer stream and bewildered banyan tree that is about 1,000 years old.
With the height of 20 m, the giant banyan tree has multiple branches full of leaves that welcome the sunshine of the forest. Seen from afar, the banyan tree's shape looks like a deer. It is a reason why the tree is called "bewildered deer banyan tree" or "deer banyan tree." Considered as the magic eye of Indochina, the tree won the title "the first Heritage Tree" in Da Nang.
Near this famous banyan tree is the Deer Stream (Suối Nai) that has clear water. In the dry season, you will see the rocks covered with green moss through the water. It is an excellent idea for tourists to sit near the stream and listen to the jungle sounds.
II – What To Know About Nhat Lam Thuy Trang Tra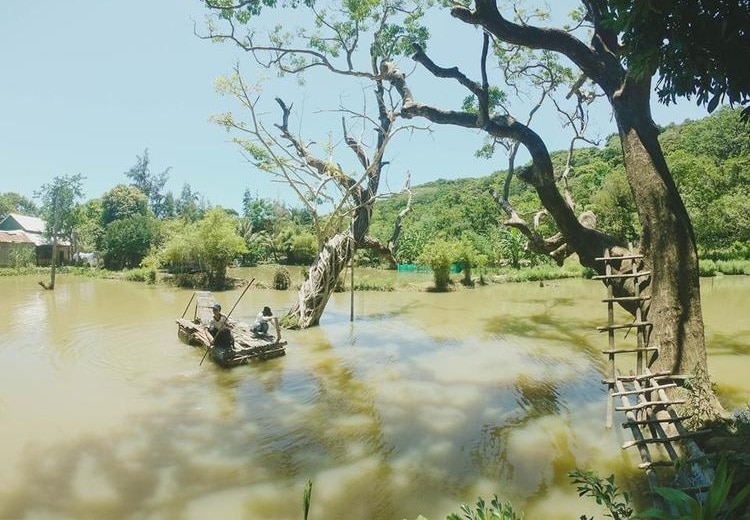 1. Address
Nhat Lam Thuy Trang Tra is situated in the heart of Son Tra Peninsula. It is over 10 km far from Da Nang.
2. When To Visit
Da Nang features a tropical monsoon climate; therefore, it has mild temperatures within the year. However, the right time to visit Da Nang in general and Nhat Lam Thuy Trang Tra, in particular, is from February to May. During this time, the rainfall is not too much; therefore, tourists can feel comfortable to enjoy their vacation in Da Nang and green vegetation in Nhat Lam Thuy Trang Tra.
3. Activities
Visiting Nhat Lam Thuy Trang Tra in Son Tra Peninsula, you can explore the unspoiled nature, trek through the jungle, see the banyan tree and go fishing at the stream bed.
View more: Magnificent Sunrise On Son Tra Peninsula Photos In Da Nang 
III – What To Eat And Where To Stay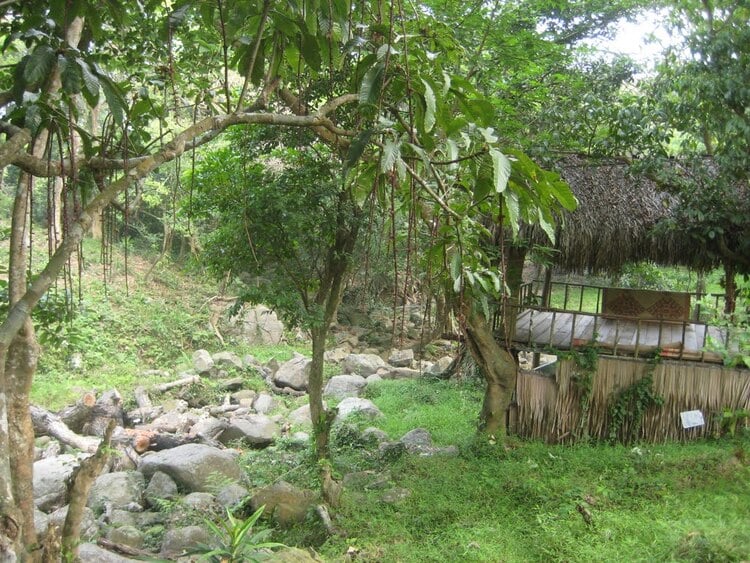 If you have a chance to explore Nhat Lam Thuy Trang Tra, you do not forget to enjoy the unique culinary dishes such as wild vegetables, grilled pork, and grilled chicken.
Eating wild vegetables is a must if you set your foot in this destination. The vegetable grown by people living here comes with diverse and abundant kinds such as rau don (rau dớn), ma de (mã đề), rau bua (rau bứa), rau sam (rau sâm), rau cach (rau cách), rau sung (rau sưng), etc. To enjoy the best taste of these vegetables, you should eat the boiled vegetables with fish sauce that enhances the taste of food and makes you impressed.
Besides, it will be regretful if you ignore the coconut wine. This typical drink is made and processed in a coconut; therefore, it still has the sweet taste and natural aroma of the fermented coconut water.
In Nhat Lam Thuy Trang Tra, there is a resort with the excellent quality and service where you can stay overnight and relax after a full day of exploring and discovering.
Although Nhat Lam Thuy Trang Tra is new to tourists and visitors, a visit to this place will be your memorable experience. Let's forget the stress and take the tour to this peace of the Da Nang City. I hope that you will find useful information in this article. Any questions can be left in the comment section, and we will answer them as soon as we can. If you like our writing, please support my jog by taking a look at Vina.com.