Ha Long (Hạ Long) has many attractions and destinations that are worth a visit, including Ngoc Vung Island (Đảo Ngọc Vừng). This romantic place is well-known for primitively beautiful landscapes, fresh air, and delicious seafood of Halong Bay with the lowest price. Ngoc Vung Island has won the hearts of thousands of visitors and tourists. Let's find out the reasons why this attraction is appealing to travelers and exciting activities you can enjoy here.
I – Why Should You Visit Ngoc Vung Island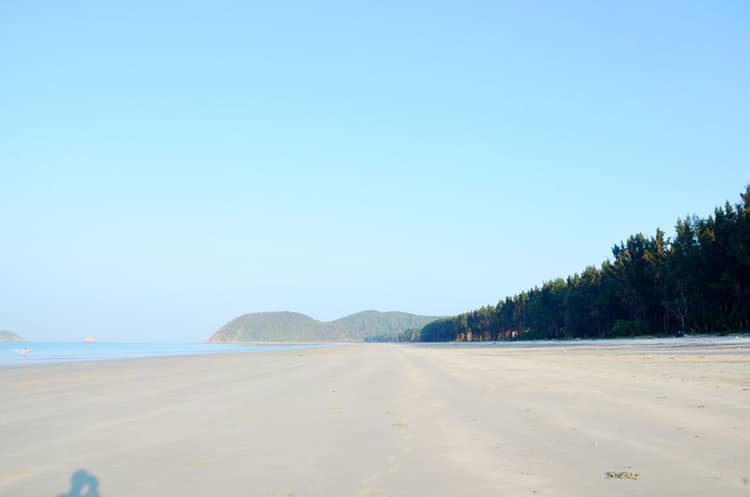 Ngoc Vung Island in Halong Bay is an ideal relaxing spot because of the peaceful and tranquil landscape. Seen from the above, Ngoc Vung Island looks like a velvet shawl with many bright lines floating on the water. To the east of the island, there is endless white sand and blue water. Standing at the Dragon's Eye on the island, you can enjoy the panoramic view of Co To Island (Đảo Cô Tô).
Although it is an unspoiled island, Ngoc Vung Island – Halong Bay has many must-visit sites and exciting activities you can enjoy here.
1. Truong Chinh Beach (Biển Trường Chinh) 
A visit to Truong Chinh Beach is a must if you have a chance to visit Ngoc Vung Island. Located in the south of Ngoc Vung Island, the beach stretching nearly 3 km possesses the smooth white sand and blue water with a gentle slope. Therefore, Truong Chinh Beach is an ideal place for visitors to swim and enjoy beach activities.
2. Memorial Uncle Ho (Đài Tưởng Niệm Bác Hồ)
On November 12, 1962, Uncle Ho visited the island and met the army and the people living here. So, to commemorate that day, the locals planted banyan tree at the place Uncle stood and talked. Nowadays, the tree has grown fast and given shadows.
3. Ngoc Vung Ancient Citadel
This ancient citadel is located in Binh Ngoc (Bình Ngọc) village, Ngoc Vung (Ngọc Vừng) Commune, Van Don (Vân Đồn) District. Built in Mac (Mạc) Dynasty, Ngoc Vung Ancient Citadel has experienced many changes and damages due to the impact of nature and humans.
4. Cong Yen Wharf (Cảng Cống Yên)
Cong Yen Wharf was one of the most important and crowded ports in the northern of Ngoc Vung Island in Ly (Lý) and Nguyen (Nguyễn) Dynasty. Most vessels that wanted to reach the Trade Center to exchange goods had to go through Cong Yen port. Therefore, Cong Yen was seen as the critical transit station for trading at these times, boosting the economy of the country.
Today, Quang Ninh (Quảng Ninh) has introduced a plan of restoring and promoting the historical and cultural values of Cong Yen port. Among the ports of Van Don, Cong Yen of Ngoc Vung Island has received the most attention and impression from visitors.
5. Freshwater Lake
On Ngoc Vung Island, there is also a large freshwater lake; therefore, people living here can use these natural conditions to develop and grow small fields. Visiting the island, you can easily see a peaceful village in the middle of the sea.
6. National Flagpole
It is a military area on the island, so you need the approval from the border guard to be able to climb up and explore the view at the top of the national flagpole. The national flagpole has a height of more than 100 m. Looking up the pole, you can see the Vietnamese red flag flying like a national milestone marking the sovereignty in the middle of the sea.
II – What To Know About Ngoc Vung Island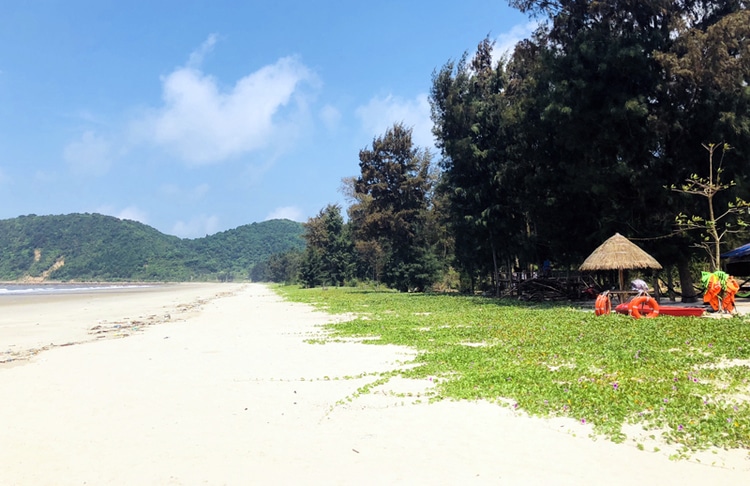 1. Address
Ngoc Vung Island is located in Van Don District, Quang Ninh Province, between Phoenix and Hon Net (Hòn Nét) Island.
2. Legend
Ngoc Vung Island's name is believed to come from a legend. It said that in the past, the island had many precious pearls with the lights brightening the whole area at night.
3. When To Visit
Ngoc Vung is a year-round island; therefore, tourists can visit Ngoc Vung Island at any time of the year. However, it is better to avoid the flood-prone season like September and October and winter months with harsh cold weather.
The right time to visit Ngoc Vung Island is in the summer months because, at this time, the sea is till and you will have a chance to enjoy the picturesque view of the blue beaches, white sand, and yellow sunshine.
4. Activities
Coming to Ngoc Vung Island, tourists can explore the ideal attractions, swim on the beach, sunbathe, and eat delicious seafood and dishes. Do not forget to ask the fishermen to take part in their daily life and learn how to catch fish and shrimp. That would be a great experience when you take the tour to Ngoc Vung Island. Furthermore, you can organize camping near the beach to enjoy the fun with your friends and family.  So, because we have many activities to do on the island, it is recommended to spend more than one day to explore this place.
5. How To Get Around
The common vehicles for getting around in Ngoc Vung Island is tuk-tuk (An auto-rickshaw). But because the island is not large, you can hire a bike or motorbike to explore this place and visit its attractions. In the future, maybe using a tuk-tuk to travel around is banned and electric cars will be used because of its more capacity and safety.
III – What To Eat And Where To Stay In Ngoc Vung Island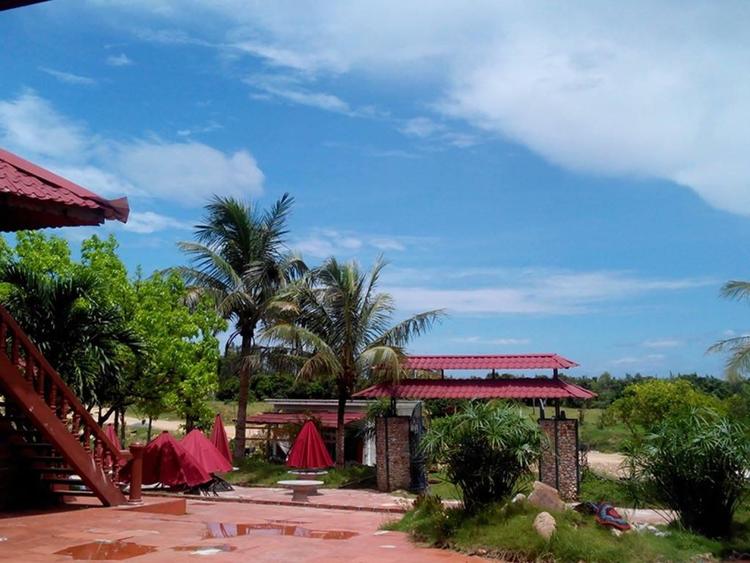 Visiting Ngoc Vung Island, you are welcomed to the heaven of diverse kinds of seafood because the fishermen provide the abundant source of seafood for locals and tourists. If you have a chance to travel to Ngoc Vung Island, the recommended foods are serranidae hotpot, Ngoc Vung oysters, squid, or Ngoc Vung blue swimming crab.
Because Ngoc Vung Island 's tourism isn't developed well, resorts and homestays on this island aren't available and abundant. However, there are some excellent choices of homestays if you want to look for accommodation to stay overnight and rest.
Bien Dao Homestay (Nhà nghỉ Biển Đảo)

Nha San Dong Que (Nhà sàn Đồng Quê)

Nha Dan Hung Hanh (Nhà dân Hưng Hanh)

Song Da Home Stay (Nhà nghỉ Sông Đà)
Alternatively, you can stay in the hotels and resorts near Ngoc Vung Island if you have enough time and budget.
Le Pont Minh Chau Hotel – Minh Chau (Minh Châu) Beach, Quan Lan (Quan Lạn) Island, Ha Long

Ann Hotel – Quan Lan Island – Quan Lan – Van Don (Quan Lạn – Vân Đồn), Quan Lan Island, Ha Long

Van Hai Green Hotel: Quan Lan Island, Ha Long
We hope that you know experiences and tips to enjoy the best moments at Ngoc Vung Island. Any questions can be left in the comment section, and we will answer them as soon as we can. If you are interested in our article, please take a visit to Vina.com that provides many informative writings about Vietnam's attractions and activities.