Da Nang (Đà Nẵng) is a wonderful tourism city with picturesque landscapes and impressive attractions. As one of the largest city in Vietnam, tourists visit Da Nang not only because of exploring the well-known beaches and sights such as Hoi An, Lang Co, Non Nuoc Beach, etc but also shopping at the most famous places in this city.
There is no coincidence that Da Nang is the most worth-visiting city that attracts not only tourists but also shopaholics. Apart from the modern shopping centers, local markets featuring the unique culture are the places visitors should come if they have a great chance to come to Da Nang city and spend time shopping. Visitors coming to the local markets in Da Nang city can dip into the busy, lively and bustling purchasing atmosphere, listen to the Vietnamese accents of locals, and explore a wide range of local items such as spices, food, fabric and carving art products. In this article, I would like to introduce the list of 4 most popular local markets in Da Nang city.
Visit 4 Most Popular Local Markets In Da Nang City, Vietnam
1. Con Market (Chợ Cồn)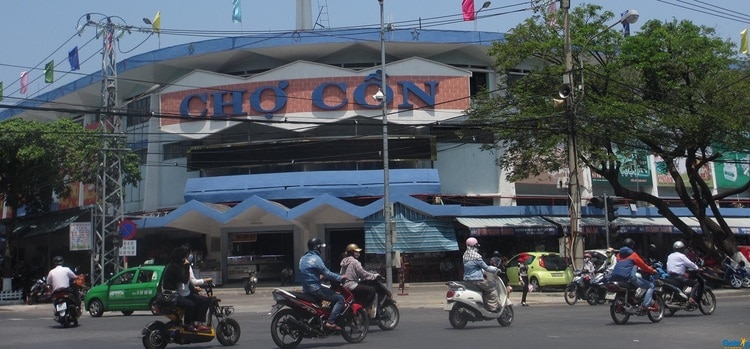 Known as the Da Nang commercial center, Con Market is the busiest wholesale market in Da Nang City Center where you can explore over 2,000 stalls selling a wide array of products including apparel, handicrafts, and accessories at the affordable prices.
Con Market is the local popular market in Da Nang city where fishermen and farmers from several rural districts like Dai Loc (Đại Lộc), Que Son (Quế Sơn), and Thang Binh (Thăng Bình) coming to buy seafood, vegetables, and poultry.
Located within a three-storey building on Ong Ich Khiem (Ông Ích Khiêm) Street, on the ground floor, Con Market is loaded with plenty of food stalls such as dried goods, fresh products, coffee beans while the upper floor focuses on T-shirts vendors and handicrafts stalls as well as tailor services.
The prices of goods here are much more affordable than most local markets in Vietnam. The locals here are open and friendly; so you can still bargain for receiving the lower prices (50% to 70% off).
If you have a chance to explore Con Market, you should enjoy the cheap and tasty Vietnamese dishes such as Banh Mi (Bánh Mì) (Vietnamese Baguette), Banh Xeo (Bánh Xèo) (Crispy Pancake), Goi Cuon (Gỏi Cuốn) (Spring Rolls), and Mi Quang (Mì Quảng) (Vietnamese Turmeric Noodles).
Location: 318 Ong Ich Khiem Street, Hai Chau (Hải Châu) District, Da Nang
Opening hours: 8 am – 8 pm
2. Han Market (Chợ Hàn)
Han Market, a two-storey building located at the intersection of Bach Dang (Bạch Đằng) Street, Tran Phu (Trần Phú) Street, Tran Hung Dao (Trần Hưng Đạo) , and Hung Vuong (Hùng Vương) Street, is reckoned not only as a significant landmark of Da Nang city  but also a heaven of impressive souvenirs and tasty foods. In this market, you can explore hundreds of stalls selling local products, T-shirts, handicrafts and accessories. Even if you do not need to buy anything, visiting Han Market is still a fascinating experience that makes you understand more about the local life in Da Nang.
Travelling to Han Market in the early morning, you can purchase a lot of products that come from this area such as fresh seafood, vegetables, and butchered meat. In front of the market are numerous fruit stalls selling tropical fruits such as mangoes, bananas, jackfruits, and durian. Nothing is greater than exploring the stalls of Ly Son (Lý Sơn) garlic, chili paste, and dried squid that are displayed and sold on the same floor.
After shopping for souvenirs at Han Market, you can enjoy the special Da Nang dishes like Mi Quang (Vietnamese turmeric noodles), Banh Xeo, Goi Cuon and Com Tam (Cơm Tấm) (broken rice). Each serving of these foods costs you no more than 30,000 VND.
Shopping for the souvenirs, home appliances, fabrics, and cosmetics, you can go to the upper level of the Han Market. It is easy to find the shops of several Da Nang's famous tailors who can help you design and make the unique dresses and suites at the affordable prices.
Location: 119, Tran Phu Street, Da Nang
Opening hours: 5 am – 7 pm
3. Seafood Market
In Da Nang, there are many markets selling seafood; however, this market is unique and popular for both locals and visitors. It is the place where you can find dozens of kinds of seafood like snail, shellfish, mussel, fish, crab, clams, squid, shrimp, etc which look fresh and delicious.
In this market, you cannot bargain because the price of products is fixed by the sellers. But everything is sold at the affordable prices for locals and visitors. This market is well-known for its simplicity you cannot find this in any other local markets. Situated at the crossroad of Hoang Sa (Hoàng Sa) Street and Le Duc Tho (Lê Đức Thọ) Street, near to the coast, this seafood market has only two or three pavilions and each pavilion uses plastic tarpaulin to cover, becoming a small shop. Explore these pavilions, you can find all kinds of seafood that are caught from the sea.
Furthermore, when you buy fresh seafood, the sellers always tell you a few local restaurants that you can ask the chef to cook for you. The prices of cooked dishes vary from 20,000 VND to 40,000 VND, depending on the food styles (roasted dish, steamed dish, and fried dish) and ingredients. That is a reason why this seafood market is widely called "instant" seafood market. If you do not want to follow the instructions of the sellers, you can go to the right opposite of this area where you can see a long line of eateries with seats. Enjoying seafood cooked here and immersing in the cool atmosphere of the windy sea are great and memorable experiences.
Location: Hoang Sa Street, Tho Quang (Thọ Quang) Ward, Son Tra (Sơn Trà) District, Da Nang
Opening hours: 2 hours each day
4. Bac My An Market (Chợ Bắc Mỹ An)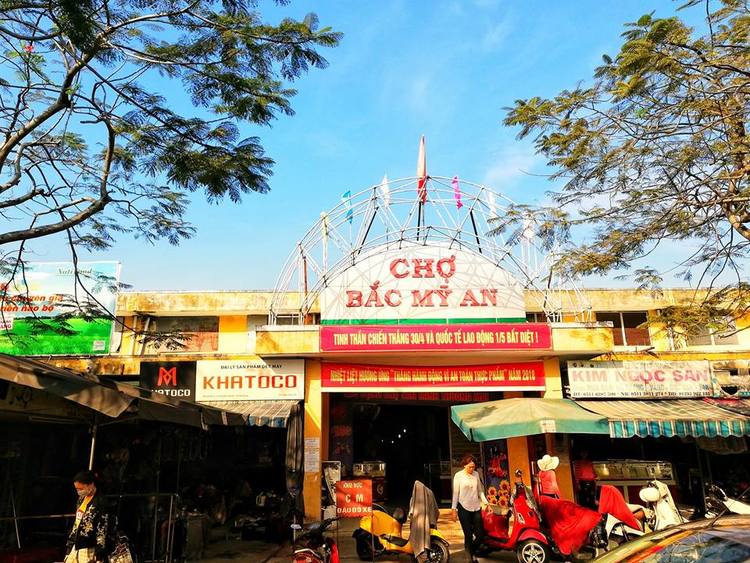 The next one in the list of popular local markets in Da Nang City, Vietnam I would like to introduce to you is Bac My An Market. Located near Da Nang University of Economics and T-20 beach, Bac My Market sells a lot of products such as vegetables, clothes, dried seafood, fresh meat, etc. Bac My An Market is well-known for its diversify products but also the street food paradise of Da Nang City.
In the center of the market are the shops and adjacent stalls for dining services. Visiting Bac My An Market, you can enjoy breakfast or lunch at the noodle area with many kinds of noodles including Bun Bo (Bún Bò), Mi Quang, Bun Tron (Bún Trộn) (noodle with pork, shrimp and vegetable drily), Bun Mam (Bún Mắm) (noodle with fish sauce), etc. It is recommended tasting the noodle with BBQ pork if you have a chance to visit Bac My An Market.
Apart from noodles, Bac My An Market is also well-known for its delicious snail stir-fried with lemongrass and chili. These dishes have a super delicious taste and cheap price. Snails in Bac My An Market has two types including Oc Buou (Ốc Bươu) and Oc Da (Ốc Đá) that are caught from streams, rivers and the rice fields. The worth tasting food in this market is the avocado ice cream that is the monopoly brand of this market. This hand-made ice cream is made from flour, hen's egg, avocado, coconut milk, dried coconut, and a small peanut all of which create the eye-catching appearance with the light white, yellow and green colors.
Other foods that are sold here are a savory pancake, Vietnamese banh my, juice, dumpling with very cheap price from 10,000 VND to 20,000 VND. It is great to explore the unique cuisine of Bac My An Market when you take the tour to Da Nang City.
Location: Bac My An (Bắc Mỹ An), Ngu Hanh Son (Ngũ Hành Sơn) District, Da Nang
Opening hours: 8 am – 6 pm
Read more:
The local markets in Da Nang City have a unique style, diversity of goods and affordable prices which attract both locals and visitors. I hope that you can find useful information in this article by Vina. Any questions can be left in the comment section and we will answer them as soon as we can.