Asia Park Da Nang is a unique destination with an East Asia style of entertainment. The fact is that you cannot watch the scenery and join the whole game here in just one day. Therefore, we write this article to share with you the experience of having fun at the Asian Park and help you have the best memories when coming here.
Where Is Asia Park Da Nang?
Located at No. 1 Phan Dang Luu (Phan Đăng Lưu) street, Hoa Cuong Bac (Hòa Cường Bắc), Hai Chau (Hải Châu) District, Danang, the Asia Park has an area of 868,694 m2 on the west bank of the Han River (Sông Hàn). It is a unique combination of novelty and entertainment models of East Asia.
It is also the leading amusement park in Southeast Asia with an investment of up to 40 trillion dongs.
Opening Hours And Ticket Prices
1. Opening Hours
Monday – Friday: 15:00 – 22:00
Saturday – Sunday: 9:00 – 22:00
2. Ticket Prices
Adults: 200.000VND / person (from Monday to Thursday) and 300.000VND / person (from Friday to Sunday).
Children: 200.000 VND / child (for children from 1m – 1m3, from Friday to Sunday) and 150.000VND / child (for children over 1.3m, from Monday to Thursday).
Children with the height of less than 1m get free entry.
Tickets are only available for the Sun Wheel, monorail, and outdoor games.
Note: Electronic tickets are only valid for 10 days after the day of successful registration.
What Are Attraction In Asia Park Da Nang?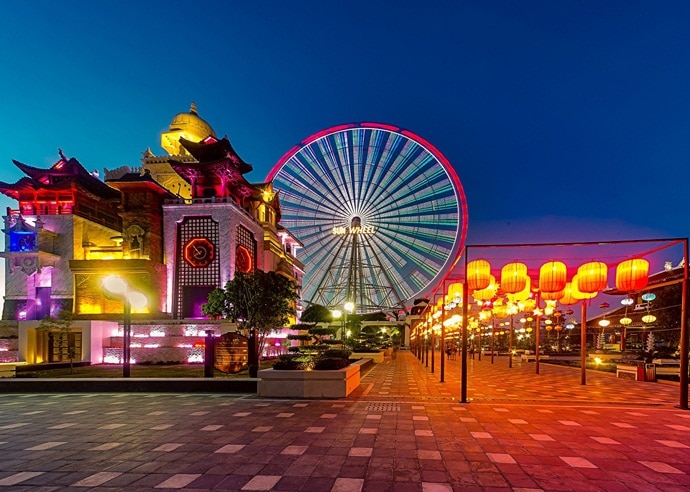 Source: dichvu43
Asia Park is divided into three main areas:
Modern outdoor amusement park.
Cultural Park with architectural and artistic miniature symbols of 10 countries in Asia.
The Sun Wheel (a combination of modern and traditional beauty).
1. Modern Outdoor Amusement Park
The amusement park at Asia Park offers a number of unique games appearing the first time in Vietnam. Games often referred to are roller coasters, overhead trains, free-fall towers, and high-speed slides. They will definitely bring you unforgettable experiences. In addition, if you go with children, do not skip the following games:
It is a journey to explore the island of dinosaurs for the little ones. Go on, hold tight on the steering wheel and get ready to start!
If you choose this game, you will enjoy the moments of fun in the shimmering space of music and light.
A lovely train ride on the Indonesian garden will bring the children to the ocean adventure and countless other attractions.
Here you will explore the world in the trunk and see the birds, squirrels, ants and many other lovely creatures.
Children will enjoy the adventure on the roller coaster. Children can only get this experience when coming to Asia Park.
Here, have fun with the beautiful fireflies. Put on your seat belt and fly!
Become a Ninja, spin and fly excitedly in the air.
Enter the "Kingdom of Cars" and participate in an exciting race in the land of Kabuki dance. This game will put you on the race to become "the super racer".
Also read: 14 Reasons Why Everyone Calls Da Nang A 'Worth-Living" City
2. Cultural Park And Sun Wheel Area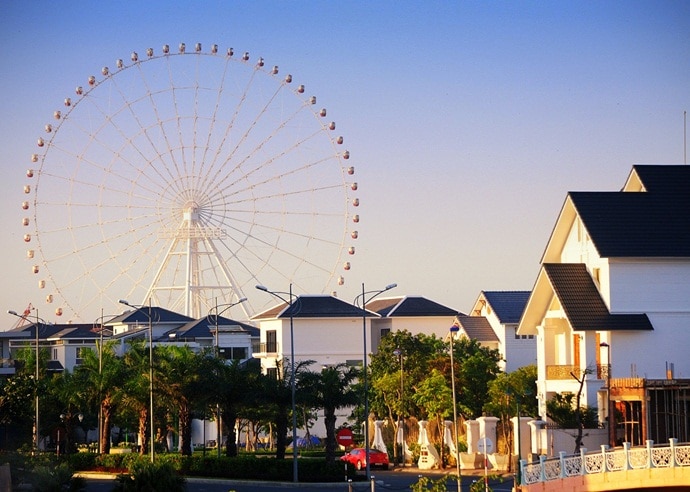 Source: tourkhamphavn
The cultural park at Asia Park opens up a fascinating oriental space through the diversity of culture, historical buildings, unique art and cuisine of 10 Asian countries: Japan, Indonesia, Singapore, India, Korea, Nepal, Thailand, Cambodia, China, and Vietnam.
The 115-meter Sun Wheel, which is the world's top 5 riders, is a symbol of Danang.
Spreading on an area of up to 700 m2, the gate features the typical architecture of Hue Citadel and is a place welcoming travelers to visit and play in Asia Park.
Sun Wheel is 115m high and equipped with 64 cabins and the speed of 15 minutes/round. It is one of destinations that should not be ignored in Danang.
From the height of 115m of this giant wheel, visitors will have a chance to take a panoramic view of Danang city as well as admire the statue of Maitreya Buddha which is 4,7m high, weighs 20 tons.
When entering the Sun Wheel, visitors will encounter Clock Tower, which features the architecture of 10 Asian countries.
This is listed among top 10 most thrilling games in the world. It attracts the most players in the Asia Park Da Nang. The train of Singapore Sling will take you up to the height of 30m then rotate 360 degree in the air before falling freely at 65km/h. It will give you a strong feeling that makes you want to play more.
With an area of 20m2, Dragon Boat is an ideal stop for visitors to enjoy the cityscape and cool breezes from the river.
Statue Of Maitreya Buddha
Sculpted from monolithic stone, the Maitreya Statue is 4.7 m high and weighs 20 tons. It is located in the quiet space adjacent to Han River and symbolizes happiness and luck.
Located on the ground floor of the Sun Wheel, the FEC is an exciting venue for new and exciting games, such as the Sun Blaster, the largest soft play area in Vietnam, and other award-winning games.
Asia Park also regularly has vibrant cultural activities such as performing arts, handicrafts, folk games, and cultural festivals.
So you've just gotten some useful information about the Asian Park. Many visitors say that visiting Asia Park is one of best things to do in Danang. Therefore, if possible, you should not miss this destination. Make sure that, upon coming Asia Park Da Nang, you make the most of your ticket, and try all the rides. For those who do not like the crowds, then this destination seems a perfect site for evening activities.