Ha Giang (Hà Giang) is a beautiful highland destination where you can enjoy the picturesque landscapes and meet friendly ethnic groups. However, your visit to Ha Giang will not complete if you do not explore Lung Tam Linen Weaving Village (Làng Nghề Dệt Lanh Lùng Tám) where Mong (Mông) ethnic women are dedicated to weaving and making linen products.
I. What To Know About It?
1. Address
Located in Quan Ba (Quản  Bạ) District, Ha Giang Province, Lung Tam Linen Weaving Village under the foot of the hills are famous for its tranquility, serenity, and beautiful landscape. In this village, you can meet a lot of Mong ethnic people in colorful attire who always welcome you with a friendly, open, and sincere attitude.
2. History
Lung Tam Linen Weaving Village was established in 2001, and the number of initial members was only 10 people. Experiencing the initial difficulties (poor infrastructure, low number of participants, unskilled workers, etc.), now Lung Tam Linen Weaving Village has developed strongly in both scale and facilities, becoming an attractive destination for tourists.
II. Why Should You Go To This Place?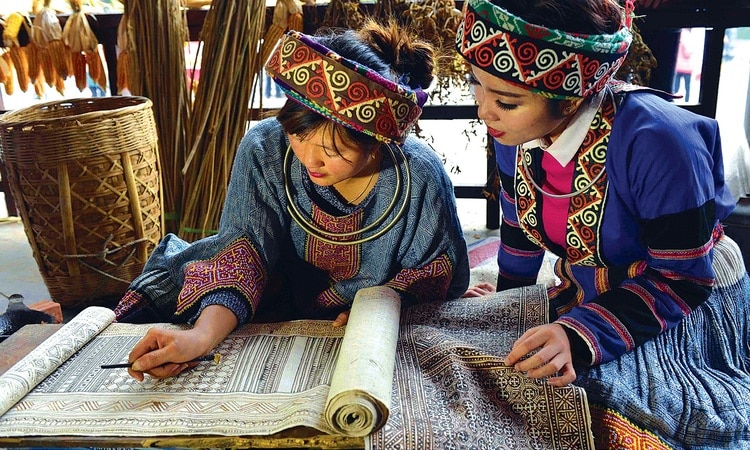 1. Discover Linen Weaving Process 
As one of the most significant towns in Quan Ba (Quảng Bạ) valley region, Lung Tam Village – Ha Giang has attracted many tourists and visitors to come. They visit this village not only for the picturesque landscape but also the cultural values of linen weaving.
To keep this tradition remained and developed, H'mong family will give their daughter a field to grow flax when she becomes mature. They have to care for the field until the products can be harvested. Usually, the needed time is two months. The process of making linen products is complicated, with 21 stages. After harvesting, they dry the flax into yarn. This process should be very careful because women need to make sure the flax fiber is long, thin without being broken halfway.
After dried, the fiber is put into a mortar, and women use pounding to remove the weak fiber. The left strong fiber will be rolled into the large one. The fiber will go through several times of water boiling with ash and one time with water with beeswax until it becomes softer and white. It is ready for the weaving.
The cloth of flax has been the pride of every H'mong woman; therefore, they are cautious when they make linen products. During the process, even men are not allowed to annoy or interrupt women. At the final stage, the cloth will be washed many times to become smoothly white. After that, women spread the fabric on the logs and rub it with beeswax several times until it becomes flat.
Next is the dyeing process. The cloth has to be dyed multiple times to have the wanted colors. The fabric is put into indigo substance for one hour, taken out and soak again. Make sure that you drain the water completely before repeating the process. This dyeing process has to be done 8-10 times before the cloth is dried under the sun for 3 or 4 days if the weather condition is sunny. But if it rains, it takes up to 2 months.
People in Lung Tam Village take the weaving seriously; therefore, wherever you stand in the village, you can see the clanking sounds that come from the sewing machines and weaving looms.
2. Buy Gifts For Friends And Family Members
The special thing about the linen products of Lung Tam village is that all the products are made with natural remedies, flowers, plants, etc. Therefore, the colors are fresh and last long. Furthermore, they are also healthy to wear and resistant to mold as well as environmentally friendly. So, linen clothes and products are loved by a lot of people. Visitors and tourists coming to the village will buy some items for themselves and families back home. The local people now have a plan to diversify their products by making not only dresses but also skirts, shirts, pillow covers, iPad, and tablecloth.
There are also some markets in the village where people sell the products made by linen weaving.  It is alright for you to buy them as a gift for your friends or your families back home.
3. Picturesque Landscape
Lung Tam Village attracts tourists and visitors not only because of the tradition of brocade weaving but also the picturesque landscape that will make anyone astonished. Traveling to Lung Tam Village, visitors will cross the tortuous roads and rolling hills that lead them to the beautiful vast valley with green flax.
III. Where To Stay In Lung Tam Village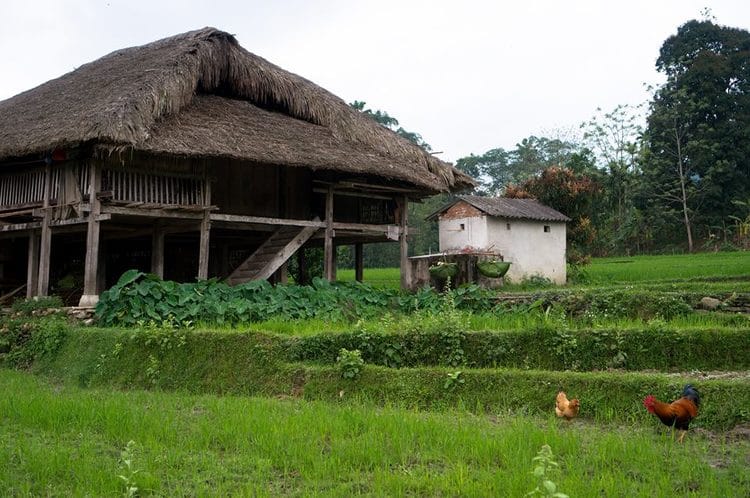 After visiting Lung Tam Village, if you want to stay overnight, you should ask a local for help. Local people in Lung Tam Village are friendly, sincere, open-minded, and willing to give tourists and visitors a room to relax and sleep.
Staying in the local's house is an excellent opportunity for you to understand the local culture and daily activities here.
Read more:
Lung Tam Village is an excellent destination for not only tourists, and visitors and linen weaving has become an outstanding characteristic of this village. A visit to Lung Tam weaving linen village will definitely create unforgettable memories and experiences. I hope that you will find useful information in this article. Any questions you want to ask, please raise your voice by leaving them below. We will answer your questions as soon as we can. In Vina.com, we have many new articles that will give you useful suggestions if you want to travel to Vietnam.
By Nga V