Photo Of Ha Giang Landscape By Tuyet Thi Nguyen
Updated: 11/22/2019
Ha Giang (Hà Giang) is in the northern mountainous region of Vietnam. It is the northernmost province of Vietnam's mainland with numerous majestic mountains, rivers, and primitive forests. In recent years, Ha Giang is most famous for its circuit triangle flower fields, attracting lots of both domestic and foreign tourists come to contemplate. Nevertheless, besides circuit triangle flower, Ha Giang still possesses various remarkable sights and monuments. If you are planning to travel to this mountainous province, do not forget to visit 7 must-see attractions in Ha Giang that we are going to introduce in the article.
Top 7 Must-Visit Attractions In Ha Giang, Vietnam
1. Noong Lake
Noong Lake (Hồ Noong) is about 17 kilometers from Ha Giang city, which is considered "the eye of the forest." With a water surface area of about 20 hectares, located in the middle of a 100-hectare primitive forest, the lake has a wild and unique landscape that you cannot find anywhere.
In Noong Lake there are two seasons, giving visitors two different experiences. In the rainy season from April to October, the water rises, visitors can join local people on a raft for a tour around the lake. In the dry season from October to April of the following year, when the water runs out, people here often utilize dry land around the lake to grow corn, peanuts, beans, squash, melon, etc. and use the lakebed land to grow vegetables.
2. Ma Pi Leng
Ha Giang is an attraction that admires many backpacking tourists by the winding roads and passes between the mountains. One favorite route of travelers is Ma Pi Leng (Mã Pí Lèng) – the highest and most dangerous pass in the North. Ma Pi Leng is called unofficially by tourists as one of the four great passes in the mountainous region of northern Vietnam, along with O Quy Ho Pass (Đèo Ô Quy Hồ), Khau Pha Pass (Đèo Khau Phạ), and Pha Din Pass (Đèo Pha Đin).
Ma Pi Leng with a height of about 1200 meters above the sea level belongs to Pai Lung (Pải Lủng), Pa Vi (Pả Vi), and Xin Cai (Xín Cái) communes, created by a series of sediments. This pass is rugged, which is the result of mountain-forming activities, making it one of the most worth-conquered point in Ha Giang.
3. Fairy Waterfall
Fairy Waterfall (Thác Tiên) – a well-known site in Xin Man district (huyện Xín Mần) – is also one of the must-see attractions in Ha Giang, Vietnam you do not miss when traveling to this province. To get to Fairy Waterfall, visitors must pass about 17 kilometers the center of Coc Pai town (thị trấn Cốc Pài). The waterfall is in the territory of Deo Gio (Đèo Gió) primitive forest, Nam Dan commune (xã Nấm Dẩn).
From a distance, the gentle and romantic beauty of Fairy Waterfall stands out among the magnificent natural scenery. Pouring down from a height of 70 meters in the great old forest, due to the tiny droplets spreading along the wind blowing around, the waterfall is not loud and aggressive but soft and serene, bringing a peaceful, cool feeling. Because of this phenomena, it is also called Wind Waterfall (Thác Gió).
4. Hoang Su Phi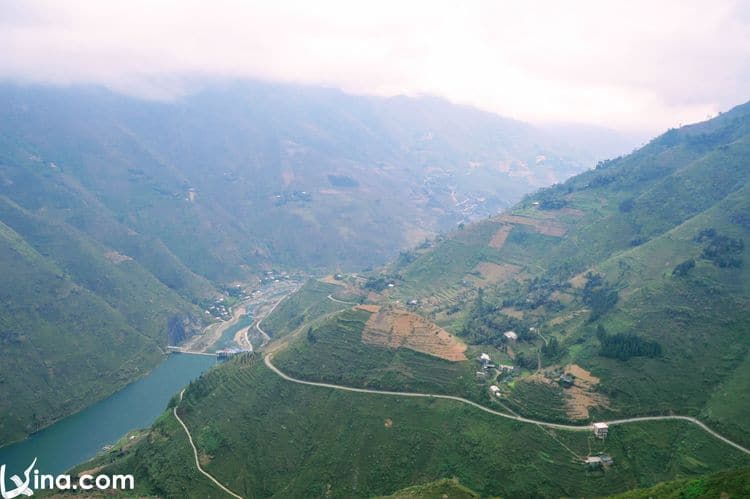 Photo Of Ha Giang Landscape By Tuyet Thi Nguyen
Hoang Su Phi (Hoàng Su Phì) is a highland district on the border, located in the west of Ha Giang, concentrating diverse ethnic groups such as Dao, Mong, La Chi, Tay, Nung, and so on. The natural scenery of Hoang Su Phi always captivates the travel enthusiasts and discoverers. A tour in Hoang Su Phi is the first choice of backpackers every autumn, when the immense terraced fields are cover with a golden color, creating a stunning spectacle.
5. Mansion Of The Vuong Family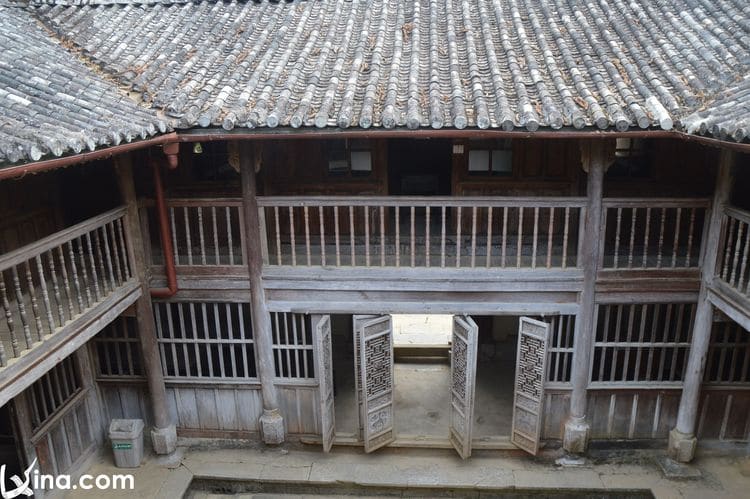 Photos Of Ha Giang Landscape By Tuyet Thi Nguyen
Mansion of the Vuong family (Dinh thự nhà họ Vương) lying in Sa Phin valley (thung lũng Sa Phìn), Dong Van district (huyện Đồng Văn) is an exclusive architectural project classified by the Ministry of Culture, Sports, and Tourism as a national monument in 1993. The entire mansion has an area of nearly 3000 square meters, started in 1919 and completed in 1928. The construction process cost 15000 silver Indochina dong, which is equivalent to 150 billion Vietnam dong today.
The path to the mansion is paved with large flat stones. The mansion itself is surrounded by two stone walls, built mainly of blue stones, po-mu wood, and terracotta tiles. The details on the walls are meticulously carved with the dominant figures of dragons, phoenixes, and bats, symbolizing nobility and prosperity. Especially, the mansion has the word "king"-like architecture, which is a typical example of the interference of architectural art of the H'Mong (người Mông) and Han people (người Hán) in the Vietnam-China border area.
Currently, inside the mansion, there are still original artifacts remaining such as stone mortars, stoves, wooden tables and chairs, stone baths, and more. Tourists who want a visit must buy tickets at the gate with the price of 20000 VND/person.
6. Pao's House
Pao's house (nhà của Pao) is located in Lung Cam village (thôn Lũng Cẩm), Sung La commune (xã Sủng Là), Dong Van district, Ha Giang province. This is the house of uncle Mua Sua Pao (Mua Súa Páo), a H'Mong person. The name "Pao's house" originates from the fact that the house was selected by the director Ngo Quang Hai as the backdrop of the famous film "The story of Pao." Thanks to the rustic and idyllic setting, the film has won many awards at the Golden Kite 2005 of Vietnam Cinema Association.
The entrance of Pao's house is made of wood, surrounded by thick stone walls. Right behind the gate is a spring blossom forest, offering a quiet and tranquil atmosphere. At present, in order to create favorable conditions for visitors, the house is undergoing renovation.
7. Lung Cu Flagpole
Coming to Lung Cu (Lũng Cú), standing under the "red flag with a gold star" flying at the uppermost point of the country, surely, we will all have sacred emotions. This will be a special experience, in which you go to discover, to understand the voice of the previous generations who fought and sacrificed to protect and preserve the country's independence.
Lung Cu flagpole has a very long history, underwent many reconstructions and embellishments. The new octagonal flagpole with a height of over 30 meters was inaugurated in 2010. From Lung Cu flagpole, you will be able to view the whole fields, villages, and daily simple life scene of ethnic minorities.
Hopefully, the article "top 7 must-see attractions in Ha Giang, Vietnam" will help you have more travel options when visiting Ha Giang. If you have any question or comment, please write in the box below. For more article about other tourist spots in Vietnam, go and check our vina site.