Sword Lake By Vina
Hanoi – Vietnam's capital city is an attractive destination for thousands of visitors and tourists because of the combination of history and modernity. Many places in Hanoi draw the attention and interest of not only Vietnamese people but also international travelers. One of the must-visit attractions in Hanoi is Hoan Kiem Lake (Sword Lake (Hồ Hoàn Kiếm)). Situated in the center of Hanoi, the lake is seen as the spiritual heart of the city. It reminds the legendary story related to the name Hoan Kiem, the significant contribution of General Tran Hung Dao (Trần Hưng Đạo) and traditional Vietnamese education. Furthermore, Hanoi's Hoan Kiem Lake makes the landscape of this bustling city more airy and beautiful. In this article, I would like to give you the Hoan Kiem Lake travel guide that helps you understand and know more about this fascinating attraction.
The Legend Of Hoan Kiem Lake
Hanoi's Hoan Kiem Lake has a fantastic legendary story and history. According to the legend, in 1428, Emperor Le Loi (Lê Lợi) received a magical sword from the Dragon King to defeat Chinese oppressors.
After successfully fighting against the invaders and become the king, Le Loi came back to the beautiful lake. When he boated through the still waters, a big golden turtle appeared and said that his master sent him to retrieve the sword from the emperor. Le Loi gave back the magical sword to the turtle, and he vanished beneath the jade waters. To mark this spectacular event and show his appreciation to the Dragon King, Le Loi named the place Hoan Kiem Lake. It means "the Lake of Returning Sword" in English.
Hoan Kiem Lake – Beautiful Lake In The Center Of Hanoi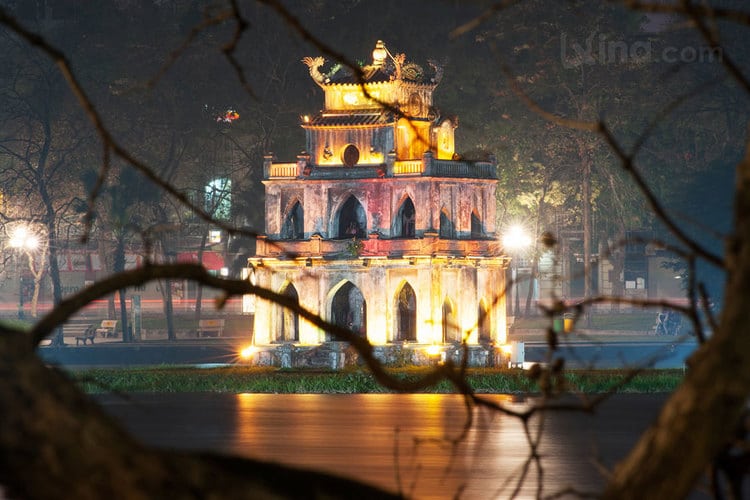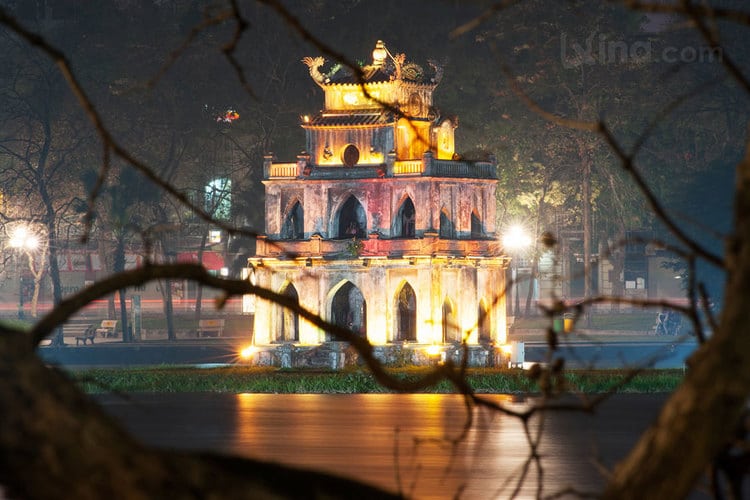 Sword Lake By Vina
Hoan Kiem Lake boasts a total area of 12 hectares with 700m north-south length and 200m east-west width. The lake is surrounded by streets of Hanoi Old Quarters including Dinh Tien Hoang (Đinh Tiên Hoàng) street and Le Thai To (Lê Thái Tổ) street in the east and Hang Khay ( Hàng Khay) street in the south.
Turtle Tower is located on an island in the middle of Hoan Kiem Lake. After the big turtle got the sword for his master, turtles became the revered animal around the lake. In the water, one turtle lived, and she was believed to be the incarnation of the gigantic mythical turtle King Le Loi met. This turtle was named Cu Rua (Cụ Rùa); however, she was found dead in early 2016, and Vietnamese people mourned her death. Vietnamese people embalmed and put her on display at Vietnam's National Museum of Natural History.
Hoan Kiem Lake is an ideal place to relax and escape from the heat of the city. People come here to exercise in the morning and take a seat in the afternoon. It is great to sit on the bench and observe the life space of Hanoi people. The lake gains the pride of people living in the city.
Hoan Kiem Lake is not far away from the Hanoi Old Quarter and near many restaurants and hotels. Therefore, it is worth a visit.
Things To Do Around Hoan Kiem Lake
1. Visit Ngoc Son Temple (Đền Ngọc Sơn)
Ngoc Son Temple was built in the 13 century to commemorate the battle of military leader Tran Hung Dao (Trần Hưng Đạo) fighting against the Yuan Dynasty. This temple also worships Confucian master Nguyen Van Sieu (Nguyễn Văn Siêu) and scholar Van Xuong (Văn Xương). Visiting Ngoc Son Temple, you can show your gratitude to these heroes, pray for your health and wealth, and enjoy the beautiful sightseeing of Hoan Kiem Lake.
2. Visit Jade Island
Ngoc Son Temple is on Jade Island that is easily reached by the iconic Rising Sun Bridge or The Huc Bridge (Cầu Thê Húc). This island is seen as the flower of the boutique Hoan Kiem Lake. Crossing the bridge, you will see this beautiful island.
3. Jogging Or Running Around Hoan Kiem Lake At Night
The area around Hoan Kiem Lake bans vehicle every night weekend and becomes the walking street. Coming to Hoan Kiem Lake from 7 pm on Saturday to Sunday (24 hours) will be your opportunity to enjoy the Hanoi nightlife with vibrant lights and lively atmosphere. During these times, this place is full of runners, the elderly, the young, and foreigners.
4. Do Morning Exercise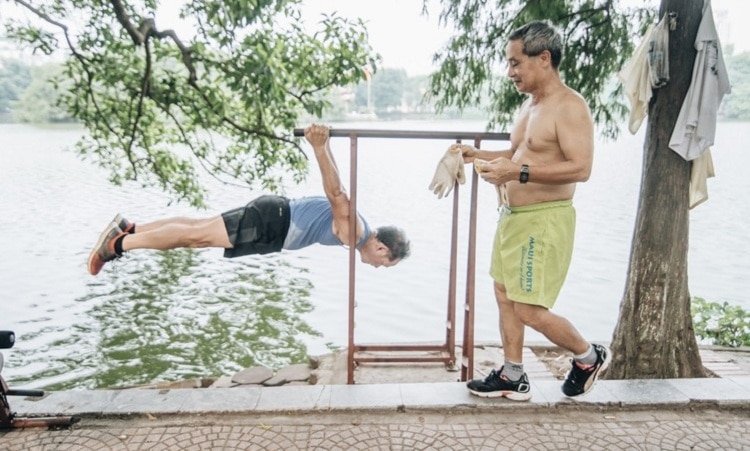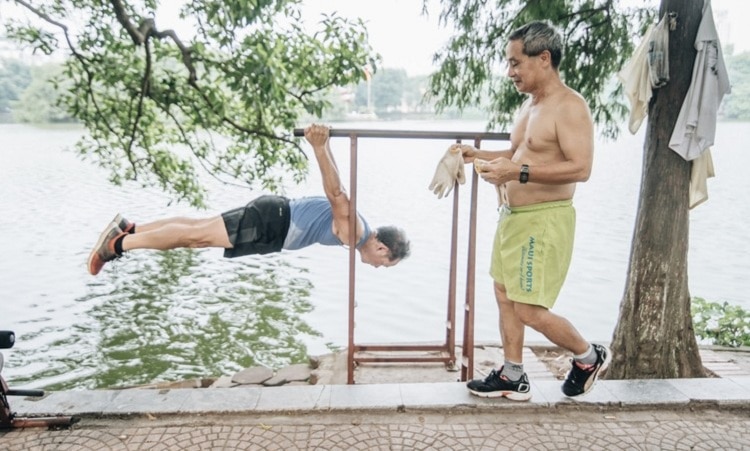 From 6:00 am, people living around Hoan Kiem Lake wake up, wear comfortable clothes and come to Hoan Kiem Lake area to do some morning exercises before starting a day work. Most of the people enjoy running with headphones or sunglasses. Many people also play sports activities.
5. Enjoy The Riding Around Hoan Kiem Lake
If you have an opportunity to visit Hoan Kiem Lake, you should ride a bike around the lake in the morning. The atmosphere is fresh in the early morning. Furthermore, watching Vietnamese people do tai chi will help you understand more about the local life of Hanoi people.
6. Walk Water Puppet Show At Thang Long Water Puppet Theatre
Thang Long Water Puppet Theatre (Nhà múa rối Thăng Long) is situated at 57B Dinh Tien Hoang (Đinh Tiên Hoàng) Street, Hoan Kiem (Hoàn Kiếm) District, Hanoi. If you visit Hoan Kiem Lake, do not forget the chance to enjoy a one-hour performance of traditional puppets. The story is told with classical operatic music using wooden bells, drums, bamboo flutes, horns, and cymbals. To enjoy the show, you have to pay only 100,000 VND. Watching the show, you are free to take photos and film the performance.
7. Take Photos
Hoan Kiem Lake is an ideal place for taking pictures because of the beautiful landscape and sightseeing. If you wander around Hoan Kiem Lake on Sunday, you will see the sight of many young men taking photos of sexy young girls in the impressive dresses and attractive posing with their professional cameras. Nowadays, Hoan Kiem Lake becomes one of five photogenic spots in Hanoi that have the breathtaking natural setting and create beautiful backgrounds for photographers.
8. The Huc Bridge
The Huc Bridge is the famous place in Hanoi where you can rest and enjoy the breathtaking view of Hanoi City.
Where To Eat Near Hoan Kiem Lake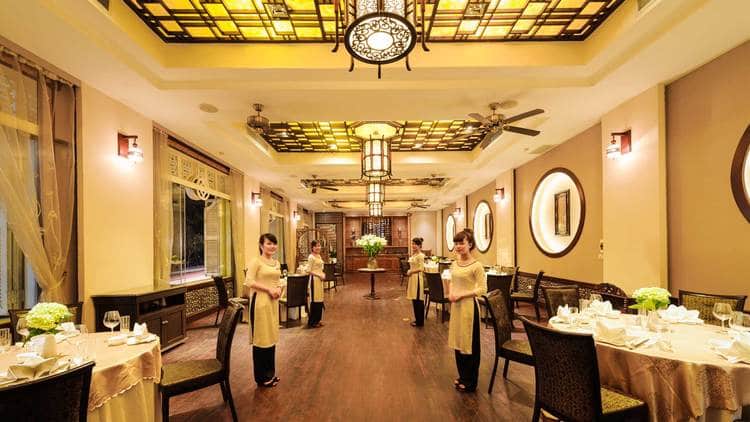 Near Hoan Kiem Lake, there are many restaurants and food spots. If you want to enjoy delicious foods and picturesque view, do not forget these following places:
Sanh Mi (Sành Mì) -80 Hang Quat (Hàng Quạt), Hoan Kiem District

Pho Bo Mau Dich (Phở Bò Mậu Dịch) – 1 Bao Khanh (Bảo Khánh), Hoan Kiem District

Lake View Side Restaurant & Café – 47B Hang Dau (Hàng Dầu), Hoan Kiem District

Pho Thin 1955 (Phở Thìn 1955)– 61 Dinh Tien Hoang, Hoan Kiem District

Local Cuisine Villa – 16 Bao Khanh, Hoan Kiem District

Luc Thuy Restaurant (Lục Thủy Restaurant) – 16 Le Thai To (Lê Thái Tổ), Hoan Kiem District
Where To Stay Near Hoan Kiem Lake
Hoan Kiem Lake is also near several hotels and accommodations where you can rest and stay overnight. Here are the recommended options:
Hanoi Pearl Hotel – 6 Bao Khanh, Hoan Kiem District

Golden Sun Villa Hotel – 68 Hang Trong (Hàng Trống), Hoan Kiem District

Hanoi Meracus Hotel – 32 Hang Trong, Hoan Kiem District

Golden Lotus Luxury Hotel – 53 – 55 Hang Trong, Hoan Kiem District

Church Boutique Hotel Nha Tho – 9 Nha Tho (Nhà Thờ), Hoan Kiem District

Hanoi Bonsella Hotel – 3 Bao Khanh, Hoan Kiem District
Hoan Kiem Lake is not only a famous attraction but also an important site for many events. For instance, on New Year's Eve, people come to Hoan Kiem Lake to enjoy the fireworks and wish for the good things. Many couples also see the lake as a breathtaking background for wedding photos. Hoan Kiem Lake is in the harmony of architecture, nature, and people. I hope that you will find this article useful and informative. Any questions can be left in the comment section, and we will answer them as soon as we can. If you are interested in our article, please support my job by taking a peek at Vina.com.
By Nga V