Hoa Son Dien Trang (Hoa Sơn Điền Trang) is a very hot new place to check in Da Lat on Facebook, waiting for tourists to discover.
Since Hoa Son Dien Trang is not placed in the center of Da Lat city, to find the fastest way, the first thing you need to know is the exact address of this destination.
It is located in provincial road 725, Ta Nung Pass, in sub-area 159, ward 5, about 7 km from the city center of the 'dreamland' Da Lat.
In this article, Vina.com will introduce the best tips to visit Hoa Son Dien Trang Da Lat and its attractions, as well as what tourists can do when coming to this destination.
Hoa Son Dien Trang – An Ideal Destination In Da Lat, Vietnam
1. How To Go To Hoa Son Dien Trang In Da Lat
Because of the new renovation, the road to Hoa Son Dien Trang is very beautiful. Even if you travel by a motorbike, 4 to 45 seat-cars, you can go straight to this destination, not as difficult as visiting the Linh Quy Phap An.
From the city center of Hoa Binh (Hòa Bình) district, visitors will follow the road 3/2 => Hoang Van Thu (Hoàng Văn Thụ) Street => Cam Ly Street => through Van Thanh (Vạn Thành) Flower Village => Provincial Road 725 (aka Ta Nung Pass), then go about 3km more. Hoa Son Dien Trang is on the left.
2. The Best Time To Go To Hoa Son Dien Trang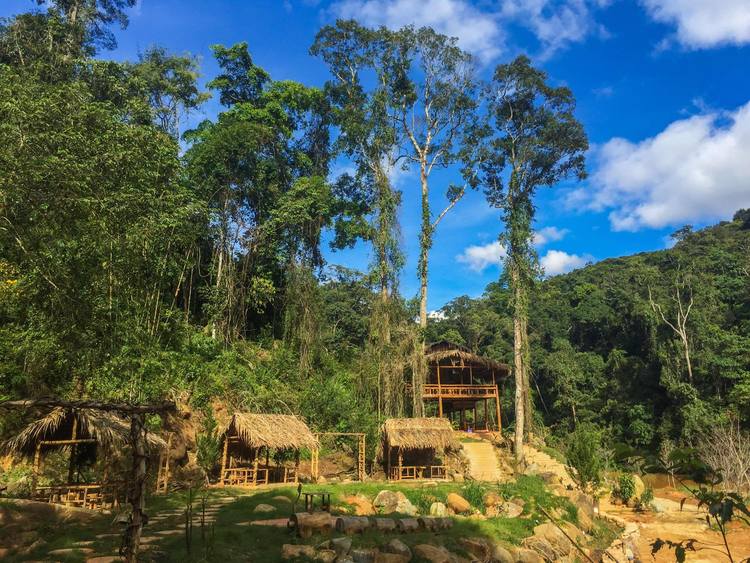 Tourists should visit Hoa Son Dien Trang in January, early spring to see cherry blossoms.
3. Where To Stay And What To Eat
At this tourist area, you can not only visit and take photos but also stay overnight in colorful homestay houses between forests, as well as camp in the wide yard between a large lawn. Here, you can also enjoy the restaurant's mountain specialties and buy small, lovely handmade souvenirs.
There is a shuttle up and down, costing 10.000 VND/ person/ turn.
4. Attractions And Activities For Tourists To Do
a. Giant Buddha's Hand:
It is the first place that people often take check-in photos when coming to this destination. It is made of ancient forest ropes and lies forward. If you have ever seen the film 'Journey to the West', you can think of the Buddha hand which caught Sun Wukong 500 years ago.
b.    Other Tourist Attractions In Hoa Son Dien Trang
+ Big cherry blossom trees are brought directly from Japan: flowers bloom in January, bringing a dreamy feeling to visitors like they are in the land of the rising sun.
+ A vast field of triangular circuit flowers
+ A fairly large area of Sapa ancient roses: Da Lat roses are already beautiful and famous, and ancient roses of Sapa are even more enchanting.
+ Heaven Gate
+ A thousand-year banyan tree
+ A beautiful campsite on the 7-Floor Waterfall
+ Wooden houses on trees
+ Waterfalls and many miniatures around the lake
c. Pricing: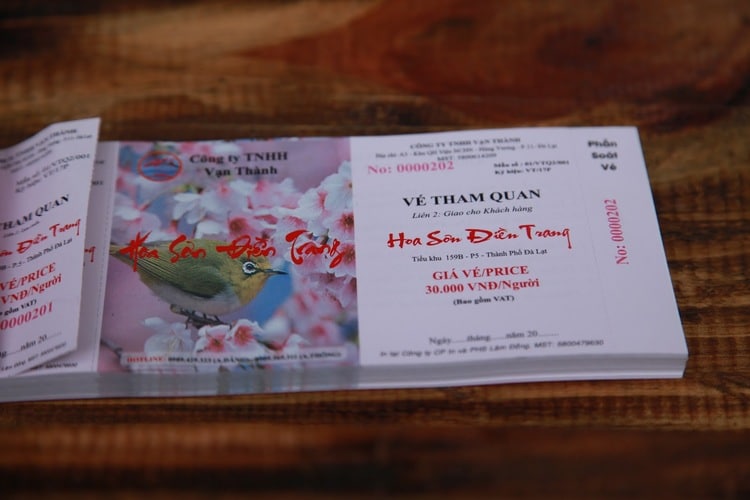 + Entrance tickets: adults 30,000 VND, children 15,000 VND, children under 1 m are exempted from entrance tickets
+ Fresh foods service brought to Team-building: VND 30,000 / person
+ Renting a grill: VND 500,000 / time
+ Renting filming space: From 5:00 to 9:00 – 2,000,000; from 8:00 to 17:00 – 2,000,000; from 8:00 to 21:00 – 4,000,000 VND, for a maximum of 20 guests. If there are too many people, visitors must buy more tickets
+ Wedding photos: for groups of up to 10 people in 8 hours – 1,000,000 VND
+ Gala stage: Package – 8,000,000 VND; sound system only – 3,000,000 VND, lighting system only – 3,000,000 VND / device, projector – 2,000,000 VND (rented in 4 hours).
+ Electricity rental: For sound system – VND 400,000 / hour; for Gala package in 1 hour – 500,000 VND
+ Renting a large sound system: including 2 large fixed speakers, amply, micro in 4 hours – 2,500,000 VND
+ Renting a small sound system: including a speaker box that can be moved with a USB cable – VND 1,200,000 / 4 Hours
+ Teambuilding Dalat: including ticket + campfire + tent – VND 50,000 / person
Read more:
Currently, Hoa Son Dien Trang is a brand new tourist attraction for tourists coming to Da Lat city, attracting more and more young travelers every day. If you want to visit a beautiful place and enjoy the peaceful, fresh air from nature, as well as take great photos and have a great time with friends or family, do not forget to visit this destination at least once in your life. Finally, if you have any personal experience of visiting Hoa Son Dien Trang in Da Lat, feel free to share them with other readers by leaving your comments below.