Many Vietnamese love to eat snail dishes because they are delicious with the fresh, chewy texture of the snail flesh, easy to eat, and can be enjoyed in any occasion/season of the year. In addition, they are a social food to share among family members and friends. In Hanoi, snails can be boiled with fresh herbs like lemongrass, and then dipped in a spicy and sour sauce. This special sauce is actually the key secret of this street food, making it attractive to many tourists as long as they try once when coming to the capital of Vietnam. Diners are asked to choose either little snails or big snails or a mix of both in one bowl. For more information and details, keep reading with VinaFood!
I. Vietnamese Street Style Snails – The Introduction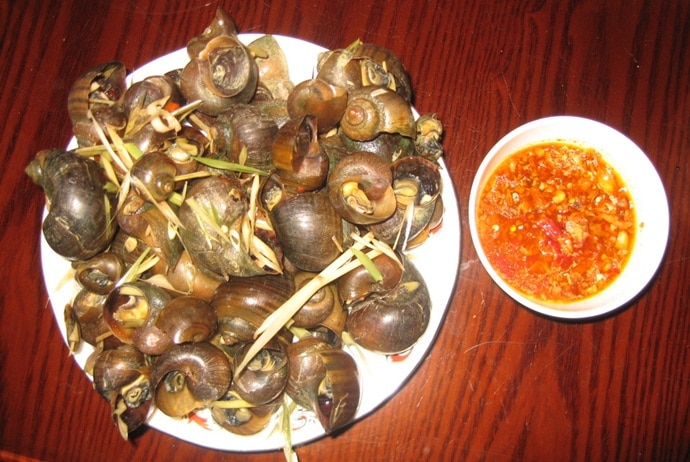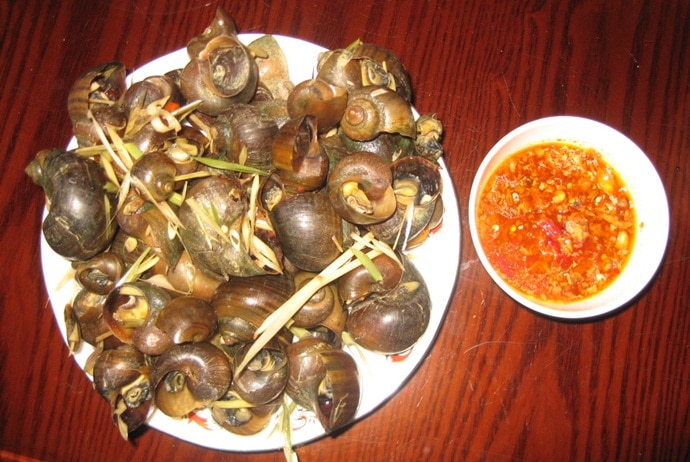 Source: monngonmoingay
A 'naked' snail is a boring and unappetizing prospect. However, when you combine it with spices and herbs and then dip it in any of the creamy and juicy sauces, you will have a mouthwatering dish. Freshwater snails have more fishy smell than sea snails; therefore, they require to be cooked with aromatic herbs like turmeric, lemongrass and garlic. Nowadays, the menu of snail becomes more diverse with lots of dishes made from snails, including snail spring roll, stir-fried spicy snail, snail vermicelli soup, snail salad, snail stir-fried with wine, steamed snails with ginger leaves, periwinkle snails steamed with lemongrass. And, snails have become a great ingredient in luxurious restaurants. They are also favored by both locals and foreigners.
Here are some common Vietnamese street style snails that you should try out at least once in your life and we bet that you will never regret about your choice.
1. Steamed Snail With Lemongrass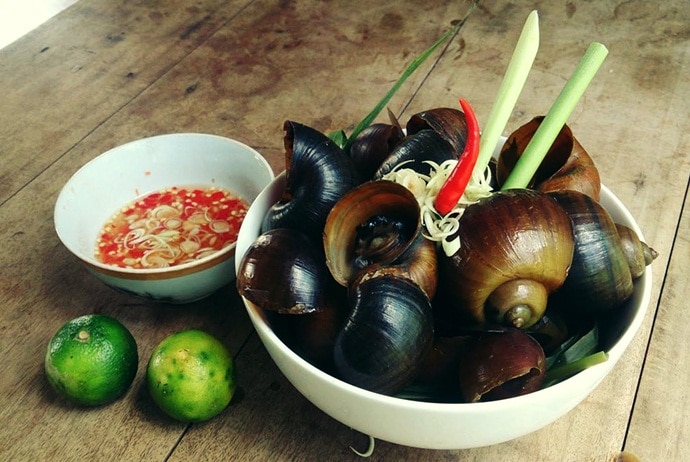 Source: damtom
It is known as one of the most attractive dishes in the winter.  It must be well-cooked snails that are dipped in the sauce from lime juice, garlic, ginger, chili and chopped lemongrass. Before boiled or steamed, snails should be soaked in rice water, then they should be soaked in cold water with lime leaves and rubbed grapefruit to force them to spit out dirt inside. Next, snails should be washed their outside until they become clean. When boiling, add some grapefruit leaves and lemongrass to the boiling pot. The water added to the oiling pot should be enough to keep the sweet flavor.
Its delicious flavor mainly depends on the dipping sauce. It has bold taste with salty, sweet, sour, spicy flavors combined with aromatic lemongrass and lime leaves. All of these ingredients float on the surface of fish sauce combined with water and sugar. Some people even mix the dipping sauce with the boiling water in order to enjoy all quintessence of this dish.
Learn More: Grilled Pig Intestine on Gam Cau Street – Long Nuong Gam Cau
2. Common Periwinkle Fried In Sweet Chili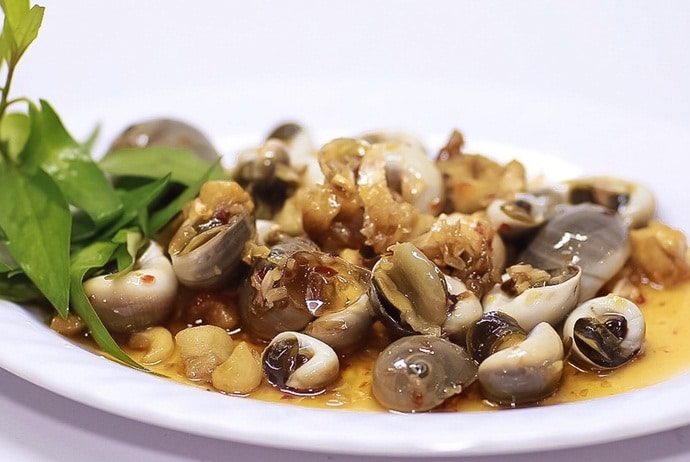 Source: chiasequandiem
Common periwinkle is a nice smallish snail that has a flavor and texture similar to other snails. It is fried in the sweet chili sauce with lots of green onions and onions. This is also a great kind of snails although its chili sauce is a little sweet and not quite spicy. This dish is also so common and is favored by many people, especially on cold days.
Learn More: Steamed Sticky Rice With Perch – Xoi Ca Ro Dong
3. Mud Creeper Snails In Coconut Sauce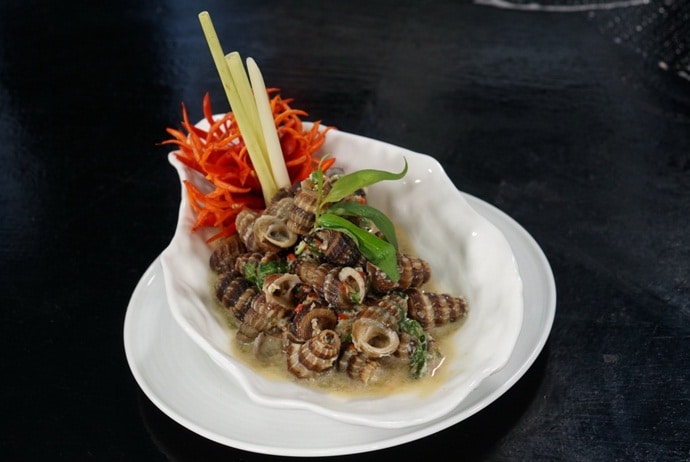 Source: vaobepmoingayblog
In order to pull out the meat of the mud creeper snails inside, you need to suck on the hole of the shell. The meat of this kind of snail is long, skinny and a bit slimy. The sauce is coconut milk based and this dish is topped with a handful of Vietnamese coriander. This dish is so special and is favored by many locals and foreigners.
Discover: Vietnamese Musk Duck Noodle Soup – Bun Ngan
4. Babylonia Areolata Snail Fried With Salt And Chili
This snail dish is dry stir-fried, and then coated with a mixture of chili, salt and lime juice. These snails are much easier to pull out of their shells. Also, they have a similar texture to squid, but with good flavor. The sauce is slightly spicy, salty and a little sour.
II. Where To Eat Vietnamese Street Style Snails In Hanoi
Snail eateries are found in all villages, cities, and towns in Vietnam. There are two most important things that make a snail eatery become famous. First is the quality and freshness of the snails. Second is the quality of the dipping sauces. The best hour of day to eat snails is around 5pm. Snail eateries often open from the early afternoon till very late.
1. "Ốc Hà Trang"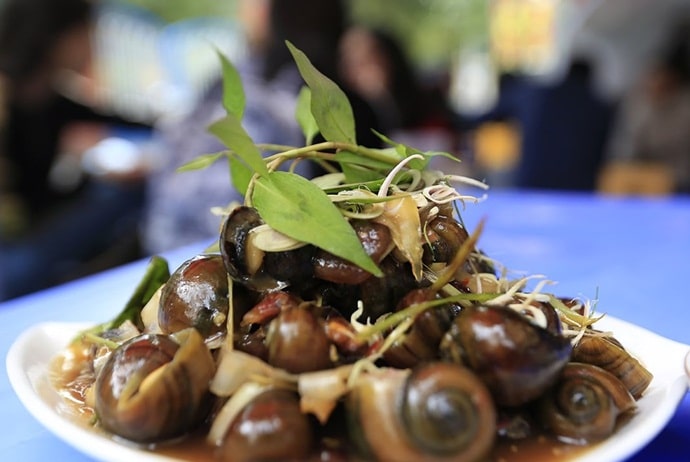 Source: bepthaivan
When it comes to the stalls where you can enjoy Vietnamese street style snails, you should not skip this snail stall. With an area of 1.5m2, "Ốc Hà Trang" is always crowded with consumers. What makes this restaurant so crowded all the day is the dipping sauce that has outstanding flavors and also looks eye-catching. A bowl of dipping sauce here includes yellow ginger, white lemongrass, red chili, and green lemon leaves. All of these ingredients harmonize with each other, creating a perfect combination for the dipping sauce. However, there is a difference in personal appetite, so the owner always gives an additional bowl that is full of ginger, chili, chopped lemongrass, and fresh kumquat for eaters to adjust themselves.
Address: 1 Dinh Liet Street, Hoan Kiem District

Opening Time: 5:00 p.m – 8:00 p.m

Pricing: 50.000 – 110.000 VND
2. Snail Dishes On Tran Phu Street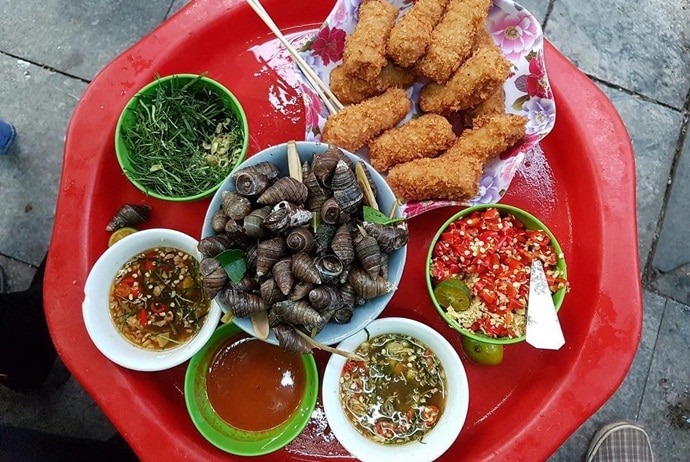 Source: afamily
This is a small but crowded snail stall that stands in the list of the most famous boiled snails in Hanoi. This restaurant is located at 34 Tran Phu Street. What makes this restaurant special is fresh, large, sweet-smelling and crispy meat of the snail. Aside from the great dipping sauce with lime juice, chili and lemongrass, this snail stall is also well-known for sour and sweet pickled mango that most snack lovers cannot miss. Besides, the stall also serves steamed oyster as well as half-hatched quail eggs. But, this stall only opens in late afternoon. At this stall, consumers have chilli, garlic and ginger to mix the sauce according to their taste. Mr. Hao, the owner of the stall, occasionally sings a few songs, making the space become more cheerful.
Actually, this is known as one of the best stalls where you can enjoy Vietnamese street style snails in Hanoi. So, if you have a chance to visit Hanoi, you should not forget this famous snail dish.
Address: 34 Tran Phu Street, Hoan Kiem District
Opening Time: 3:30 p.m – 10:30 p.m

Pricing: 30.000 –55.000 VND
3. Snail Dishes On Tong Duy Tan Street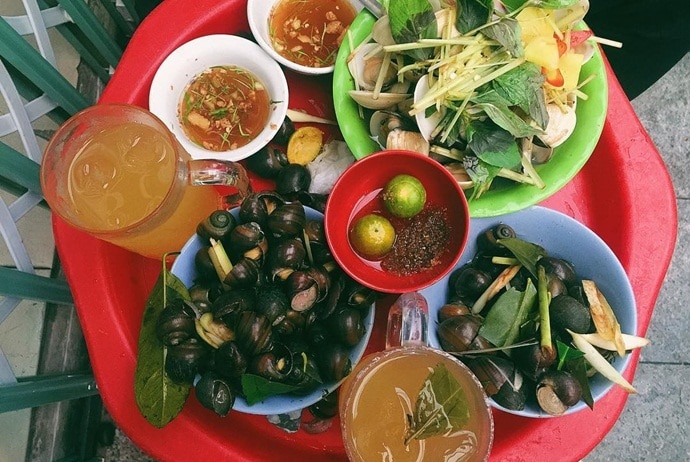 Source: vietnammoi
This snail roadside stall is very special because it is of a mute couple. With a little higher price for all kinds of snails, boiled snails are always clean and hot-served. This stall also serves pickled fig, rice vermicelli and star fruits. It is located on a street with many seafood restaurants along West Lake's bank, this snail stall still stands out thanks to its special menu. Aside from boiled snails, it has a famous dish called snails steamed with Chinese herbs. Besides, this stall is also a special place because both the owner and staff are deaf, so the atmosphere is so quiet. Guests will only go straight to the billboard to order number and quantity. Snails here are said to be clean, fragrant and odorless. Also, there are delicious dishes such as clams, quail eggs and fried tomatoes that you should try out.
Address: 5 Tong Duy Tan Street

Opening Time: 3:30 p.m – 8:00 p.m

Pricing: 15.000 –33.000 VND
4. "Ốc Chị Lệ"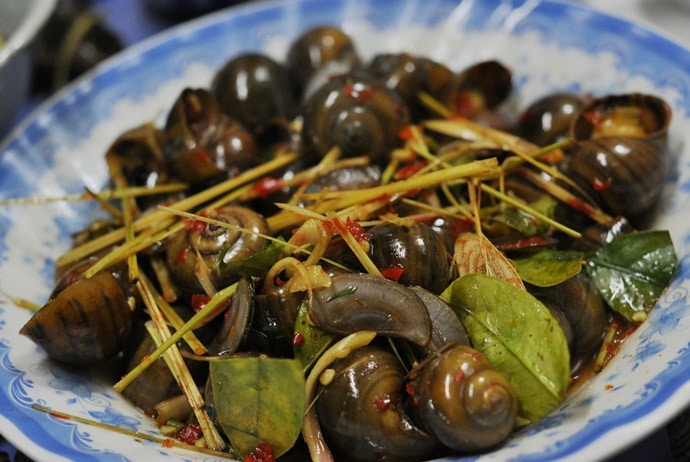 Source: amthuc365
This is another snail stall that you should try out, especially if you want to enjoy Vietnamese street style snails in Hanoi. Actually, this snail stall is very famous for eaters who love snail dishes. The menu here is very diverse, so consumers can have more choices when visiting this stall. A bowl of snail here is always packed with large, clean and delicious snails, so this stall is always packed with consumers. Apart from snail dishes, this stall also serves clams, spring rolls, fried sweet potatoes, etc.
Besides, this stall is favored by tamarind sauce. Eating tamarind sauce with bread is always a great choice for customers who come here. Sauce in the stall is the owner of special interest, creating the soul of the dish. The sauce is mixed according to the owner's formula and very delicious. Also, the staff is very enthusiastic and foods are fast. This stall is always crowded both in winter or summer. In the cold season, the diners even have to sit over the sidewalk. As well, there are lots of foreigners who love snail dishes here.
Address: 88 Cua Bac Street, Ba Dinh District

Opening Time: 2:00 p.m – 10:00 p.m

Pricing: 15.000 –50.000 VND
In Hanoi, you can eat a meal of sea snails. These snail dishes are delicious and also incredibly fun to eat. Eating a snail meal in Hanoi may be one of the best dining experiences. If you love to eat seafood, you should have at least a meal of snails when you have a chance to visit Vietnam. Anyway, do not skip Vietnamese street style snails, especially on cold days this winter!