The unique charm of Spain is not only from the beautiful architectural works but also the remarkable cuisine culture. It can be said that Spanish culinary is very diverse with plenty of delicious dishes familiar to local families and foreign tourists. Let's check out the unique dishes with the best Spanish restaurants in Hanoi, Vietnam on Vina.com!
List Of Top 5 Best Spanish Restaurants In Hanoi, Vietnam 
1. El Loco Tapasbar Restaurant
With a desire to become a miniature Spain in the heart of Hanoi, El Loco Tapasbar restaurant offers customers an authentic taste from the world's most famous Latin culture. Entering into the El Loco Tapasbar, tourists will be easily overwhelmed by the typical Spanish space, with ceiling brick walls, wooden tables, and warm decorative motifs. The menu has more than 30 items, including the famous tapas with thin and fragrant ham served with crispy bread and blue mussel dish imported directly from Chile for only 120,000 VND/part. In addition, the restaurant also serves many popular Spanish drinks such as sangria (brandy with fruit juice) for free with any order during holidays.
Location: 65, Lane 52, To Ngoc Van, Nhat Tan, Tay Ho District, Hanoi
Tel: 0346 492 384
Price ranges: 70.000 – 200.000 VND/person
2. Latino Restaurant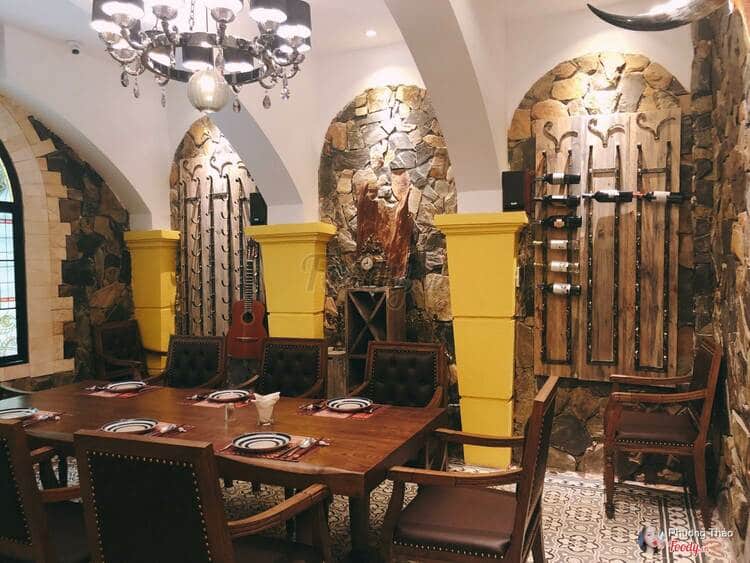 On special occasions during the year, visiting Latino restaurant may be a good idea for you to host the memorable parties. With the collection of stunning bullfighting paintings, the Latino has become a tiny museum dedicated to fans of Spanish cuisine. The most impressive dish is Paella rice served with seafood and fresh vegetables. Besides, the restaurant has a Tapas bar with more than 30 different types of traditional Tapas to help customers experience Spanish standout cuisine while learning more about its culture as well.
Location: 76, Lane 12, Nui Truc, Giang Vo, Ba Dinh District, Hanoi
Tel: 024 3846 0836
Price ranges: 200.000 – 400.000 VND/person
3. El Patio Restaurant
Located at 44 Ly Thuong Kiet, El Patio stand out as one of the best Spanish restaurants in Hanoi with the typical style cuisine of this flamenco country. The menu of El Patio focuses on the buffet set with lots of great tapas from Spain prepared by experienced chefs. Besides, you can also enjoy some Vietnamese, Korean and Japanese side dishes and pastries for an economical family party on the weekend days.
Location: Melia Hanoi, 44 Ly Thuong Kiet, Tran Hung Dao, Hoan Kiem District, Hanoi
Tel: 024 3934 3343
Price ranges: 300.000 – 1.000.000 VND/person
4. Pincho – Tapas Kitchen And Drinks Restaurant
Pincho – Tapas Kitchen and Drinks Restaurant has become a familiar place for residents and tourists in Hanoi. With a cozy space of golden lights and beautiful decorative motifs, every small corner of Pincho represents a part of Spain's development history. The restaurant offers traditional Spanish dishes, such as tapas and paella, and excellent cocktails, juice, and wine. The most signature dishes of the restaurant are tapas made from Jamón ibérico – the most expensive ham in the world, French foie gras, and Angus beef slices.
Location: 34C Cao Ba Quat, Dien Ban, Ba Dinh District, Hanoi
Tel: 094 902 2882
Price ranges: 100.000 – 500.000 VND/person
5. La Salsa Tapas Bar & Restaurant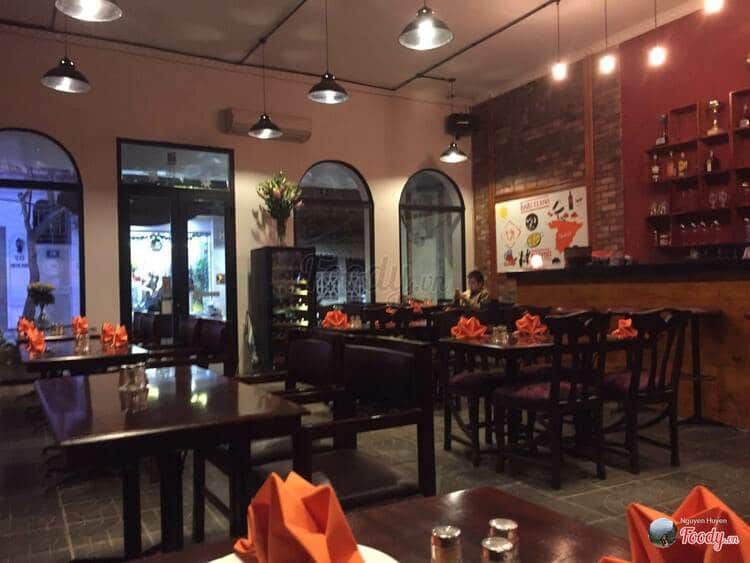 If you want to experience all the authentic Spanish food, La Salsa Tapas Bar & Restaurant is an ideal place for you. The best-selling dish of the restaurant is traditional paella rice with glutinous rice and stir-fried seafood in special Spanish sauce. The steak combined with black pepper sauce also receives a lot of positive feedback. Besides, you can try serrano salted pork served with fresh beer or Spanish cocktails.
Location: 5 Bui Thi Xuan, Hai Ba Trung District, Hanoi
Tel: 024 3995 0950
Price ranges: 50,000 – 150,000 VND / person
Here is the list of the 5 best Spanish restaurants in Hanoi, Vietnam that Vina.com suggests you visit during your trip to Hanoi. Leave a comment to share your interesting culinary experiences on our website right away!