Updated: 11/15/2019
Vietnam, in general, and Hanoi, in particular, is becoming a great destination for tourists all over the world. Referring to the Old Quarter of Hanoi, people immediately think of ancient houses with moss roofs, and old-fashioned walls. Most restaurants in Hanoi Old Quarter, Vietnam tend to minimize the area with small houses located in narrow and busy alleys. However, Hanoi Old Quarter is still very attractive with its rich, unique, and charming cuisine for tourists and even the residents to come and enjoy all the time. Are you ready to join Vina.com and explore more about the culinary elite of an old Hanoi corner? Here are the top 5 best restaurants in the Hanoi Old Quarter that you cannot miss.
Top 5 Restaurants In Hanoi Old Quarter, Vietnam Not To Be Missed
1. An Vien Restaurant (Nhà Hàng An Viên)
An Vien Restaurant is one of the beloved local restaurants that has received the attention of many gourmets in Hanoi. From simple raw materials which are closed to the Vietnamese lifestyle, through a thorough selection process, all dishes become specialties that appeal every guest to come. The menu of the restaurant often focuses on rustic dishes such as roasted chicken feet, fried chicken feet with fish sauce, and grilled squid with chili satay. Besides, the hotpot menu with delicious broth served with American beef, fresh seafood, and vegetables also contribute to An Vien's brand image.
Location: 48 Bat Dan Street (phố Bát Đàn), Hoan Kiem District (Quận Hoàn Kiếm), Hanoi
Tel: 024 6656 0055
Price ranges: 80.000 – 120.000 VND/person
2. Highway4 Restaurant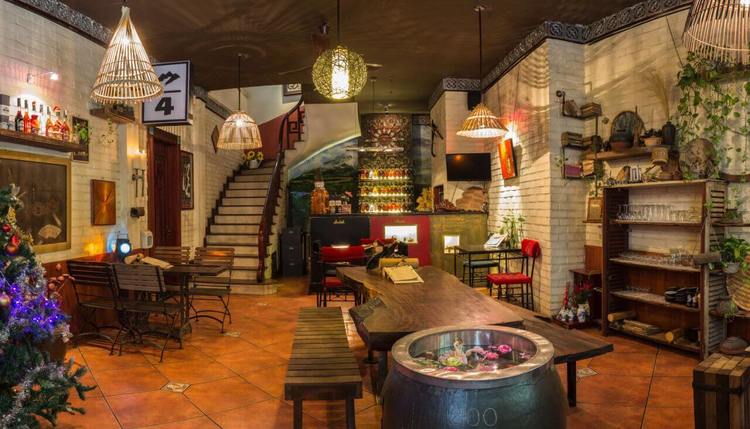 Highway4 is a pure Vietnamese restaurant that you should definitely visit to enjoy creative local dishes with plenty of unique liquors. The first reason comes from the spacious and classic decorative style of an ancient Vietnam. Here, you will easily admire the local artworks including oil paintings, and bamboo furniture familiar to Vietnamese daily life from the past few decades.
In addition, the delicious foods prepared with a variety of nutritious materials based on the Five Elements (Metal, Wood, Water, Fire, and Earth) makes the choice of diners more interesting. Besides, Highway4 is really outstanding for making special local liquors called Son Tinh from herbal medicines and secret additives. Through the process of meticulous distillation, Highway4 has already created a menu from fresh beer to wines for visitors.
Location: 25 Bat Su street (Phố Bát Sứ), Hoan Kiem District (Quận Hoàn Kiếm), Hanoi
Tel: +84 43 926 0639
Price ranges: 68.000 – 400.000 VND/person
3. Qua Tram Restaurant (Nhà Hàng Quả Trám)
Located in the Hanoi Old Quarter area, Qua Tram Restaurant does not have the advantage of space, but it is still successful in creating a distinctive beauty on tourist's mind. The restaurant's main menu includes highland specialties such as chicken from Tien Yen hill, H'Mong beef or Cao Bang pork, etc. Most notable dishes of Qua Tram are made from canarium with special spices. The food here is not only famous for its delicious and succulent taste but also contains unique cultural values of highland cuisine in Vietnam. Visit Qua Tram – one of the best restaurants in Hanoi Old Quarter immediately to fully feel the spirit of highland cuisine!
Location: 21 Phung Hung Street (Phố Phùng Hưng), Hang Ma (Hàng Mã), Hoan Kiem District (Quận Hoàn Kiếm), Hanoi
Tel: 024 3927 1133
Price ranges: 200.000 – 300.000 VND/person
4. Thinh Vuong Restaurant (Nhà Hàng Thịnh Vượng)
If you are a follower of Hanoi's street snacks, you certainly cannot miss Thinh Vuong Restaurant. For a long time, Thinh Vuong Restaurant became outstanding with a menu of delicious snacks at affordable prices. Obviously, Thinh Vuong's brand-name dish is aromatic roasted pigeon with natural and excellent quality ingredients. Dishes from pigeons are truly famous here, however, steaks are equally impressive as well. The marinated steak is quite rich with a thick sauce served with chips and a cool salad to help enhance the flavor when tasting a lot of greasy food.
Location: 13 Ta Hien Street (phố Tạ Hiện), Hang Buom (Hàng Buồm), Hoan Kiem District (Quận Hoàn Kiếm), Hanoi
Tel: 024 3825 1838
Price ranges: 100.000 – 150.000 VND/person
5. Bun Cha Nem Cua Be Dac Kim (Bún Chả Nem Cua Bể Đắc Kim)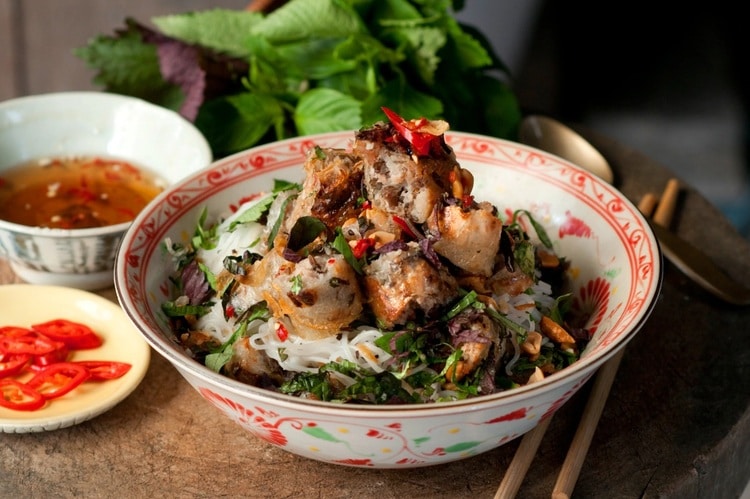 Referring to the diverse cuisine of Hanoi, you can't help but mention the special types of rice noodles which are considered as the culinary symbols of Vietnamese. Among the local restaurants in the Old Quarter, Bun Cha Nem Cua Be Dac Kim is an ideal place for those who love to explore traditional dishes. Here, you can enjoy the appetizer as the famous "nem chua" (Vietnamese fermented pork roll), then the signature main dish – "bun cha" (grilled pork with rice noodles) with two pieces of roasted crab meat rolls, served with fresh vegetables like lettuce, cilantro, etc. Besides, the sweet and sour sauce is often mixed with some toppings such as green papaya and carrots in a bowl. Everything creates the beautiful symphony of culinary in Hanoi!
Location: 67 Duong Thanh (Đường Thành) Street, Old Quarter, Hanoi
Tel: 024 3828 7060
Price ranges: 50.000 – 90.000 VND/person
Read more:
It can be said that the characteristic of this area is many famous specialty dishes of Hanoi, bearing the imprint of Vietnamese people. Traditional dishes of the Old Quarter, from noodles, pho and rolls to gentle tea types, etc. show the delicate talented traits of the vintage Trang An (Tràng An) people, becoming famous brands impressed for domestic and foreign tourists. Do not hesitate anymore, please join Vina.com to discover the best restaurants in Hanoi Old Quarter right now! To get further information about the capital of Vietnam, visit our Hanoi Page.