Hanoi is known as the most famous fast food paradise in Vietnam. Whether you are a foreigner, a Hanoian, or a person living in the capital for a long time, you must be passionate about fast food in Hanoi. Now, take note of 5 remarkable fast food restaurants in Hanoi that Vina.com suggested below to enjoy them with your friends and family members!
Top 5 Remarkable Fast Food Restaurants In Hanoi, Vietnam
1. Valhalla Grill – Fast Food & Drink Restaurant
Valhalla Grill is a fast food restaurant offering excellent burgers. Located on bustling Hang Buom street, Valhalla Grill attracts many culinary followers, although it is quite small. Visiting Valhalla Grill, you should try two typical dishes of the bar, including bacon cheeseburgers, and currywurst hotdogs. The unique thing of Valhalla comes from the excellent quality of red meat sources to make beefsteak and sausages. Beef and sausage here are imported from abroad and processed manually, so Valhalla's burger is considered healthier than other fast food types. Also, you can order extra crispy fries and fresh bacon salad with cheese and olive oil.
Location: 17 Hang Buom, Hoan Kiem District, Hanoi
Tel: 096 359 8917
Price ranges: 30.000 – 100.000 VND/person
2. Surf'n 'Fries Restaurant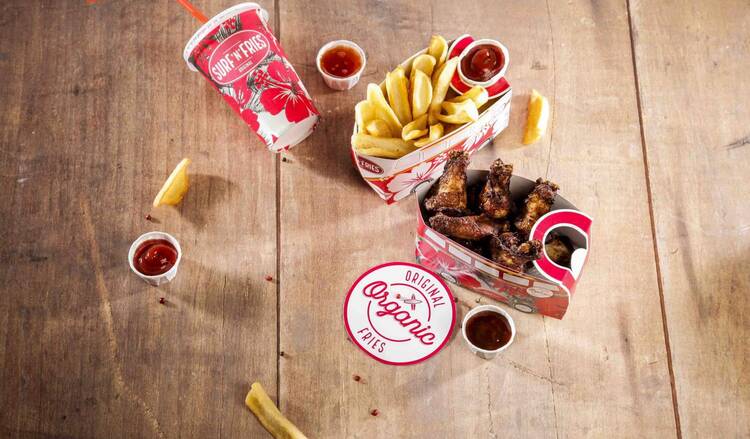 If you are a fan of fast food, Surf'n 'Fries restaurant is an ideal location near the cinema for friend meetings. As the name of the restaurant, fries are considered a signature dish of Surf'n 'Fries. The fries here are quite thick and big and covered with Croatian-style spices, which makes it extremely strange and funny compared to the other fast food restaurants. Moreover, the difference between Surf'n 'Fries and other fast food chains comes from the flavorful cheese and BBQ sauces. In addition to chips, the restaurant also provides customers with fried chicken, cheese sticks, and burgers.
Location: Royal City, 72A Nguyen Trai, Thuong Dinh, Thanh Xuan District, Hanoi
Tel: 024 6689 7171
Price ranges: 50.000 – 150.000 VND/person
3. The Pizza Company Restaurant
If you are looking for a great fast food restaurant to enjoy with your family members on the weekend days, the Pizza Company Restaurant may be a good choice. Indeed, Pesto seafood pizza is extremely famous here for the crust covered with dark chocolate, which creates a new flavorful craze to local and foreign gourmets in Hanoi. This crust with dark chocolate has the thick layer of dough and the light cocoa flavor that fits perfectly with the topping on pizza. Besides, Italian-style pasta and Caesar salad are also highly appreciated by many customers.
Location: 333 Cau Giay, Quan Hoa, Cau Giay District, Hanoi
Tel: 043 7679 489
Price ranges: 50.000 – 220.000 VND/person
4. KFC Restaurant
KFC is a big brand name famous for its great traditional fried chicken with the authentic American-style recipe. The simple but delicious dishes in the KFC menu are always renovated, which makes it convenient to choose your favorite meal. In addition to traditional American fried chicken and French fries, KFC also serves some impressive desserts, such as Hong Kong egg tarts, fresh ice cream, and Japanese mochi cakes. In particular, you can try a hearty lunch for only 29,000 VND at KFC from 10 am to 2 pm from Monday to Friday.
Location: 372 – 374, Cau Giay District, Hanoi
Tel: 1900 6886
Price ranges: 40.000 – 190.000 VND/person
5. Jollibee Restaurant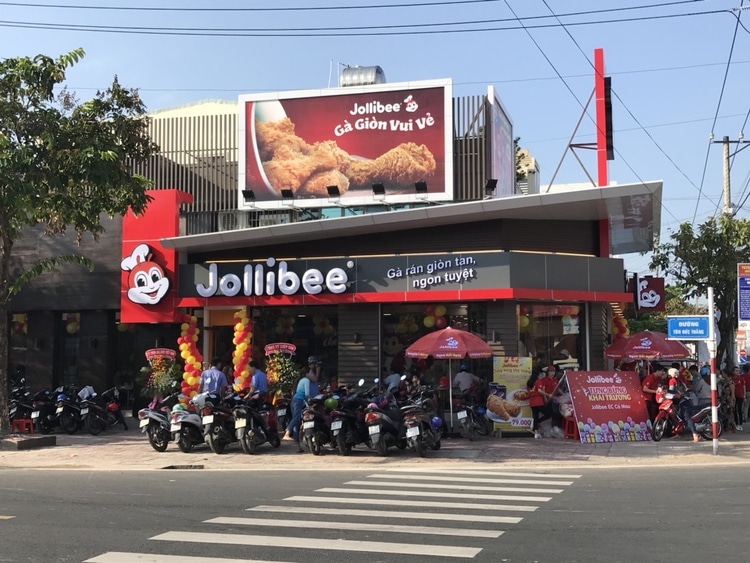 Perhaps, diners in Hanoi are familiar with the image of "red bee" of Jollibee restaurant. Although being introduced later than the major fast-food restaurants, Jollibee maintains its strengths and creates unique values from its outstanding menu. On this menu, fried chicken, burgers, and chips are still considered as the soul dishes of the restaurant and innovated with various styles such as Yum! Burger, Chickenjoy, Burger steak, Champ, and Jolly crispy fries. In addition, you should try some desserts such as peach mango pie, crepe, and ice cream.
Location: 303 – 305 To Hieu, Dich Vong, Cau Giay District, Hanoi
Tel: 1900 1533
Price ranges: 15.000 – 44.000 VND/person
The fast food market in Vietnam is continually growing with many new brands. In general, the list of the 5 most impressive fast food restaurants in Hanoi will fit your party on the weekend.
Leave a comment on our website to share the best culinary experience during your visit to Hanoi right now!