I. Gam Cau Street – The Introduction
Gam Cau in Vietnamese means the position under the bridge. In fact, if you are familiar with Long Bien Bridge, then Gam Cau Street does not sound so strange or new to you.
As referred right from the own name, Gam Cau Street has a very small area of 200m along the bridge, much more like 2 narrow paths. Recently, under-going many changes in divisions and names, Gam Cau street runs from Hang Giay Street to Phung Hung Street. Since the street does not have sidewalk for pedestrians, you may visualize a terrible disaster; however, it turns out to be easier for you to move in a street with very few vehicles.
Gam Cau Street is well-known as shelter for the economically disadvantaged in the capital Hanoi. Most of them just come from rural areas and expect to earn money and improve the living standard for their own family. Unfortunately, they cannot afford to rent or buy a convenient apartment. Thus, they tend to live in modest houses. Nevertheless, when the night comes, the place turns crowded and busier with little street food shops on both sides.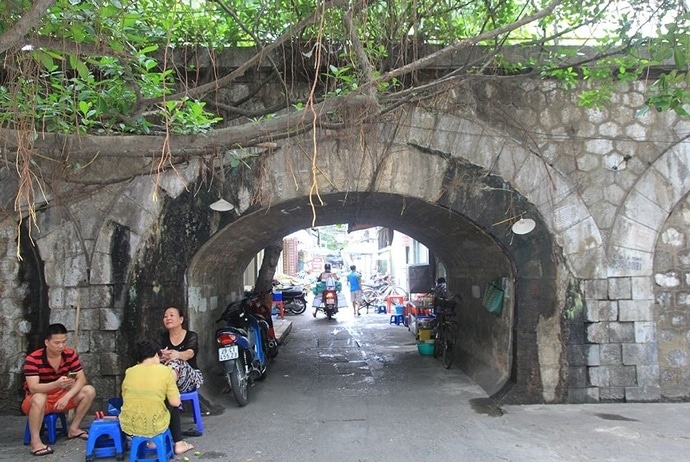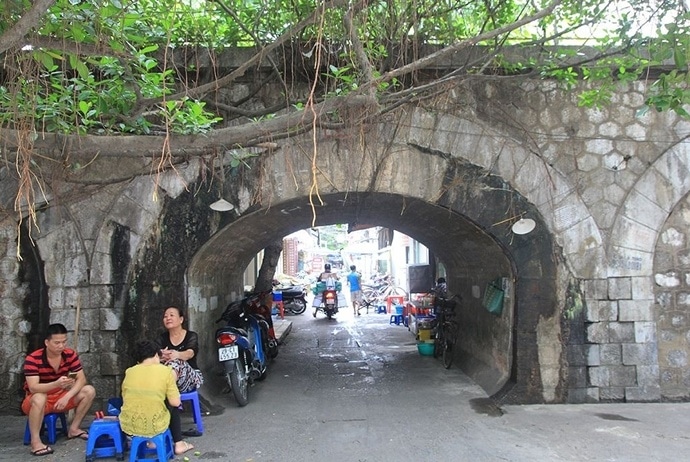 Source: tienphong

Although you may not find this special street on Hanoi map for tourists, it is actually a place that is a worth-to-visit, attracting a lot of natural and international tourists. The first reason for this trend is that it brings about a chance to taste grilled pig intestine hotpot – one of the greatest street food in the capital of Vietnam. In winter days, you may think of ordering a hotpot and sit around with your friends or family members. Iced tea will be served with the grilled pig intestine dish for balanced flavor.
Last but not least, the train whistle sometimes brings people back to the city's feeling like some decades ago. Let's check out more with VinaFood!
II. Grilled Pig Intestine On Gam Cau Street – Dishes And Taste
There are some highlighted spots that you should always keep in mind as going around Gam Cau Street. Normally, there are many small outdoor restaurants that do not have name so that it is advisable that you ask for help from the residents there when coming to this street and want to order a grilled hotpot.
Grilled pig intestine on Gam Cau street comes with the typical pavement style of Hanoi: only canvas, plastic tables, and iced tea. If you like simple, delicious, and cheap food, then this is a good choice that can satisfy your need. If you want to see beautiful, clean seats, then the grilled pig intestine on Gam Cau street is not ideal for you.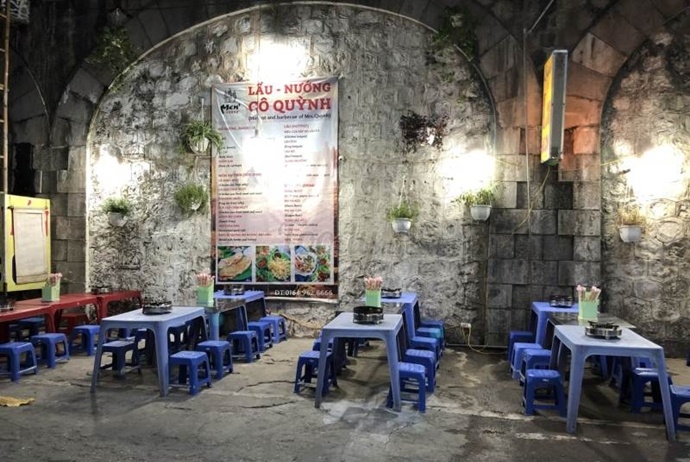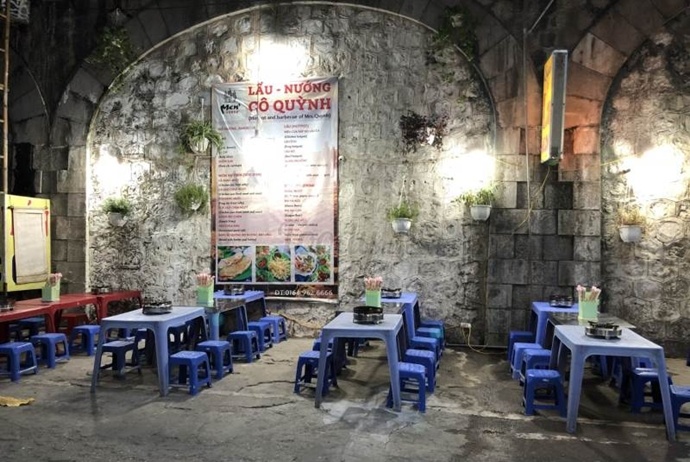 Source: foody
1. What To Enjoy And The General Price
The price of food served here counts on the number and type of dishes, often about 60.000 VND – 80.000 NVD, depending on time stages. If you order a mixed grilled pig intestine hotpot with drinks and a plate of fresh cucumber for two to three people, then the total expense will be about 250.000 VND (including a plate of grilled cow breast, a plate of pig intestine, a plate of fresh cucumber, drinks – often iced tea). The food here is mainly good due to the process of marinated, serving without sauce or just with soy sauce.
Learn More: Steamed Sticky Rice With Perch – Xoi Ca Ro Dong
Together with Ma May street, Gam Cau street is the dating destiny of the youth whenever they want to eat grilled dishes in any season of the year. Here, there are quite a variety of materials such as pig intestine, stomach, colon, neck, beef, cow breast…
To make a difference, the restaurant often marinated the materials with honey before grilling. Thus, the taste is pretty 'strange' and very attractive. If you do not like sweet things, you also do not need to be worried as the restaurant just use a sufficient amount of honey – just enough – to marinate the materials. Thanks to this secret ingredient, the intestine/stomach pieces are all shiny brown.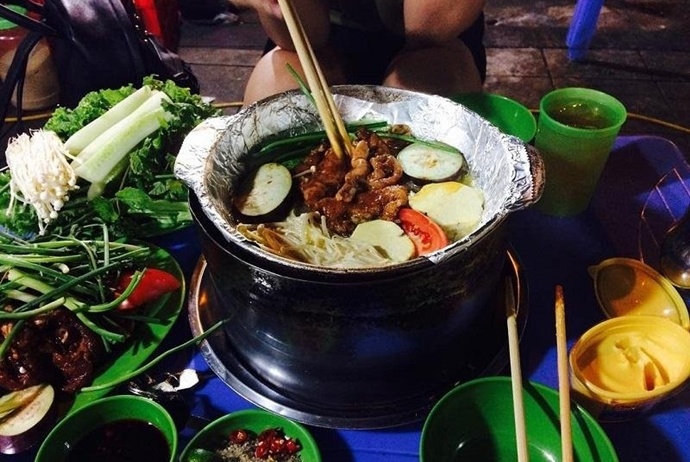 Source: wanderlusttips
Check Out: Vietnamese Street Style Snails In Hanoi
2. The Taste, Dishes, And Service Of Gam Cau Grilled Hotpot Restaurants
If there is nothing else matched with boiled pig intestine like shrimp paste, then the grilled intestine is very delicious when it is dipped with diluted chili sauce. The crunchy pieces of pig intestine, stomach…have a little spicy taste, allowing them to stimulate the taste of the diners right away.
These small 'sidewalk restaurants' usually start at around 5 pm and 6 pm and ends late at night. The main dish of these restaurants is pig intestine barbecue – or grilled pig intestine. You can order one set of marinated beef or pig organs to grill yourself on the stove with about 70,000 VND – 100,000 VND, or order separately for grilled foods to eat instantly.
Discover: Vietnamese Musk Duck Noodle Soup – Bun Ngan
Generally called 'grilled pig intestine on Gam Cau street restaurants', but the foods of the sidewalk restaurants here are quite plentiful: pig intestine, stomach, colon, beef, cow breast… All are marinated well with a little honey and spices, dipped with chili sauce or soy sauce, making them a pleasure that people cannot forget if they taste once. Cow breast and pig intestine are the easiest dishes to eat here as it is soft and crunchy, stimulate the diners' taste very well. Serve with grilled dishes are butter toast, fresh cucumber and shrimp chips. The marinated meat and pig organs prepared for the diners to grill themselves are decorated pretty nice with fresh veggies around the plates.
The stomach, intestine, and colons are shiny brown, a little bit tougher and crunchier than the cow breast. Thus, they are more suitable for being enjoyed with alcohol in cool or cold windy days in the winter of Hanoi.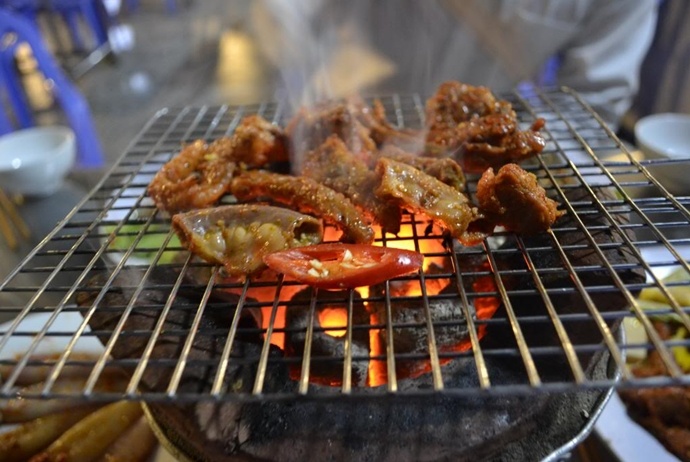 Source: happytrade
Compared with many barbecue shops in Hanoi, the dishes here are not very special but the price is reasonable so that the restaurants on sidewalk here are always crowded. Some owners are relatively friendly, willing to change the ordered dishes for customers if there is any complain about the bitterness of the pig intestine without glittering or cursing as many other restaurants on the old quarter streets.
The staff here is also very flexible and fast-serving. If they see any lack from the diners' tables like salad veggies or dipping sauce, then they will refill them right away for free. However, during peak hours, the serving speed will be a little bit slower than normal.
It is interesting when you gather with your friends in this small street that sometimes you will hear the sound of the train running over your head. Newcomers who come to this street for the first time may feel a bit startled with this surprising sound. However, this is really a great and memorable experience that you will want to try once when giving yourself a chance to enjoy grilled pig intestine on Gam Cau street.
Trust me, this will actually become one of a spotlight to add to your travelogue diary when you come home after a trip to Hanoi, Vietnam that you will never want to forget! Feel free to come back to Vina.com if you want more interesting food guide!