II. The Most Popular Food To Eat In Hai Phong:
Hai Phong cuisine is not the combination of food in many regions like Hanoi or Ho Chi Minh City. Hai Phong food just mainly focuses on its own specialities which are mainly made from seafood. In fact, Hai Phong culinary still remains in its traditional character. In Hai Phong, it is harder to find many dishes which are other places' specialities compared to Hanoi and Ho Chi Minh City. Here are the best foods to eat in Hai Phong which are very famous, tasty, and have been existed for long.
1. Banh Da Cua – Crab Red Noodle Soup: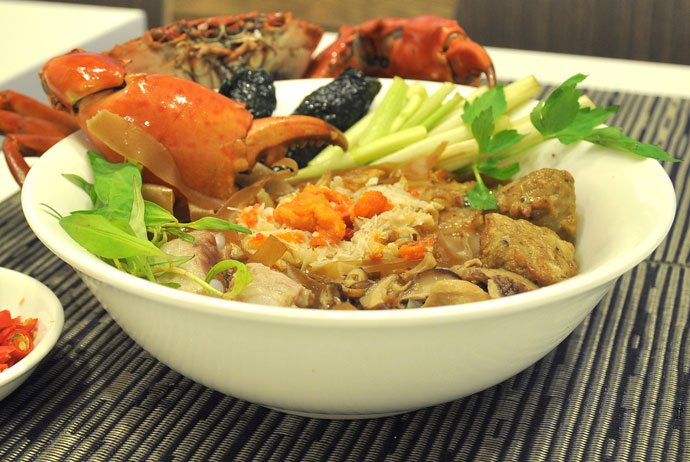 The first food to eat in Hai Phong that I would like to mention in this article is crab red noodle soup (or "banh da cua" in Vietnamese). This is one of the biggest prides of Hai Phong people. Talking about Haiphong, people usually think of crab red noodle soup – a dish which has already contributed to the fame of Hai Phong cuisine. This dish is the combination of the essence of a lot of materials, such as crab, tomatoes, vegetables neptunia, water spinach, fried fish pie, meat rolled in piper lolot …, and especially, red noodle. The crab red noodle soup is highlighted with tough, big rice noodle fibers, and the variety of materials, such as meat rolled in piper lolot, shrimp, meat ball, fish pie, water spinach or piper lolot (depending on the reason).
If you want to make delicious crab red noodle soup, you need to use the special red noodle made in Du Hang Kenh village (Le Chan district, Hai Phong city) which is famous for being limber and tough. When you come to Hai Phong, you can find this attractive and famous Hai Phong food dish as it is sold everywhere: from the "toad market", big market, to big or small streets… Currently, Haiphong crab red noodle soup is sold in many other cities throughout the country.
Ingredients:
– Field crab
– Loin rib
– Milled lean pork meat
– Tomato
– Lard
– Piper lolot, wood ear, dried purple onion, scallion, and coriander
– Red noodle (big size)
– Raw herbals (side dishes)
2. Banh My Cay – Spicy Small Sandwich (Stick Sandwich):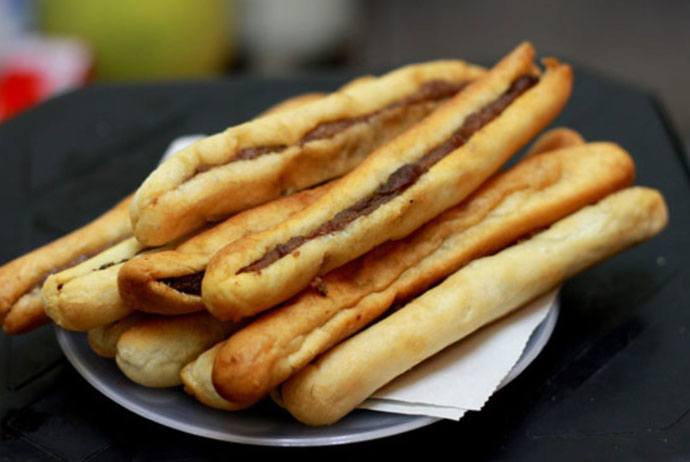 Spicy small sandwich is also called stick sandwich – one of the specilities in Hai Phong, coming after crab red noodle soup. Just with small and long divided bread stuffed with pâté, coriander, and Chi Truong chili sauce – the thing which creates the specific spiciness of Hai Phong sandwich, diners will have a tasty and irresistible
This dish is quick and convenient so that it has become a popular breakfast to many people, especially pupils and students in Hai Phong. You can buy hot, spicy small sandwich in Khanh Lap alley – a famous address in this port land. Just go along Hang Kenh street, to near the Nguyen Cong Tru junction, you can find this destination because of the attractive and spicy aroma from chili sauce and pâté.
Ingredients:
– Pig's liver
– Lard
– Pork meat
– Chilli sauce
– Tomato, pepper, salt, coriander…
3. Banh Beo – Bloating Duckweed-Shaped Cake: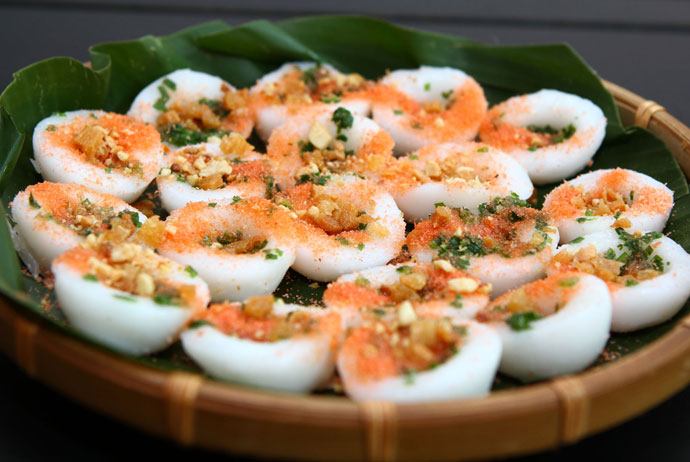 Bloating duckweed-shaped cake ("banh beo" in Vietnamese) – a kind of rustic steamed rice cake which is also originated in Southern Vietnam. However, in Hai Phong, this dish is quite different from the bloating duckweed-shaped cake you might used to eat in some Southern provinces. This is also considered one of the best Hai Phong food which people should try once when coming to Hai Phong.
Bloating duckweed-shaped cake is made from rice flour with the stuffing includes minced lean meat, sauteed with chopped wood ear and pachyrrhizus, mix with a little chopped fried dried purple onion so that the cake will have attractive flavor and fragrance. The bloating duckweed-shaped cake will be steamed, dipped in a special sweet and sour sauce made from bone broth, fish sauce, chili powder, pepper, and some meat balls.
Ingredients:
– Dried rice flour
– Pig's shoulder lean meat or lean and fat meat mixed (milled or minced)
– Fresh banana leaves
– Wood ear
– Dried purple onion
– Lukewarm water
– Spices: salt, MSG
– Sauce: Pig's bone broth
– High quality fish sauce
– Sugar
– Fried chopped garlic
– Kumquat (or vinegar)
– Chilli powder