10. Lau Cua Dong – Field Crab Hot Pot: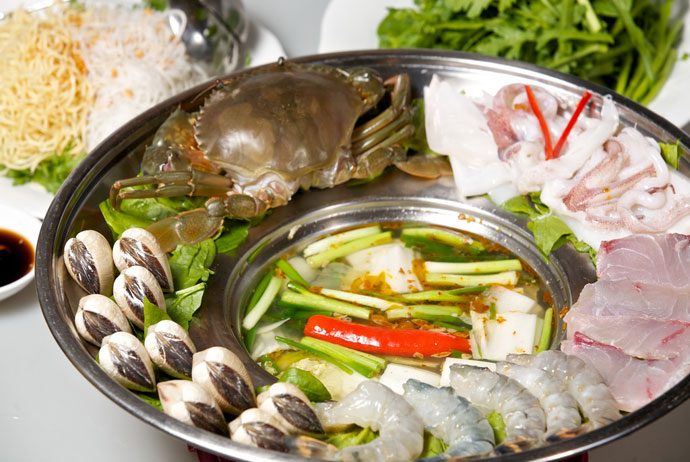 Field crab is basically a rustic food source which is very popular and widely used throughout Vietnam. The nutrient content of field crab is very rich, and the best thing about field crab is the high level of calcium. Field crab flesh is cool, so it can help to reduce the body's heat, detox the toxins inside our body, strengthen the tendons and bones, melt the hematoma, relax the muscles, cure pimples, relieve inflammation, muscle inflammation, treat fever and improve the digestive system.
The harvest season of field crab is usually between June to July. The firm and stocky field crabs with the size as a fist will be rinsed off to remove mud, removed carapace and plastron, finely crushed and cooked to get crab-roe, and processed into many attractive and delicious dishes, including field crab hot pot which is very popular.
Field crab hot pot is very familiar with people everywhere, but in each place, this dish is processed with the different methods and ingredients, creating various different flavors. However, despite how different the field crab hot pot in separate places are, this dish still has the attractive fragrance of field crabs, the freshness of the broth, the light sourness and sweetness, along with the combination of many different materials, creating an attractive and unforgettable taste. In fact, field crab hot pot is always considered one of the best Hai Phong food dishes ever that almost everyone loves. Do not miss this dish when coming to visit Hai Phong!
Ingredients:
– Field crab
– Pig's tibia
– Beef shank meat
– Tofu
– Tomato
– Dracontomelum (green)
– Wine vinegar
– Fresh ginger
– Dried purple onion
– Raw vegetable to dip into the pot: lettuce, perilla, majoram, banana inflorescense (you can adjust the kinds of raw herbals depending on your own favorite)
– Cooking oil, spices, MSG, salt, fish sauce…
11. Cha Muc – Cuttlefish Pie: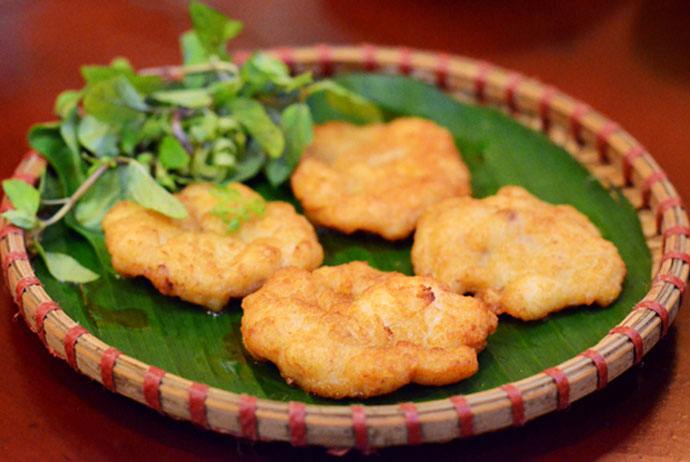 With the natural priorities for Hai Phong, any kind of seafood can also become masterpieces through the skillful hands of the cooks in this Port land.
With tasty, fleshy, crunchy, chewy flavors, fried cuttlefish pie would have conquered the hearts of so many big fans of food. Unlike other places, cuttlefishes in Do Son sea, Cat Ba has a very particular flavor with the saltiness of the Hai Phong sea, sililar to Hai Phong people who "say as wind and eat as wave".
Ingredients:
– Cuttlefish (thick ones, the cuttlefish with "soft sepiabone" and "flat body"
– Lard (thick) – without skin
If you want to increase the flavor of seafood, you can add shrimp (shelled) and fish fillet (skinless)
– Dried purple onion, fresh garlic, fish sauce (pure fish sauce, not the mixed fish sauce which is added with sweetness and flavouring)
– Roasted pepper (wholegrain)
– Fennel
12. Pho Trau – Buffalo Noodle Soup: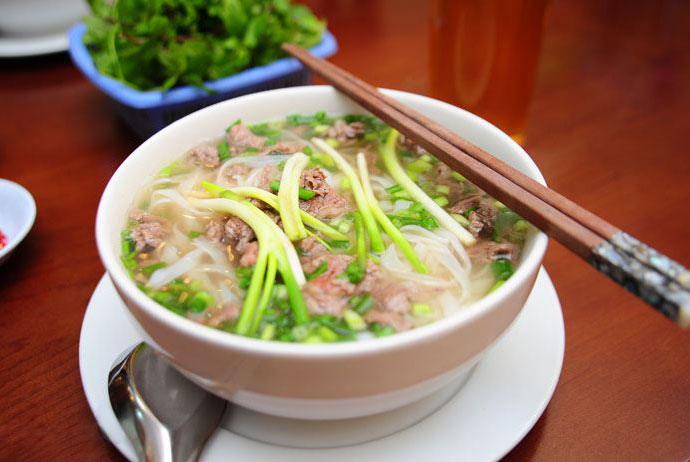 Hai Phong is famous for the bullfighting festival, but few people know that in this land of food, buffalo noodle soup ("pho trau" in Vietnamese) is alo a dish that people should not miss!
The bowl of buffalo noodle soup is full with the blend of white rice noodle, brown buffalo meat, and green scallion, creating the distinct aroma which is really difficult to describe. A special feature of this noodle soup is that the noodle fibers are three times bigger than normal noodle, but they do not bring the feeling of "oversized". In contrast, the noodle and the buffalo flesh are all tender, fresh, creating a unique flavor for the noodle soup which has been familiar with Vietnamese people for years.
Ingredients:
– Buffalo flesh
– Large onion
– Fresh ginger
– Dried onion (purple onion or scallion are fine)
– Coriander seed (optional)
– Coriander root
– anises, cardamoms, cinnamon piece
– Sugarcane
– Salt
– Fresh noodle ("pho")
– Scallion, coriander (cut into small pieces)
– Chilli sauce, lemon juice
13. Banh Gio – Hai Phong Pyramid Rice Dumpling: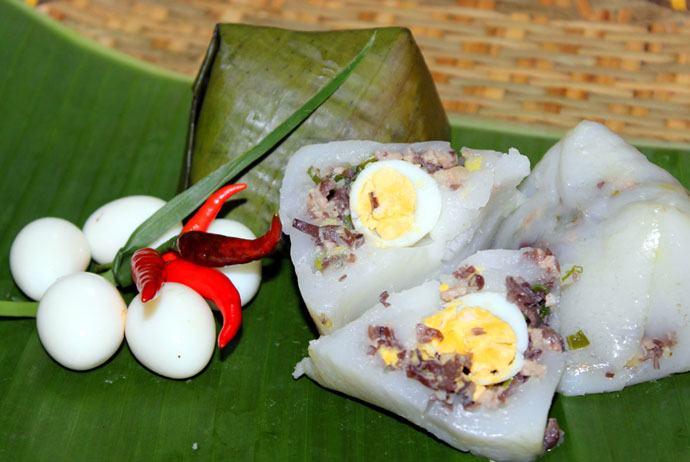 The last food to eat in Hai Phong that I introduce in this article is a very familiar dish to Vietnamese people – Hai Phong pyramid rice dumpling. Pyramid rice dumpling is sold everywhere throughout the country. However, Hai Phong pyramid rice dumpling is really a speciality of this port land which can make Hai Phong people very proud of.
Eating Hai Phong pyramid rice dumpling is not always when you are too hungry or when you have to hurry. Unlike rustic "banh duc" in Hanoi, you can not eat the pyramid rice dumpling while walking as tart or sandwich.
Eating Hai Phong pyramid rice dumpling, you need to eat slowly to enjoy the full flavor of this dish. Hai Phong pyramid rice dumpling is very soft. Even the pyramid rice dumpling is still warm, you still can feel the cool taste on the head of your tongue, the freshness of milled meat, the fatty aroma of scallion and lard, and the unique taste of wood ear…
Eating Hai Phong pyramid rice dumpling, you will feel that you can spend all day for this elegant yet very affordable dish.
Eating Hai Phong pyramid rice dumpling, you will not need to add more spices, such as soy sauce, chili, or pepper. This dish in itself contains what it needs. If you like, you can eat pyramid rice dumpling with fat roll or cinnamon roll to increase the flavor.
With just a spoon, a small plate, a small and short chair in a corner of the street, everyone can gather together with their friends to have fun and enjoy this dish to partly satisfy their empty stomach after a long hard-working day. When you are hungry and you have chance to eat this rustic dish, you will "fall in love" with it right away.
Ingredients:
– The shell:
+ Rice
+ Chestnut starch
+ Broth (broth made from pig's bone or simply, clean water)
You can also use instant pyramid rice dumpling mixed flour which is sold in food stores and supermarkets and follow the recipe printed on the package.
– Stuffing:
+ Pig's shoulder lean meat (finely milled)
+ Wood ear (finely chopped)
+ Large onion (finely chopped)
+ Dried purple onion (finely chopped)
+ Quail eggs (optional)
+ Spices: fish sauce, salt, pepper
+ Banana leaves
+ Shape (optional)