Updated: 11/09/2019
Located on Ho Nam (Hồ Nam) Ward, Le Chan (Lê Chân) District, Du Hang Pagoda (Chùa Dư Hàng) (also called Phuc Lam Tu (Phúc Lâm Tự)) that is 2km southwest from the city center is well-known for its unique and ancient architectural style. Nowadays, Du Hang Pagoda is attracting more and more visitors who come to explore the Buddha statue and learn more about the architecture of the Nguyen dynasty.
When Is The Best Time To Visit Du Hang Pagoda
Hai Phong (Hải Phòng) that is one of the Northern provinces of Vietnam is affected by tropical weather; therefore, it has two different seasons within a year. The dry and cold season is from November to April while in the wet and cold season from May to October; there is a lot of rain in Hai Phong. The rain and weather are important factors that decide when the best time is to visit Hai Phong.
Tourists often combine Du Hang Pagoda with other attractions of Hai Phong like Cat Ba Island (Đảo Cát Bà), Do Son Beach (Biển Đồ Sơn), Trang Kenh (Tràng Kênh) Landscape and Elephant Mountain. They often travel to Hai Phong from May to October because, during these times, Hai Phong with ideal weather has numerous beautiful sights for tourists to discover.
After the New Year is the best time for visiting Du Hang Pagoda as you can pray the best for yourself and your family.
What To See And Do In Du Hang pagoda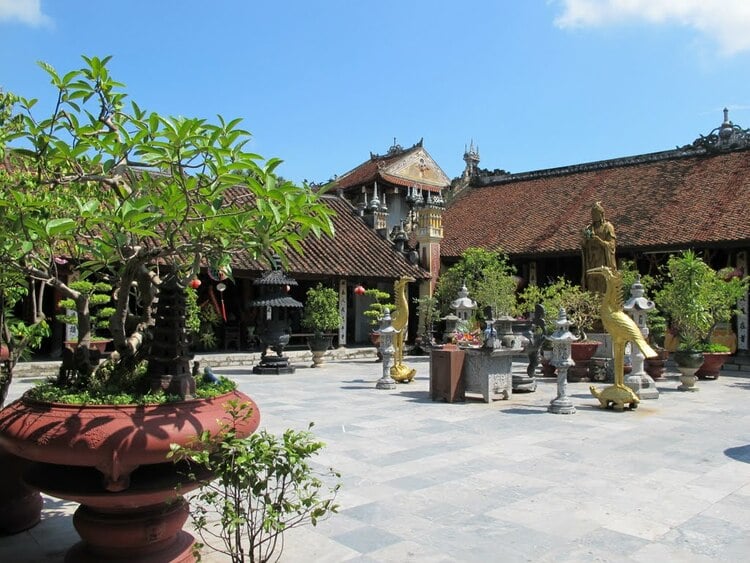 Du Hang Pagoda was built under the Tien Le (Tiền Lê) Dynasty (980 – 1009). In Le Gia Tong (Lê Gia Tông) Dynasty (1972), the pagoda was rebuilt with a full lance, the temple of ancestors, ring, bonze's house, and paved paths with Bat Trang (Bát Tràng) bricks. In 1917, gardens, library, etc. of the temple were constructed and today, they remain. Up to now, many Buddhist clergymen and believers have restored this pagoda to make it more beautiful.
Although being rebuilt some times, the Du Hang Pagoda still maintains the traditional Vietnamese sculpture and architecture that will make tourists astonished when looking. There are seven rooms of Buddha in the pagoda. The ring gate is on the third floor. In its middle, a big brass ring is hanging with a line "Phuc Lam Tu Chung" (Phúc Lâm Tự Chung) written.
Visiting Du Hang Pagoda, tourists and travelers can have a chance to admire many Buddha statues and ancient arts from Nguyen (Nguyễn) Dynast at the end of 19th to the 20th century.
There is a quiet tower garden under the shady and big trees, creating a peaceful picture for this sacred temple. If you visit this pagoda, you should spend time walking through this garden.
Read more: What and where to buy in Hai Phong
Where To Stay And Eat When You Visit Du Hang Pagoda Vietnam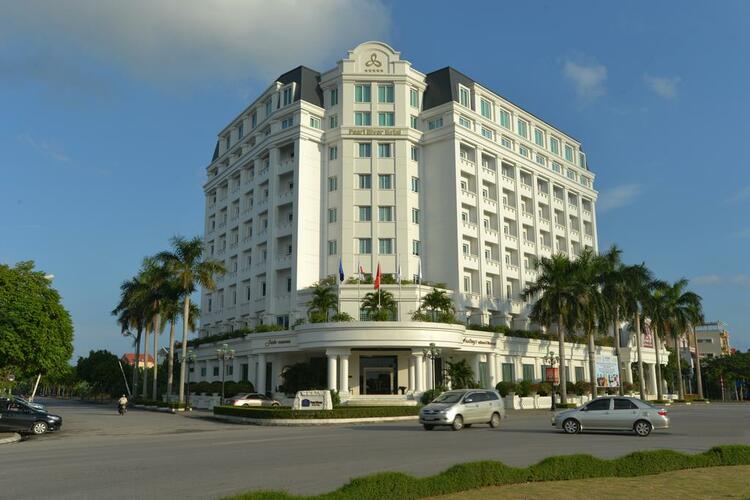 Visiting Du Hang Pagoda, you can eat and stay at the pagoda because there are rooms for guests available. If you do not want to disturb the monks, you can look for the hotels and resorts near Du Hang Pagoda such as Huu Nghi Hotel (khách sạn Hữu Nghị) located at 60 Dien Bien Phu (Điện Biên Phủ) 1.79km far from Du Hang Pagoda; Hoang Hai Hotel at 109 Cau Dat  (Cầu Đất); Ngo Quyen (Ngô Quyền) district 1.12km far from the pagoda; and other hotels you can find around the pagoda.
In Hai Phong, there are many specialties you should taste for example Banh Mi Cay (Bánh Mì Cay) and Nem Cua Be (Nem Cua Bể). In Hai Phong, you can buy spicy banh mi at 50 Le Loi (Lê Lợi) street, 137 Dinh Tien Hoang (Đinh Tiên Hoàng) street, and 26 Tran Hung Dao (Trần Hưng Đạo) street while nem cua be are sold at 87 Cat Cụt (Cát Cụt) street and 372 Lach Tray (Lạch Tray) street.
See more:
Besides Du Hang Pagoda, Hai Phong has many famous tourist attractions you can visit and explore. I hope that this information and travel guide for the trip to Du Hang Pagoda here will satisfy you. You can leave your opinion in the comment section, and we will answer them as soon as we can. To know more about Vietnam travel, visit our Vina homepage.