Updated: 08/26/2019
Located about 105km from Hanoi, in Hai Phong (Hải Phòng) City, Do Son (Đồ Sơn) Beach is one of the most popular beaches of Vietnam. Talking about Do Son Beach's beauty, we need to mention its white sandbank with 4km in length, clean water, impressive mountains and hills, and great pine trees that add this beach bright and attractive colors.
When Is The Best Time To Visit Do Son Beach
Hai Phong is located in Northern Vietnam that has two seasons: cool-and-dry and hot-and-wet seasons. Therefore, the best time to visit Hai Phong generally and Do Son Beach particularly is spring (March and April) or fall (from September to December). During the times, the weather is quite cold.
What To Do And Play In Do Son Beach Hai Phong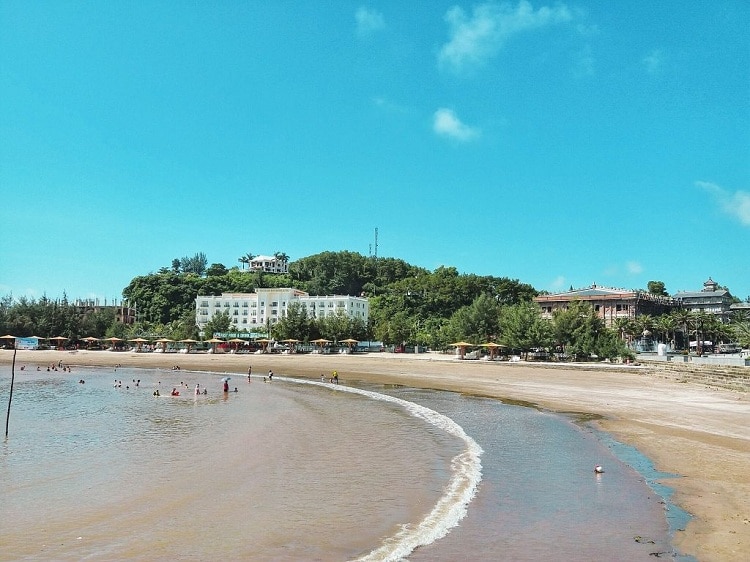 Do Son Beach Hai Phong, a stunning beach can be accessed easily via local transportation. It may take two hours for you to reach Do Son Beach Hai Phong from Hanoi. As a small peninsula that is formed by Rong (Rồng) Mountains, Do Son Beach allures tourists and visitors with the light sand, pinky sunset, impressive forests of pine trees, imposing mountains, zigzag roads, and white sandbank.
In the past, Do Son was a summer resort for Vietnamese upper-class people and French colonists. Nowadays, although not many French architectures remain, it is still an old house of the last king of Vietnam, King Bao Dai.
From August To April, Do Son with its unique flourishing beauty attracts local tourists and becomes an ideal beach for tourists. Coming to the beach, you can spend hours taking the sunbath and swimming in the water. The appropriate level of salt in Do Son can protect your skin from sunburn. You can also play water sports in Do Son Beach.
Traveling to Do Son Beach Hai Phong, tourists can visit Dau Island (Đảo Dấu) that has a bird yard, an entertainment area, an animal zoo, and a historic lighthouse. Tourists can also explore the historical relic of unnumbered ships (Tau Khong So (Tàu Không Số)) wharf that is situated at the foot of Nghia Phong Hill (Đồi Nghĩa Phong).
In Do Son town, locals often hold the ritual buffalo fights and the finals are held on the 10th August (lunar calendar). If you are lucky to visit these times, you will have an excellent opportunity to immerse in the animated atmosphere and enjoy the scenes of buffalos that are decorated colorfully. You can also understand more about the local traditions of Do Son.
If you have time and want to test your luck, you can go to Do Son Casino that opens for tourists.
Where To Stay And Eat When You Visit Do Son Beach Hai Phong Vietnam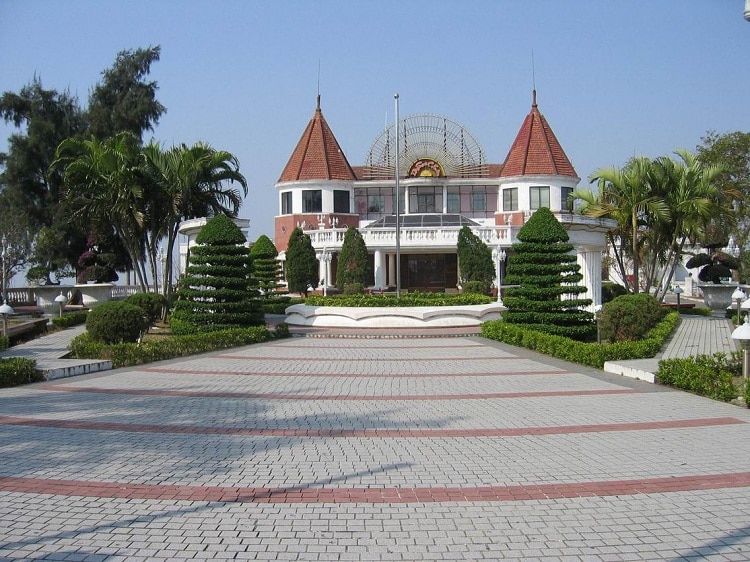 Visiting Do Son Beach, you can not only swim and play water sports but also enjoy the fresh seafood in many good restaurants near the beach.
Here are a number of must-try restaurants with an affordable price I would like to suggest or your preference:
Tang Hau Restaurant (Nhà hàng Tằng Hậu): at Zone 1, Do Son

Tam Duong Restaurant (Nhà hàng Tam Dương): at Zone 2, Do Son

Gio Bien Restaurant (Nhà hàng Gió Biển): in the center of Zone 1 and Zone 2, Do Son

Van Van Restaurant (Nhà hàng Vạn Vân): in Zone 3, Do Son
In Do Son, you should taste the famous delicious specialties such as banh da cua (bánh đa cua), shrimp vermicelli, spicy bread, fish vermicelli, nem cua be (nem cua bể) and lau cua dong (lẩu cua đồng).
As a famous tourist spot, Do Son Beach has many hotels and resorts or tourists to choose such as Do Son Resort (Đồ Sơn Resort), Van Thong hotel (khách sạn Vạn Thông) and Hon Dau Resort (Hòn Dấu Resort), etc. Hotels and Do Son Beach resort accommodations can be full on the weekends  or holidays like April 30th, therefore, it is better or you to book in advance if you want to be served well.
See more:
Do Son nowadays can not be missed if you are traveling to Hai Phong as it has the unique beauty you cannot find anywhere. When the summer comes, Do Son welcomes a large number of visitors who come to relax and play. I hope that you can find a useful travel guild in this post. If you want to leave your questions, please feel free and we will answer as soon as we can. To know more about Vietnam travel, visit our Vina homepage.