Updated: 08/18/2019
Hanoi has several famous theatres that are the highlights of this capital city. One of the must-see attractions in Hanoi is Vietnam National Tuong Theatre (Hanoi) that is alluring not only domestic but also international visitors for exploring the historical and cultural values of a traditional national theatre in Vietnam. Coming here, you will have fun activities and watch hat tuong (hát tuồng) – a classical Vietnamese opera brought and diversified from Chinese opera.
Hat Tuong – Vietnamese Traditional Art
Hat tuong (simply tuong (tuồng)) that is also called hat boi (hát bội) is a classical form of Vietnamese theatre that appeared and developed in the late 12th century. The origin of tuong remains a mystery, but it is believed that the Chinese brought this art to Vietnam in the Vietnam war against the Mongol Yuan Dynasty.
There is an explanation about how tuong was imported to Vietnam. At the time of the Vietnam-Mongol war, Vietnamese captured a famous tuong performer and asked him to show his theater skills. This art was soon shown widely to commoners by traveling troupes and then became popular.
Influenced by Chinese opera, this musical art with improved, developed, and diversified performance techniques have become one of the unique traditional Vietnamese musical art reflecting the unique Vietnamese culture.
Tuong is different from cheo (chèo) and cai luong (cải lương) – the folk arts of Vietnam in terms of the makeup, costumes, stories, characters in stages, and so on.
Nowadays, you can enjoy this art in many regions of Vietnam, and one of the most famous theaters located in Hanoi is Vietnam National Tuong Theatre.
Vietnam National Tuong Theatre – The Unique Musical Art Theater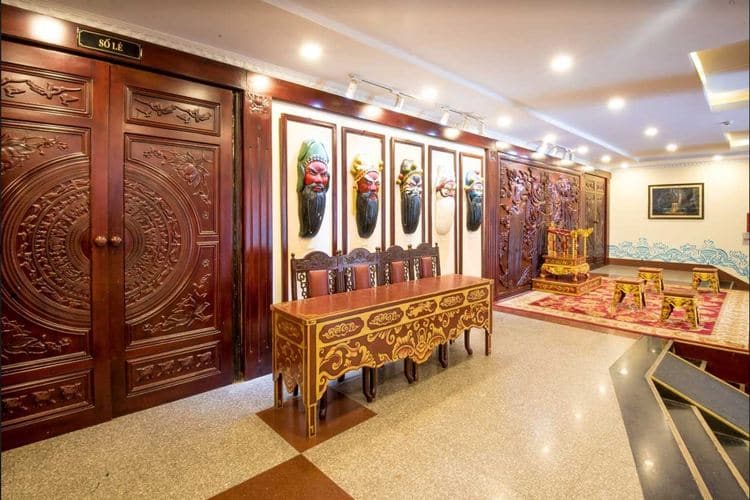 Located on Duong Thanh (Đường Thành) Street (called Rue de La Citadelle at that time), the theatre named Olympia was built in the 20th century as a cinematheque. At that time, the Olympia theatre only had Western movies and entertained the French colony.
In 1945, when the revolution army of Vietnam defeated the French, and they had to withdraw from Vietnam, the theatre was left and renamed "Hong Ha (Hồng Hà) Theatre." The new Vietnamese government agreed to use this building as a place where Vietnamese folk art like cai luong, tuong, cheo, etc was performed in stages. After that, Hong Ha Theatre attracted the interest and attention of Vietnamese residents, and it is seen as a destination preserving and promoting traditional values and cultural heritage of Vietnam. Among classical genres, hat tuong has preserved and gained popularity over the years, becoming a crucial part of the theatre and something memorable and impressive when tourists have a chance to visit the building.
Having existed over a hundred years and witnessed many historical changes of Hanoi, the old "Olympia" becomes Vietnam National Theatre nowadays. In Vietnam National Tuong theatre, you can not only enjoy tuong shows but also admire other musical art performances such as Cheo, Cai Luong, Hat Xam, and so on. The theatre offers the fresh air and cozy atmosphere for tourists and visitors who come. Enjoying hat tuong performances at Vietnam National Tuong Theatre is a fantastic opportunity for cultural exchange. It also contributes to the progressive expansion of this unique Vietnamese musical art.
Where To Eat Near Vietnam National Tuong Theatre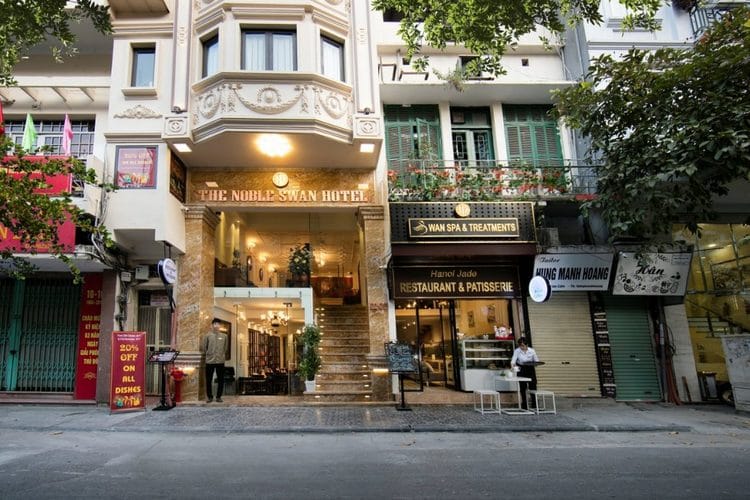 Near Vietnam National Tuong Theatre in Hanoi, there are numerous restaurants and food stalls that serve delicious meals and meet all the requirements of guests.
Here are some options that will be useful if you explore Vietnam National Tuong Theatre and want to find a spot to fill your empty stomach.
  CoYen Restaurant: 99 Hang Gai (Hàng Gai) Street, Hoan Kiem (Hoàn Kiếm) District, Hanoi

  Hanoi Jade Restaurant: 98 Hang Gai Street, Hoan Kiem District, Hanoi

  L'eglise Petit: 95 Hang Gai Church Boutique Hotel

  Bun Doc Mung (Bún Dọc Mùng): 18 Bat Dan (Bát Đàn), Hoan Kiem District, Hanoi

  Bun Cha Ngan (Bún Chả Ngan): 75 Hang Bong (Hàng Bông)
Where To Stay Near Vietnam National Tuong Theatre 
The tourism services in Hanoi have developed well, so there are a wide array of hotels and homestays with different costs for tourists and visitors.
If you want to stay near Vietnam National Tuong Theatre, the recommended options include Noble & Swan Boutique Hotel (16H Duong Thanh Street, Hoan Kiem District), Helios Legend Hotel (2D Duong Thanh Street, Hoan Kiem District), Hanoi Marvellous Hotel (55 Duong Thanh Street, Hoan Kiem District,), etc.
Thanks to the cozy classic design along with cultural and historical values, Vietnam Tuong Theatre has created a unique ambiance, impressive experiences, and mesmerizing memories for tourists and visitors who visit Hanoi. We hope that you will find useful information in this article. You should feel free to leave your experience in Vina.com if you have visited the theater. We are glad to hear your voice.