Source: chudu24
Vietnamese soybean curd is known as one of the best summer treats in Vietnam because it helps to cool down consumers during hot summer days. Soybean curd is an iconic food with a long history of development in both ingredients and processing. Street vendors serve traditional cups of soybean curd with tofu, soy-bean milk and yellow sugar while more modern restaurants add a few ingredients, making it become a favorite dish of Hanoians, from children to adults.
I. Vietnamese Soybean Curd – The Introduction
Soybean curd has the smooth and creamy texture, and the taste of soy milk. In the central region, "tao pho" is called "dau hu" that differs in flavor from "tao pho". The taste of "dau hu" is still very unique. In southern Vietnam, "tao pho" is generally sweeter with coconut milk and called "tau hu". Saigonese often eats this dish with hot syrup, cool coconut water and ice. Tofu in soybean curd contains lots of healthy nutrients, including protein, so it is very good for human health. Besides, tofu, with its high contents of calcium, isoflavones and carbohydrate, can help reduce the risks of age- and lifestyle-related diseases including cardiovascular, osteoporosis, liver damage, breast and prostate cancer.
Learn More: Vietnamese New Year Food – 20+ Traditional Food For New Year Days
In Hanoi, Vietnamese soybean curd often includes simple ingredients such as syrup, tofu, black pearl, jelly and dried coconut. Eventually, this dish is also served with red beans, coconut milk, coffee, chocolate and ginger jam. The diverse menu brings different tastes to young people.
A typical bowl of Vietnamese soybean curd looks simple but is full of flavor and very refreshing. Observing the seller making Vietnamese soybean curd may be a satisfying and relaxing experience for consumers. Firstly, she puts some ice cubes into the serving bowl. Second, she scoops out a few thin slices from hot soybean curd in the pot using a sharp flat spoon and then places these slices into the bowl. Finally, she pours some sugar syrup with jasmine flowers and adds toppings.
Check Out More: Vietnamese Street Style Snails – What & Where to Enjoy in Hanoi?
II. Where To Eat Vietnamese Soybean Curd In Hanoi
In Hanoi, you can find this dish everywhere, from small stalls to modern shops. And now, we will show you some of the great destinations where you can enjoy the delicious taste of Vietnamese soybean curd in Hanoi.
1. "Tao Pho" On Nghia Tan Street

Source: gomsu.divashop
This shop is opposite Nghia Tan secondary school and it is a gathering place for students as well as office workers around the area. The tofu here is soft, smooth and ivory-white because it is not added food additives. By putting a slice of soybean curd on the mouth, you can feel the smoothness of the scent, the sweetness of the sugar and the fragrance of jasmine flowers. Besides, pearls are fragrant and tough. Adding a bit of black jelly can keep the taste on top of your tongue. Consumers can also ask for more coconut milk if desired.
Address: 106 C2 Nghia Tan Street, Cau Giay District

Opening Time: 10:00 a.m – 5:00 p.m

Pricing: 10.000 – 22.000 VND
Read More: Vietnamese Fresh Rice Noodle Rolls – Check out Pho Cuon in Hanoi style!
2. "Tao Pho" On Bach Mai Street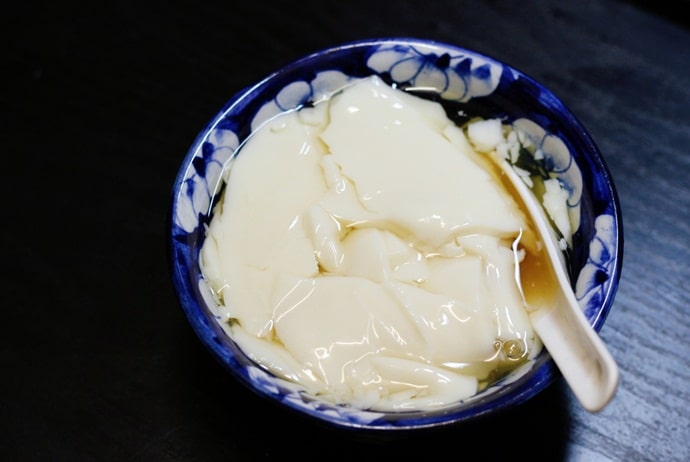 Source: mykitchies
This shop is located near the corner of the lane 105 on Bach Mai Street and it is famous for Vietnamese soybean curd with green beans. The owner of this shop is a professional for over 20 years. With her, soybean curd should be white, aromatic and quickly dissolved. The green beans should not be sweet and thick. Besides, the tiny pearls are also soft and tasty. The price of each bowl is only 5,000 VND.
Address: 105 lane, Bach Mai Street

Opening Time: 6:00 a.m – 12:00 a.m

Pricing: 10.000 – 22.000 VND
Learn More: Grilled Quail Eggs – Trung Cut Nuong – a New Vietnamese Street Food
3. "Tao Pho Chi Phuong"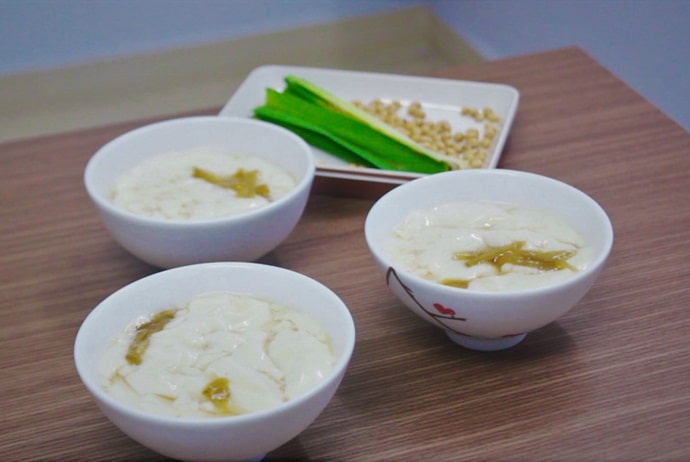 Source: mintakitchen.wordpress
Only 7.000 VND per bowl; however, in order to meet the consumers' needs, the owner has to hire 13 staffs to serve and process the Vietnamese soybean curd. On average, this shop sells about 1,000- 1,200 bowls per day. This shop opens from 7a.m, and the most crowded time is about 17-19p.m.
Address: Opposite 172 Dai Tu Street, Hoang Mai District

Opening Time: 4:00 p.m – 10:00 p.m

Pricing: 20.000 – 50.000 VND
Learn More: Vietnam Street Food – 28 Best Street Food In Hanoi And Saigon
4. "Tao Pho Tofu"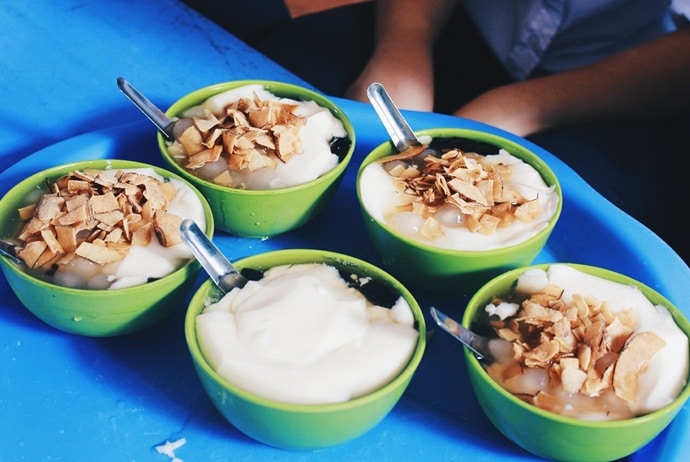 Source: mykitchies
This shop sells 20 kinds of soybean curd including soybean curd with raspberry jelly, lotus seeds, ginger jam, etc. All of the ingredients are made by hand, from materials selection to processing new dishes. A bowl of soybean curd is placed in a larger bowl, using the flame of alcohol to boil water. The prices here range from 9,000 to 18,000 VND. Actually, if you are looking for a shop that sells soybean curd in Hanoi, you can try visiting the shop called "Tao pho Tofu".
Address: 41 Dao Duy Tu Street, 61 Nguyen Du Street and 44 Pho Hue Street

Opening Time: 8:30 a.m – 11:00 p.m

Pricing: 9.000 – 18.000 VND
5. "Tao Pho Jelly Bean"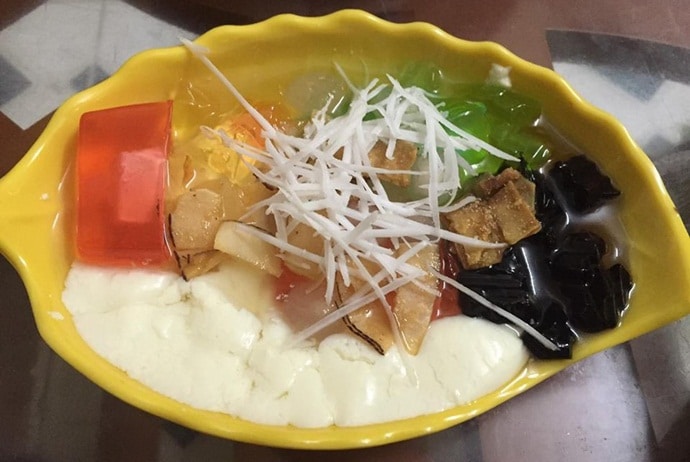 Source: baomoi
When it comes to Vietnamese soybean curd in Hanoi, you should not skip the shop on Quang Trung Street. This shop has many different kinds of soybean curd such as soybean curd with lotus seeds, soybean curd with ginger jam, etc. Besides, this shop also serves soy milk with coffee, soy milk with carrot, and soy milk with chocolate, etc. Each bowl of Vietnamese soybean curd ranges from 8,000 to 10,000 VND. You can either enjoy this dish at this shop or bring back.
Address: 28 Quang Trung Street, Hoan Kiem District

Opening Time: 10:00 a.m – 7:00 p.m

Pricing: 16.000 – 20.000 VND
6. "Tao Pho Viet"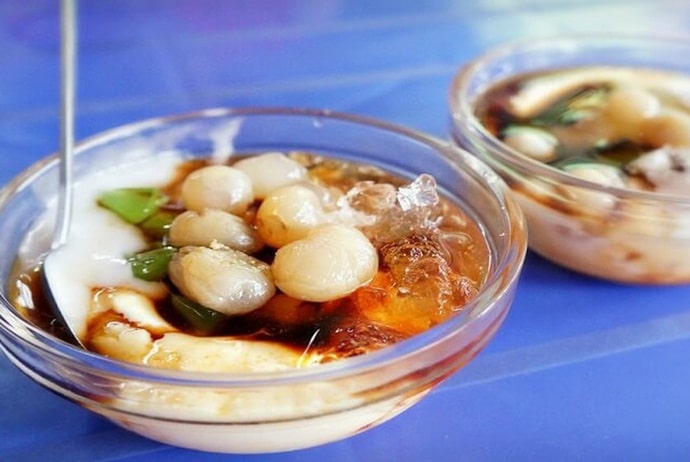 Source: baomoi
This is a new address but has been favored by many customers, especially young people. This shop has a small space, but is extremely neat with wood furniture in orange yellow tone, bringing customers the comfort and coziness. In addition, this shop is also famous for delicious foods with clean quality and special taste.
There are more than 10 different flavors for consumers to choose from, including jelly, pearls, coffee and chocolate. The white tofu mixed with a variety of colorful jellies is very delicious and attractive. Generally, beautiful location, soft price and good service, this shop is highly recommended for those who want to enjoy Vietnamese soybean curd.
Address: Mai Dich Street, Cau Giay District

Opening Time: 7:00 a.m – 10:00 p.m

Pricing: 8.000 – 35.000 VND
Whether you are familiar with this treat or you love exploring, it is worth trying out a bowl of Vietnamese soybean curd, observing how this street snack is served, and enjoying the taste of this dish. Try out coming to any of the shops as mentioned above, and you will want to come back many more times. One more thing, feel free to come back to Vina.com and VinaFood page for more interesting food guide and delicious Vietnamese food dishes!