Nha Trang (Nha Trang) is an ideal tourist destination that attracts a large flow of both domestic and international tourists. One of the best attractions in Nha Trang tourists must visit is Tri Nguyen Aquarium (Thủy Cung Trí Nguyên) which is situated on Bong Nguyen (Bồng Nguyên) Island (also called Hon Mieu (Hòn Miêu) Island). Visiting the Tri Nguyen Aquarium (Nha Trang), tourists and visitors will definitely be astonished at the impressive construction and incredible beauty of marine organisms, marine fishes and marine plants.
Tri Nguyen Aquarium's Structure And History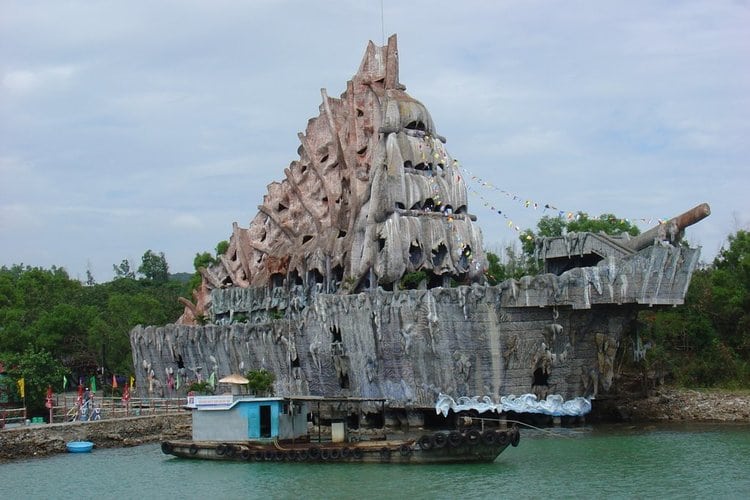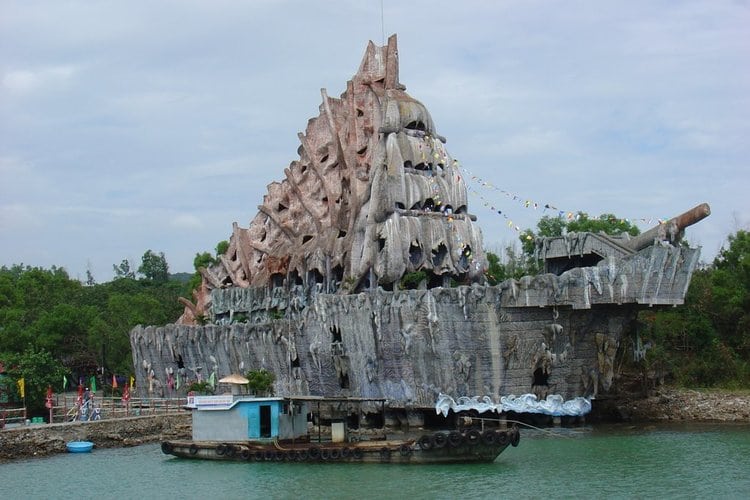 In 1971, a fisherman built Tri Nguyen Aquarium because he is proud of this homeland's natural beauty. He blocked the sea and built a dam for a lake (130 m wide, 160m in length). After that, the construction received more than 10 billion VND from Khanh Hoa Travel Company (Công ty Du lịch Khánh Hòa) to improve its capacity and quality after this company saw all the available advantages and natural potentials for humans and the environment. From a desert place, it becomes the largest-scale aquarium in the S-shaped country, Vietnam.
The Tri Nguyen Aquarium in Nha Trang is constructed in special design of an ancient fossil ship 30 m high and 60m long. It has three main parts with many floors. The first one is the large lake which is surrounded by stones to give the marine creatures a comfortable living place and suitable sea conditions. The second main part of Tri Nguyen Aquarium is used for souvenir sections and the third part is the cuisine area that includes restaurants and food stalls.
I can say that Tri Nguyen Aquarium has won the heart of visitors and tourists because of the unique architecture and a great number of sea creatures.
Tri Nguyen Aquarium – A Marine Museum And Attractive Park In Da Nang 
Shaped like a big ancient sailing ship, Tri Nguyen Aquarium gives tourists and visitors a great opportunity to discover interesting things and study the marine ecosystem. Having 8 floors, you can admire an abundant and attractive fauna and flora.
The basement floor is decorated to look like caves with many stalactites. There are a small aquarium and 4 large ones which are the living space for hundreds of marine creatures including shrimps, breeding savage fishes, and turtles, etc. Most fish lakes in Tri Nguyen Aquarium has an area of around 150 – 200 m2.
The largest 3 ha lake owns the most extensive system of fish. Looking through the halls and rooms surrounded by glasses, you can see many lively marine animals such as colorful fishes, turtles, and big sharps. Tri Nguyen Aquarium has both outdoor and indoor lakes. The outdoor lakes are home to familiar animals like stingrays, pearls, oysters, sharks, squids, and dolphins while indoor lakes have a wide range of strange sea animals with different colors and shapes. The rare species also live in the indoor lakes.  A visit to Tri Nguyen Aquarium which looks like a mini ocean will make the barrier between nature and human disappear.
The third lake is the most outstanding place you should visit if you go to Tri Nguyen Aquarium. It is used to raise turtles and tortoises. Turtles raised in Tri Nguyen Aquarium have the weight over 100kg. The shells on turtle's backs have a diameter of 1.5m and they are filled with clams, seaweed, and snails. You can sit on the embankment, stirring the water surface with your legs or dropping some bread pieces to call the tortoises and turtle and wait until they come to you. It is interesting to see some friendly turtles and tortoises swimming to the water surface to welcome tourists.
The fourth lake is much larger than other lakes in Tri Nguyen Aquarium, owning an abundant variety of marine creatures with different shapes.
If you go to the Tri Nguyen Aquarium, do not forget to go to the second floor which is used for the handicrafts and souvenirs. The third floor is for restaurants; therefore, if you feel hungry after a full day of discovering and wandering in this attractive place, you can go there.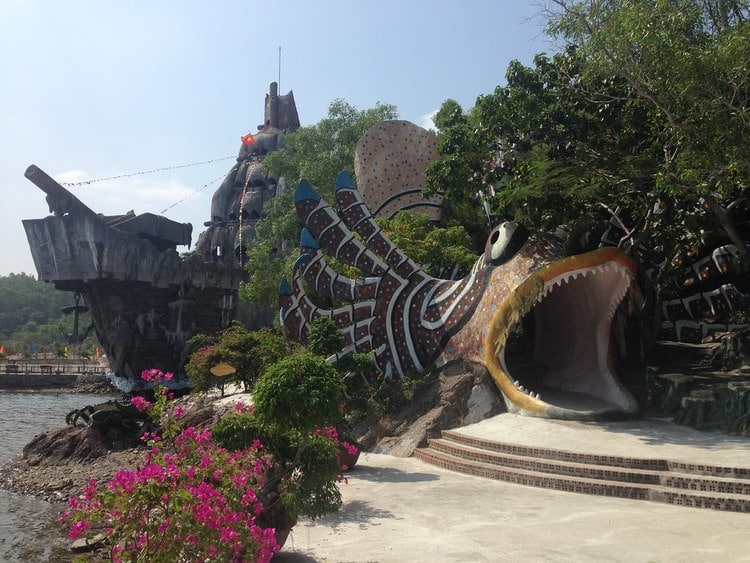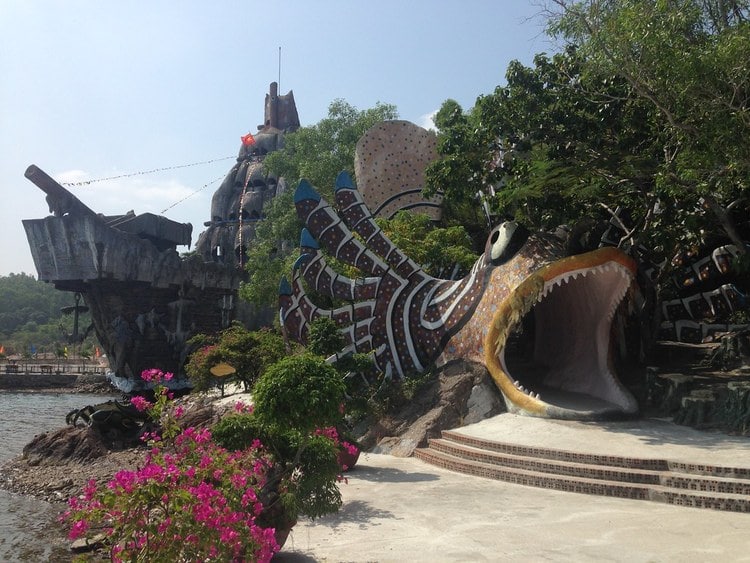 On the deck of this sailing ship, there are a cannon and a mast. Standing here, you can rest and enjoy the interesting panoramic view of the sea. Each bench has a lovely and special design of sea creature like squid, shrimp, fish, snails, etc.
After resting on the deck, you should continue to reach the top by using spiral ladders. On the top of the ship, you will enjoy a panoramic view of charming and poetic Nha Trang Bay.
Now, Tri Nguyen Aquarium is still receiving investment to boost its innovation to make tourists feel more interested in and want to come back more times. Models of giant crabs, shrimp, or mushrooms have been made, which creates new scenery for the park and impression for visitors. Moreover, the people used royal orchids, tropical almond trees or casuarinas to cover the outdoor or indoor aquariums.
Where To Eat In Tri Nguyen Aquarium 
If you feel hungry, you can go to the third floor of the Tri Nguyen Aquarium where you can find some Nha Trang restaurants to enjoy with foods cooked in special recipes.
Where To Stay Near Tri Nguyen Aquarium 
In Nha Trang City, there are a lot of accommodation options you can choose to stay. Near Tri Nguyen Aquarium, the best recommendations would be Paragon Villa Hotel (around 1.72km far away from Tri Nguyen Aquarium), Orbit Resort & Spa (1.83km far away from Tri Nguyen Aquarium), Crown Nguyen Hoang Hotel (1.93km), Verano Hotel (2.11km), etc.
See more:
With the wide diversity of fauna and flora, special design and construction, and the charming scenery, it is not surprising when Tri Nguyen Aquarium has become one of the most appealing attractions in Nha Trang. Tri Nguyen Aquarium also contributes to the growth and development of Nha Trang tourism and makes more tourists turn back to this beautiful coastal city. I hope that you will find useful information about the Tri Nguyen Aquarium travel guide. Any questions can be left in the comment section and we will answer them as soon as we can. If you are interested in our articles about Vietnam's attractions and activities, please do not hesitate to visit Vina.com.