Da Lat (Đà Lạt) is a mesmerizing city with beautiful flowers, stunning villas, a variety of fruits, delicious food, and special traditional and cultural festivals. Talking about Da Lat tourism and festivals, we cannot forget to mention the Tea Festival in Da Lat that offers many interesting activities. Each year, Tea Festival has attracted many visitors and tourists to enjoy. 
The Reason Why Da Lat Develop Tea Festival 
Da Lat is well-known for growing and supplying tea to many parts in Vietnam and other countries overall the world. For instance, a 26,000-hectare area in Lam Dong province is used for growing tea trees. B'Lao tea which is the Vietnamese green tea grown in Bao Loc (Bảo Lộc) area, Lam Dong (Lâm Đồng) province has attracted the interest of both domestic and international customers. Furthermore, Cau Dat (Cầu Đất) tea company which dates back to 80 years ago is still producing high-quality tea products. 
Tea Festival in Da Lat is held in Lam Dong province for every two years to honor tea producer and tea section in Da Lat. Furthermore, it also promotes tea growing culture, developing tea and exchange tea. It encourages people, especially the young to drink tea, which helps maintain the drinking tea culture in Vietnam. 
Activities At Dalat Tea Festival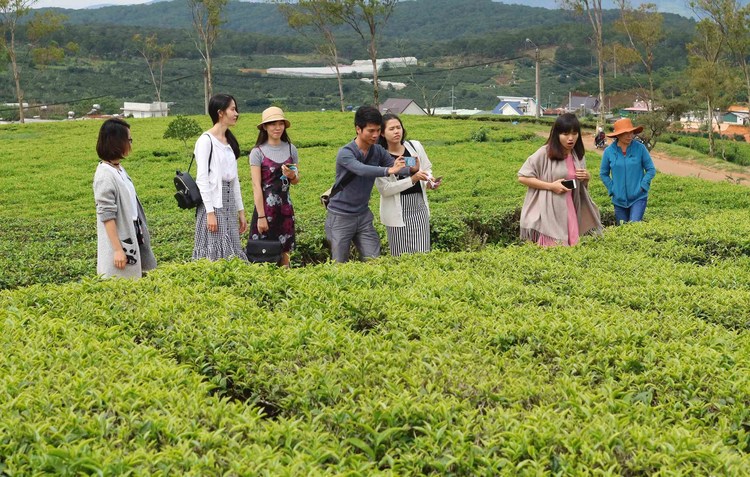 Visiting Dalat Tea Festival, visitors and tourists can admire the picturesque immerse tea fields. A visit to the Tea Festival in Da Lat is a great opportunity for you to learn the different ways of making and mixing tea in Vietnam and enjoy the special flavor of the typical tea in Da Lat. 
Nothing is greater than enjoying a cup of tea and socializing with the local people. You will feel your soul released and your emotion happier. That will definitely be an enjoyable memorable experience for visitors and tourists. 
Besides, there are many interesting programs and activities at Dalat Tea Festival such as flower exhibition, visiting the tea garden, the competition of collecting tea, exhibition fair, art competition, trade fair tourism Dalat, tea ceremony, etc. 
Visitors can also see many photos and materials and learn knowledge about tea culture in Da Lat City in general and Lam Dong province in particular. 
Da Lat Tea Festival And Dalat Flower Festival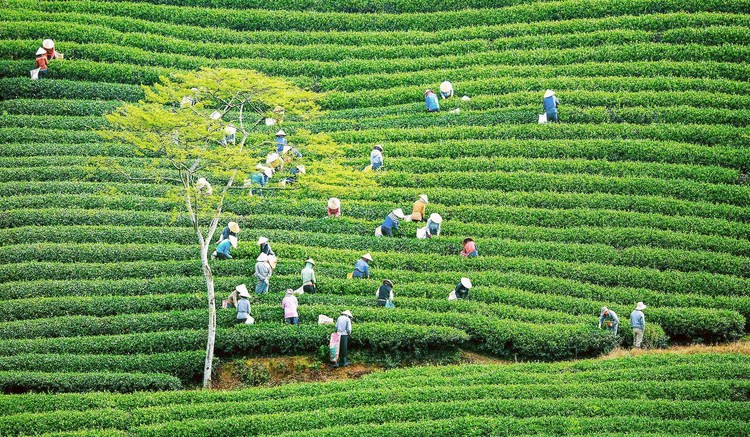 Since 2017, Dalat Flower Festival and Dalat Tea Festival have combined into a festival and it is often celebrated in December every year. In 2017, the first combination of Dalat Tea Festival and Dalat Flower Festival took place with the theme "Da Lat – Fresh Flower Day". This festival lasted for 5 days, from 23 to 27 December 2017 in Bao Loc and some nearby districts.
The Tea Festival in Dalat is a special meaningful event that appeals to a lot of tourist and visitors. It is a great idea to visit Da Lat and take part in this cultural festival that helps you learn more about the tea culture and unique features of different tea in Da Lat. Enjoying a cup of tea and immersing in a natural space of Da Lat will be an enjoyable experience if you visit the Tea Festival in Da Lat. I hope that you can find useful information in this article. Any questions can be left in the comment section and we will answer them as soon as we can. In Vina.com, we have published the informative articles about Vietnam's attractions and activities that would be helpful if you are planning a visit to this S-shaped country. If you are interested, please do not hesitate to click on our website.