Updated: 11/19/2019
If you visit Nha Trang in Vietnam (Việt Nam), you should not miss Hon Mun Island (Hòn Mun). It is one of the most romantic islands in the island system of Nha Trang, located on the southeast of Bong Nguyen (Bồng Nguyên) island, about 10 km from Cau Da port (cảng Cầu Đá) (about 45 minutes by boat).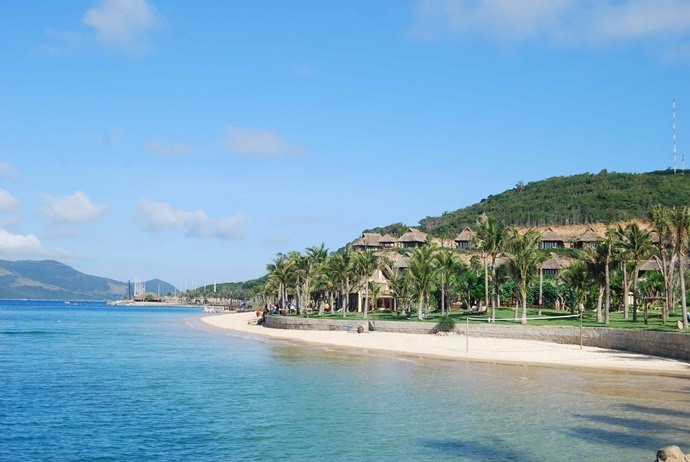 Source: whereto
It is called Hon Mun because its southeastern side has high ledge and cliffs, forming a cave. In particular, the rock on this island is as black as ebony, very rare in other places.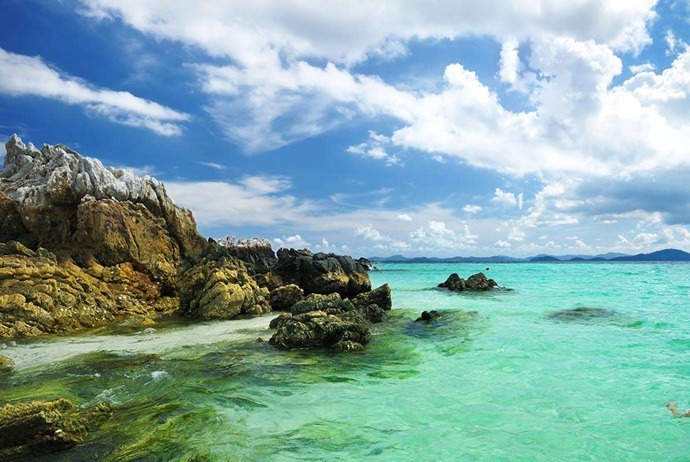 Source: vietnamtourbooking
At this island, you will not only immerse yourself in the beauty of the blue beach on with powder-like white sand but also be free to explore a diverse ecosystem under the ocean – one of the most beautiful and rich aquarium in South East Asia.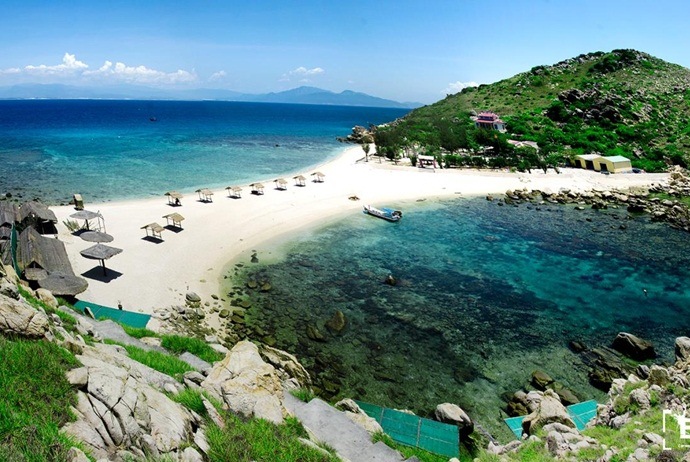 Source: vietnamimmigration
Hon Mun has a total area of 160 km2, of which 122 km2 is sea area and 38 km2 is the total area of the island. In the eastern side of Hon Mun Island, there are many species of Salangane making nest in the black rock caves. With its favorable climate and terrain, Hon Mun Island is situated close to hot sea currents from the equator, which is suitable for the development of many coral and tropical marine species. Therefore, it has diverse and abundant marine organisms. This island is also home to research, observation for oceanographers, researchers, and tourists who are looking for ascertaining about the ocean creatures. If you dive down the seawater, you will be overwhelmed by a different world, which is considered a colorful, shimmering, and fanciful paradise. You will have an opportunity to admire such ""untouched coral forest" with a lot of appealing colors and multi-shapes.
What Is The Best Time To Visit Hon Mun Island?
Hon Mun is beautiful every season. However, in the winter months from October to December, there are heavy rains and winds on the island, so you will have trouble moving.
The best season to travel on Hon Mun Island is August. In this month, Hon Mun has a cool weather which is suitable for swimming and experiencing ocean exploration services.
How To Get To Hon Mun Island?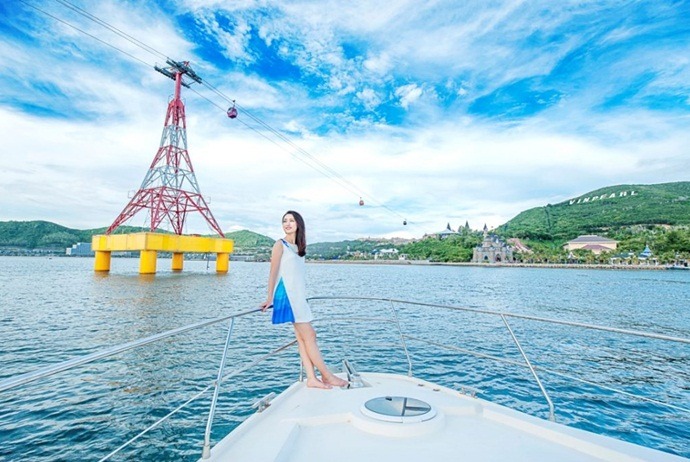 Source: travelasia360
It is easy! Hon Mun Island is located in the southern part of Nha Trang Bay, Nha Trang City, Khanh Hoa Province (Khánh Hòa). It is about 10 km from Cau Da Harbor. At the pier, visitors can find many ships to Hon Mun. However, visitors generally opt for canoes or boats to get to this island with about 45 minutes of moving.
Travel expenses are as follows:
For canoes: VND 300,000 / trip

For vessels: VND 250,000 / trip
Where To Stay In Hon Mun Island?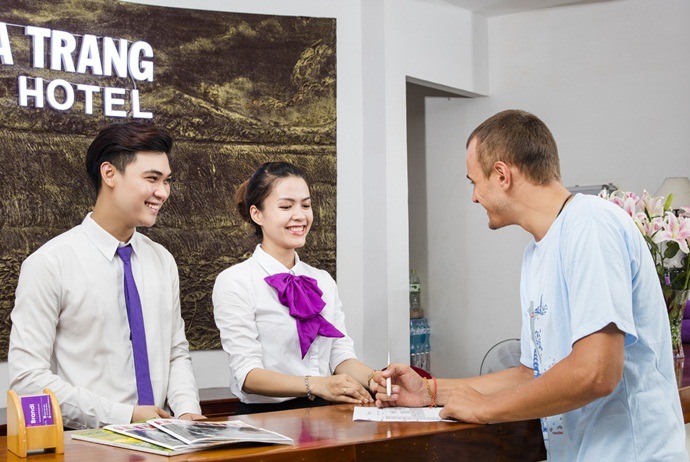 Source: nhatrang.brandihotel
At Hon Mun Island, there are plenty of accommodation options for you to choose, you can stay at the luxury resort and hotels such as Vinpearl and Novotel Hotel or in hotels and motels for about 200.000VND.
What Are Attractions In Hon Mun Island?
Bathe In The Sea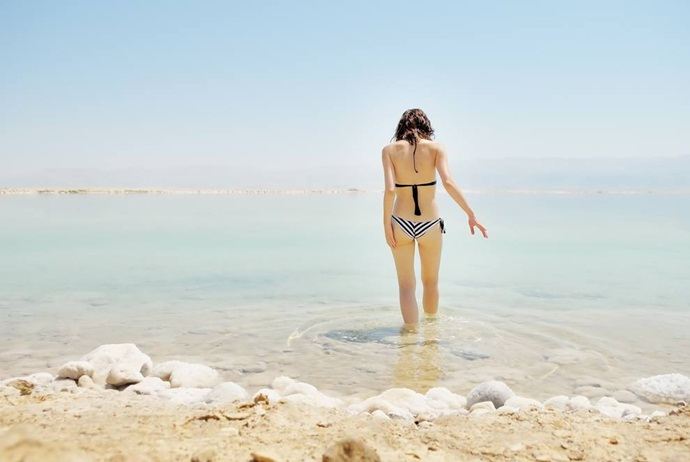 Source: lifehack

For a great island tour, you must prepare yourself a "so cute" bathing suit to immerse yourself in Hon Mun's cool water. The best thing is that you can sit on white sand in the sweet sunshine.
Take A Dive To See The Coral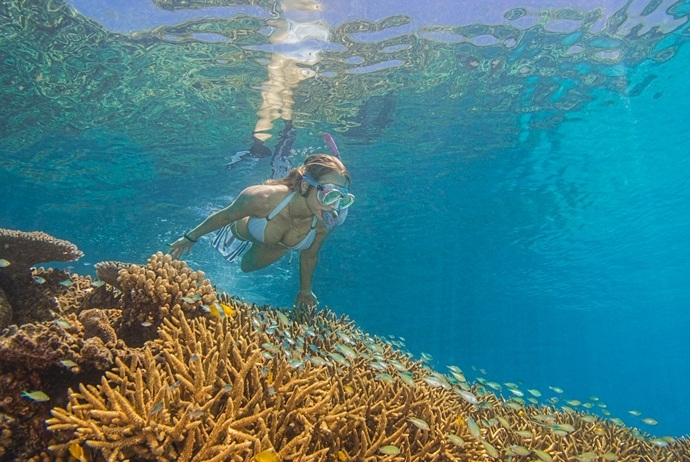 Source: passions
With its favorable terrain and climate, Hon Mun is close to the hot sea from the equator. It is a suitable condition for the development of many types of coral and tropical marine life. That is why this place has a very diverse and rich marine life.
In fact, Hon Mun is the first and only marine protected area of Vietnam, rated by the World Wildlife Fund (WWF) as the first marine biodiversity area in Vietnam. At the bottom of the sea, at about 10 meters in depth, there are coral reefs with various fish of all colors and types.
According to statistics, around the world, there are about 2,000 species of coral and marine life. Surprisingly, Hon Mun has over 1,500 species of coral. Hon Mun is like a "living museum" of the sea creatures.
At Hon Mun, with a depth of less than 18 meters, you will not see beautiful coral reefs, but a lot of caves. There are caves of 10-15 meters in depth. You have to use the lamp to observe the sea creatures which are living in the darkness, such as shrimp, rays, lobsters, squid, etc.
Diving into the sea and watching the coral at Hon Mun Island will make you feel very surprised about the beautiful ocean. Only 10 meters from the sea's surface, you can see the bottom of Hon Mun Sea.
For those who love to drive and explore, diving is definitely something that cannot be missed.When you register for a scuba diving tour, you will be provided with a training course on diving skills as well as the necessary equipment for your trip under the ocean.
In addition to diving, you can also use a glass bottom boat to contemplate colorful coral reefs with a lot of species of marine life.
Take A Glass Bottom Boat Exploring The Ocean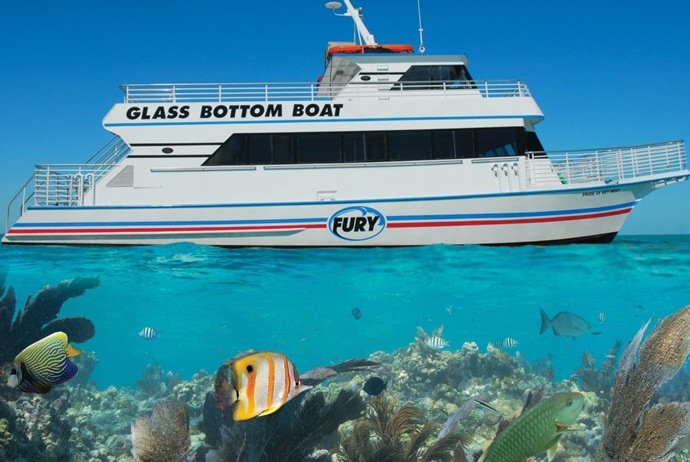 Source: furycat
Do not like to wear the disposable diving suit? Are you afraid of water? Are you sick? Take a boat to the ocean view is a reasonable choice for you. Sitting on a glass bottom boat, you can still admire the colorful coral reefs and swimming fish.You can film videos of your ocean exploration journey. Probably the bottom boat glass Hon Mun will bring you many interesting things.
Enjoy The Floating Bar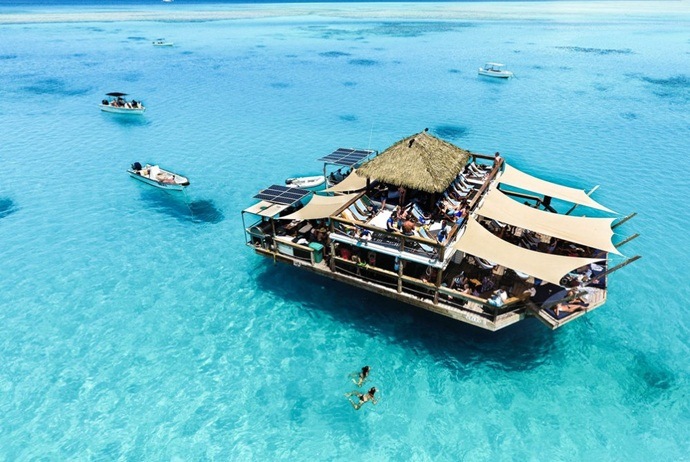 Source: rumblerum
This is one of places that attract tourists the most in Hon Mun island. Imagine that you wear a life jacket floating in the sea and can still enjoy your favorite bar on the water. You can party and eat on the sea, or enjoy rare and delicious wines with your friends. Sure, you will never forget that experience.
Visit Hon Mun Marine Park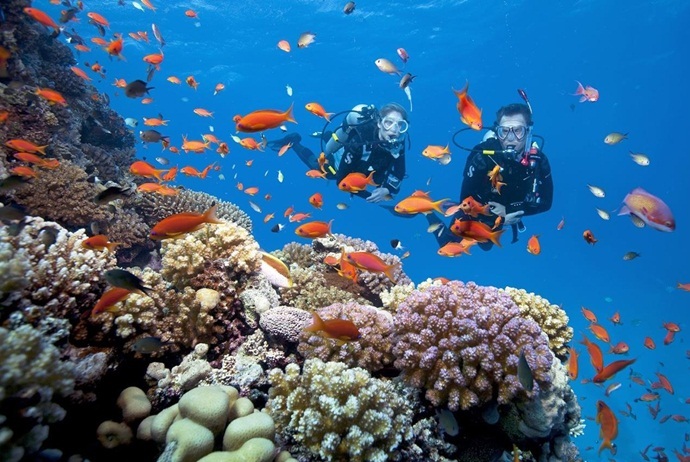 Source: poemtravel
This attraction deserves an exciting and appealing attraction in Nha Trang tourism.
Swim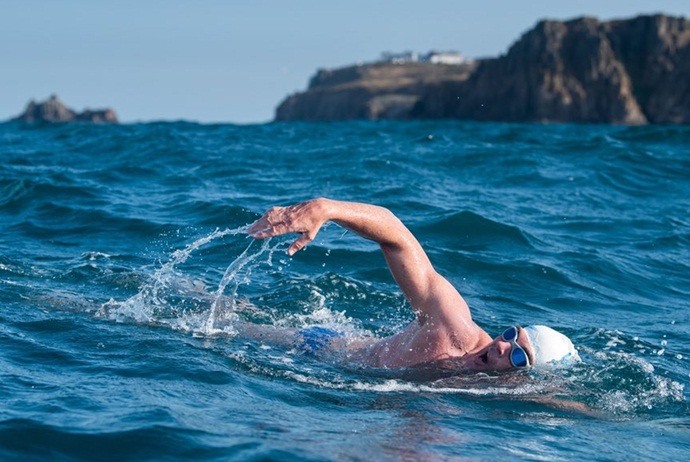 Source: news.sky
The clear water, sandy beach of Hon Mun island will certainly conquer you and your family as soon as you arrive here.
What To Eat InHon Mun Island?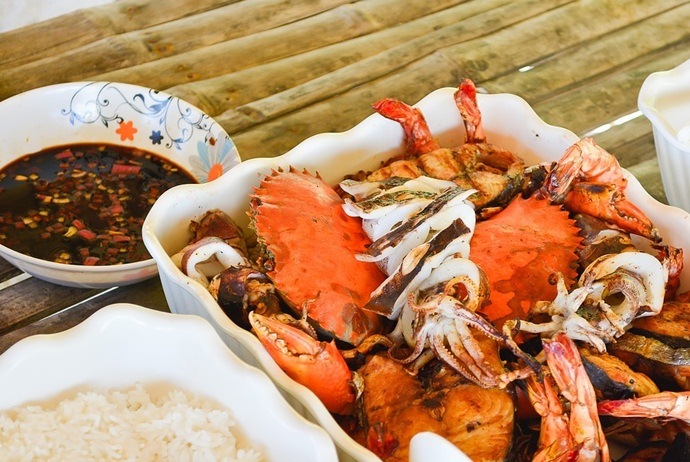 Source: exoticvoyages
At Hon Mun Island, you will enjoy fresh seafood. Prawns, crabs, squid, fish are the main ingredients to make a lot of delicious dishes. Hon Mun Island is pleased to serve you the best seafood dishes in NhaTrang.
With the Hon Mun Island travel experience that we have just shared, we hope to help you plan your most cost-effective trip.