Korean foods have become one of the favorite choices for tourists when traveling to Hanoi, Vietnam. With easy-to-eat and convenient characteristics, Korean restaurants in Hanoi always attract a large number of customers to visit on weekend days and holiday. Let's join Vina.com to discover the top famous Korean restaurants in Hanoi this time!
Here are 5 of the most excellent Korean restaurants in Hanoi:
1. BBQ Yukssam Restaurant
The first impression when visiting Yukssam is a relatively vast and clean space. The restaurant often changes the menu with a variety of Korean-style hotpot and grill buffets from 199,000 to 299,000 VND per set.
In general, the types of toppings for hotpot and grill include beef, pork, and seafood served with excellent BBQ sauce. Particularly, BBQ Yukssam is very famous for its side dish called Panchan. This is typical dishes usually presented in tiny plates and served in both daily and luxurious meals at Korean restaurants. Beside, Naengmyeon (cold noodles) can be a good choice for diners to experience more about Korean cuisine culture.
Location: 66, O Cho Dua Street (Phố Ô Chợ Dừa), Dong Da District (Quận Đống Đa), Hanoi
Tel: 0243 2323 222 / 0984 001 670
Price ranges: 90,000 – 500,000 VND/person
2. Haneul Korea Restaurant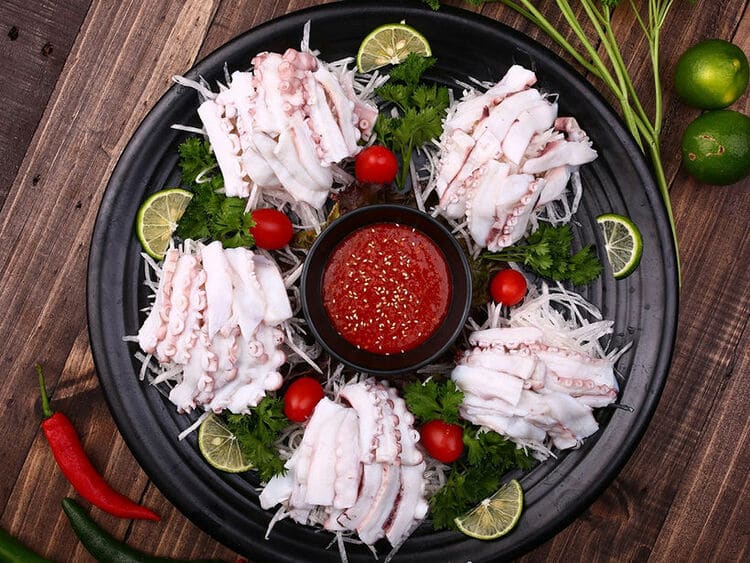 Regarding Korean food, visitors cannot ignore Haneul Korea Restaurant – one of the most prominent Korean restaurants in Hanoi. It is an old-fashioned villa located right on the crowded street of The Giao (Thể Giao), with luxurious and clean space, suitable for group parties. About the quality of food, diners will be extremely impressed with an abundance of options about appetizers, main dishes, and desserts prepared according to the standard recipe of Korean chefs.
The must-try delicacies include grilled chicken, fried chicken with cheese as well as the best-seller one named after the restaurant – juicy and tender chicken with Haneul secret sauce. In addition, there are seaweed salad, tokbokki (spicy rice cake), octopus hotpot, and barbecue set for you to enjoy the authentic Korean taste. In general, all the dishes are prepared and served with some free kimchi and fresh vegetables at affordable prices.
Location: 11A, The Giao Street (Phố Thể Giao), Hai Ba Trung District (Quận Hai Bà Trưng), Hanoi
Tel: 097 373 66 33
Price ranges: 100,000 – 400,000 VND/person
3. Papas' Chicken Restaurant
This is probably one of the favorite restaurants with many tourists during their trip in Hanoi. Here, you can taste the real Korean flavors at a reasonable price compared to the other high-class restaurants.
The menu features a lot of well-known dishes from chicken. In particular, Papas' Chicken is committed to not serving customers with ready-to-serve fried foods, so customers need to be patient while waiting for the meal.
On the menu, there are super spicy dishes based on the taste of the Korean people, so anyone who cannot eat foods with spicy taste should consider or inform staff to reduce the spicy level. Besides, with the grilled dishes, we recommend trying some special delicacies such as kimchi soup, pizza, and pasta prepared in Korean style. Overall, with the food quality, and the friendly service, Papas' Chicken becomes worthy of being a great Korean restaurant in the heart of many gourmets.
Location:
Papas' Chicken 1 – 1st Floor, Richland Southern Apartment, 9A Lane 181, Xuan Thuy Street (Phố Xuân Thuỷ), Dich Vong Hau Ward (phường Dịch Vọng Hậu), Cau Giay District (Quận Cầu Giấy), Hanoi

Papas' Chicken 2 – B004, The Manor – Hanoi, Nam Tu Liem District (Quận Nam Từ Liêm), Hanoi
Tel:
Papas' Chicken 1 – 024 3792 5021

Papas' Chicken 2 – 024 6652 4433
Price ranges: 100,000 – 200,000 VND/person
4. GoGi House Restaurant
Coming to Korean BBQ GoGi restaurant chain, diners will have the opportunity to enjoy Korean-style barbecue set with preferential prices for each day. Indeed, GoGi barbecue set is generally considered to be quite delicious and plentiful including well-marinated beef, pork, and seafood in a special sauce served with salad, kimchi, as well as fresh lettuce, onions which are ready-to-eat processed to help guests easily enjoy grilled meat according to typical Korean style.
About drinks, in addition to carbonated soft drinks and water, the restaurant will also serve fragrant tea such as cinnamon tea and oolong tea. For hot pot dishes, visitors can try spicy kimchi hotpot or non-spicy bulgogi hotpot served with beef, mushrooms, vegetables, and Korean glass noodles.
Location: GoGi House Royal City – 2nd Basement Floor, B2 R2, Royal City, 72A Nguyen Trai Street (Phố Nguyễn Trãi), Thanh Xuan District (Quận Thanh Xuân), Hanoi
Tel: 04 62 620 039
Price ranges: 300,000 – 550,000 VND/person
5. Ajithu Restaurant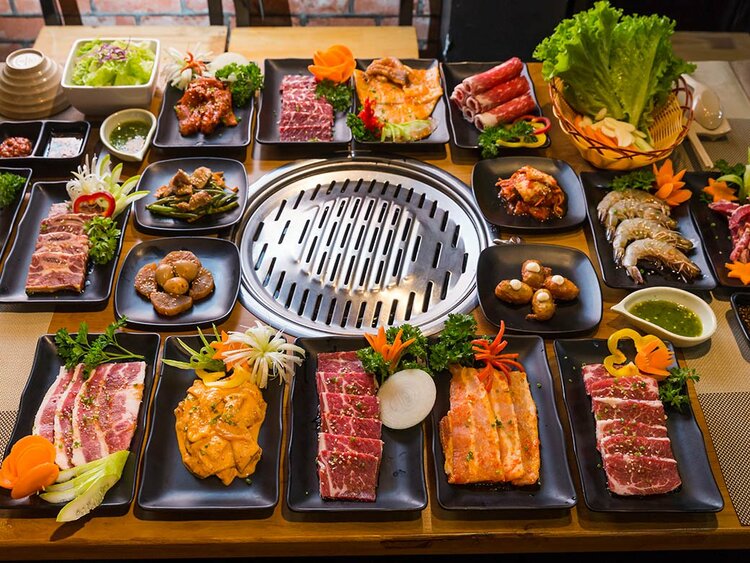 Ajithu Restaurant – The Korean grilled restaurant is extremely amazing with cheap prices compared to other places. Overall, Ajithu is a small restaurant with a simple space that creates awesome culinary experiences about street food in Korean cuisine culture for diners.
The menu is quite simple with few dishes, including grilled pork and beef, alongside kimchi soup and drinks. Especially, the meat is usually not marinated, and the restaurant will provide guests with several sauces to serve themselves depending on their personal taste. Plus points come from fast and professional service speeds, while dishes are not subject to VAT.
Location: 137 Hoang Ngan Street (Phố Hoàng Ngân), Trung Hoa Ward (Phường Trung Hoà), Cau Giay District (Quận Cầu Giấy), Hanoi
Tel: 091 500 09 10
Price ranges: 50.000 – 250.000 VND/person
The list above includes 5 famous Korean restaurants in Hanoi that you must try right away. Although serving the same types of Korean dishes, each restaurant has its own authentic flavor to attract its customer. If you still haven't found an ideal restaurant yet, don't worry, our Restaurant page has many interesting suggestions for you! Please refer to some of our information right now.