Tourists who get the eagerness to learn about the history and discover the periods of Nguyen Dynasty should not ignore Hue Museum of Royal Antiquities. Here, you have a chance to admire and immerse yourselves into ancient objects under the Nguyen Dynasty's Kings and the royal family, mandarins as well. This place promises to bring fascinating experience for tourists, especially history lovers.
1. Function:
It was under the management of the preservation centre of Hue ancient capital's monuments. The main wooden building of this museum included 128 precious wooden pillars carved with the four supernatural creatures: dragon- unicorn-tortoise-phoenix and more than 1000 mandarin poems. It was initially Long An Palace built in 1845 under Hiến Tổ King of the Nguyen Dynasty (name of a reign's years is Thiệu Trị). The museum now displays more than 300 gold items, potteries, ceramics, enamelled copper objects ("pháp lam Huế"), physician tools, garments of the Nguyen Dynasty's royal family, which brings a whole vision of Hue imperial court's life.
2. History: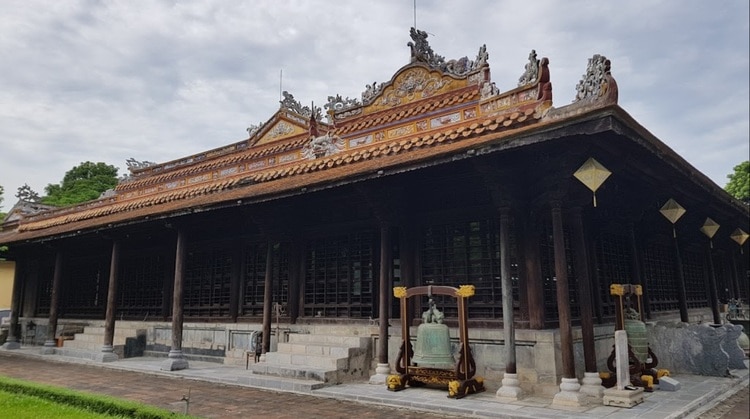 In the inner citadel, this was the museum of Hue established earliest in 1923 with the original name "Musee' Khải Định". After that, the name of the museum was changed five times: Tàng Cổ Viện Huế (1947, under the period of Trung Kỳ council of holding power). On September 29th 1958, according to the decree 1479-DG/NĐ, the museum was changed into Hue Museum of Archaeology Institute, Educational national department of Vietnam Republic. At the same time, Chàm antique exhibition room was merged onto Hue museum. Then it was called as the house of displaying antiques (since 1979), Hue antique museum (since 1992), Hue royal art museum (since 1995) and eventually Hue Museum of Royal Antiquities.
3. Architecture:
It was such an eminently suitable idea of the ancestors when they chose Long An Palace to be the museum. This was the marvellous iron-wooden structure built in the unique palace architecture of Hue. The palace was designed according to "trùng thiềm điệp ốc" style (a traditional Vietnamese architecture in pagodas, temples). The inside and outside decoration were considerably various, artistic and graceful.
Trí Đăng Phạm, the former artist, ever said that: "When I came here, I often look amorously at boxes in the inlay of with mother-of-pearl circling the pillars like low and high triumphal arches. Watching more carefully, I realize that the decoration in Emperor Thiệu Trị is the most meticulous. It shows the luxuriousness, elegancy and brightens the primary points, blurs the unimportant things".
The edge of the roof was designed with the image "a couple of dragons symmetrically through the sun" (lưỡng long tranh châu) and the image of the four spiritual animals. There is a strong agreement among art researchers that this is the most luxurious and beautiful Vietnamese palace". Hence, it can be said that Long An palace is a precious museum.
4. Sightseeing:
Hue Museum of Royal Antiquities now consists of 700 objects such as wooden- ceramics, enamelled ceramics from Lý Dynasty to the Nguyễn Dynasty; besides, it includes several kinds of Chinese, Japanese and French ceramics. Therefore, the museum is considered the ceramic collection of the Nguyen Dynasty and other countries.
Besides represented objects, the museum preserves thousands of others. Most of them are often blue enamelled porcelain (so-called Bleu de Hue – "pháp lam Huế" antiques). These are unique samples manipulated in high techniques. The Nguyen Dynasty ordered famous Chinese porcelain factories to make them according to hobbies, models, and sizes required in order forms by Vietnamese mandarins. As a result, "pháp lam Huế" antiques are unique artworks that did not have any copies and are regarded as "unparalleled". In the ceramic-enamel store, some of them had the origin of France, Japan and England. About 100 garments of Kings, queens, princes and mandarins are kept in the clothing store. Notably, many handcrafted objects are genuinely unique and invaluable.
In the campus, there has existed a store containing more than 80 Chàm objects that were collected in the ancient Châu Ô, Châu Lý areas and brought from Trà Kiệu village during excavations of archaeological sites in 1927. Particularly, researchers have evaluated thoroughly Chàm objects as rare and precious cultural heritages.
5. Several Items In Hue Museum of Royal Antiquities: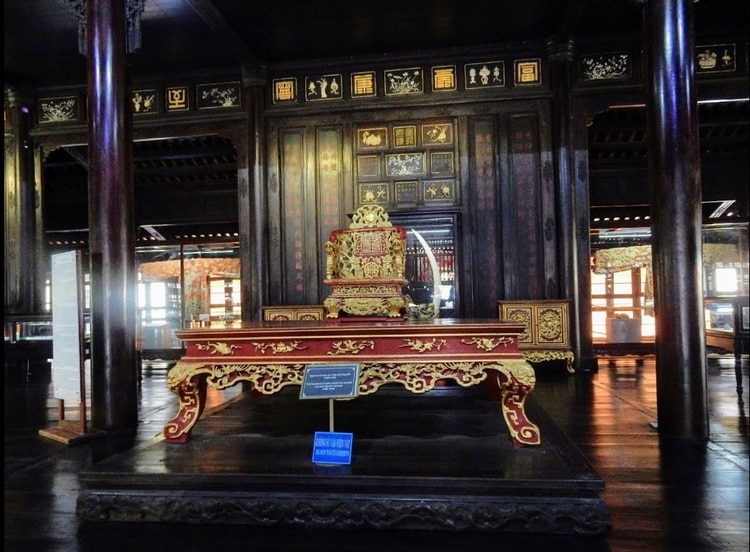 Embroidered Items:
In the museum, types of embroidered objects have a great contribution to the reflection of living conditions, daily activities of local people under the Nguyen Dynasty because those things here give evidence of the historical period. Also, it was a mirror to reflect the prosperity of a dynasty and typically of traditional Vietnamese embroidery.
Royal Recreation:
Hue, the former capital of Vietnam under the Nguyen Dynasty, was the accommodation and workplace of Kings and mandarins, also the place to occur entertainment games. At that time, kinds of recreation among kings and mandarins were various; until Emperor Bao Dai, there were more Western games. Bao Dai King and Tu Duc King were excellent at "đầu hồ" (throw the Darts into The Vase). 
Garments Of The Nguyen Dynasty's Lords:
The clothing of the Nguyen Dynasty's kings was divided into many kinds with different names and colours used in specific events. They can be classified: clothing for meeting General courts, clothing for ceremonies and everyday clothing. Each category includes shirt, hat, belt, trousers, boots and mandarin's boots in distinctive designs, names and patterns. Today, tourists can easily see most of the garments of the Nguyen Dynasty in Hue Museum of Royal Antiquities.
Ceramic-Porcelain Collection:
Celadon ceramics and brown-pattern ceramics in Ly-Tran dynasty (11th -14th century)

Blue –pattern ceramics in Le Dynasty (14th- 17th century)

Ceramics in Mac dynasty (16th century)

Decorative ceramics in Nguyen Dynasty (19th century– the beginning of the 20th century)

Chinese ceramics in Minh-Thanh Dynasty (14th century- the beginning of the 20th century)

French Ceramics- porcelain

Blue white enamelled porcelain in Minh-Thanh dynasty (14th century- the beginning of the 20th century)
Ancient Money Collection:
Hue Museum of Royal Antiquities also treasures an antique money collection categorized in the topic "historical Vietnamese periods – the time different currencies was circulated in Vietnam from Chinese domination to the Nguyen Dynasty. This helps tourists understand more about ancient money collection, and also a reflection of Vietnamese people at that time.
Hue Museum of Royal Antiquities brings tourists and archaeologists the whole view of life in the Nguyen Dynasty. This place is alluring to ones who have passion for discoveries of ancient times via objects and antiques.
By Minh Phuong