Updated: 08/21/2019
Sapa, a mountainous province, is famous for its mountainous terrain and beautiful landscapes. Tourists coming to Sapa will definitely be astonished at the wonderful and wild nature. One of the must-see destinations in Sapa that will win your heart is Hoang Lien National Park (Vườn Quốc gia Hoàng Liên), one of the most important parks in Vietnam with abundant flora and fauna.
When Is The Best Time To Visit Hoang Lien National Park (Sapa)
Hoang Lien National Park is a natural park in Sapa with a lot of outdoor activities; therefore, tourists should visit the park in the warm and dry weather, instead of in the rainy season. From March to May is the perfect time for trekking, climbing and outdoor activities because of the pleasant and comfortable weather. Furthermore, from September to December is also recommended time for a visit to Sapa or Hoang Lien National Park (Sapa) because it is cool and dry. Traveling to Sapa at this time, you can not only experience all activities such as sightseeing and trekking but also enjoy the golden rice fields in Sapa. So, the best time you can visit Sapa in general and Hoang Lien National Park, in particular, is from September to May.
Basic Information About Hoang Lien National Park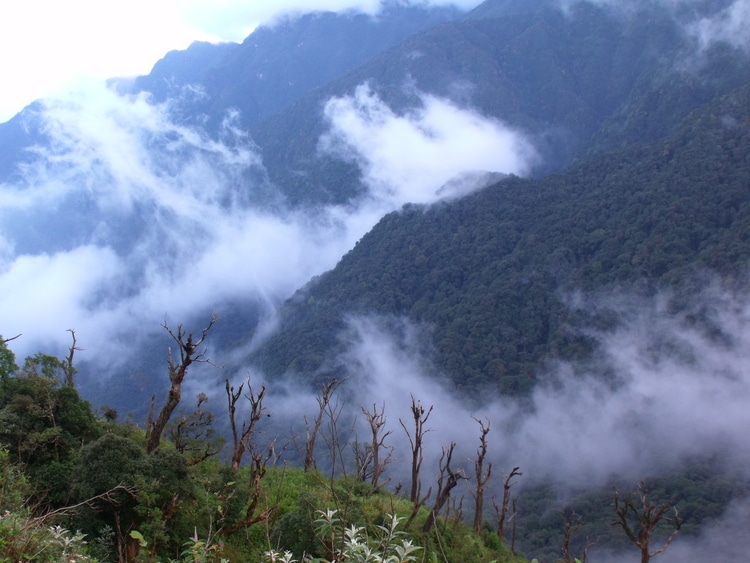 Built in 2002, Hoang Lien National Park located on Hoang Lien Son (Hoàng Liên Sơn) at 1,000 – 3,000 m above sea level is not only one of the most important parks in the region but also the most biodiversity center in both Vietnam and Indochina.
To reach Hoang Lien National Park from Sapa town, you have to go along a road winding around 20km, pass O Quy Ho (Ô Qúy Hồ) – Hoang Lien Mountain pass and then ride along the trail winding the mountain which is at above 1,000 meters above the sea level. The trip to Hoang Lien National Park Sapa is an interesting and challenging journey as you can enjoy all mountain scenery here with forests covered in the sun, cool wind, birds singing, and flower blooming.
Hoang Lien National Park is a wonderful eco-tourism attraction that appeals to both domestic and international tourists. It is also a subject for scientific research.
Hoang Lien National Park with a total area of the 29,845-hectare core consists of a system of high mountain Hoang Lien Son Mountain range, diverse flora, and rich fauna.
Hoang Lien Son National Park has great forest vegetation with more than 2,000 species of plants with wood such as rhododendron, Bo tree, plum, azaleas, etc, 32 rare species like blue cypress species, Van Sam Hoang Lien (Vân Sam Hoàng Liên) species, red pines species, and hundreds of valuable herbs. In which, many species have the names in Vietnam Red Book, including bamboo pine, blue cypress, and red pine, etc.
Furthermore, Sapa bamboo and lingzhi mushroom that is mainly in the high mountains of Vietnam and China are also found here.
In additional to a diverse system of flora, Hoang Lien National Park is rich in the forest fauna as it is home to 66 mammal species such as hornbills, black gibbons, silver langurs, etc  with 16 species listed in Vietnam Red Book; 41 amphibian species; 347 bird species such as red crested pheasant, large-spotted eagles, etc; and 61 species of reptiles. In Hoang Lien National Park, you can also find the rare horned frogs that have been recently discovered in Vietnam.
The beauty and attractiveness of Hoang Lien National Park are more than that. Visiting this park, you will be astonished at the traditional cultural beauty associated with ethnic communities the park has preserved and restored until now. The reason is that the ethnic communities living in the buffet zone and core area of the park has influenced and brought the values and beauty to the park. It is great to see the dance and music performances of Dao, Mong (Mông), Giay (Giáy) people who perform with instruments like the trumpet, flute, panpipe, etc. The houses you see in Sapa and Hoang Lien National Park are built in the architecture of ethnic groups. In particular, Mong ethnic people often make the low floor of their houses from the wood material. Tay (Tày) people built stilt-house with roofs made of straw or reeds. However, the straw or reeds used to make the roof has been changed to tile.
Things To Do In Hoang Lien National Park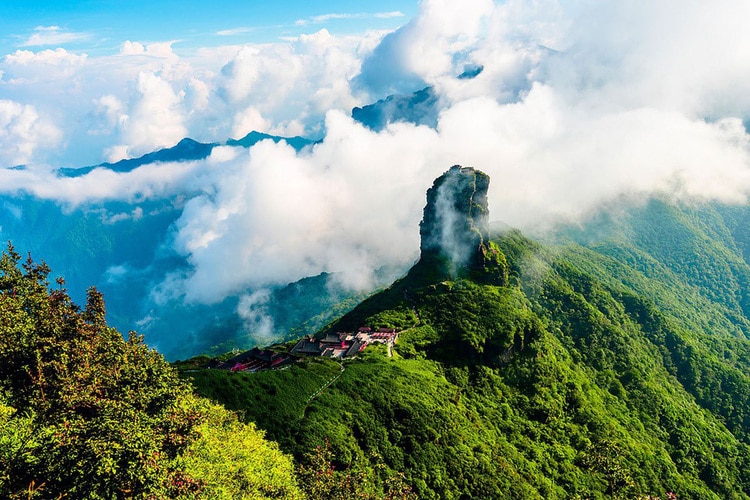 Visiting Hoang Lien National Park, tourists and visitors can participate in an appealing ecotourism environment. The special thing about this park is that you can experience four seasons changing: spring – summer – fall – winter in a few hours. The scenery in Hoang Lien National Park is extremely beautiful and amazing. In the early morning, there are many thick clouds and the park is covered by fog. At noon, the rays of light shine through the forest and green grass, making the Hoang Lien National Park look like the gem.
Tourists coming to Hoang Lien National Park can enjoy the natural scenery and admire the full beauty of nature in the park. Having a picnic in the park is a great and challenging experience as you can hear the sound of rushing waterfalls and streams while immersing yourself in nature.
Furthermore, a visit to Hoang Lien National Park is also a great chance for you to take part in cultural activities and cultural exchanges with ethnic people living in the park. In particular, you can come and stay overnight at a local home of ethnic people, help them do housework and enjoy cultural activities in the evening. Also, tourists can play many traditional sports with local residents like archery, push sticks, walking on stilts, and tug of war, etc. You can visit rice mortars, villages and terraced areas of ethnic groups.
There is a climbing competition in the park "Conquering Fansipan" that draws the participation of both domestic and international athletes. This competition aims to spread the image of Hoang Lien Son Mountain and Fansipan to the world and boost the number of tourists coming to Hoang Lien National Park's.
See also:
Because of the unique values of biodiversity environment with untouched natural landscapes, Hoang Lien National Park has become one of the most impressive attractions in Sapa. This natural park preserves the beauty and values of Sapa town. This park will contribute to the development of Sapa ecotourism. I hope that you will find useful information in this article and have a great Hoang Lien National Park trek tour. We are happy to hear your opinions and questions in the comment section. We will answer them as soon as we can. If you are interested in Vietnam and want to travel to Vietnam's attractions, it is recommended visiting Vina.com.