Source: vnexpress
Updated: 08/27/2019
Hoa Lo Prison (Nhà tù Hỏa Lò) or "Hanoi Hilton" is not only a museum but also a historic site in the center of Hanoi, Vietnam. French colonizers built it in the late 1890s as the prison for Vietnamese criminals. Hoa Lo Prison, a place hiding the scars of yesteryear in Hanoi, Vietnam, is also considered as clear evidence of the wholly historical period of Vietnamese communists. It showed their patriotism and dauntless despite being imprisoned, executed and tortured. It was surrounded by stone walls of 4 meter in height and 0.5 meters in thickness. It was also equipped with electric iron wire. There were 4 main areas in Hoa Lo prison, including zone A, zone B, zone C, and zone D. The zone A and B was used to imprison the criminals who were being investigated. The zone C was used to detain French prisoners or foreign prisoners. The zone D was used to imprison the criminals who were going to be executed. Now, it becomes a famous attraction in Hanoi for a large number of domestic and foreign tourists to visit.
What Is The Best Time To Visit?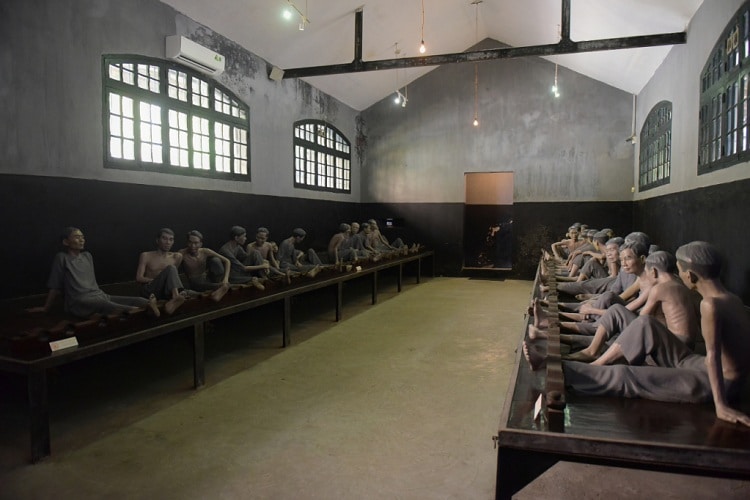 Source: tintucvietnam
Hoa Lo prison opens every day except Monday. It starts at 8 a.m. to 11.30 a.m. After 2- hour – lunch break, it begins from 1.30 p.m. to 4.30 p.m.
You will buy an entrance fee at its gate. The cost is VND 30,000 /adult. The children above 15 years old, pupils, students and particular persons, namely the old and the disadvantaged are entitled to a discount fee which is VND 15,000 for each. The children under 15 years old are freely admitted.
How To Get To Hoa Lo Prison?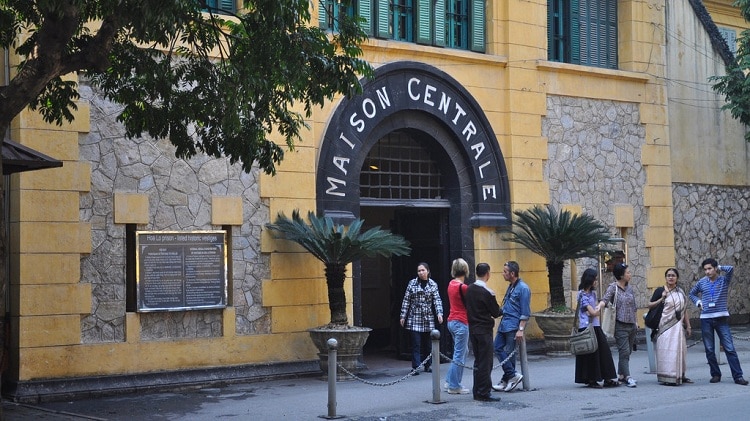 Source: flickr
Located on no.1 Hoa Lo Street (phố Hỏa Lò), near the French Quarter, it can be easily accessible by a motorbike or taxi. Hanoi Hilton is at the corner of Hai Ba Trung Street, which is at the south of the famous Hoan Kiem Lake.
What Are Activities For Tourists To Do?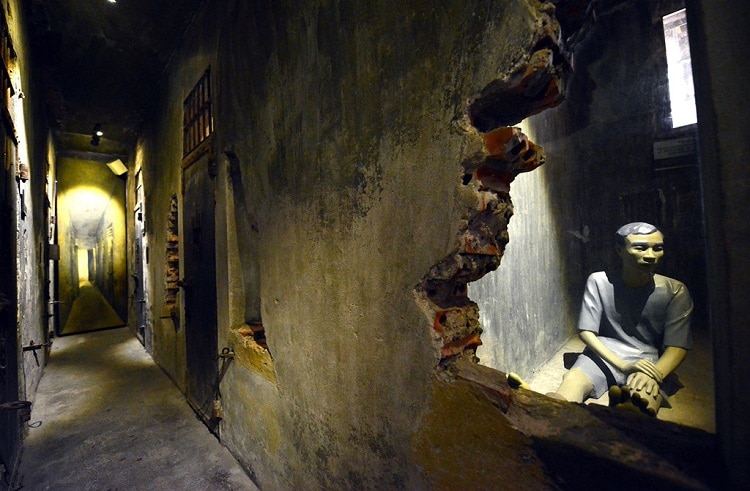 Source: goldencyclohotel

Visiting Hoa Lo prison – a top educational sight in Hanoi, you have a chance to see human killing machines. It is worth a visit since coming here, you can guess at the stories untold by silent walls as well as shackles on the prominent display. Actually, what tourists see in the current Hoa Lo Prison is just a small section of the whole prison complex in the past. Fact is, most of this prison was demolished in 1990s in order to make way for Hanoi towers.
Checking in to Hoa Lo Prison, you can know how prisoners were tortured and executed. There are some artifacts that you should not miss out.
The first place should go to see the guillotine, a human "killer" in the prison. This site will help you imagine how a prisoner was executed.

The second place you should go is cachot (dark prison) which is one of the most frightening places in Hoa Lo prison. It was a place to imprison people who violated the prison rules. It was considered to be "hell of hell" because the prisoners had to undergo severe days there. All activities of the prisons, from eating, sleeping to sanitation happened in cachot. That is the reason why most of them suffered from edema and scabies due to insufficient oxygen, light, and improper hygiene.

Next, you should go to see the iron shank which was used to imprison the criminals.
What To Eat?
You can find a number of Hanoi restaurants and food stalls near Hoa Lo prison.
Extra Tips: You should bring a camera with you to take some photos because taking photos is permitted there.
Do you have any interesting experience of your visit to Hoa Lo prison in Hanoi by leaving words below this post? We love to hear all!