Ho Chi Minh City (Hồ Chí Minh) (Saigon (Sài Gòn)) is a dynamic party city of Vietnam where you can find hundreds of clubs and bars to party till dawn during your holiday. Each club has its own styles, ranging from the luxury club attracting the rich and famous to the music nightclubs that are common for many Saigon citizens. 
With the lively atmosphere, amazing drink list, interesting music, and memorable experiences, Ho Chi Minh nightclubs are an indispensable part of Saigon's nightlife. In this article, I would like to recommend the name of 6 best Ho Chi Minh nightclub spots. 
1. Lush 
Opening in 2004, Lush NightClub is the premier Ho Chi Minh nightclub which now becomes the popular playing area for party-loving crowds who are often dressed beautifully and don't hesitate to pay more cash. 
What makes this club stand out among other latest clubs are the spacious dance floor, upstairs deck and a huge selection of music ranging from house to hip hop. The opening hours start from 8 pm but until 9.30 pm, this club will liven up. 
Location: 2 Ly Tu Trong (Lý Tự Trọng), District 1, Ho Chi Minh City
Opening hours: 8 pm – 2 am 
2. Republic Club Ho Chi Minh 
Also included in the list of the best Ho Chi Minh nightclubs is the modern Republic Club Ho Chi Minh which is located in District 1. This club attracts not only domestic visitors but also international tourists who want to experience the lively nightlife of Ho Chi Minh City. 
Coming to this club, you will have a great chance to immerse in the stupendous lighting and the music from the best DJs who always make you go crazy and wild on the dance floor. The drinks here are also worth a try with plenty of choices such as cocktail towers, Bottega Gold champagne, Tiger, Corona, Strongbox and Heineken. 
Location: 19 Do Quang Dau (Đỗ Quang Đẩu), Pham Ngu Lao (Phạm Ngũ Lão) Ward, District 1, Ho Chi Minh City
Opening hours: 9 pm – 2 am, Tuesday – Sunday 
3. Apocalypse Now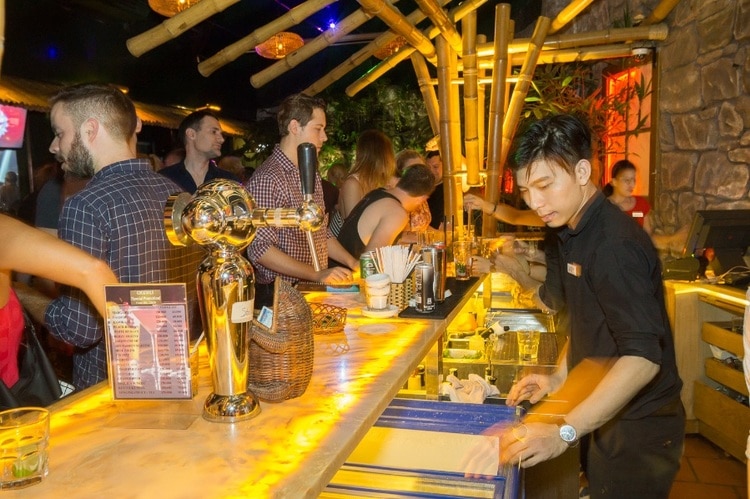 Not far away from the backpacker district of Dong Khoi (Đồng Khởi) is the most legendary upstairs club, Apocalypse Now that attracts expats, backpackers and well-dressed locals to come. 
Apocalypse Now is a non-sophisticated club that offers an interesting night out, cheap drinks, good mix of music, and plenty of space for enjoying and dancing. Unlike most clubs in Ho Chi Minh City, Apocalypse Now welcomes guests until 4 am, which makes this club become an ideal place for revellers. 
Location: 2B-2C Thi Sach (2B – 2C Thi Sách), District 1, Ho Chi Minh City
Opening hours: 7 pm – 4 am 
4. MGM Club 
Located in a four-storey building at 172C Nguyen Dinh Chieu (Nguyễn Đình Chiểu), MGM Club livens up from 8 pm to 2 am, attracting the impressively dressed clubbers to dance  and enjoy the party. The music here is a mix of house and techno. It is a great idea to buy a bottle of drink and find a good spot for the night.
Location: 172C Nguyen Dinh Chieu, District 3, Ho Chi Minh City
Opening hours: 8 pm – 2 am 
5. Gossip Club 
Talking about the best Ho Chi Minh nightclub ideas and wonderful places for you to party till dawn, you should not ignore Gossip Club. Featuring 7 VIP lounge areas, a circular dance floor, free-standing tables, good music, vibrant light, and an impressive sound system, this club draws the steady following of local celebs, affluent travelers, models, and other famous people. 
There is a huge selection of drinks including imported beers, cocktails, spirits and wines. Interestingly, coming to this club from 9 pm to 11 pm, you will have a chance to meet and listen to Filipino, American, Vietnamese singers performing ballads. 
Location: 79 Tran Hung Dao (Trần Hưng Đạo) Street, District 1, Ho Chi Minh City
Opening hours: 8: 30 pm – 3 am (Monday – Thursday), 8:30  pm – 4 am (Friday – Sunday) 
6. Sin Lounge 
Sin Lounge is located on the ground floor of the Lancaster Building. People often come here to enjoy the wonderful cocktail and listening to gentle music while immersing in the relaxing décor. 
This club is also well-known for the plenty of themed events when people are dressed up impressively for the occasion. 
Nowadays, more and more foreigners come to Sin Lounge club, making it become the popular club for the foreigners. People here are very fluent in English and very friendly. 
Location: 22 Le Thanh Ton (Lê Thánh Tôn), District 1, Ho Chi Minh City
Opening hours: 9 pm – 3 am, Monday – Saturday
7. Envy Club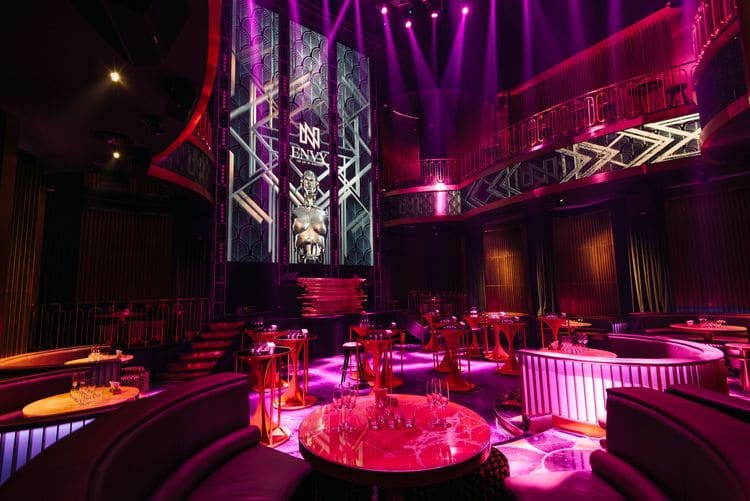 Envy club stands out as a great nightlife Asia hotspot with modern technology and Envy-Clubdetails. It is a reason why this club is a popular place for a lot of artists. In this club, you can listen to the good mix of music performed by the best DJs who always liven up the atmosphere and moods of clubbers. Envy Club allows anyone to pre-book an event or party on its website 
Location: 74 – 76 Nam Ky Khoi Nghia (Nam Kỳ Khởi Nghĩa) Street, District 1, Ho Chi Minh City 
Opening hours: 9 pm – 3:30 am
8. Observatory Nightclub
 As one of the great club in Ho Chi Minh City, the Observatory Nightclub lets visitors and moneyed locals enjoy the poetic view of the river as it is located near the Saigon River. No matter how we consider this place as a club or a bar, the Observatory Nightclub makes us astonished at the impressive sound system and unique space. 
Location: 5 Nguyen Tat Thanh (Nguyễn Tất Thành), District 4, Ho Chi Minh City
Opening hours: 8 pm – 6 am 
9. Ellui Club 
If you are a fan of Hip Hop music, this wonderful Ho Chi Minh nightclub is a great choice for you. Situated in the city center, Ellui Club offers the best Hip Hop music with amazing drinks. The unique décor and friendly staff also make this place has become one of the best clubs you should visit when you travel to Ho Chi Minh City. 
Location: 107 Pasteur St Ben Nghe (Bến Nghé) Ward, District 1, Ho Chi Minh City
Opening hours: 9 pm – 3 am 
Ho Chi Minh City has opened many interesting clubs and bars that give you an interesting experience and a fun time. The 9 Ho Chi Minh nightclub spots I introduced here are the top popular destinations for both locals and foreigners. I guarantee that coming to these clubs, you won't regret. 
By Crystal