Da Nang (Đà Nẵng) is a romantic, beautiful, and marvelous tourism destination in Central Vietnam. This city is full of fantastic and exciting activities, including beach activities and cultural performances held in specific places. If you have a chance to visit Da Nang City, it is enjoyable when you can enjoy your best time at Da Nang International Fireworks Festival in Vietnam. 
I. What Are The Special Things About Da Nang International Fireworks Festival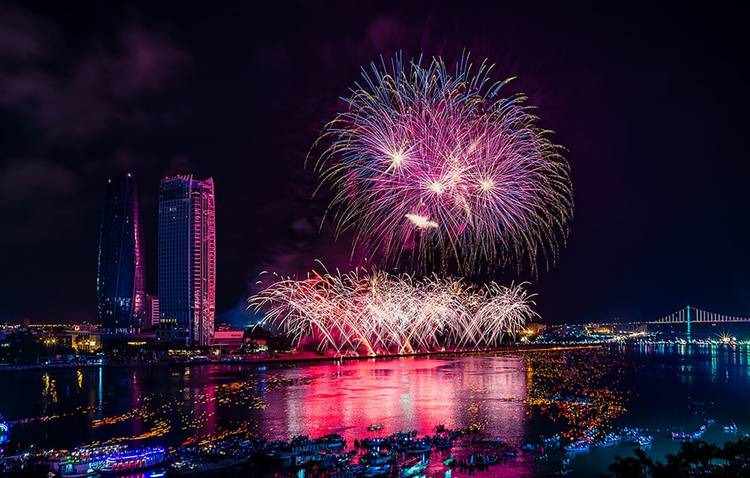 1. Time Of Organization
Since 2008, the Da Nang International Fireworks Festival is organized annually on April 29th and 30th. The festival is a playfield of firework creators and a large-scale competition for contestants coming from several countries that are good at fireworks such as the U.K, U.S, Italy, Canada, Australia, Japan, China, and Vietnam – the host nation of the festival.
The festival has continuously been celebrated for years since 2008. There is no surprise as the Da Nang International Fireworks Festival becomes a unique signature of worth-living Da Nang City that draws the interest and participation of numerous visitors and tourists. 
2. Purpose And Themes Of Festival
This annual competition takes place to introduce and spread the image and identity of the culture and local people in Da Nang towards Vietnamese people and foreign friends. 
The themes of the Da Nang International Fireworks Competition are different between the years. For instance, the 2011 competition was held with the theme "The Sparkling Han River." In 2012, the theme of the Da Nang International Fireworks was "Colors of Da Nang." And Da Nang International Fireworks Festival in 2019 was celebrated with the theme "Rivers tell the stories".
Each year, contestants from Vietnam and different nations, such as Canada, China, etc., gather in Da Nang to take part in the competition. 
3. Ticket Price
To participate in this fantastic event, you have to pay the tickets from 200,000 VND to 300,000 VND (about $10 – $15). 
II. What To Explore And Enjoy At Da Nang International Fireworks Festival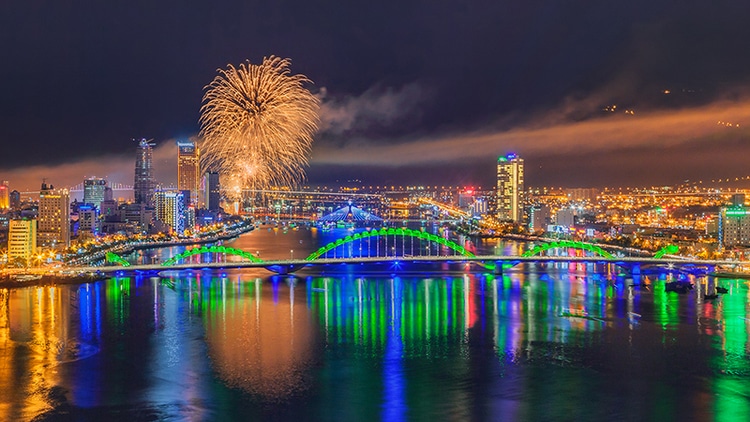 1. Enjoy Marvelous Fireworks Performances
Enjoying the Da Nang International Fireworks Festival, you can be astonished at the impressive marvelous fireworks performances with unique colors and music that reflect the meaningful theme and subject. That will be a memorable experience for someone who has a chance to travel to Da Nang and explore Da Nang International Fireworks Festival.
The teams from 7 international competitors from Da Nang and different countries will use their creativity to design and create impressive performances, background music, and sound effects to give people stunning and excellent emotions.
2. Participate In Cultural, Travel And Sports Activities
Besides the fireworks display, during the festival, you can also take part in cultural, travel and sports activities. The entertaining activities include cultural and entertainment shows and music concerts. Some exciting activities you should enjoy the festival are Street Music Program, Beautiful Photo Exhibition Tour Of Da Nang, and Da Nang International Cuisine Cultural Festival. When you enjoy the festival, do not miss the chance to visit the beautiful landscapes and important heritage sites of Da Nang.
See more:
Da Nang Nightlife – 8 Entertaining Ideas At Night In Da Nang
14 Reasons Why Everyone Calls Da Nang A 'Worth-Living" City
Conclusion
That is all the information we would like to tell you about the Da Nang International Fireworks Festival. We hope that the article is detailed and informative enough to appeal your interest in Da Nang in general and Da Nang's festivals in particular. Any questions can be left in the comment sections, and we will answer them as soon as we can. If you are planning to visit Vietnam, do not forget to click on Vina.com to get useful tips and travel guides.
By Nga V