Hanoi is the capital city of Vietnam that is well-known for many tourism activities and exciting experiences. This "thousands of years of history" city has a diversity system of cinemas that offer the best quality and quantity. Watching movies in the modern cinemas in Hanoi will give you fantastic experiences. It is a fun activity to do when you visit Hanoi city with your friends, family, and your loved one. Nowadays, there are several brand names of cinema centers existing in Hanoi that provide you a variety of choices based on the price, quality, and location. Here are the best cinema centers in Hanoi you should visit if you have a chance to go to Hanoi City.
1. CGV Cinema System 
a. History
CGV is a cinema system of CJ Group – a famous entertainment company in South Korea. Nowadays, the CGV has about 60 cinemas located in 20 provinces of Vietnam. This brand is well-known for its modern film technologies like 4DX, IMAX, Dolby Atmos, Stadium laser, and ScreenX.
b. Why Should You Go To This Cinema
There are many movie theatres of CGV in Hanoi with 3D movie rooms and 2D movie studios. CGV upgraded the movie theatre Gold Class to provide the premier entertainment and luxurious leather seats for film lovers. Visiting CGV cinemas Hanoi, you can have the perfect memorable experiences.
c. Locations
CGV Vincom

AEON Long Bien

: 4th floor of AEON Long Bien, 27 Co Linh (Cổ Linh) Street, Long Bien (Long Biên) District 

CGV

Vincom Nguyen Chi Thanh

: 54A Nguyen Chi Thanh (Nguyễn Chí Thanh) Street, Lang Thuong (Láng Thượng) Ward, Dong Da (Đống Đa) District 

CGV Mipec Tower: 5th floor of Mipec Tower, 229 Tay Son (Tây Sơn) Street, Dong Da District 

CGV Artemis Hanoi: 3 Khuong Mai (Khương Mai) Street, Thanh Xuan (Thanh Xuân)

CGV Hanoi Center Point: 27 Le Van Luong (Lê Văn Lương) Street, Nhan Chinh (Nhân Chính), Thanh Xuan

CGV Ho Guom Plaza: 110 Tran Phu (Trần Phú) Street, Mo Lao (Mỗ Lao) Ward, Ha Dong

CGV IPH Hanoi: 4th floor of Indochina Plaza, 239-241 Xuan Thuy (Xuân Thủy)

CGV Rice City: Rice City Linh Dam, Lane 15 Bang Liet (Bằng Liệt), Hoang Liet (Hoàng Liệt), Hoang Mai (Hoàng Mai)

CGV Machinco: Level 7 Machinco Trade Center, 10 Tran Phu, Mo Lao Ward, Ha Dong

CGV Times City: B1 Floor, Vincom Mega Mall Times City, 458 Minh Khai (Minh Khai), Hai Ba Trung (Hai Bà Trưng)

CGV Vincom Ba Trieu: 6th floor of Building Vincom Center Hanoi, 191 Ba Trieu (Bà Triệu) Street, Hai Ba Trung District 

CGV Truong Dinh Plaza: 5th floor, 461 Truong Dinh (Trương Định), Tan Mai (Tân Mai), Hoang Mai (Hoàng Mai)

CGV Vincom Long Bien: 5th floor of Vincom Plaza Long Bien, Vinhomes Riverside, Phuc Loi (Phúc Lộc) Ward, Long Bien (Long Biên) District

CGV Vincom Royal City: Vincom Mega Mall Royal City, 72A Nguyen Trai (Nguyễn Trãi), Thuong Dinh (Thượng Đình), Thanh Xuan (Thanh Xuân)
2. Lotte Cinema Landmark Hanoi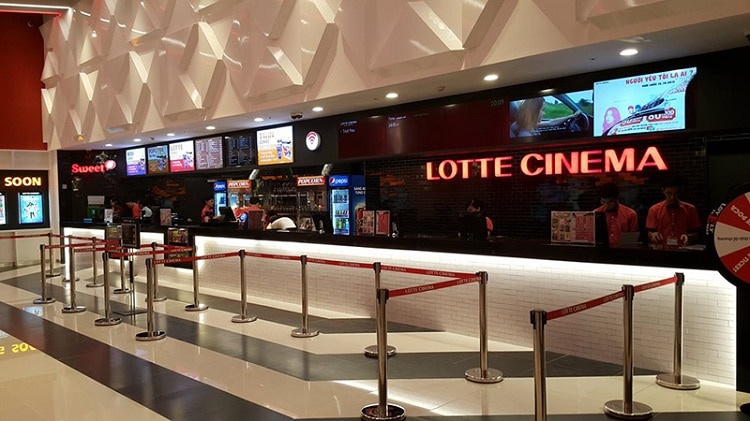 a. History
Lotte Cinema belongs to Lotte Group – a famous multinational corporation of shopping and food in Japan and South Korea. According to customers and viewers, Lotte Cinema features the best infrastructure, spacious space, and well-equipped facilities. 
b. Why Should You Go To This Cinema
This brand attracts and wins the hearts of many moviegoers in Hanoi thanks to the advantageous locations and reasonable prices.
c. Locations
Lotte Cinema Long Bien: 7 Nguyen Van Linh (Nguyễn Văn Linh), Gia Thuy (Gia Thụy), Long Bien 

Lotte Cinema Landmark: Keangnam Hanoi Landmark Tower, Pham Hung (Phạm Hùng), Me Tri (Mễ Trì), Cau Giay (Cầu Giấy)

Lotte Cinema Thang Long:

Big C Thang Long

, 222 Tran Duy Hung (Trần Duy Hưng), Trung Hoa (Trung Hòa), Cau Giay

Lotte Cinema Ha Dong: 4th floor of Me Linh Plaza, To Hieu (Tô Hiệu), Ha Dong 
3. BHD Star Cineplex 
a. Why Should You Go To This Cinema
BHD Star Cineplex is a Vietnamese cinema in Hanoi with reasonable prices and dedicated staff. Therefore, there is no surprise when BHD Star Cineplex is an ideal destination for friends, family, and couples to relax and enjoy the best entertainment services. Only in BHD Star Cineplex, you can watch movies in a furniture-optimized cinema room. Furthermore, the cinema also features 2D and 3D rooms with Atmos audio system.
b. Locations
BHD Vincom Pham Ngoc Thach: Vincom Center, 2 Pham Ngoc Thach (Phạm Ngọc Thạch), Kim Lien (Kim Liên), Dong Da
4. National Cinema Center 
a. History
Found on December 29th, 1997, National Cinema Center is under the management of the Ministry of Culture, Sports and Tourism. Therefore, the main functions of the cinema are screening films for social, political, and other disciplines intending to display cinema, orient cinema and performing arts activities. Furthermore, the National Cinema Center is also an ideal movie theatre for young audiences because of international entertainment movies. 
b. Why You Should Go To This Cinema
The National Cinema Center has a convenient location, low prices, and excellent services; therefore, it has attracted a large number of moviegoers.
c. Locations
87 Lang Ha (Láng Hạ) Street, Ba Dinh (Ba Đình)
5. L'Espace 
a. History
The cinema was built to strengthen the long-term relationship between France and Vietnam and display French cultural activities. 
b. Why You Should Go To This Cinema
Featuring the well-equipped sound system, the L'Espace theatre screens the high quality Vietnamese and French films and movies.
c. Locations
24 Trang Tien (Tràng Tiền), Hoan Kiem (Hoàn Kiếm) District 
6. Beta Cineplex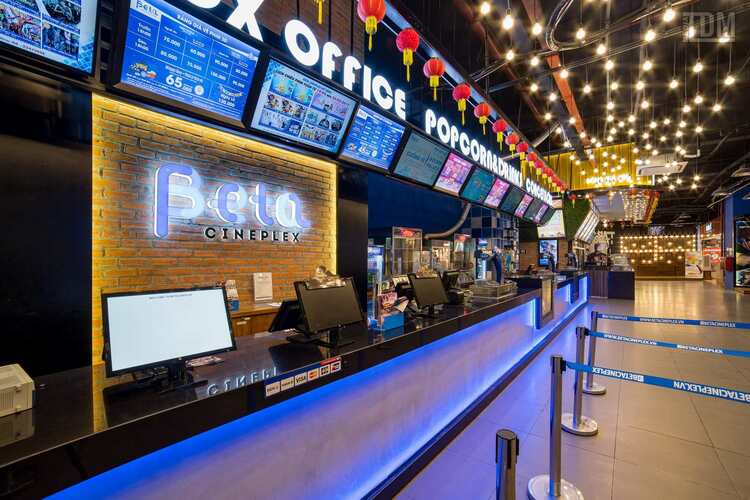 a. Why You Should Go To This Cinema
Located near the colleges, universities, and many high schools, Beta Cineplex has become the ideal cinema for the youth to relax and watch a movie. Because the audiences of Beta Cineplex are students and young people, the cinema offers the cheapest film ticket and affordable popcorn prices. 
The well-trained staff in Beta Cineplex are professional and friendly. Although the space of this theatre is not as large as other cinemas like Lotte or CGV, this cinema brand is a highly appreciated destination for moviegoers. It is because of the reasonable ticket prices and good quality. 
b. Locations
Beta My Dinh: Basement B1, Golden Palace, Nam Tu Liem (Nam Từ Liêm)

Beta Dan Phuong: Building HHA, Tan Tay Do urban area, Dan Phuong (Đan Phượng)

Beta Thanh Xuan: Golden West Building, Nhan Chinh, 2 Le Van Thiem (Lê Văn Thiêm) Street, Thanh Xuan 
7. August Cinema 
a. Why You Should Go To This Cinema
August cinema was founded a long time ago in Hanoi, so it is seen as one of the oldest cinema centers in the city. This cinema aims to attract movie-goers who want to enjoy their time in the early luxurious cinema that was established during the French colonial period.
Another thing that makes the August cinema outstanding is that it is conveniently located near the walking streets. So customers and film fans can go to the movie theatre on foot. Furthermore, the ticket to watch movies here is also affordable enough for students and pupils to buy. 
b. Locations
45 Hang Bai (Hàng Bài), Hoan Kiem
8. Kim Dong Cinema 
a. Why You Should Go To This Cinema
Kim Dong Cinema is the movie theatre for children so that you can see the childlike decoration inside the theatre. Furthermore, the ticket price of this cinema is reasonable while the quality of movies and films is stunning. However, the popcorn and beverages in Kim Dong Cinema may not cheap. 
Kim Dong Cinema is still a recommended theatre choice if you want to find an ideal spot to enjoy good movies and films. The cinema is believed to develop and attract more moviegoers of all ages if the infrastructure is repaired and upgraded.
b. Locations
9. Galaxy Cinema 
a. Why You Should Go To This Cinema
Galaxy Cinema is known as one of the best movie theatres in Hanoi thanks to the excellent quality and price. Furthermore, customers also love the theatre for its well-equipped, clean, and spacious rooms. Also, staff are dedicated and friendly, which gives moviegoers a satisfying and pleasing experience. The only disadvantage of the Galaxy Cinema is that it is far from the city center. 
b. Locations
6th floor of the Mipec Riverside Building, 2 Long Bien 2 Street, Ngoc Lam (Ngọc Lâm) Ward, Long Bien District 
10. Platinum Cinema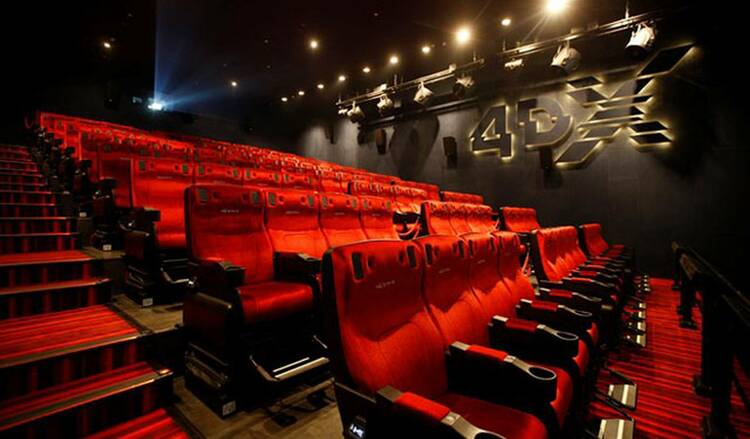 a. Why You Should Go To This Cinema
Platinum Cinema has existed for a long time; therefore, it is one of the oldest cinema centers in Hanoi. In the theatre, both quality and price are excellent. Furthermore, it continually launches many promotions for popcorn and tickets.  However, the infrastructure is not good, which is a disadvantage of the cinema and the difficulty for customers to visit Platinum Cinema.
b. Locations
Garden Trade Center, Me Tri, My Dinh, Nam Tu Liem 
11. Fafim Cinema
a. Why You Should Go To This Cinema
If you want to enjoy the movies and films in a spacious, high-quality movie theatre with an affordable price, you should not ignore Fafilm Cinema. Besides, Fafim Cinema features well-equipped rooms in which two 3D rooms with 450 seats meet the international standards. Furthermore, Fafim cinema has good services, such as swimming pool, gym area, spa, etc., and dance sports area that satisfy the entertainment and relaxation needs of customers.
b. Locations
19 Nguyen Trai (Nguyễn Trãi) Street, Nga Tu So (Ngã Tư Sở), Thanh Xuan District 
We have introduced 11 best cinema centers in Hanoi. We hope that it will give you useful information before you enjoy the great relaxation and entertainment time in these places. Any questions can be left in the comment section, and we will answer them as soon as we can. If you are interested in Vina.com, you should find more exciting and informative articles about Vietnam tourism and activities in Vina.com.