Hanoi (Hà Nội) is a busy city with numerous leading entertainment and shopping centers, so this capital city has allured a large number of both visitors and shopaholics who want to spend their money on shopping, playing and relaxing. Nowadays, Hanoi is increasingly attracting huge investments from the largest retail corporations in the world, including AEON Japan. Opened on October 28th, 2015, Aeon Mall Long Bien (Aeon Mall Long Biên) becomes the third AEON shopping mall in Vietnam. Since the opening, Aeon Mall Long Bien has been the busiest and most modern shopping center in Hanoi capital city particularly and the Northern region generally. Because of the convenient location plus the best supermarket scale, Aeon Mall Long is asserted to be a great shopping destination for everyone.
Aeon Mall Long Bien (Hanoi) – The Overview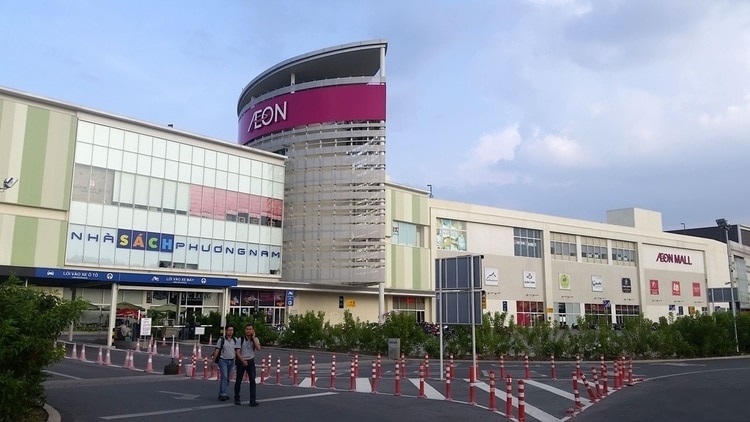 Location: 27 Co Linh (Cổ Linh) Road, Long Bien (Long Biên) Ward, Long Bien District, Hanoi
Opening Hours: 10 am – 10 pm
Hanoi has opened many shopping centers such as Time City, Royal, Lotte, etc. The Aeon Mall Long Bien is not the first one, but it is the first Hanoi shopping malls specializing in Japanese style shopping utility, class, and quality. Covering an area of 96,000 sqm with 120,000 sqm of a gross floor area, Aeon Mall Long Bien (Vietnam) was built to meet the various shopping demands of customers and clients from Vietnam and over the world as it features four floors with 180 outlets, food court, workout gym, and cinema complex.
In this shopping center, you can find many international brands such as Yves Rocher, Adidas, Dr. Martens, etc. In addition to a paradise of shopping for shopaholics, Aeon Mall Long Bien is also a great destination for families who can watch a movie, play bowling or take part in many games with their children. Furthermore, the Aeon Mall Long Bien Hanoi Shopping Center also has a vast choice of cuisine options like Vietnamese, Thai or Western food located in the food court.
The four-storey Aeon Mall in Long Bien owns not only a large supermarket but also a plethora of restaurants and cuisine options, entertainment and playing areas, and a Cineplex. Therefore, if you have a chance to visit Hanoi, the Aeon Mall Long Bien will make your visit complete and satisfactory. As one of the largest shopping centers in Hanoi, Aeon Mall Long Bien attracts not only locals but also travelers and it is also a wonderful place that has won the heart of elderly, adults and kids. Visiting this shopping center, you can buy your favorite goods from national and international brands or just relax in various fun activities.
The mall is posh and sophisticated. Everything in there are quite pricey but it isn't so expensive that you can not afford. I can say that visiting this wonderful mall will be your delightful and fun-filled experiences.
Aeon Mall Long Bien – A Paradise Of Shopping Experience
Wandering in Aeon Mall Long Bien, you can easily find a large number of shopping outlets including the popular national and international brands such as Yves Rocher, Adidas, New Balance and Dr. Martens which have a huge selection of products.
This shopping mall can meet the needs of every client from males, females to kids and the elderly. There are numerous products from cosmetic, clothes to shoes with high quality. If you love shopping, do not miss the Aeon Mall Long Bien.
The supermarket system of the mall meets all your essential needs, from household appliances, food to hundreds of items made from the local, Japan and many other countries.
Aeon Mall Long Bien – Multiple Entertainment Centers For Adults And Kids
If you do not want to go shopping, Aeon Mall Long Bien will offer many play areas and entertainment centers where you can take part in a number of relaxing activities and fun games. It is great to play bowling in the Bowling alley lying on the fourth floor of the shopping center. On the third floor is the Dream Games Arcade that offers a huge selection of fun video games which give children a lot of fun and let you live again in your childhood.
The third floor also has Cineworld which is an indoor playground for small children to enjoy a lot of games and experience fun.
Furthermore, in Aeon Mall Long Bien, you can also enjoy a movie at the Grand Cineplex. The Aeon Mall Long Bien cinema shows both Vietnamese and Hollywood films. After a long day of shopping, it is recommended watching a movie to relax and have fun.
Aeon Mall Long Bien Food Court
The Aeon Mall in Long Bien offers a large food court with plenty of cuisine options, which would be a great option for someone hungry and tired after a long day of shopping and wandering. You can easily find a number of restaurants, fast food joints, and cafés that serve not only Vietnamese delicacies but also Korean, Japanese, Thai and other western cuisine to satisfy your empty stomach. Hanoi is well-known for the authentic Vietnamese food and you can enjoy them here. The top floor of the shopping mall also has the food court with many different food joints, so you can take a quick bite to revitalize your energy.
Special Facilities In Aeon Mall Long Bien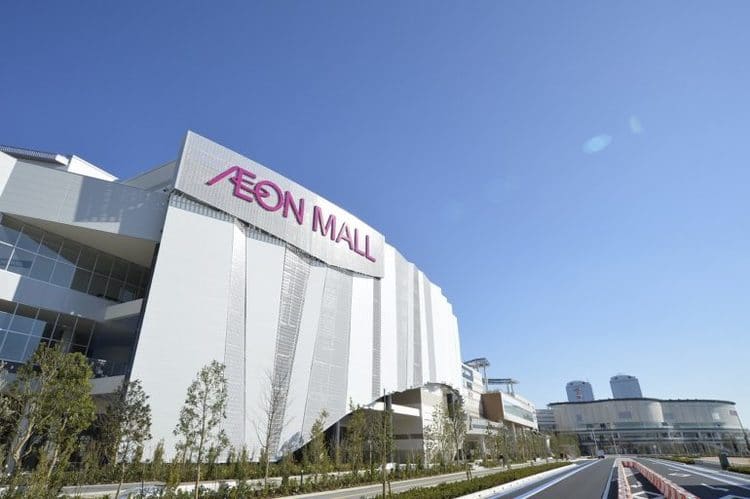 Aeon Mall Long Bien has some special facilities which make it outstanding among other shopping centers in Vietnam.
Its special facilities include:
Aeon Hall: In Aeon Mall Long Bien hall, you can enjoy many cultural activities and events such as conferences and exhibitions frequently to learn more about Vietnam's culture.

Smoking Room: Customers and clients can go to the smoking room and smoke comfortably.

Baby Room: Mother with small babies always find uncomfortable and challenging when they have to go shopping and take care of their babies at the same time. In Aeon Mall Long Bien, there is a baby room that was built as a comfortable place for mothers to change nappies or breastfeed babies without any hassle.

Large parking lot: The parking space of this mall can meet the needs of 1 million Hanoi people and 180,000 households as its capacity can be up to 10,000 motorbikes and 1,000 car. This parking lot is situated on the fourth floor with modern super-neat facilities and services that satisfy people who come to shop and play in Aeon Mall.
Read more:
As you can see, Aeon Mall Long Bien is a wonderful destination for everyone who wants to go shopping, relax and enjoy the luxury services. There are a lot of things that you can explore here to amuse yourself. Hopefully, a trip to Aeon Mall in Long Bien will satisfy your shopping demand and give you a pleasing experience. For any questions, you can leave them below in Vina.com. We will answer you as soon as we can.