Ben Xuan garden house theater (Nhà vườn Bến Xuân) is located right on the Huong Giang (Hương Giang) river. It takes more than ten years to collect and restore persistently, the garden house theater has been completed, with the beauty of the Hue Imperial architectural style. The tiles, bricks, wood, as well as old-fashioned crockery here, have a lifespan of more than a hundred years.
I. What To Know About It?
1. Location
Situated on the romantic Perfume River between Temple of Literature and Thien Mu pagoda (Chùa Thiên Mụ), Ben Xuan Garden House Theatre is a symbol of Hue (Huế) beauty, reflecting the sincere heart of the artist couple Camille Huyen (Camille Huyền) and showing the traditional architecture with the authentic beauty of Hue. That will be great and memorable experiences to explore Ben Xuan House Theatre, where you can immerse yourself in the French atmosphere, enjoy exciting performances and eat delicious meals. 
2. The History And Construction Of Ben Xuan Garden House Theatre
The owner of Ben Xuan Garden House Theatre is Huyen Ton Nu Camille (Huyền Tôn Nữ) (Camille Huyen is her artist name) who visited for years and got many achievements in artistic activities and musical performances. After getting married to Truong Dinh Ngo (Trương Đình Ngộ), she devoted her time in music and painting of the Beaux-Arts. Truong Dinh Ngo always assisted his wife in their artistic activities as a singer and painter. 
In 2008, the artist couple Camille Huyen returned to their birthplace after receiving the invitation of Hue International Festival. They presented Switzerland and performed World Lullabies and Cung Tien (Cung Tiến) Art Songs.
After that, There was a plan of building a garden house theatre in Hue that follows the royal architectural style and performs the songs set from the poetry of Han Mac Tu (Hàn Mặc Tử).
For the construction of Ben Xuan Garden House theatre, many ancient materials were collected. For example, the theatre is made of hundred thousands of bricks with more than a hundred years old collected from decaying colonial houses and patrician houses, old wood from old house and tons of broken porcelain pulled down from sunken ships. The construction has been taken for years until it opened to the public.
II. Why Should You Go To This Place?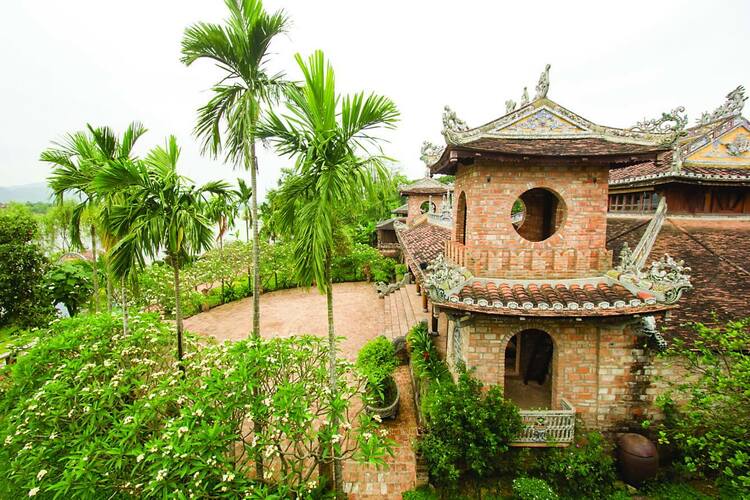 1. Explore Ben Xuan Garden House Theatre
A visit to Ben Xuan Garden House Theatre in Hue will take you into an unforgettable journey to the past. You can admire the royal architecture of the Nguyen (Nguyễn) dynasty and achievements during Emperor Minh Mang (Minh Mạng). 
The horizontal axis of Ben Xuan begins in the Tea Pavilion Nghinh Phong, running parallel to the Perfume River, crossing the bridge and then ending in the Poetry Pavilion designed in Neo royal style that makes you feel like you are in the Khai Dinh (Khải Định) time.
The vertical axis runs through the theatre house and leads to the forefront Half-Moon court. In the theatre, you can see the Lotus Gate set on the river shore, which represents a boat floating on the river. The Zen Gate leads to the street of the Temple of Literature, symbolizing a Buddha sitting calmly on a lotus pond. The Pen Gate that opens to the crossroads of Van Hanh (Vạn Hạnh) street and the street of the Temple of Literature was built with three large pens made of red brick. 
2. Enjoy Exciting Performances
In Ben Xuan Garden House Theatre, you can enjoy many beautiful and exciting performances of the Han Mac Tu Moondrunk Songs, Cung Tien Art Songs, World Classics Songs, World Lullabies and many Hue's traditional music. That will be a fantastic experience for you to get authentic and individual experience in the term of Hue's architecture, music, culture, culinary arts, and beaux art.
Furthermore, as a visitor to Ben Xuan, you should not miss the chance to explore and take pictures at Ben Xuan theatre, Residence, and Painting Exhibition. In the reception house, they will serve the cake, refreshment, and green tea. 
III. Where To Eat In Ben Xuan Garden House Theatre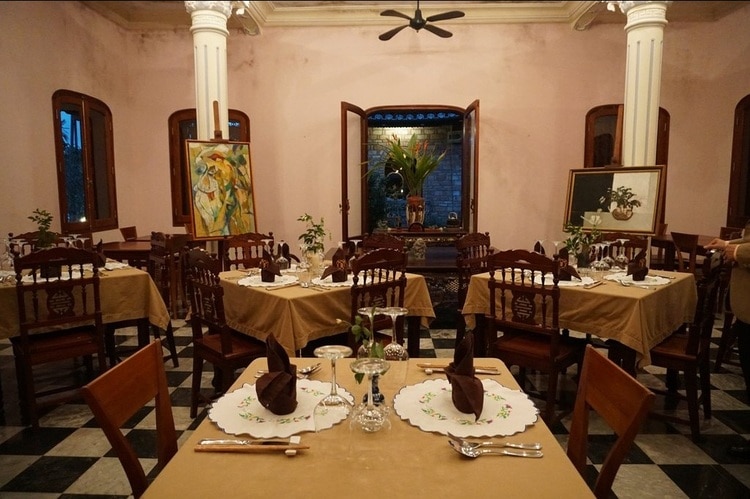 Ben Xuan Garden House Theatre also has a restaurant with excellent services offering the best Hue food. In the restaurant, we can enjoy many kinds of home-grown vegetables, and traditional Vietnamese food cooked by experienced chefs. Nothing is more significant than enjoying the delicious meals with expensive Vietnamese wines while admiring the beauty and architecture of this place. Sometimes dinner can be enjoyed along with the traditional music background.
You have read the extraordinary things and activities you can enjoy in Ben Xuan Garden House Theatre. A visit to this theatre will make your trip to Hue more memorable and exciting. I hope that you can find useful information in this article. You feel free to leave your opinion and questions below, and we will answer them as soon as possible. If you are interested in this article, please take a look at Vina.com to find more informative writings about Vietnam's tourism and activities.
By Nga V