On the way to visit Hoan Kiem Lake, you can see a popular ice cream shop with the name of Trang Tien ice cream. Ice cream is a great treat for everyone to enjoy, especially in hot summer days in tropical countries like Vietnam, and Trang Tien is one of the most popular ice cream brands in Hanoi. Trang Tien ice cream is located at 35 Trang Tien and it opens from 8.00 am to 9.00pm on a daily basis. The price of Trang Tien ice cream is so reasonable, just about 7,000-8,000 VND / unit. As a result, Trang Tien ice cream is still very popular until now even though it is not served in luxurious places or has many versions with several attractive flavors and colors like other types of ice cream. The fame of this simple dish is also mostly thanks to its traditional light sweet taste with familiar yet attractive fragrance that is suitable and great for people at all ages. Let's take a closer look with VinaFood!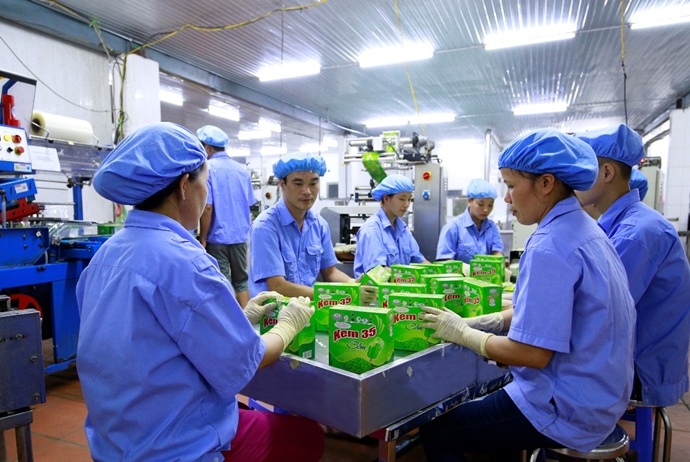 Source: soha
I. Trang Tien Ice Cream – The Introduction
The famous name 'Trang Tien ice cream' actually comes from its location – the number 35 Trang Tien Street. Although this store started with just four flavors of popsicles, including young rice, chocolate, coconut milk, and green bean, this store is 'favored' with its great taste and reasonable price as well. Trang Tien ice-cream store is always crowed with buyers, especially in the evenings of summer days. People often line up and need to wait for up to 30 minutes just to buy some ice-creams.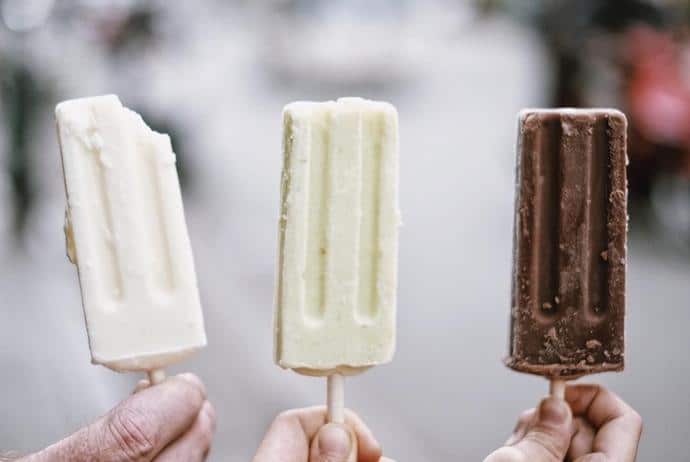 Source: tintuconline

Many foreigners come to Hanoi want to try Trang Tien ice cream. This ice cream store produces nearly 25,000- 30,000 ice-creams daily during high season. However, it still cannot meet all consumers' demand. Trang Tien ice-cream is favored by both locals and tourists all over the world. The ice-cream here is unique in flavor and in the way it is eaten. Most buyers consume these ice-creams right after buying in order to prevent it from melting. The picture of people trying to eat ice-creams as fast as possible has become a part of Hanoi tradition and culture.
Another unique feature of this ice cream shop is that they do not offer seats, so consumers have to line up to buy ice creams, and then stand in front of the shop to enjoy it.
Check Out: Vietnamese Street Style Snails In Hanoi
1. The History Of Trang Tien Ice Cream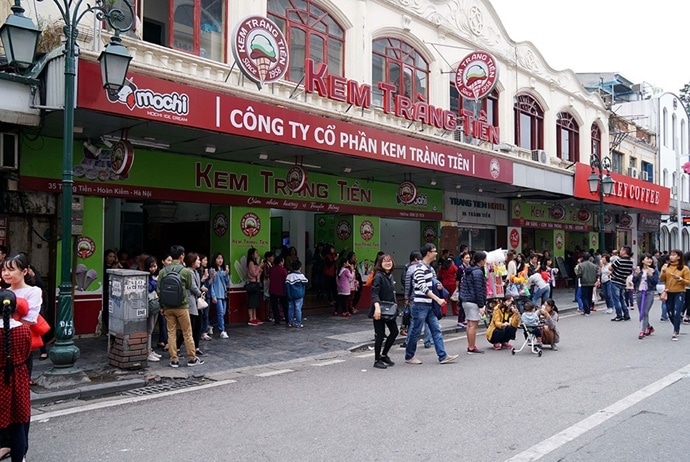 Source: haiduongtv
Before the French colonialists arrived, Vietnam is a poor country and there is nothing as attractive and delicious to enjoy as ice cream. When the French colonialists colonialized Vietnam, they brought Western dishes like bacon, paté as well as ice cream to this country. The first place to sell ice-cream was at the Grand Hotel located on Hang Trong Street. Ice cream might be introduced by the French, and it was considered as a luxury item.
Then, the first ice cream shop opened at 37 Cau Go Street. However, this ice cream shop had only worked for three years. And, Trang Tien ice cream was born and introduced to the Vietnamese people at 35 Trang Tien Street in 1958. The crunchy cones we know today were introduced in Trang Tien ice cream a few decades ago.
Initially, ice creams were served on wooden lollipop sticks with 4 flavors, including mung bean, cacao, young rice and coconut. Nowadays, Trang Tien ice cream has been included with different flavors like vanilla, chocolate, cereal, coconut milk, etc. Nonetheless, its flavor is still cool and tasty like in the past. Although there is no chair and seat, people still feel happy when standing to enjoy the cool and tasty ice-creams.
Learn More: 30 Quick & Easy Cooking Vietnamese Desserts Ideas
2. The Culture Of Trang Tien Ice Cream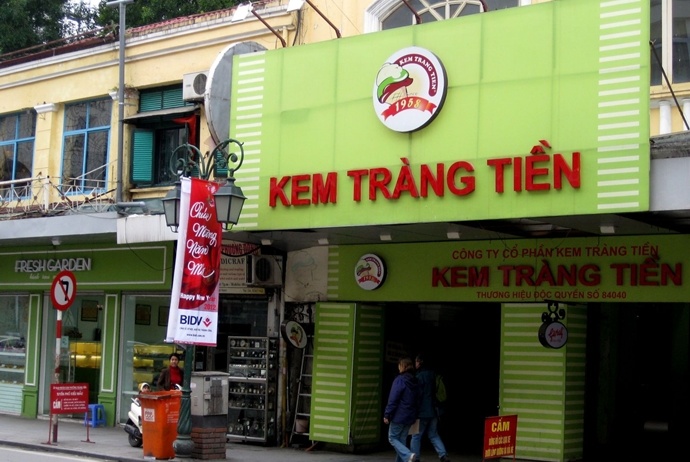 Source: kemtrangtien
Trang Tien ice cream is a famous item that shows a cultural picture in the memories of many people, it can be easily copied. Protecting Trang Tien ice-cream is protecting the brand and also the unique culture of the capital Hanoi. Trang Tien ice cream has wonderful flavours, which many Hanoi generations have been addicted to, so visitors who taste Trang Tien ice cream once will never forget the taste and even the way to enjoy it!
Check Out: Hanoi Food Guide – 22 Best Foods To Eat In Hanoi
II. Types Of Trang Tien Ice Cream
You can find 4 types of Trang Tien ice cream here, including soft serve, ice cream on sticks, mochi, and ice cream on cones. There are 5 main types of flavors, including taro, rice flake, green beans, cocoa and coconut milk. The texture of the ice cream on cones is the icy type, not the soft and creamy kind, so it is very refreshing. Also, the cone tastes like the egg rolls. There are 4 types of ice creams when we talk about Trang Tien brand as mentioned before. However, we recommend you try some of the ice creams first below due to their wonderful taste that many people love. Here are the most favorited ice creams that the Trang Tien brand currently offers at the main store:
1. Green Pea Ice Cream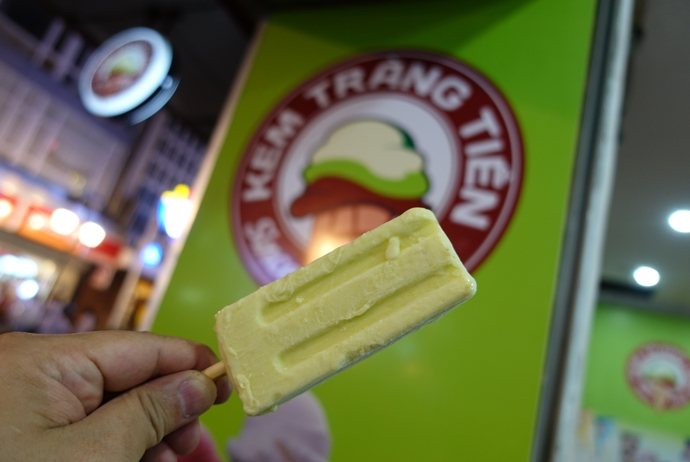 Source: photoasian
The green pea's ice cream is a special one, because before the Western ice cream, Vietnamese also offer some other delicious dishes made from green peas. The combination of the fatty taste of coconut milk and fresh milk and the great taste of green beans has created attractive cream.
Another feature that makes Trang Tien ice cream different from other brands is its chewy and soft texture. It has a few tiny grains of green rice or green beans sprinkled on these ice creams.
2. Cinnamon Ice Cream Cone & Coconut Milk Ice Cream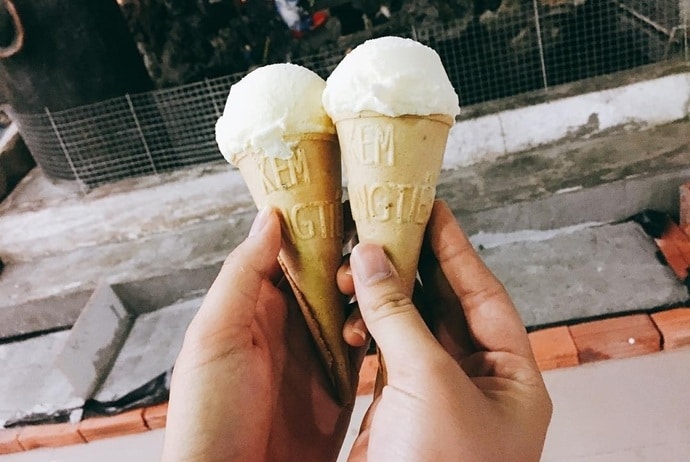 Source: vietnammoi
Cinnamon and coconut milk cream is a favorite type of many people. The sweetness of ice cream mixed with the crunchiness and aroma of cinnamon is a great combination. Also, coconut milk cream is quite sweet, and still ensures the aroma, plasticity and fatty smell of coconut fiber.
3. Mochi Ice Cream – The New One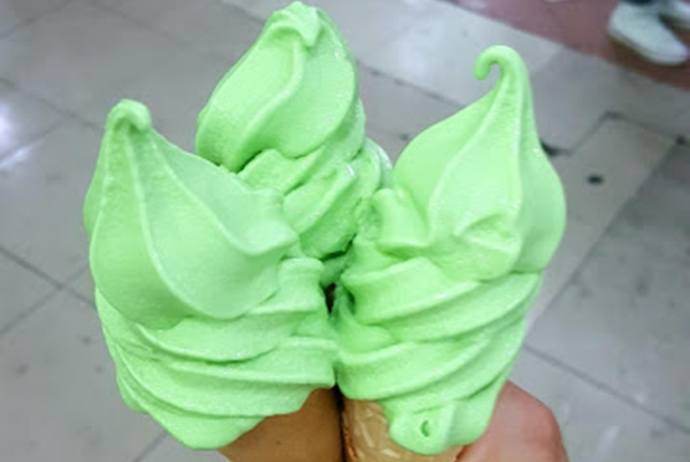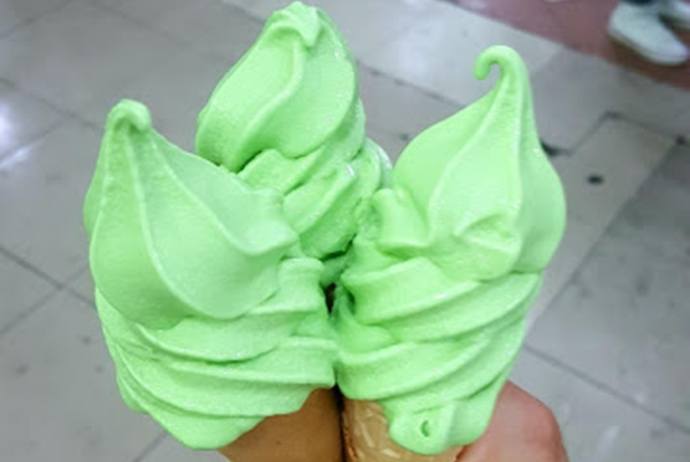 Source: nktrinh
Recently, Trang Tien ice cream launches a new member called ice-cream mochi with 4 different fillings including green tea, strawberry coffee and vanilla. Trang Tien mochi ice cream consists of a soft and sticky rice cake around an ice cream filling.
Trang Tien ice cream offers a simple charm, but it also makes people remember forever. It is not decorated eye-catching with new shapes or colors, but its flavor is enough to satisfy the taste of the most eaters. Today, apart from Hanoi, people can buy Trang Tien ice cream in other provinces of the country. However, for people who want to enjoy themselves, they still go to Trang Tien Street for ice cream.
If you would like to experience the best Trang Tien ice cream in Hanoi, go to ice cream shop at 35 Trang Tien Street. Whether you would like to taste a simple scoop of cacao, vanilla, or something new like coconut milk, young glutinous rice, green bean, or mochi, Trang Tien ice cream will surely satisfy your demand. Certainly, eating Trang Tien ice cream is one of the best things to do in Hanoi. Come back to Vina for more delicious and attractive dishes to enjoy in Vietnam!