Hue is well-known with the fairyland owning lots of tourist attractions. However, there are still some beautiful destinations being almost forgotten. Specially, Nhi Ho Waterfall is considered as the pristine and arrogant beauty between forest and mountain. Exploring Nhi Ho Waterfall, you will have the feeling of being one with nature and sheltered by nature. This almost-forgotten place is becoming famous and attracting visitors to come here to experience and relax. Following this article, you shall recognize its pristine attraction and enjoyable experience when coming to Nhi Ho Waterfall – an arrogant beauty that nature bestowed.
The Attractively Pristine Beauty of Nhi Ho Waterfall
It is 45 km away from the south of Hue city centre, Nhi Ho waterfall is located in Hoa Mau Village, Loc Tri Commune, Phu Loc District. Nhi Ho waterfall is probably considered as a masterpiece that nature generously bestowed for this impoverished countryside. Coming here, you will witness firsthand the cool, fresh water from the mountain flowing down the cliffs. Two cool blue lakes can be seen on the bottom and are blocked by a small bridge. The waterfall is surrounded by pristine mountains and is almost untapped, so it retains the natural beauty of heaven and earth. In addition, in the summer, you will see the fragrant white "Thim Lan" flowers on the road which are quite romantic and also the red berries can be eaten. Nhi Ho Waterfall is deemed as a water-colour painting depicting the beautiful natural scenery and water.
The road leading to Nhi Ho waterfall is not difficult but not easy to find. There are mainly self-opening trails and sometimes rugged gravel roads, some road sections covered by lots of swamps. The way to the waterfall is such hard, but anyone who comes to Hue must find its way to enjoy the whole journey of exploring this fascinating destination. You can slow down and enjoy the scenery on both sides of the dreamy road. The wildflowers blooming on the side of the road with lots of colours such as purple, red, yellow and green make you feel the path shorter and feel more excited. How poetic and romantic landscapes! Going more than 3 km, you can hear the sound of a waterfall from far combined with the birds singing to create a beautiful melody from nature. You will undoubtedly be excited by its invitation song to explore, and you maybe want to run faster to see how amazing the Nhi Ho waterfall is.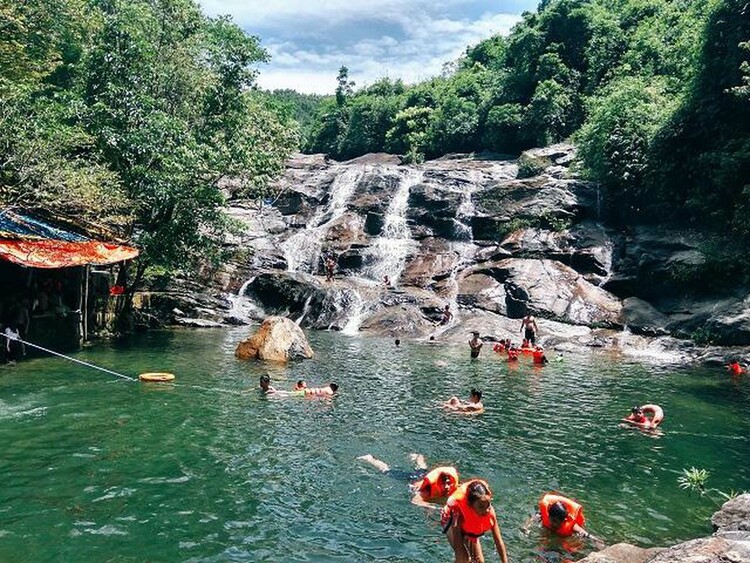 And here, the beautiful natural scenery of Nhi Ho waterfall gradually appears. A view that captivates visitors and once you come here, you will want not to leave. Freshwater flows from the mountains then downs the cliffs and is prevented in the middle to form a two-lake waterfall. One lake is not very deep and suitable for young children to play; the other attracts young people with a stronger flow. Two water-lakes from a beautiful waterfall give you a feeling of losing in a paradise on earth. Besides, the cliff here is not too steep or dangerous to lean on and you can enjoy the immersing and relaxing in the waterfall. All sorrows and worries are cleaned; you will surely have many interwoven feelings. It was firstly a bit overwhelming because of the cold steam coming in, then a bit of excitement for not giving up on the hard road for this waterfall trip. And last but not least, that is the perfect impression on the friendly local people, the gorgeous surrounding scenery and also the surprises by this wonderful waterfall.
It can be said that Nhi Ho Waterfall is a combination of nature with its pristine beauty and simplicity. In the panoramic, the waterfall is a big-picture covering what the most natural and primitive is. In here, you will have the opportunity to breathe in the fresh and natural air and listen to the waterfall or watch the lively scenery ahead. Enjoy the cool breeze from nature then it blows away the fatigue; you will feel happier and more cheerful. And this is a special occasion for you to admire the gentle beauty of Hue waterfall – Nhi Ho Waterfall. It is just very Hue: dreamy but strangely lovely!
View more:
Funny Experiences in Nhi Ho Waterfall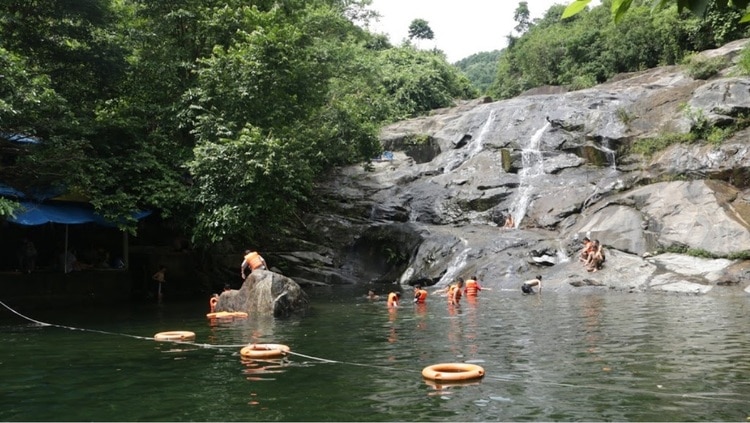 The road to Nhi Ho waterfall is also worth trying. There are many ways to move to Nhi Ho Waterfall, but the way many young people often choose to go is riding a motorbike. Because of the long-distance, they want to see and admire the road and want to have the feeling of conquering this scene. And above all, they want to immerse themselves in nature and enjoy the whole trip.
Upon arrival, you can swim or play in the water. Watching the waterfall flowing slowly, you will have the feeling that you are deep in the sacred water given by the sky and heaven; also, when all anxiety, chaos, fatigue seem to disappear. But that is still less exciting than sitting under the top waterfall with the clearest water. You can scream so loudly and no one notices because the waterfall cheers even louder. Sitting on the rock, you can clearly feel two extremes; one is a tumbling waterfall, the other is a calm lake surface. What a poetic experience! And if you are adventurous and challenging, you can follow the water lines to the top of the waterfall. You will have an overview of the fresh and natural scenery of the waterfall. Hence, you can spread your arms to enjoy the fresh air and become one with the charming nature.
After having fun on the waterfall, you can be with your friends and relatives to nibble on some delicious specialities made by the people here. You can fish in deep water and make your own food into delicious food. Imagine that you are enjoying the delicious barbecue of the countryside, watching the green trees overlap and sipping some cold beer in hot weather like this. It is a valuable experience for your exploring trip, isn't it?
Tips for a Memorable Trip in Nhi Ho Waterfall
To get the most beautiful moment of Nhi Ho waterfall, you should come in April, May, June or July. At that time, the sim is ripe and wildflowers are growing so much that this place is covered with dreamy and romantic purple.
Nhi Ho Waterfall also has a service of renting a life jacket to help visitors safer when bathing, especially for those who do not know how to swim or for children. Also, in deep-water areas, there are regular guards to protect and ensure safety for visitors when bathing in the lake. However, you still need to comply with safety and rescue regulations when swimming and bathing to have a safe and comfortable trip at Nhi Ho waterfall area.
If you are willing to stay in Nhi Ho and do not return immediately; you are suggested to bring some lunch, dinner, swimwear and read more about how to make the grilling fish in case of catching lots of fish here.
Summary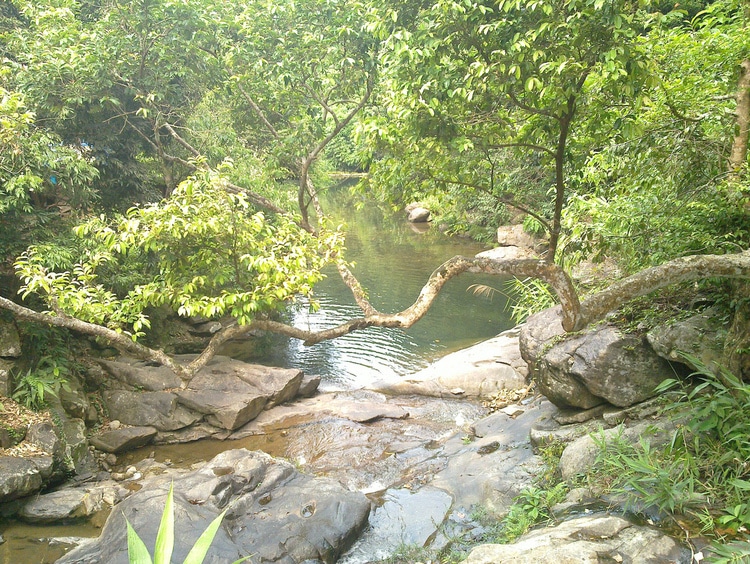 Listen to the call of nature, the unspoiled fairyland of Hue, it is not a stretch to say that Nhi Ho Waterfall is special and glamorous. This refreshing and awesome beauty has attracted countless visitors to come and do not want to leave. Nhi Ho Waterfall is a wild and simple waterfall, but it is the pride of Hue people whenever they talk about it. The waterfall is located proudly between a majestic nature and nestled with wild mountain forests. Nhi Ho Waterfall – the wild and of course, arrogant beauty. An ideal destination in the journey to explore Hue cannot fail to mention.
By Thanh Ari