Contents
Nghia Do Park (Công Viên Nghĩa Đô) is a famous tourist attraction in Hanoi Capital City that attracts friends, families, and couples. The unique attractiveness of this spot is its nature and open space. Nghia Do Park is a beautiful playground in Hanoi where you can go for a picnic, play exciting activities and games, and enjoy the fresh atmosphere. It is a place where you can feel more pleased and relaxed as you escape from the noise and complications of a bustling city. If it is your first time to travel to Hanoi, a visit to Nghia Do Park will help you understand about the local life and activities of Hanoi people.
Nghia Do Park – Exciting Playground In Ha Noi City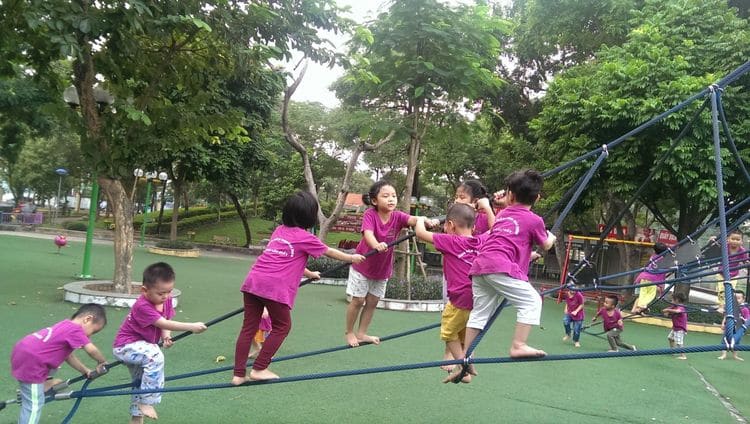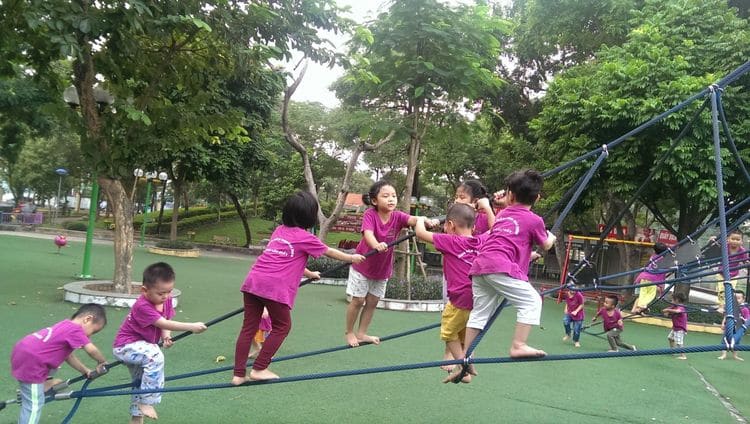 Built in 2004, Nghia Do Park's foundation aims to mark the 50th anniversary of the liberation of the Capital. Nowadays, as the playground in Nguyen Van Huyen (Nguyễn Văn Huyên) Street, Cau Giay (Cầu Giấy) District, Hanoi, Nghia Do Park meets the needs of entertainment and playing of local people.
There are two gates, including a gate on To Hieu (Tô Hiệu) Road and another on Nguyen Van Huyen Street. Both large gates have specific features; therefore, you can easily find the entrances of the park.
With a total area of 47 thousand square meters, the park features flower gardens, greenery space, winding paths, romantic lake, airy open space, and picturesque landscapes. It is a reason why Nghia Do Park, Cau Giay is seen as the green lung of the capital city.
Visiting the park, tourists will be astonished and overwhelmed by its natural fresh space. There are numerous green trees around the lake and artificial green grass on the hills, which create the shady area of this place. So, even when you travel to Hanoi on the hot sunny days, this playground is like a beautiful air-conditioned paradise that gives you a pleasant and relaxed feeling.
There are sports zone, Kids zone, garden, walking zone, lake and other different zones in the park. Furthermore, you can come to the large campus to enjoy the fun atmosphere, get relaxation, and participate in many exciting activities.
If you visit with your family, you can take your child to the kid zone where he or she can play a lot of physical games. You can also play with them to increase the strong family bond. If you do not want to play or you feel tired, you can sit and chat with other parents while watching your child playing. That is still a great moment and experience.
Letting your child play in this park, you do not need to worry about their safety because the play area is covered with artificial soft grass.
Coming to this park, children will be challenged their creativeness, imagination, mental, and physical health. Through a wide range of sports and games, they can learn how to communicate, socialize, and make friends with other children at the same age.
Moreover, adults also find suitable zones here. For example, they can play sports like badminton, soccer, or nutritional training in the large yards. Nghia Do Park has installed many simple exercise equipment like the sole, the double beam, foot pedals, and more.
In the middle of the park, you can see groups of people running or jogging. In the early morning and afternoon, this place gets crowded because many local people come here to enjoy the fresh air and exercise around the lake.
Thanks to many gardens with green trees and colorful flowers, the young can have a picnic and organize some games and activities to play with their friends.
Useful Tips And Recommendations Before Visiting Nghia Do Park
To exercise, you should visit the park in the early morning ( 5-7 am) or afternoon (4-7pm) because of the cooler weather

You can go to the park by catching some bus routes. If you go by motorbike or bicycle, there are some parking lots near the park with affordable fee

If you visit the park in summer, do not forget to apply your sunscreen and bring an umbrella or a hat.

Visiting the park in winter, remember to wear a warm jacket with a hat

Keep your anti bugs spray with you because the park has many bugs

The park has no food stall or restaurant inside; therefore, you should bring your drink and some fast foods.

Throw the litter in a trash can

Keep an eye on your children; otherwise, they will get lost because Nghia Do Park is large
Where To Eat Near Nghia Do Park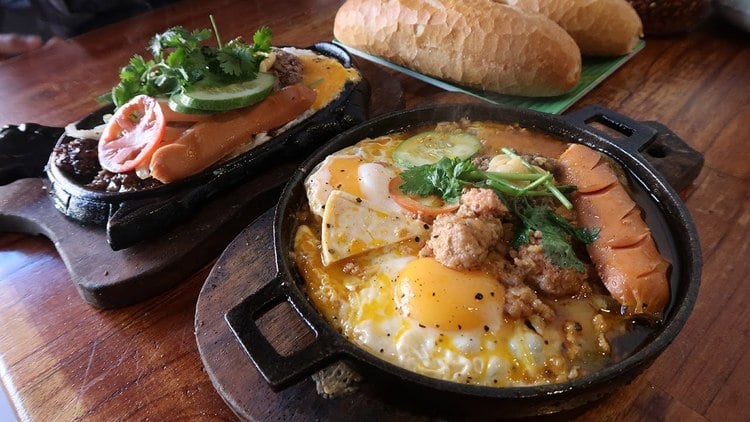 Nghia Do Park is located on the crowded street in Hanoi; therefore, near the park, there are numerous restaurants and food stalls. After a full day of playing and enjoying fun activities in this playground, you do not need to travel far to satisfy your empty stomach.
Here are attractive dining spots you can drop at:
Column of Dien Quan – Banh Mi Chao – Nghia Tan (Cột Điện Quán – Bánh Mì Chảo – Nghĩa Tân) – 104-105B C3 Nghia Tan (Nghĩa Tân) Collective, Cau Giay District, Hanoi

HAT Snack Rounds – Fast Food – 19A Lane 9, Tran Quoc Hoan (Trần Quốc Hoàn) , Cau Giay District, Hanoi

TOUS Les JOURS – IPH – 1st Floor, IPH, 239 Xuan Thuy (Xuân Thủy), Cau Giay District, Hanoi

Pizza Hut – IPH Xuan Thuy – 1st Floor, IPH, 239 Xuan Thuy, Cau Giay District, Hanoi

Cao Phao Nghia Tan – 106C2 Nghia Tan, Cau Giay District, Hanoi

Ding Tea – Cau Giay – 180 Cau Giay, Cau Giay District, Hanoi
Where To Stay Near Nghia Do Park
If you want to stay overnight in a good hotel or motel near Nghia Do Park, your recommended choices should be:
Hanoi Daewoo Hotel – 360 Kim Ma Streetn (Kim Mã), Ba Dinh District

Super Hotel Candle – 287  – 301 Doi Can (Đội Cấn) Street, Ba Dinh District

Sen Hotel – 26B Nguyen Khanh Toan (Nguyễn Khánh Toàn) Street, Cau Giay District

Luxeden Hotel -18A Tran Thai Tong (Trần Thái Tông) Street, Cau Giay District

Western Hanoi Hotel – 2 Tran Thai Tong Street, Cau Giay District

Me Ly 2 Hotel Hanoi – B24 Lane 57, Nguyen Khanh Toan Street, Cau Giay District
Nghia Do Park in Hanoi, Vietnam is now hoped to be the best playground for everyone. That is all the information you need before the trip to Nghia Do Park. I hope that you will find this article useful and informative. Any questions can be left in the comment section, and we will answer them as soon as we can. In Vina.com, we have numerous articles and writings about Vietnam's attractions, activities, and shopping. If you are planning to take the tour to Vietnam, do not forget to get useful tips and recommendations on our website.
By Nga V