Updated: 08/22/2019
Ba Vi National Park is nearly 48 km west of the capital city Ha Noi. It is located in Ba Vi District of Hanoi, Vietnam. Ba Vi is famous as an ideal destination for tourists who love the cool, fresh air and the wild and majestic landscape of the mountains and forests. Ba Vi National Park appears with mysterious, magical beauty. It is a destination not being missed when traveling to Hanoi. It was founded on January 16, 1991.
Ba Vi National Park is located in the middle of the Ba Vi tourist area. Ba Vi Mountain is also called Tan Vien Mountain belonging to Ba Vi District which is a sacred mountain to worship Thanh Vien – Son Tinh. The park is a famous place from the French colonial era by cool climate and fresh air. Ba Vi National Park becomes an ideal destination for thousands of domestic and foreign tourists. The Park is not only known as the lungs in the west of Hanoi, but also the home to hundreds of wildlife species, and many rare and precious species. Some of these species are listed in the Red Book of Vietnam. Today, the national park has 812 species of vascular plants, belonging to 427 genera and 136 classes with 15 rare species. When visiting Ba Vi National Park, you will be immersed in the majestic beauty of the mountains and forests.
What Is The Best Time To Visit?
Visitors can travel Ba Vi National Park all year round. Although you can visit the park in any season, the best time to visit it is surely in the summer.
You will buy an entrance fee at its gate. The cost is VND 40,000/adult. The children above 15 years old, pupils, students, and particular persons, namely the old and the disadvantaged, are entitled to a discount fee which is VND 20,000 for each.
Car tickets for less than 10 seats: VND 20,000/ car
Car ticket for 10 seats: VND 30,000/ car
Tickets for motorbikes: VND 3,000/ unit/ point
Prices of some other services in Ba Vi National Park:
Photography service: VND 600,000

The rental fee for tour guide: VND 300,000 – VND 500,000

Campfire lease: VND 700,000 – 1,500,000

Tent camp: VND 120,000 – VND 200,000/ tent
What Are Activities For Tourists To Do?
With an area of 11372 hectares and flora and fauna species diversity, this is an ideal place for you to visit and explore.Visiting the park can be clearly divided into the three routes including the spiritual route, the exploring route, and the tourist route. In the first route, you can visit ancient temples and pagodas. With the second route, you can explore French-era ruins with summer camping grounds and ancient churches, a long-standing political church area degraded over time. Lastly, you can discover nature with botanical gardens, forests, and extremely fresh springs, all of which give you a relaxed sensation, away from all stress in your daily busy life.
Cactus Garden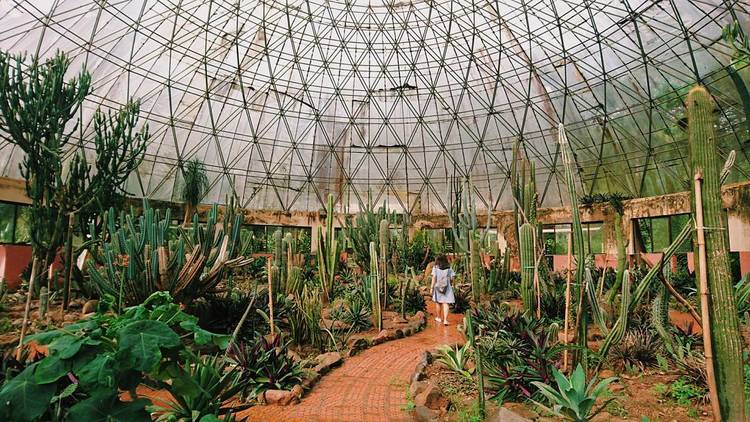 Cactus Garden is a garden dedicated to cacti. In the Cactus garden, there are many different and colorful cactus species including many rare and unique cacti. The garden has more than a thousand of cacti with many different sizes. The cactus garden becomes the most beautiful when the cactus blooms. The colour of the cactus looks beautiful, and it owns a particular beauty unlike the famous flower gardens in Hanoi.
Going through the cactus garden, you visit Ngoc Hoa Cave with huge stones arranged neatly. The cave is located directly under a straight cliff, making you feel extremely majestic and magnificent. Going forward, you will come to the French building of the political prison that was built over 30 years and has a large area of about 2500m2. In particular, the prison retains the artifacts such as chains, shackles; it helps you visualize the brutal torture scene that the Vietnamese people suffered.
Tithonia Diversifolia Hill
Tithonia Diversifolia Hill is made up of thousands of Tithonia Diversifolia planted by the French from the previous century. In the season of blooming flowers, the whole Tithonia Diversifolia Hill is full of beautiful yellow colors. Visitors who want to go to this hill to photograph should choose the time from mid-November to early December because the flowers only bloom from 10 to 14 days in this period.
Tieu Dong Peak
Tieu Dong Peak is a primitive tree garden. It is located at  a height of 1000m, famous for its rare and precious old trees. The trees at Tieu Dong Peak are more than 2 m in diameter and 30 m in height, and some trees have a lifespan of hundreds of years. Tourists coming here will admire the beauty of the majestic greenery, take photos, and relax under the shadow of old trees.
Ba Vi Ancient Church
With the ancient French architecture, Ba Vi ancient church appears with a magical, mysterious beauty in the dense fog. Do not be afraid of the mystery of the old building that you explore it. Mosses cling to the wall of the church are like the chameleons. The ancient church of Ba Vi is the ideal place for taking extremely attractive photos. The ancient and fanciful beauty of the church is a unique feature of this famous national park.
Bao Thien Tower – Uncle Ho's Temple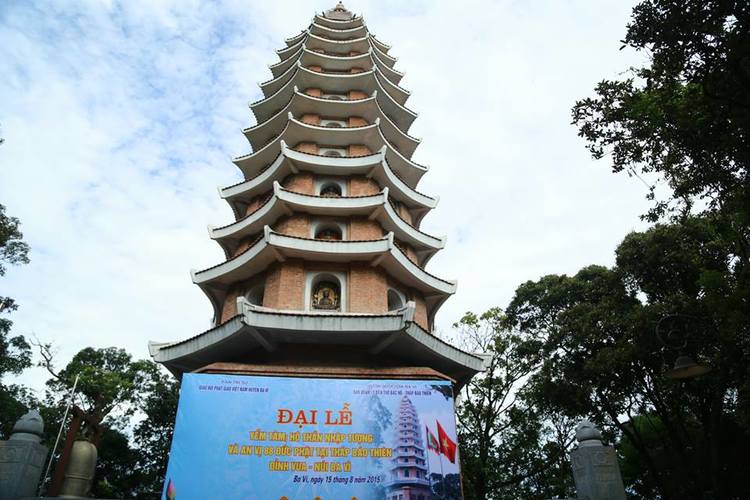 In Ba Vi National Park, in addition to greenery, there are 2 spiritual places of worship: Bao Thien tower and Uncle Ho temple. Located between ancient primeval forests, Bao Thien tower and Uncle Ho temple become more mysterious and attractive to tourists. Although the way to there is quite difficult, these two places still attract tourists to visit.
What To Eat?
Ba Vi is famous for its specialties such as barramundi, mudfish of Da river, pig, goat milk, grilled goat meat, taro soup, etc. Especially in the cold season, this is the best time to go picnic with campfire and barbecue party in the middle of the large space of the forest. It helps to dispel the chill of winter and the mystery of the forest.
Where To Stay?
You can camp overnight or return to your hotel in the center of Hanoi.
Extra tip:
In autumn, the weather is much colder than autumn in Hanoi, especially in the early morning and evening. Therefore, you should bring thin sweaters and thin blankets if you spend the night here to avoid colds. You should also bring some cold medicine and allergy medicine to avoid being sensitive to weather changes.
Ba Vi National Park is an ideal place for organizing interesting activities without being too far from the center of Hanoi. We hope you will find useful information in this article. If you have any questions, please leave our comment box. Vina will respond as soon as possible.