Located at Thanh Thai (Thành Thái) Street, Cau Giay (Cầu Giấy) District, Hanoi (Hà Nội), Cau Giay Park (Công viên Cầu Giấy) is ranked as the most beautiful green public park for the locals as it has beautiful artificial landscapes and attached amusement zone. That will be more appealing and outstanding for not only adults but also children. The adult will have a great opportunity to relax and breathe in the fresh air while children enjoy outdoor games and activities.
Cau Giay Park – A Green Public Park In Hanoi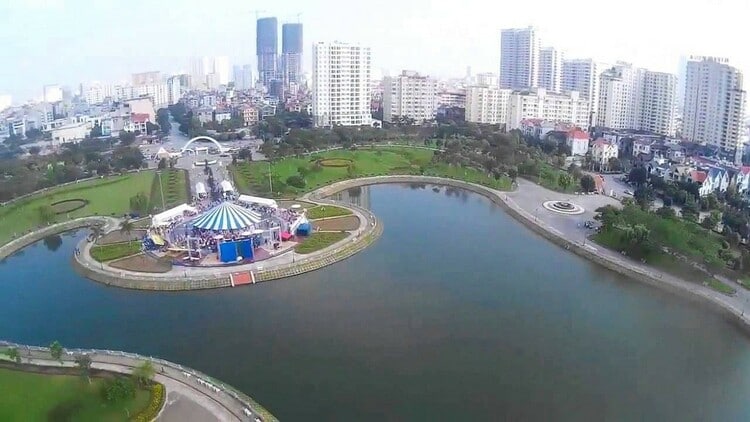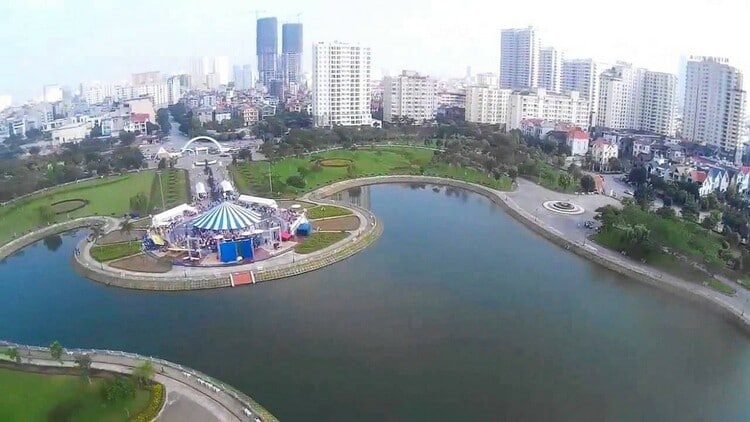 Cau Giay Park (Hanoi) is also called as Yen Hoa (Yên Hòa) Park. Situated on Thanh Thai Street, the 6,540 square meter park has a green tree system that creates a cleaning and cooling atmosphere for the park. Visitors can reach Cau Giay Park by car, bus, and motorbike. It takes about 15 minutes to 20 minutes for you to get to this park.
This park is divided into three main sections including a playing ground for kids, a sports area, and a square where locals enjoy jogging and walking. Therefore, Cau Giay Park is an ideal destination for tourists and locals to relax and play after a full stressful day of working and studying.
The outstanding area of the park is the playing ground for children with many games and activities. In the Cau Giay Park, children can play in the clean, soft artificial grass without the risk of falling or injury. Many people come to this place on weekends or in the cool evenings to enjoy the fun and relax.
Furthermore, Cau Giay Park also organizes many outdoor activities such and folk games that involve the participation of children.  Tourist coming here can find many interesting activities and motivational games such as fishing, painting statues, learning to dance, etc.
Tourists and visitors can do exercise or practice sports such as walking, skipping the rope, playing badminton while enjoying nature, fresh air and cool atmosphere in the evening.
You can also meet a lot of friendly people, talking with them and understanding about the daily activities of the local Vietnamese.
More interestingly, you can also have a picnic with your family and friends in Cau Giay Park.
Where To Eat Near Cau Giay Park
Hanoi is a paradise of cuisine and delicious food; therefore, if you have a chance to travel to Hanoi and visit Cau Giay Park, do not forget to try different local foods here. Here are some recommendation for the great Hanoi restaurants and food stalls near Cau Giay Park you can enjoy:
   Pao Quan (Pao Quán): Lane 62 Tran Thai Tong (Trần Thái Tông), Cau Giay District: 150,000 VND – 180,000 VND per person

   The Gioi Hai San (Thế Giới Hải Sản): 18 Duong Dinh Nghe (Dương Đình Nghệ), Cau Giay District: 400,000 VND – 500,000 VND per person

   1915Y Restaurant: 54 Trung Hoa (Trung Hòa), Cau Giay District: 250,000 VND – 350,000 VND per person

   Quan An Ngon (Quán Ăn Ngon): 25T2 Hoang Dao Thuy (Hoàng Đạo Thúy), Cau Giay District: 180,000 VND – 230,000 VND per person
Where To Stay Near Cau Giay Park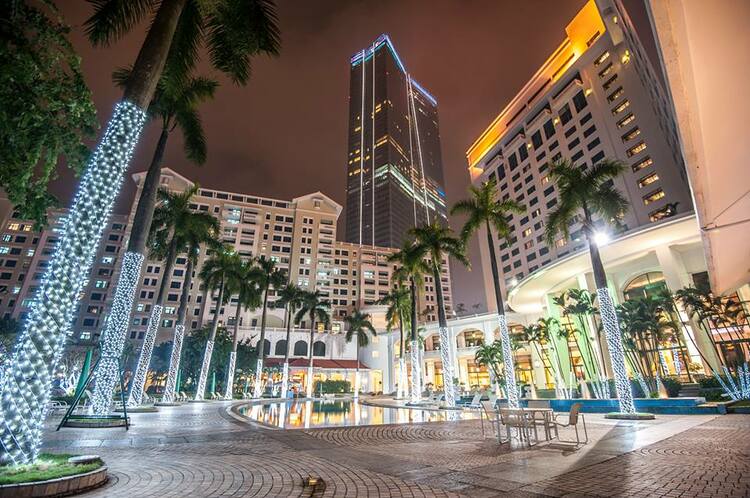 It is easy for you to find the best accommodation options near Cau Giay Park that fit your budget. If you want to experience the best accommodation services and are not in a tight budget, you can choose the hotels like Rosaliza Hotel Hanoi (3.3 miles from Cau Giay Park), Lotte Hotel Hanoi (0.8 miles from Cau Giay Park), Hanoi Daewoo Hotel (0.7 miles), Sakura Hotel III (0.4 miles), Bao Son International Hotel (0.7 miles), etc.
If your budget is limited, the best choice should be Tu Sakura Hotel, Home Hotel and Service Apartment, Cau Giay Hotel, Casa Bella Hotel, etc.
Read also:
Cau Giay Park will give you a pleasant experience and great relaxation. So, visit Cau Giay Park on your trip. If you have any questions, you can leave them below and we will answer them as soon as we can. For more information about attractions and activities in Vietnam, you should visit Vina.com.